Email marketing is crucial in today's world of digital marketing. Mass email is an email that we usually send to multiple recipients at once.
We most commonly use this kind of email in marketing campaigns for promotion. We sent them to people who have subscribed to the newsletter. For example, they signed up to receive marketing messages from the company, important news, etc.
However, sometimes it can be challenging for you to decide which mass email sender to use and, of course, which one gives optimal results at affordable prices.
In this article, we are presenting you the top five best and most affordable mass email senders.
Amazon Simple Email Service (SES)
Amazon Simple Email Service (further in text SES) is a cloud-based email marketing platform and is one of the most cost-effective yet flexible email services. This service integrates easily with any developer application.
In addition, it is essential to mention Amazon SES also supports receiving emails. You can send mail in different ways, such as SMTP or SES API. Also, you can configure it all in just a few minutes using the Amazon SES console. And you will be able to interact extensively with your customers.
Are you interested in the effectiveness of each email reach?
We are all aware that there are email-sending statistics. However, these statistics include deliveries, rejections, and feedback loop results. Amazon SES also provides additional insights such as opening an email, etc.
Why did we say Amazon SES is the most affordable?
We guarantee this because it only costs $0.10 for the 1,000 emails you send. In addition, if you host your app on Amazon EC2, you are allowed to send up to 62,000 messages per month free.
Sendinblue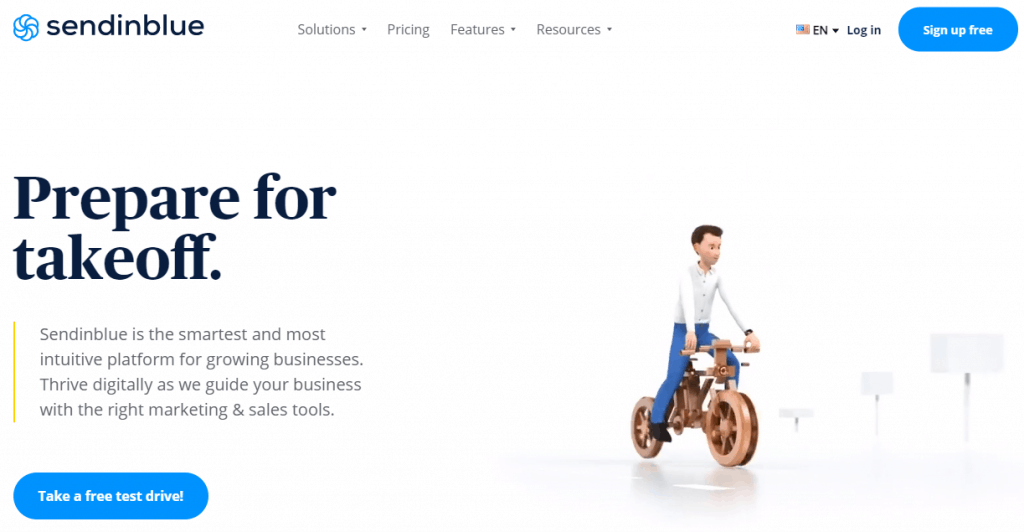 Sendinblue is an online service that allows you to send emails with just one click! But, you don't have to send individual emails! You can send hundreds or thousands of emails at once.
Sendinblue is an excellent innovative email marketing solution.
Also, at Sendinblue, you can design a beautiful email marketing campaign to keep in touch with customers, send newsletters, etc. It's simple when you create an email campaign; all you have to do is drag the elements and drop them where you want to see them. This is called the drag & drop method. If you have no idea what your email campaign should look like, Sendinblue will definitely help you! Over 70 already-made templates are waiting for you. Also, we have to mention that these templates are adapted to mobile devices. Moreover, if you have an idea or do not like already-made templates, create your template using an editor.
When it comes to pricing this service, we consider Sendinblue one of the most affordable email marketing platforms. There are multiple plans available, and we are presenting them to you. A free program offers you up to 300 emails a day and an unlimited number of contacts. Of course, you can also choose paid plans Lite, Premium, and Enterprise, whose price starts from only 19 euros per month.
SendGrid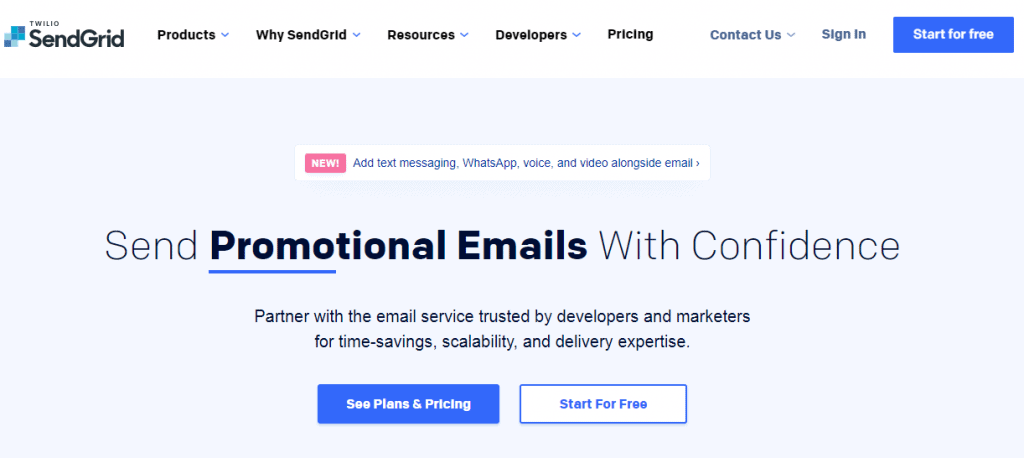 SendGrid is an excellent cloud-based email service that developers and marketers trust for time savings, scalability, and delivery expertise. You do not need to maintain an email server. This service will manage all technical details for you, from infrastructure scaling to ISP reach. This platform easily integrates with new or existing email systems. Also, an incredible fact is that SendGrid offers you a scalable email infrastructure and provides outgoing email metrics.
SendGrid provides two ways to send email – via SMTP relay or Web API. It also gives your clients libraries in many languages. It is the recommended method and the one that is preferred when integrating with SendGrid. You can even choose to use SendGrid without a client library. The Web API is something that we would regularly recommend to you. Also, it is much faster and provides some benefits of coding, and of course, it is easier to use. However, SMTP will also offer you many functions by default but is much more challenging to set up. But if you like a good challenge and new experience, then this one is for you.
Also, SendGrid provides a free plan to explore the possibilities with 100 emails per day forever, a fantastic opportunity. It also includes APIs, SMTP Relay, Webhooks, Ticket Support, and many more. You also can choose paid plans, Essentials, Pro, and Premier, starting at $14.95 per month.
HubSpot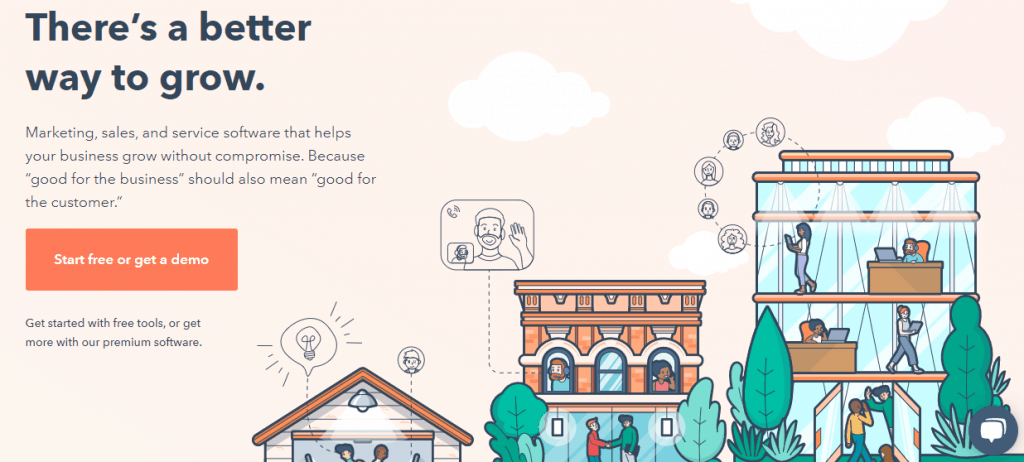 HubSpot is one more email-marketing tool that allows you to create, personalize and optimize your marketing emails without waiting for designers or IT.
Design and create professional email marketing campaigns that display perfectly on any device – mobile, tablet, and computer.
You are without an idea, but you need to create an email campaign urgently? Well, this is where Hubspot comes in and saves the day. It will help you make an email campaign in just a few clicks. You are also able to create your template with a drag & drop editor. However, you have one major task: to schedule a campaign, and that is it! It will display your email for you in each inbox at the optimal time.
HubSpot has also provided a free plan where you can generate new emails and measure your success. Also, there are, of course, paid plans that start at $45 per month.
ActiveCampaign
ActiveCampaign is one of the best tools for email marketing campaigns that you will find out there. It is adorned with its professionalism, sending emails in just a few clicks, and of course, an affordable price.
It is also a great design tool for email campaigns that allows you to design beautiful campaigns in just minutes. That is it! A few clicks and ActiveCampaignwill send your email to your contacts.
There is reporting that helps you see which email campaigns are the best for you. It will also help you have your campaigns have more openings, clicks, and purchases.
Take your business to the next level for just $9 per month.
Selzy

Selzy is a young email marketing platform that is newbie-friendly and targets specifically small and medium-sized companies. The platform offers a forever free trial with up to 2000 contacts in the list and 15000 emails sent each month. It has a simple drag-and-drop email builder with 100+ free templates to create picture-perfect newsletters in the nick of time. Selzy also offers a massive amount of features like automated list hygiene, A/B testing, detailed but digestible analytics, and even some help from experienced email marketers depending on the plan.
Conclusion
You may now be wondering which is the best mass sender of all that we have presented to you. Amazon SES is a tremendous cloud-based email marketing tool. It will allow you to many things for just a few dollars, as well as Sendinblue, SendGrid, HubSpot, and ActiveCampaign. These are some of the best tools to help you take your business to the next level in just a few clicks. Each of them has its advantages. It is up to you to decide which is best for you and your business.