Having a great logo is a bit more significant than you might think at first glance; it makes your brand recognizable to the customers. However, getting a logo that accurately represents you and what your business is all about can get quite pricey. There are plenty of competent graphic designers out there ready to provide you with the logo of your dreams. But unfortunately, you might not be able to afford that. So, what's the correct next step?
Well, that depends on a few different factors. The first one is just how artistically inclined you are. If the answer to that is a worried sigh, designing something entirely from scratch and incorporating a color palette will probably not be an option. But what is a realistic alternative is a logo maker. Become a graphic designer in few simple steps and design your logo!
Now, much like any other online tool, you'll find plenty of free ones, but they're either not that great or are not free as they claim. So, in the spirit of trying to find the best logo maker out there that works no matter the skill level. Today, we'll review a tool named My Brand New Logo. Buckle up, and let's get started!
My Brand New Logo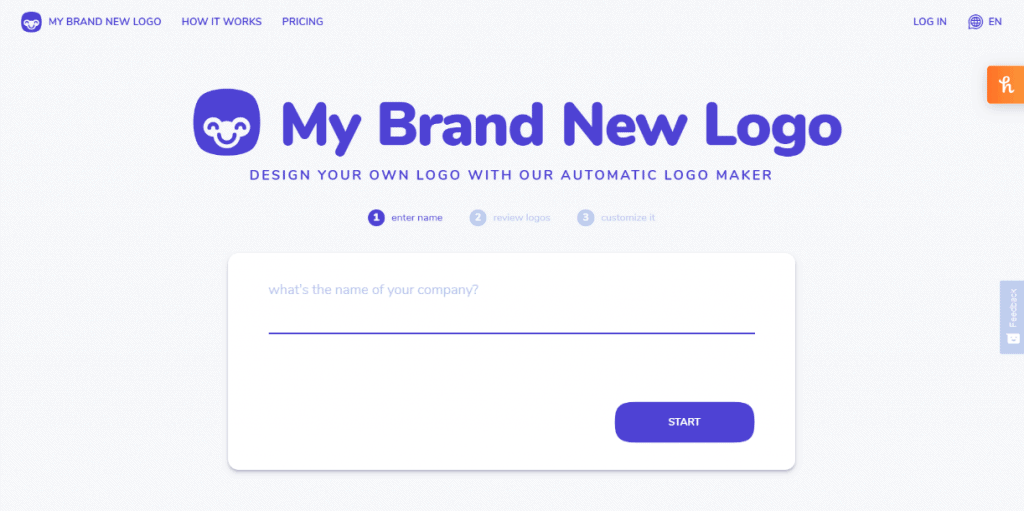 My Brand New Logo is an automatic online logo maker that helps you create that perfect image you conjured up in your head but didn't have enough design skills to bring it to life. What's different about this platform compared to similar tools is that it uses custom algorithms based on the actions of professional graphic designers.
After filling in the basic details about your business, several premade options will appear, and you get to pick the one that suits you best. This tool also never uses premade templates or color schemes. So, you can rest assured that no two people ever got the same logo. Once you pick the option you like best, you're 100% free to customize it as much as you like.
This logo maker also automatically scales and generates logos of appropriate sizes no matter what you need them for, print, social media, or your website. So now, when the basics are out of the way, let's see it in action.
How to Create a Logo?
The landing page immediately greats you with a text box for your company name it'll use to generate the logo. So, type in and click on start. After that, you'll get a few additional questions like your slogan, your industry(food, data analysis, marketing, etc.). After you finish with that, there's an option to pick a color scheme, but this step is not mandatory. Feel free to skip if you haven't any ideas and are just looking for inspiration on your first try.
When you fill in all of the information, the wheels start turning, and soon enough, you'll be able to choose out of so many possible options. Take your time, browse through and pick a favorite. And if you happen not to like any, you can always try again. These steps are entirely free of charge, and you can repeat them as many times as you wish!
Note:  If you want to repeat the process and generate more logos, you will have to create an account to save previous creations.
Below, read just some of the options we got:
It took a while as there were so many options, but once we settled on a favorite, we went ahead to step 3, the customization.
The user interface might seem simple, but there's a lot to work with. So first, let's go through some of the customization options available.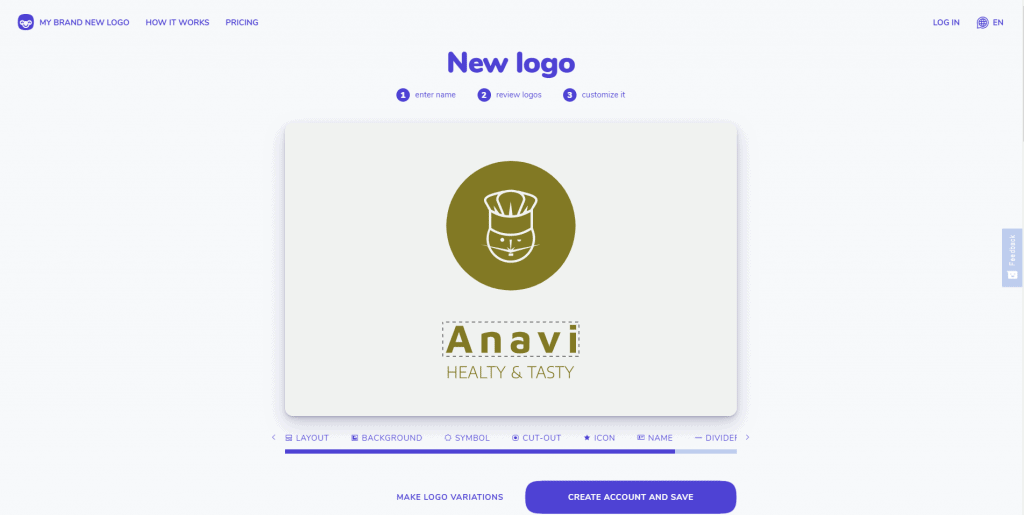 The first thing you can play around with is the layout. There are nine options to choose from; some of them show the icon, others don't, etc. Aside from just the layout type, you can also customize the size of the logo using the "size" button.
Next comes color customization. The first thing you do is choose the accent color. Then, there's an option to change the tone and intensity of your existing color palette or swap it out for an entirely new one. A great feature of this tool we couldn't help but notice is that as you're changing the background color, the color of both the icon and the text changes accordingly to ensure nothing feels out of place. Isn't that awesome? There is no need to go back and forth with the colors! If you opt for a gradient, there are also options to choose the intensity and the focal point.
You can even add effects to make the logo seem textured or whatever it is you think looks best. To illustrate how all of these elements can change the finished product, we added a light gradient and a texture.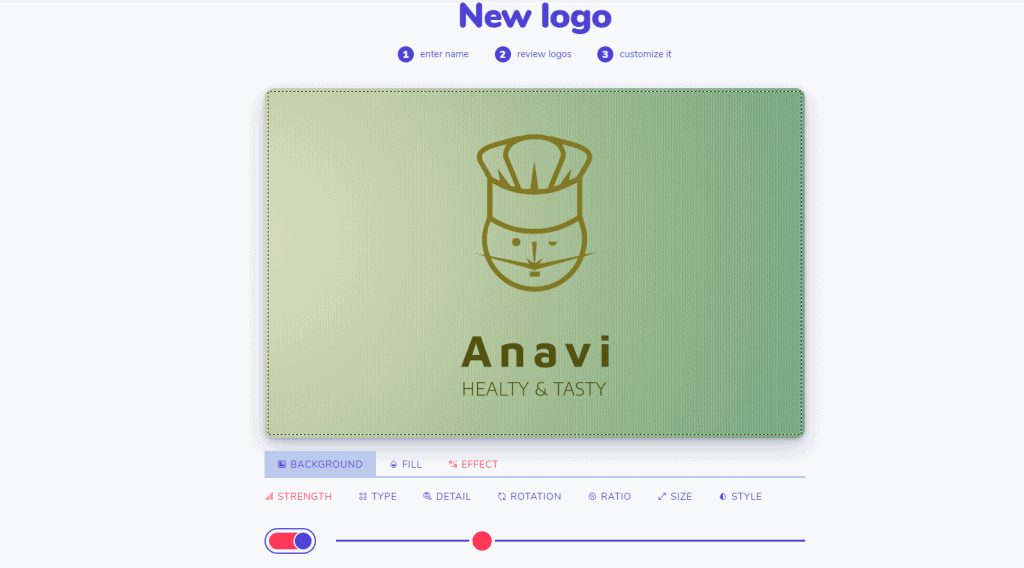 A step where logo makers usually tend to lack is adding or replacing icons. However, we are pleased to report that this is not the case. We typed "chef" into the search bar, and these were just the first to load.
Much like any other element, if you change the icon, there are options to change the color, add an effect, etc. Nothing is left out!
The trend of a vast array of options continues when you reach text customization. Pick a new font, make it bigger, smaller, add an effect, change the color. It's all there and so simple to do. My Brand New Logo is perfect for beginners since everything is pretty much self-explanatory.
There are quite a few steps you could go through, and all of them are easy to navigate. The only thing you need to be wary of is maybe doing too much if you get a bit carried away. So, all we did was add a simple divider and changed the font slightly, and bam! Our logo was complete!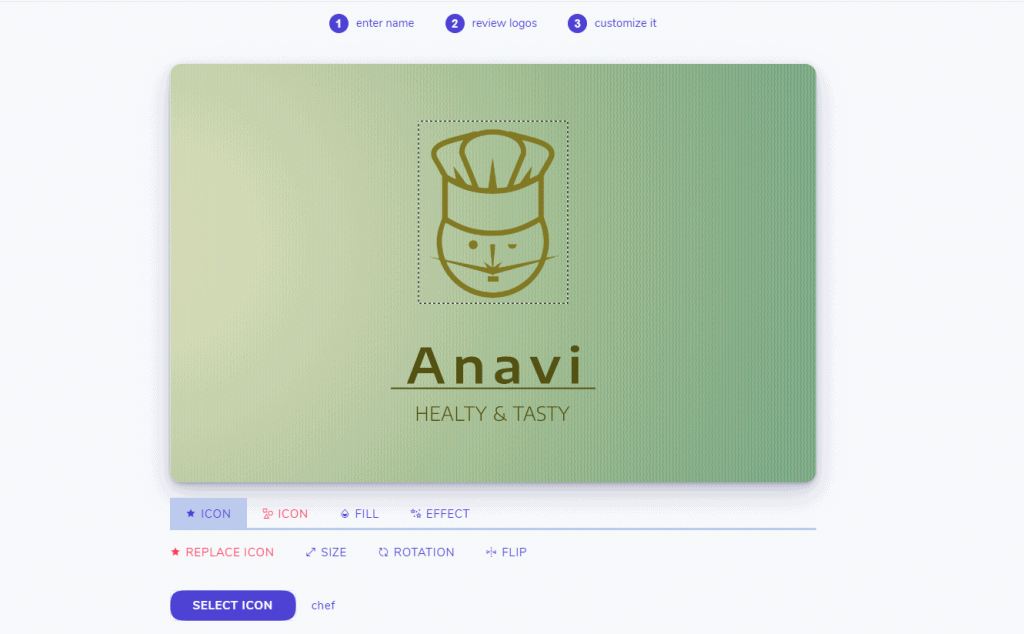 When you finish creating your masterpiece, feel free to take a peek below the editor and see what it will look like on different products or devices.
Pricing
Under ordinary circumstances, we would consider it a bit of a pricey one. All that's free is creating an actual design; everything else is hidden behind a paywall. But if you liked our little demonstration and wish to grab this one for yourself, consider yourself as the lucky one. My Brand New Logo is currently on offer on AppSumo, and you can get the Tier 1 license. You will get with it 250 logos for 39$.
If you have many clients, there is Tier 2 that includes 500 logos for 79$ and Tier 3 with 1000 logos for 129$. All of these deals are a one time-purchases, with no pesky subscription fees required.
TL;DR
My Brand New Logo is a rather handy logo generator with plenty of customization options covering all the bases.
The most important features include:
A color scheme generator
Font, icon, style, color, customizer with plenty of option to play around with
Scaling and a divider
Social media package
Previews on different merch and screens
Conclusion
Overall this logo maker can be a great help that will allow you to create a sleek, modern-looking logo within minutes. However, suppose you're not very artistic or have plenty of experience in graphic design. In that case, we believe you'll find using this tool very simple, and the integrated algorithm will always make sure everything matches and nothing ever feels out of place. Considering its current discounted price, we'd say that if you're in the market for a logo maker, this one is doubtlessly worth checking out and at least giving it a chance.
We hope our little review helped you in making a final decision and that you're ready to start creating great logos in no time at all. Show off with the perfect logo for your store!