Considering the fact that you are reading this article, it is safe to assume that you are familiar with the page builder called Elementor. Elementor is one of WordPress's most popular page builders that provides you with a variety of features allowing you to build an entire site from scratch by simply drag-and-dropping design elements.
A page builder like Elementor is what gives structure to your site, but without a theme, that structure can be quite bland. A theme will elevate your site completely by giving your site an exact look and feel you were looking for. When deciding on a theme, you have to make sure it will work harmoniously with the page builder you are using. The majority of themes that will work with Elementor were specifically built just for that purpose, meaning when a theme of that sort is used in combination with Elementor, it will work seamlessly, extending the possibilities when creating your site.
If you are one of the 1+ million active users of Elementor, this is the article for you. In it, we will talk about Elementor themes, the ones that reign supreme on the Elementor theme market.
Hestia

This is a theme especially great for small up-and-coming businesses and startups since they are always looking to create a site that has a unique and modern look. With Hestia, you can do just that. Whether you want your site to go a more creative or business route, Hestia will work great. Its clean and non-generic design can be customized to suit everyone's needs, regardless if they are a blogger, photographer, online business, or anything else. The one-page layout comes with a portfolio and an online shop section, along with the standard sections that come with an Elementor theme.
For bloggers, or basically, anyone looking to post content on their site, Hestia will make that a breeze thanks to its built-in content builder, which works on a drag-and-drop principle. Besides being visually appealing, Hestia is responsive and will look beautiful on any screen size. Its full compatibility with Elementor enables you to build and customize virtually any part of your site. Another thing it is compatible with is WooCommerce, so creating an online store that works and looks great is made easier than ever with Hestia. Using Hestia as your theme won't have a negative effect on your SEO since the theme itself is SEO and speed optimized. Hestia will allow you to use one of its custom backgrounds or your own and will also provide you with a selection of pre-made templates. Every change you make using Hestia can be previewed in real-time through the live customizer. It comes in a free version and a PRO one with a price tag of 88$.
Neve

Neve is a multipurpose theme great for sites ranging from blogs, business to online shops, and more. It is also structured in a beautiful and responsive one-page layout, displaying your content in the best way possible. It is SEO optimized and will work with any browser. Every aspect of the theme can be customized to your liking, and if you need any assistance in that process or the initial setup of the theme (even though the setup process takes only a minute), there are video tutorials available to help you out with that.
Neve comes with 25+ demo sites created with Elementor, along with parallax and lazy loading effects, and a set of custom backgrounds. You can choose between the free and PRO version, the PRO version costing 39$. If you are in any way dissatisfied with Neve's PRO version in the first 30 days, you can get a refund, no questions asked.
Customify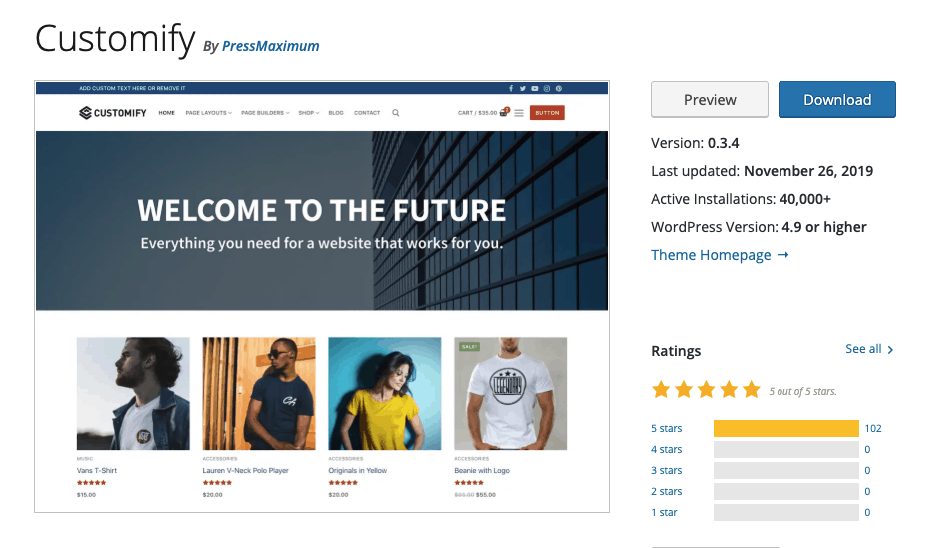 Another multipurpose theme that is SEO optimized, responsive, and lightweight. Customify comes with a header and footer builder and many other features allowing you to build sites as complex as educational portals, corporate sites, and online shops or as simple as blogs and portfolios. The name of this theme suggests how much freedom it will give you while customizing your site. It comes packed with features and a visual editor that works in real-time. Design-wise it has an unlimited supply of typography choices and unique design options for mobile devices. Fast and friendly support is also part of the Customify theme package. Customify is free in the standard version, while its PRO version starts at 59$.
Phlox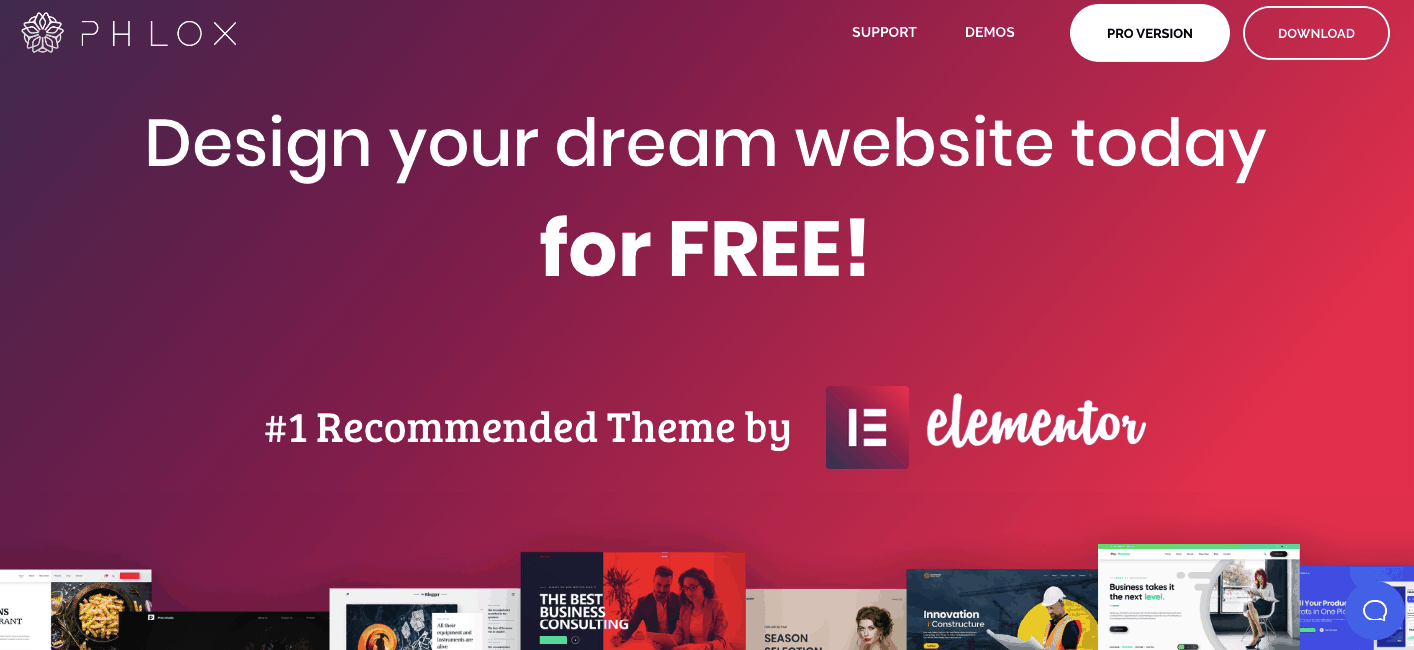 This theme works so well with Elementor that it is even listed as a recommended theme on Elementor's site. This is largely due to the fact that it has a repository of exclusive Elementor design elements. For those of you in a hurry to build a website, Pholx comes with 30 pre-built demos that can be imported with just one click. Demos can be uploaded as a whole, or just some of their specific sections.  Also provided to you by Phlox are 40+ page templates, a number of portfolio layouts, and a modern image gallery.  Besides the standard portfolio layouts, for those of you looking to build a blog or portfolio, there are advanced blog and portfolio options, each coming with nine special layouts along with other features. Phlox's theme customizer allows you to see all the changes live. Other features include WooCommerce compatibility, parallax effects, interactive animation, and lazy loading. Phlox is a completely free theme.
Sydney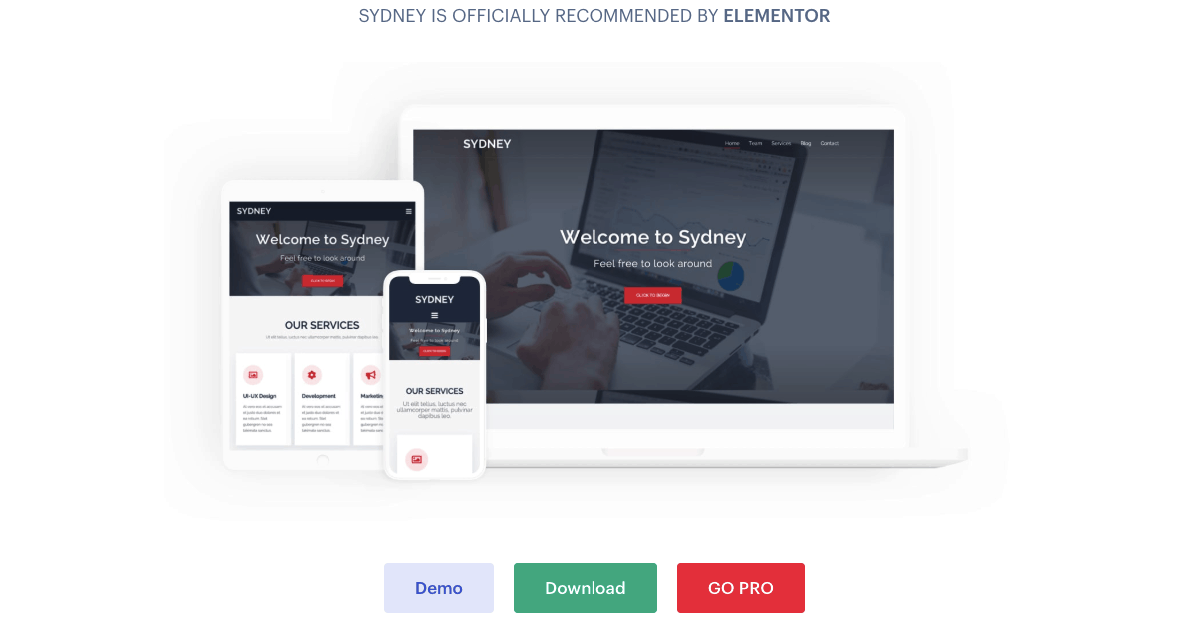 Sydney is a theme loved by businesses and freelancers especially. It is perfect for establishing an online presence and making a good first impression allowing you to incorporate your branding easily. It comes with Google fonts, full color and layout control, logo upload, parallax backgrounds, and more customization options. Using Sydney, everything is created fast using custom construction blocks. It will enable you to make your header static or a slider in full-screen or wide-screen. Sydney is responsive and social media ready and puts extra focus on increasing your conversion rates. You can get it for free in the standard version or for 59$ in the PRO version.
Astra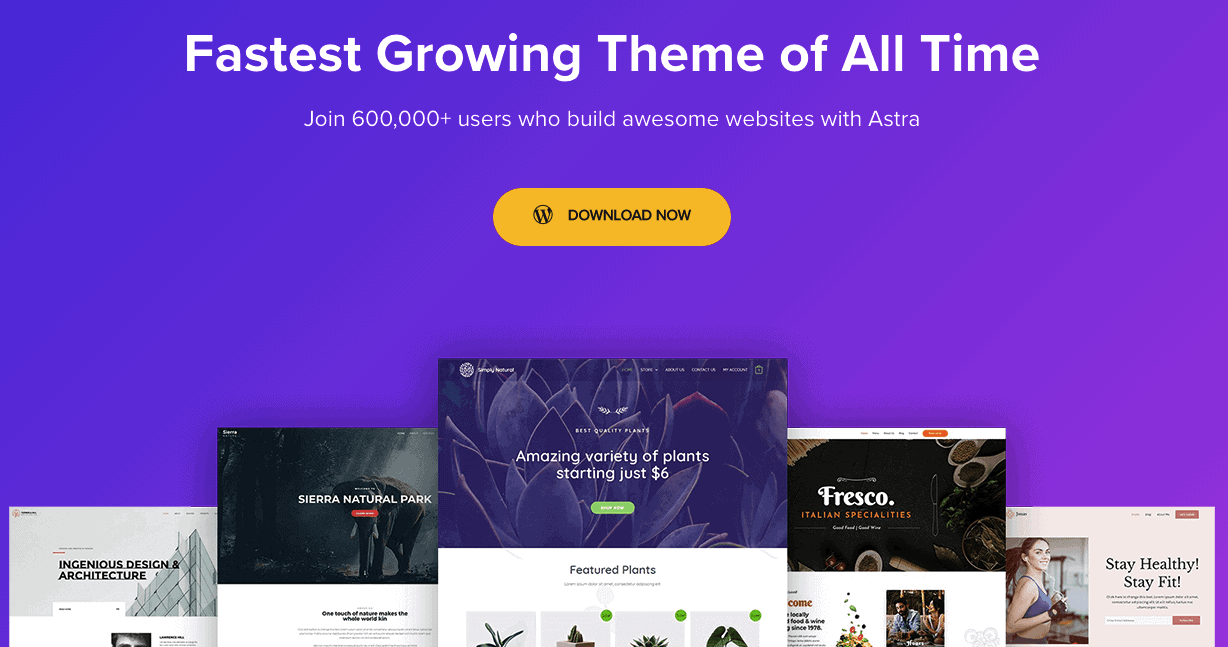 Astra is an extremely lightweight them, due to its elimination of jQuery. You can include it in your blog, portfolio, business site, or any type of site you want to give an elegant and stylish look to. It is one of the most popular themes with WooCommerce compatibility. Besides being fast, it is also secure, taking care of your security and design needs. It comes with demo websites, pre-built layouts, different galleries and header options, infinite scroll, off-canvas sidebars, and more.
Customization can be done through the WordPress customizer in real-time, and of course though Elementor as well. It will give you detailed control over every change regarding your posts, pages, content. Those changes can include adding/removing sidebars, titles, headers, footers, adjusting the width of different elements, etc. The more interesting features include special plugin integration, Astra starter site (for importing pre-built demos), and special header options for mobile devices along with other features for a responsive design. Just like most of the other themes, it has a free and PRO version. The PRO version is costing 59$.
Zakra
Zakra is a free theme, with more of a business feel to it. It works not only with Elementor but also with Gutenberg. Like the other themes mentioned thus far, it is lightweight, flexible, and of course, customizable. Layouts provided in Zakra range from general to boxed, and wide. It is considered to be one of the best-performing sites for Elementor in 2019, which is not surprising considering that it is SEO friendly, GDPR compliant, and WooCommerce ready. It comes with advanced typography options and great support. With Zakra you will have page-level settings and a dedicated builder that you can use alongside Elementor.
OceanWP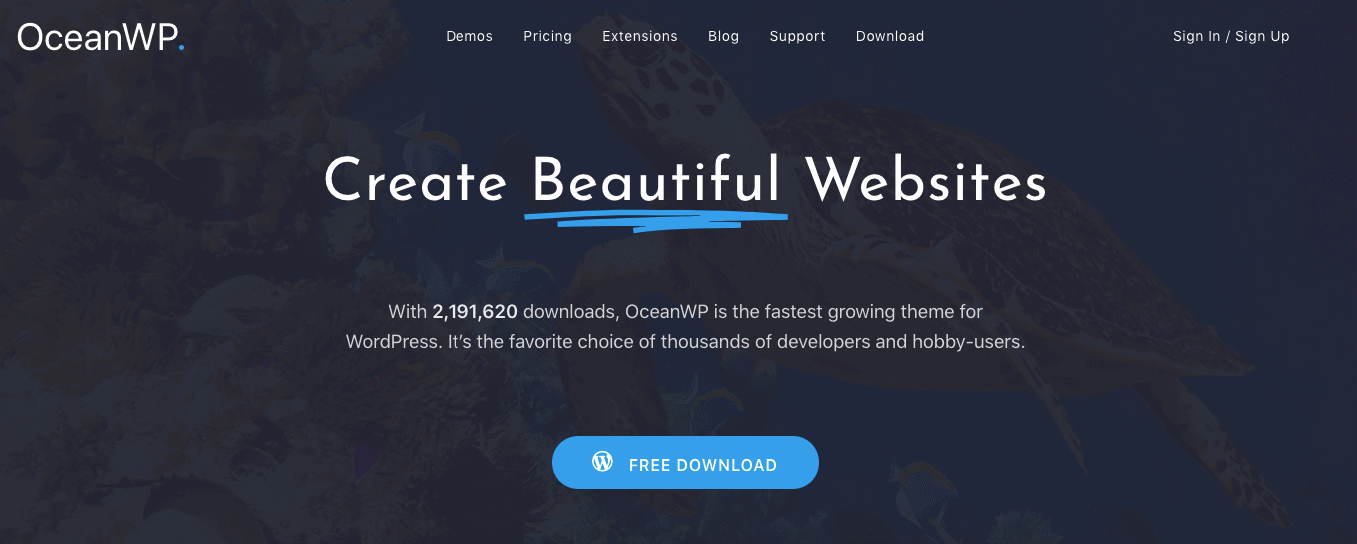 This is a free theme, and one of the most popular Elementor themes. The site you build using OceanWP will be translation ready, responsive, and will have RTL support. It has unique widgets created specifically for Elementor, a native cart popup, and a floating add to cart bar. OceanWP will give you global and page level controls. What sets it apart from other themes is its unique premium extensions such as sticky anything, full-screen, popups for WooCommerce, social sharing portfolio, and more.
Generatepress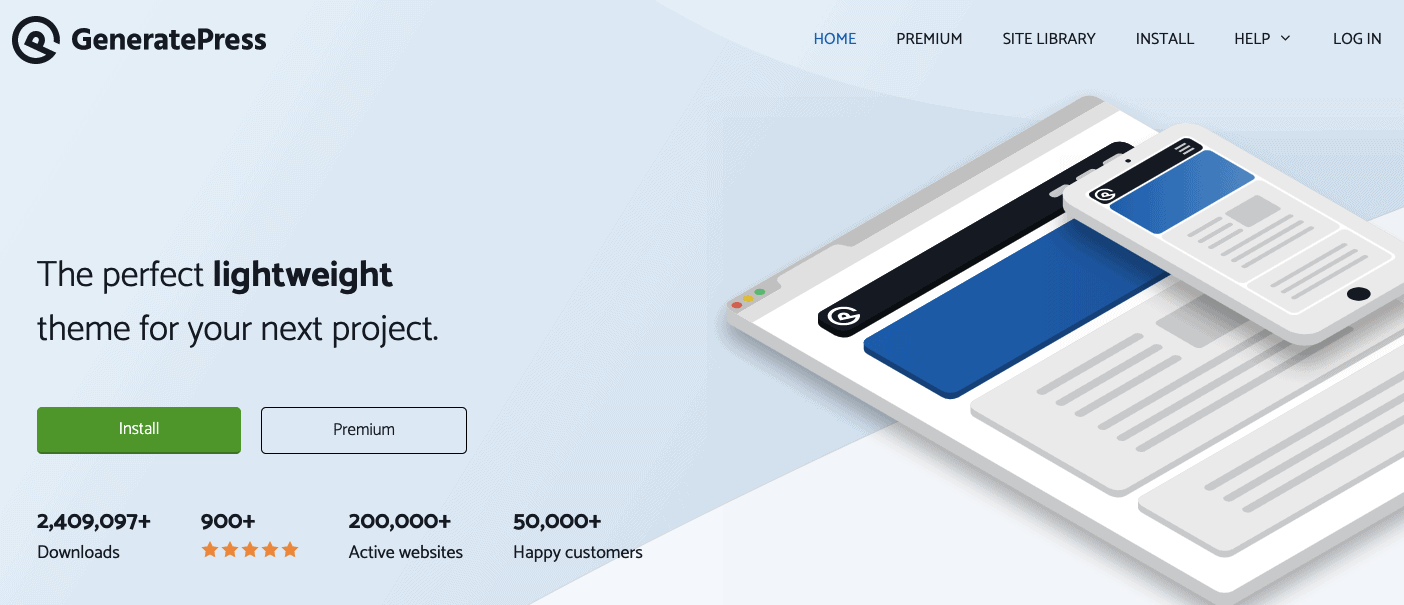 Generatepress is a theme created with the intention of having the best possible performance. Its code was inspected by WordPress professionals, which ensures that it is up to the best coding standards and has great security. The theme has no dependencies and has great SEO thanks to the integrated microdata, so you can be sure it will give you the best performance possible. It will enable you to build desktop or mobile pages, which will be responsive, translation, and RTL ready.
When using Generatepress, at your disposal, you will have a large number of color and typography options, layout controls, WooCommerce compatibility, ten pre-built demos, different post formats, and more. The page-level control will allow you to change sidebar and footer layouts, disable navigation, change the width of your container, among other customization options. Generatepress is super lightweight and fast, taking up less than 30KB. The standard version you can get for free, or the premium for 39.95$.
Back to you
With so many amazing themes on the market, picking the right one could be troublesome. Hopefully, this article helped.
Have you found your favorite? Which one are you going to go with? Let us know in the comments below!