If you are planning on marketing your site anywhere online, first you must make sure that your site complies with certain important laws. Whether they be local, national, or international, the importance of having a law-abiding site cannot be discarded.
Laws can vary from place to place but there are a few that you must know about in order to set your business on the right path. The first one being ADA or the Americans with Disabilities Act which dictates that all information technology must be available to people with disabilities, and on the same line, the WCAG which also deals with making content more accessible to people with disabilities and elders.
Aside from those two, there is the GDPR (General Data Protection Regulation) which in simple terms sets guidelines for protecting and collecting personal information of users. And another important thing to keep in mind is the VAT tax which applies to most goods and services.
Now, while bringing your site up to these standards might seem arduous at first it's all about choosing the right tools to help you along. While nothing can actually substitute real legal advice, there are a plethora of WordPress plugins that can help with compliance issues and get you started.
So, stick around and take a look at some of our suggestions that will help you make your decision: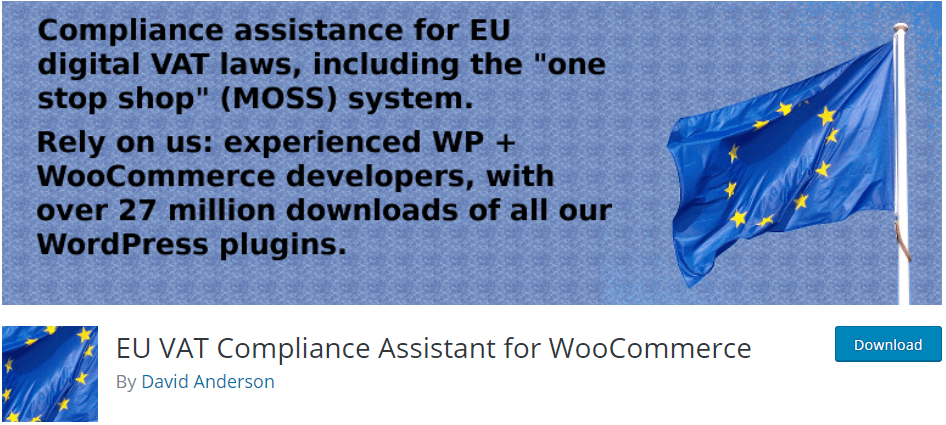 This particular plugin will provide assistance in complying with the EU VAT law. The plugin comes with certain features that are sure to make your job in this area a whole lot easier.
Some important features of this plugin are:
Identifying customers' locations: This includes recording the IP addresses, gathering information on shipping and billing addresses and their general location
Currency conversions: Everyone will have to report VAT information in a specific currency, oftentimes this currency is going to be different from the shop currency. With this feature conversion rate information is going to be stored with each order, so when the time comes, converting and reporting your information is going to be a whole lot easier.
Central control: Bring everything you need from settings to reports into one place, so you don't have to deal with the messiness of them spreading all over the place.
Distinguish VAT from other taxes: If you have to pay other taxes, this feature can help you sort out which are VAT taxes and which are not.
This plugin also has a premium version with a lot more features than the basic one. If you wish to know more about any of them check out all of the features on their site.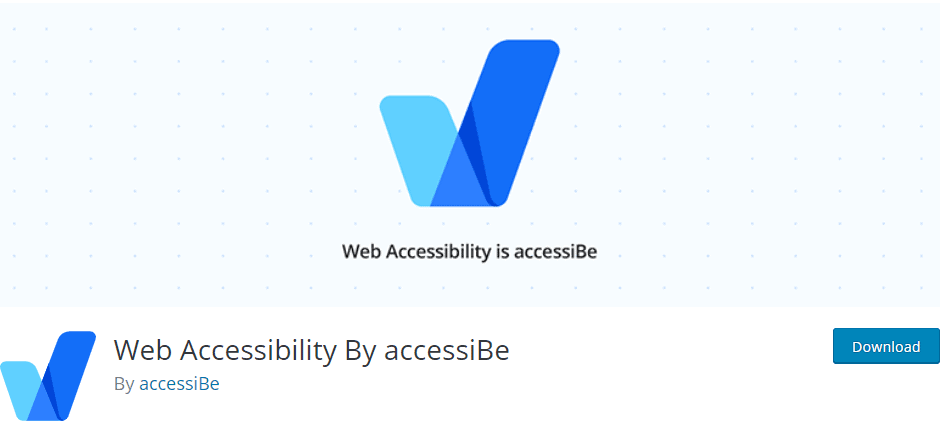 Web Accessibility is a fully automated plugin designed to protect businesses and make them lawsuit-proof by making sure that everything they do falls in line with the law. This plugin can, however, do so much more than just help you abide by the law, it can also open up your business to the world and introduce you to potential new customers.
There is a significant portion of the population whose internet browsing doesn't come as easy as one might think, some people with disabilities won't be able to access your website without some help on your end. The process of optimization works for ADA and WCAG compliance and is powered by AI which automatically handles very complex requirements such as screen reader adjustments (Alt Tags, State Controls, ARIA Attributes, Icons & Buttons, etc.) and keyboard adjustments (Dropdowns, Menus, Pop-Ups, Forms, etc.).
The interface provides an optimal online experience as it is completely customizable to make sure that every user can cater it to their own unique needs. AccessiBe is also the only AI-powered plugin that has been proven to comply with WCAG 2.1 guidelines at the AA or even AAA level in some aspects.
As for ADA compliance, the plugin also provides you with a litigation support package with which you can get a certificate of performance for WCAG 2.1, ADA Title III, Section 508, and EAA/EN 301549.
The plugin itself was developed side-by-side with people with disabilities, so you can know for sure there's no way they cut any corners. AccessiBe is also fully automatic and you will never have to maintain it, once you have it, it will scan for new content every 24 hours to make sure you are always on the right track.
You can currently get a free 7-day trial (no credit card required) of this plugin and see if you like for yourself!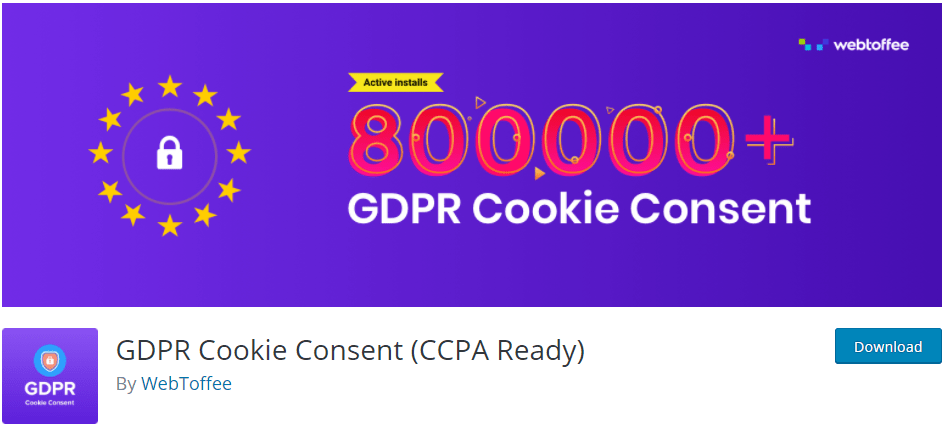 Cookie Consent will aid you in being compliant with GDPR and well as CCAP. One of the key features of this plugin is that cookies will not be used by default but only by user request, the user will be presented with either an accept or a reject option, and cookies will be used only if the user accepts it. It also adds a cookie banner either at the top or the bottom of your site, so that you can monitor your compliance with GDPR.
Cookie Consent can also be configured to have a "do not sell my data" or in other words a CCAP button as well.
Your cookie banner will become fully customizable, so feel free to choose from a variety of styles, fonts, and colors. Another thing you can customize is whether you want your cookie bar to disappear after a few seconds in the absence of an answer or you can choose for it to stick around as your visitors scroll.
Cookie Consent also has a more advanced premium version of their plugin.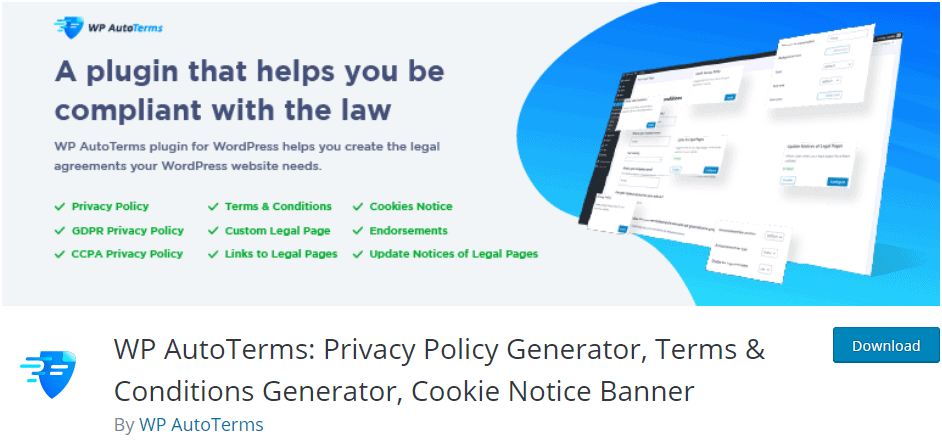 The formerly called "Auto Terms of Service and Privacy Policy" plugin has been updated and renamed to do even more for you than the original version did. WP Auto Terms takes three extremely important legal aspects of your site and attempts to offer you only one solution for all three of them.
These 3 things being a Privacy Policy, a Terms and Conditions agreement, and Cookie policy. The plugin uses a simple wizard to help you set it all up and gives you the option to create your legal pages and manage them.
It offers a feature called "Compliance Kits", the feature is created to help you with certain requirements and make the entire process easier to understand and do properly.
Compliance Kits is made up of 2 features:
Links to Legal Pages: This feature allows you to automatically insert links to your legal pages in the footer as they must be made visible to every visitor.
Update Notices of Legal Pages: After you've changed something about your policy you can use this kit to show every user an announcement bar informing them of the change.
In case you are interested in this tool or perhaps its premium version more information on both is available on their official website.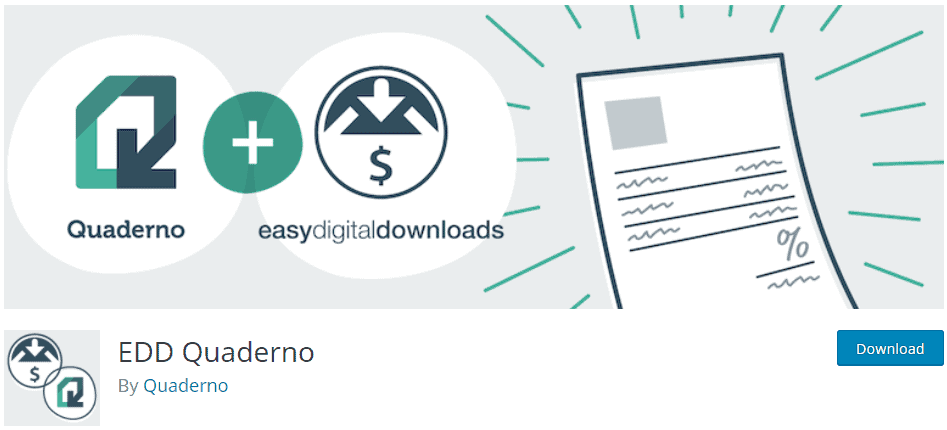 EDD Quaderno is a WordPress tax plugin, its main purpose is to flawlessly calculate the taxes on every sale no matter where your customer might be in the world and present you with a neat receipt of the transaction.
If you get this plugin your receipts will always be in compliance with tax rules that are very prone to change. It's going to take a lot off of your mind in the US, Canada, Australia, New Zealand, India, and the EU.
This plugin complies with local tax laws all over the globe and when a tax rate changes you will be automatically notified of the change.
The dashboard is simple and easy to use so that you can have a clear look at all your revenue sources on hand and in one place. The invoices, receipts, and credit notes are also available in multiple languages.
You can set up this plugin in under 5 minutes and it is completely free, however, getting this plugin will require that you have a Quaderno account.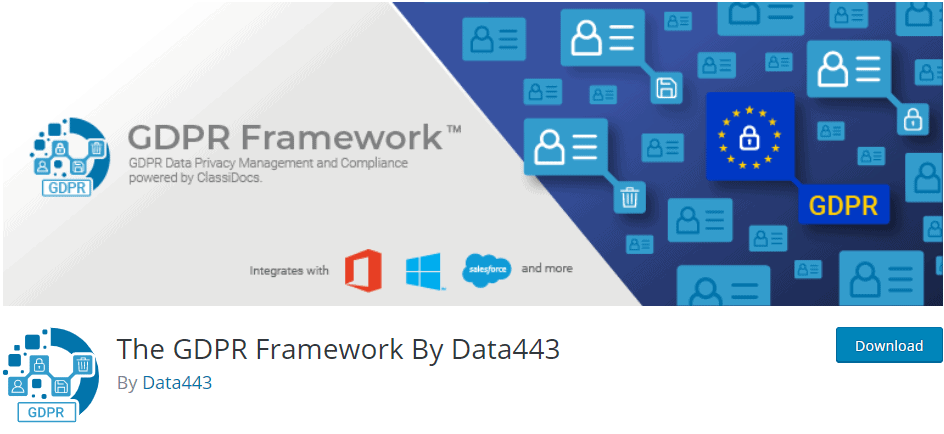 This plugin will once again aid you in being compliant with the GDPR, which is a very complex law, hence the multitude of plugins designed to help you with it. This particular plugin is quite extensive and offers a wide range of useful features to get your site on the right track.
You can give your users an optional time frame to give their consent when accessing your site and also track, manage, and even withdraw their consent if necessary. It also comes with a " do not sell my private information" option as well as the trademarked Privacy Safe seal.
With this plugin, you can generate a GDPR privacy policy template to suit your site and the plugin can be configured to delete or anonymize any personal data (this can be done either automatically or manually, the choice is yours).
GDPR Framework is also very developer-friendly as every feature they offer can be extended or overridden. It integrates with ClassicDocs and WooCommerce version 3.4 or later, as well as with your email subscribers and/or newsletters that you send out.
One thing that their own team puts a disclaimer on is that this plugin does not guarantee compliance with the GDPR law, it only provides you with the tools to start the process.
Conclusion
All things considered, keeping your site complaint might seem like quite a hassle, however, that doesn't make it any less important. The last thing you want is to get in trouble due to a legal problem you didn't even know you had.
Take some time to consider all of your options and everything you need to do to make your site compliant with all the laws necessary. There's no room for slacking in the ever-growing competition of online business, so, consider everything you have to do, take care of your website as a responsible business owner and make the best out of these handy plugins.
While most of them cannot make your site fully compliant they're going to get you started and make the whole process itself simpler and more effective, leaving less room for error.