Suppose you're running an online business (eCommerce), or you simply want to provide your users/visitors with various privacy policies and become a trustworthy source of information. In that case, you'll need a platform like OneTrust. It is one of the most used platforms that help businesses become more trusted by introducing privacy, security, data governance, and compliance programs.
OneTrust allows you to create integrated programs that comply with the CCPA, GDPR, LGPD, PDPA, and lots of other privacy policies and laws.
By law, you're obliged to protect the personal information of your users/visitors, and to do that, you need to set up a privacy policy. For example, if your website collects stats (using Google Analytics), you need to disclose that information.
Since I know that it is hard to find the best privacy policy creation tool, and maybe OneTrust isn't suited for your type of business, let's check out some alternatives and see what they have to offer, shall we?
iubenda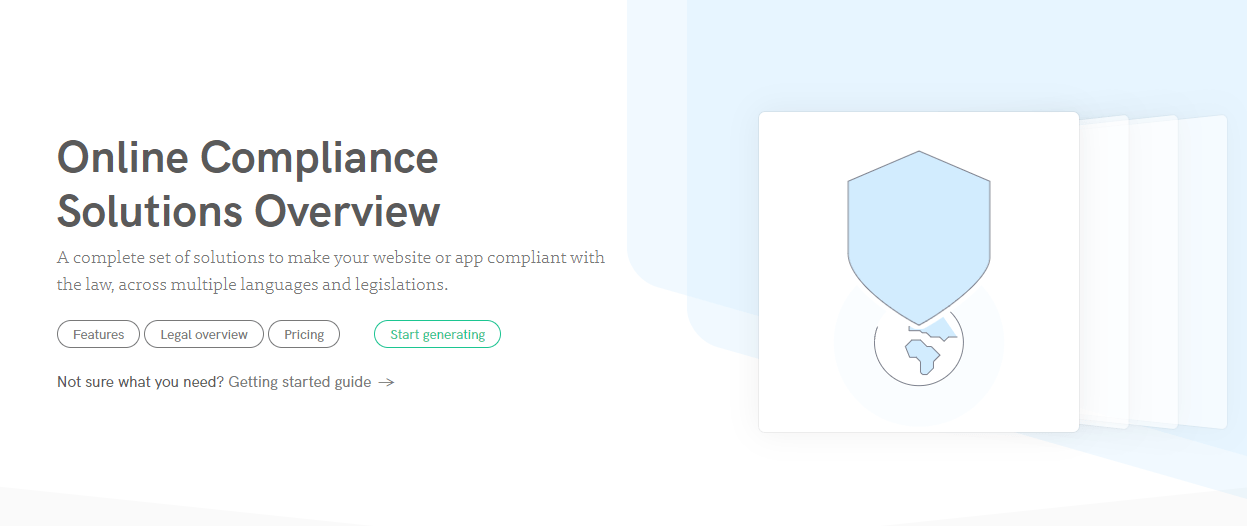 Using iubenda is one of the easiest ways to make sure that your site/app is compliant with all legal requirements and privacy laws. This way, you will honor all regulations, and if you want to keep your business going, following the law is your best bet.
With iubenda's help, you can easily figure out which requirements apply to your website or app based on your location and traffic.
iubenda includes a cookie banner, consent management tools, and legal documents (which can be set up within minutes) that you need to stay up-to-date with the strictest regulations. Plus, all legal requirements can be quickly checked from a central dashboard.
When using this tool, you can choose from eight languages for your privacy and cookie policies, as well as the Terms and Conditions to make your site or app compliant with all domestic and international regulations.
The following languages are supported: English, Italian, German, French, Dutch, Russian, Spanish, and Brazilian Portuguese.
iubenda Features
Lifetime access to the iubenda Ultra Plan
All future Ultra Plan updates
GDPR, ePrivacy & CCPA compliant
60-day money-back guarantee, no questions asked
Automatically updates legal documents if laws change
Scans your website and notifies you of any legal issues that need addressing
iubenda Pricing Plans
You have different plans to choose from depending on your website's/app's scale. Plans start at $59 (one-time purchase).
iubenda Pros
Easily generate a cookie banner and any other legal document such as "Privacy Policy", "Cookie Policy", and  "Terms and Conditions" for your websites and/or applications
Highly customizable – comes with different language, business, and design preferences
Comes with future updates in case laws change
Suited for web owners and app developers who want their business(s) to stay up-to-date and follow the strictest laws.
SAI Global

If you want to appear trustworthy, you must keep up with all data privacy regulations. SAI Global offers a compliant data privacy policy that is highly scalable and automated tools that will keep your organization safe at all times.
It is GDPR & CCPA compliant and can be used to set up any other policy or terms and conditions. Through its dashboard, you can view reports and access analytics that have been generated from your data privacy activities and other integrations.
SAI Global Features
Data Protection Impact Assessment
Data Privacy Regulatory Compliance Portal
Data Privacy Incident & Breach Management
Data Privacy Policy Management
Subject Rights Management
GDPR & CCPA Compliance
Dashboard & Analytics
Reduces Vulnerability
SAI Global Pros
Keeps you safe from various privacy lapses, fines, and damages by staying ahead of regulations
Automatic data collection and alerts
Configurable up-to-date data privacy library
BigID
BigID is designed for startup agencies and offers end-to-end solutions for Windows. It is fully GDPR compliant and includes "Data Mapping", "Access Control", "Consent Management", "Risk Management", "Sensitive Data Identification", and more.
To meet strict GDPR requirements, BigID takes care of personal and private data distribution across data repositories. It allows you to automatically generate data subject access reports, customize things for different types of needs and integrations, as well as ensure automated data deletion validation and policy violation monitoring.
BigID Features
Personal Information Discovery & Inventory
Comprehensive Data Source Coverage
Data Access Rights Fulfillment
Data Rights Validation and Assurance
Advanced Data Rights Management
Data Minimization
Breach Notifications
BigID Pros
Fairly customizable to fit your needs
Supports Mobile & Web Apps
Works on Mobile (Android) & Desktop (Windows)
Secure Privacy

Looking to make your website GDPR, CCPA, LGPD, and EU cookie law compliant? Well, then Secure Privacy might be just the thing you need! It comes with "Cookie Consent", "Cookie Monitoring", and "Cookie Control" for international data privacy regulations.
Using it, you can automatically log consent, sync consent across systems, generate a privacy policy, export logs, automatically scan your website, block cookies as well as trackers, and of course, provide a self-service opt-out for cookies on your website.
Secure Privacy Features
Cookie Consent
Consent Across Websites
Privacy Policy Generator
Right of Deletion
Ongoing Website Scanning
Universal Preference Center
Blocking of Cookies and Trackers (Cookie Consent Banners)
Right to Opt-Out
Secure Privacy Pros
Web-Based, Cloud, SaaS
In-Person & Online Training
24/7 Support Team
Conclusion
As always, I advise you to do your research and find a service/tool that best fits your budget and needs. I like iubenda for its straightforwardness as well as all of its features and pricing options. The best thing about it is that there is no hidden agenda, so what you see is what you get.
The other alternatives are quite decent, but you'll have to contact them for an offer, which some may find to be a waste of time.
But regardless of which alternative you like the best, do your website a favor and set up all the needed policies as well as terms and conditions so that it doesn't break any laws, and you'll be all good to go.