Every day, the average office worker receives about 121 emails. So, it's not hard to figure out why people are hesitant to give out their email addresses without a strong incentive. No one wants to add more noise to an already overflowing email box.
But, email marketing is insanely effective. According to research by HubSpot, email marketing generates $38 for every dollar spent, on average. That's a 3,800% return on investment! The stats speak for themselves and you'd have to be crazy not to utilize the power of email marketing, so even if it does require a lot of time, patience, and dedication, it's too good to miss out. On the other hand, if you'd be more keen on automating the process and leave those tasks to a software that will serve as your magic wand for email marketing purposes, you should steer your attention towards SendFox. With this neat little tool, you'll be able to create, schedule and automate unlimited customized emails, and with the full freedom in the customization process alongside with the automation, it might be exactly what your need for speeding up your workflow.

So how do we persuade our target market into trusting us with their email addresses? The answer is, of course, high-quality content lead magnets.
But, the problem is: most lead magnets fail to capture emails and provide values. Meanwhile, the right lead magnet will help you capture more email addresses than ever. Plus, by providing something of value, you're helping turn your prospect into a customer.
Here is why your lead magnets fail and three ideas to improve conversions today.
Why Most Lead Magnets Don't Work
Your content lead magnets need to be attractive enough to prospects that they're willing to take on even more emails in exchange for them. Which means that people need to see some solid reasons to opt-in.
Most don't work because they fail to do that. Most lead magnets fail to provide enough value to justify giving out their email. Here's how to create a lead magnet with a strong value proposition:
Provide high value. Your lead magnet needs to offer real value to your prospect. That's why simple 'sign up for my newsletter' magnets don't work. Because 91% of purchasers buy from brands they trust, providing value is a great way to build customer loyalty. Go beyond basic calls to action and seek to offer something to the customer.
Allow instant access. If someone has to give you their email address now, they want the magnet now. Not in 24 hours or 7 days. You need to have systems in place to do this.
Make it easy to consume. Not only do they want to access it right away, but they also want to consume it rapidly. A lengthy ebook or report requires too much of a time investment. Consider turning your lead magnets into audio format, like exclusive podcasts!
Include actionable advice. You need to provide specific information about how to solve a real problem or achieve something concrete. Generic advice and high-level information are not good enough to earn email addresses.
Offer quick wins. People want information that they can put into action right now. Your lead magnet needs to include at least one quick win.
The title of your lead magnet has a lot to do with why someone will decide to opt into it. So, you'll need to craft an irresistible headline that helps convey these five qualities.
While this is an article headline, it's a great example for a lead magnet: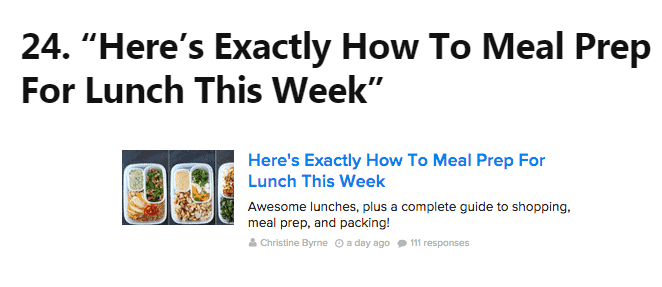 (Image Source)
 It's promising value by showing you exactly how to meal prep this week. Which checks off all of the five points above, assuming your prospects value healthy eating or dieting.
Here are a few lead magnet ideas that you can easily create to capture prospects with the same five qualities.
1. Templates
Free templates are one of the best and most used lead magnets. They give your audience a head start over having to create something from scratch themselves. Plus, using something that has been proven to work means fewer mistakes and errors.
A template can be any editable file that serves as an outline or starting point for your audience. Generally, it includes standardized content mixed with fill-in-the-blanks.
For example, look how Freshdesk is offering a free template to their readers in their customer service resume post:
(Image Source)
They created a simple one-page resume template using Canva. It's easy to read, easy to use, and can be quickly updated with users' information for a quick win.
You can use Canva to create your own beautifully designed template. Or even build a basic one using Google Docs or Google Spreadsheets.
PandaDoc took it to the next level and has a page with over 450 business document templates.
Anything your customers commonly need to create from scratch can be turned into a useful template. Here are just a few ideas:
Budget files
Wedding invitations
Weekly planners
Menus
Event calendars
Newsletters
Blog outlines and resources
Project to-do lists
Website layouts
Online courses
Facebook Ads
Infographics
Still stuck? Try spying on your competitors and see what lead magnets they are offering. You can then improve upon their offering to capture more traffic and signups.
2. Free Trial
Free trials are an excellent incentive for conversion. A free trial allows them to test out your product or service before committing. Which lowers their perceived risk of a commitment. And it helps move them along the sales funnel. So it's a win-win.
FreshBooks is great at this. The accounting software company offers a 30-day free trial with no credit card required. Which means it's easy to use, and you don't have to worry about forgetting to cancel and accidentally being billed.

But of course, after you go through the work of integrating all your company accounting information into the system, the chances of you canceling are probably pretty slim. Plus, since you're simply granting temporary access to a product or service that's already created, launching this type of lead magnet involves very little work.
And free trials do not have to be limited to software products.
If you're providing a service or membership site, you could grant 7-days free access.
Offering coaching and consulting services? You could create a lead magnet for one free hour of your time.
Have you created a paid course in Teachable? You can select one of the lessons to be used as a free preview. Similarly, if you have a book for sale, you could offer one chapter for free.
3. Quiz
People love to take quizzes. Which makes them a great option for attracting prospects while also helping to educate them about the value you're offering.
But, quizzes can also annoy people. Especially if they invest a lot of time into answering questions only to discover at the end that they won't get results without handing over their email address.
So, it's important to limit the number of questions asked. Focus on making the quiz fast, fun, and entertaining.
Here's a great example of a quiz I recently saw on Facebook: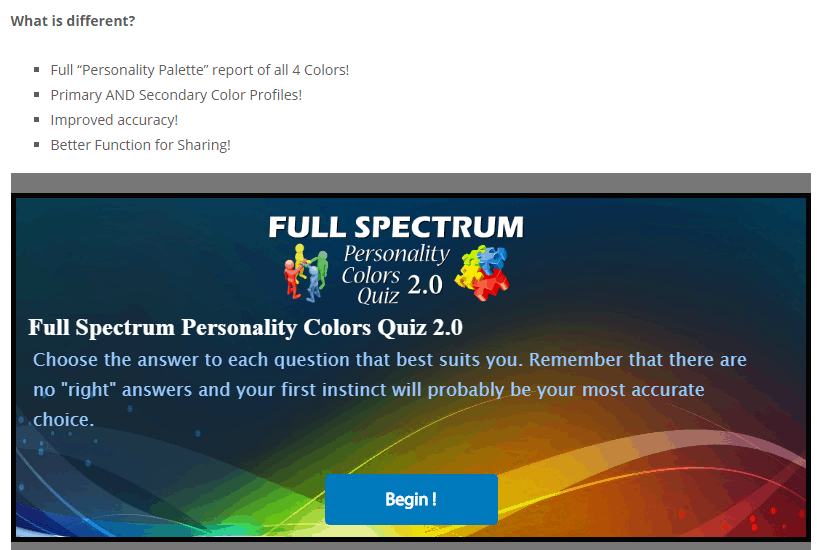 The simple format allows you to answer a few questions quickly and then prompts for your email. Once you submit your address, you instantly see your results on the website. (So there is no delay while waiting for the email to arrive.)
It can take some thought to design a quiz that will be engaging and informative. But the actual creation of the quiz can be easily achieved through any number of tools, such as WooBox or Survey Monkey.
Summary
These six lead magnets are surprisingly quick and easy to create. And they will convert like crazy. With the use of effective landing pages with customized call to action copy and compelling headlines, people will be eager to get onto your mailing list.
For even greater success, you can engage in paid ads to spread awareness of your lead magnets. And with such attractive offers, you won't need to spend much. Wee Squeak was able to capture 600 emails with just $90 in Facebook ads!
Which lead magnet will you create first?