I am sure you are aware of the power images have on us. Some say that an image is worth 1,000 words, so why shouldn't you include them in your blog posts?
Maybe you already know this and are actively posting visuals on your website or social media. However, coming up with fresh ideas and cool images can become a bit tedious, especially if you have been trying to include an image in every blog post so far.
But, you shouldn't worry, because we have found the best online tools you can use (some are free, some are premium) to create amazing images for whatever you want, your blog posts, social media, or your website.
1. ResizeMyImage
ResizeMyImage is a tool that allows you to crop, rotate, and flip your images but also do much more.
You can crop the images in any way that you want or set the crop to a specific aspect ratio. Flipping is done both horizontally and vertically and rotating left or right by 90°.
As the name suggests this tool is great for resizing images, and when you are resizing an image, you can define a custom size down to the precision of a pixel or stick with one of the predefined sizes. And no, you don't have to resize the images one by one, you can do that in bulk using the bulk image resize feature.
When it comes to the more creative edits, you can use the "photo effect" feature to overlay an image with a variety of filters, and also the "picture paint" feature to decorate the image with different shapes, drawings, even custom watermarks.
On top of all that, if you would like to change the format of an image before uploading, the "image converting" feature will enable you to do so in the blink of an eye.
Because ResizeMyImage is a free tool, that removes the inconvenience of having unwanted watermarks on your images post-editing, and since it is an online tool, you don't have to install any extra software on your computer.Amazing, right?
2. Canva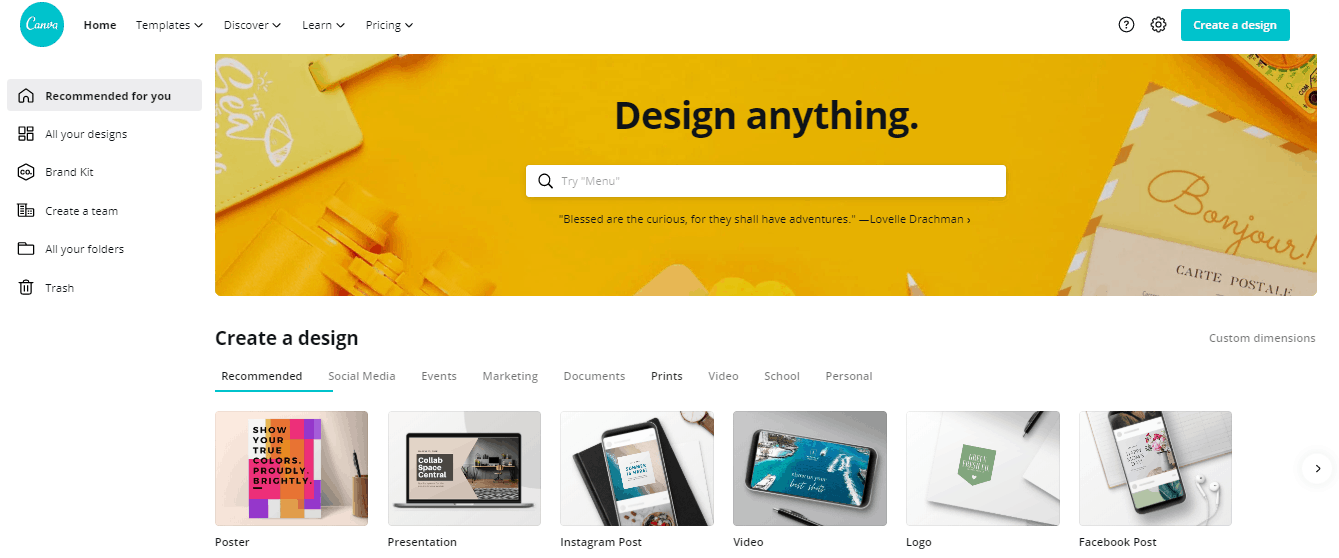 Canva is probably one of the most popular tools for creating images. It is an image design tool created to help you edit, alter, touch up, or create your own image.
Using it, you can create infographics, logos, quotes, collages, cover photos, and also resize images. It is quite versatile, plus it comes with many different design templates, whether for social media, resumes, or book covers.
There is a free version of Canva that has over 8,000 templates, more than 100 design types (social media posts, letters, or presentations), and hundreds of free photos and graphics you can use. If, however, you need more, there is the pro version that costs $9.95/month and includes all of the free features, plus the ability to create logos and custom templates, do one-click resizes, and use millions of premium stock images.
Also, with Canva your images are stored on a cloud with a storage limit of 100 GB so you don't need to worry you that will lose anything.
3. Visme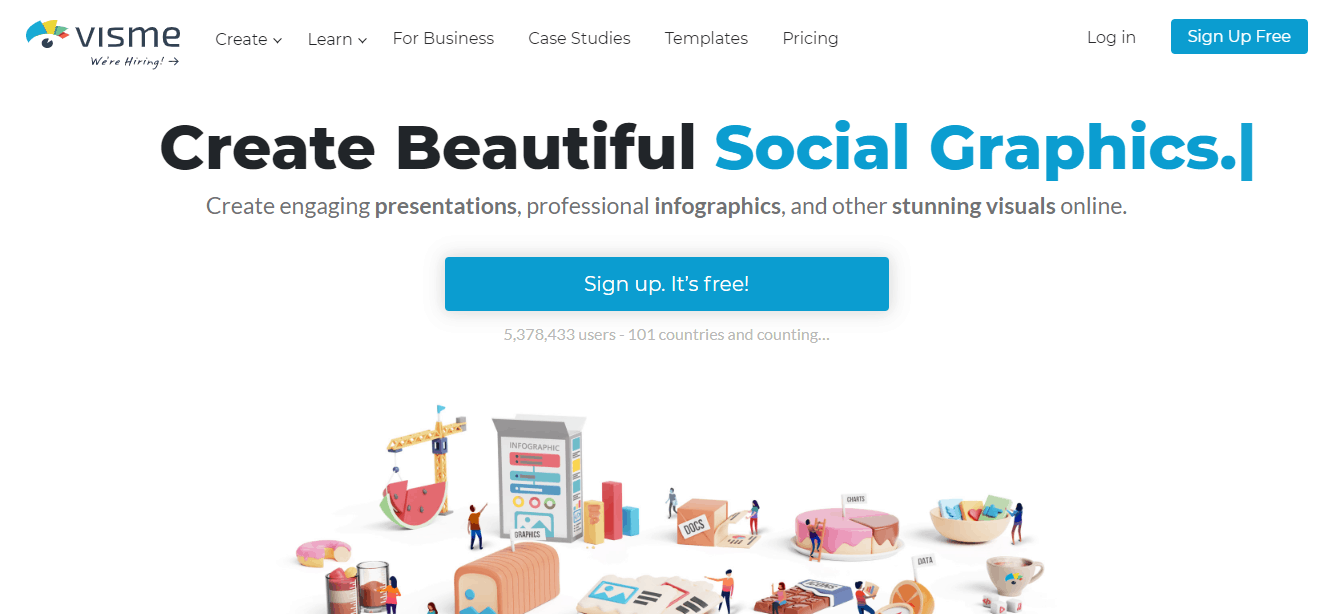 Visme is a great tool for new users who are just starting to learn and experience image creation. This tool lets you design any kind of interactive visual content (presentations, charts, maps, and documents). However, we recommend this tool for infographics as it is specifically designed for creating infographics that are both engaging and informative.
This tool comes with easy-to-use and easy-to-edit templates and content blocks you can fill out. You can customize anything on the infographic, as well as add charts, maps, and flowcharts to better show your data.
It takes only 3 steps to create professional infographics using Visme. First, you choose one of the templates, then you mix and match the content blocks, add and edit the text, and finally share or download your work and you are good to go. You can download the file as PDF, high-resolution image, or HTML5.
This tool is really worth your time (if it's something you need), and they have several major companies as customers which further proves their professionalism (IBM, PayPal, SwissLife, and Taxevity).
4. Fotor
Fotor is great if you want to make collages that tell stories and that you can share on social media. It is a free site to which you can upload photos from your computer, Dropbox, Facebook, Flickr, web, or from your phone camera.
This tool also has the ability to edit photos, by adjusting their color, size, and light, retouching them, and so on. Also, there are numerous templates you can use, depending on what you need the images for (social media posts, Facebook covers, posters, photo cards, YouTube banner ads, and more).
This tool is easy to use, you just drag and drop the image and you are ready to edit it. Plus, you can upgrade to a pro version that comes with even more choices when it comes to image editing.
5. Landscape by Sprout Social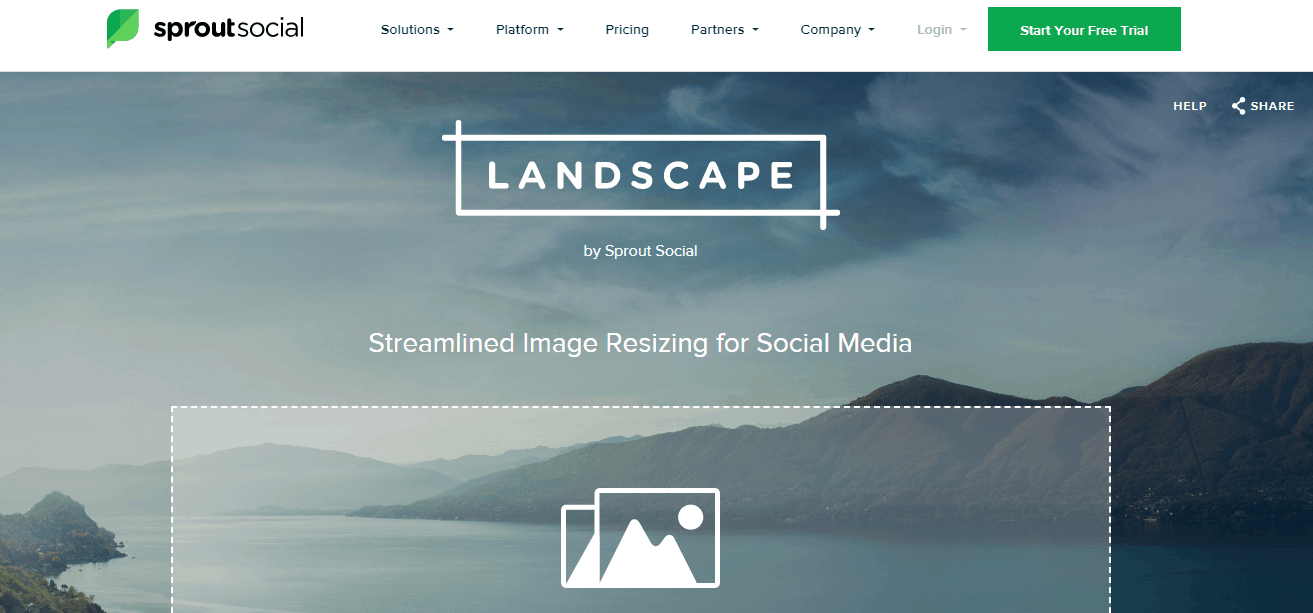 Landscape by Sprout Social is a great tool for image resizing. You can crop each image to meet the exact specifications of each social media site (if that is what you need).
The tool is really simple, you can just upload your image, choose which social media site you need it for, and the tool will automatically crop it for you.
If you sing up, you get a 30-day trial so you can see if this is something that you need. Otherwise, it comes in three pricing plans: $99 per user per month for up to 5 social profiles, $149 per user per month for up to 10 social profiles, or $249 per user per month.
6. Giphy

Giphy is a GIF maker, or in other words. a great tool if you want to create GIFs. Many brands use GIFs when talking to their customers, so it is definitely something you too should try out.
GIFs are a cool and interactive way with which you can talk to your followers and build rapport with them.
Giphy hosts millions of GIFs and makes it easy for you to upload video content and create a looped video. All you have to do is just upload a document, video, or enter a URL to create a Giphy GIF. It is fast, easy, and simple.
7. Gifmaker.me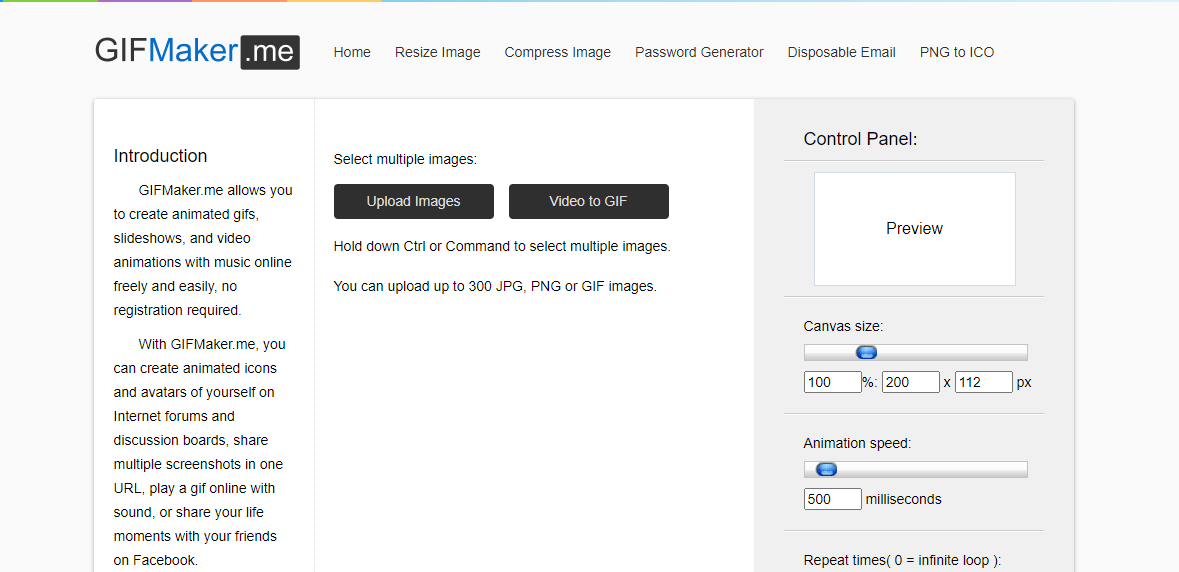 Gifmaker.me is another tool designed to help you create GIFs by uploading multiple images (up to 300). It is a free tool and it is quite simple to use it. And with it, you also have the option to resize your images.
After you have created a GIF, you can crop, resize, rotate, and compress it. However, this tool is designed only for GIF creation so if that is the only thing you need, this tool is perfect for you.
Conclusion
If you want to create images that you can use and share on your social media, add to your website, or use as book cover photos, we recommend you look up the online tools we listed.
Each tool offers something, so look up the features of each one to see if it is really the thing you need. Moreover, some tools offer the option to use templates as well as premium pictures and images, meaning they are great if you need some help in being creative.