Commerce is built upon affiliate marketing and sales. From the biggest commerce houses to small-time local sellers, almost everyone is part of an affiliate selling program.
If you want to work in eCommerce, but you don't want to deal with products, procurement, and logistics, opening an Amazon Affiliate Store is a perfect choice.
Your only task would be to attract customers to your website: either through amazing content or social media promotion. Whichever way you get your visitors is irrelevant, as long as they turn out to be engaged shoppers.
Therefore, the most important thing is to develop a high-authority site with information that will actually be valuable and insightful to shoppers. When you achieve this, your affiliate sales will go through the roof!
So, if you're ready to build your own Amazon Affiliate Store using WordPress, we have prepared this step-by-step guide for you to kickstart your eCommerce success. But first, let's cover all the basics.
Products on Amazon
Amazon, as a marketplace, really needs no introduction. It's the number 1 eCommerce platform in the US, with more than 200 million unique visitors per month. With this unbelievable number, it's currently number 11 on the list of most visited websites in the world.
The history of this amazing company is really fascinating: it actually started out as an online marketplace for physical books. Nowadays, books still make up an important part of Amazon's business with Kindle and Audible, but this sector only became a fraction of all the products available on Amazon.
The basic categories for Amazon products include pretty much everything, from Amazon Kindle, Fine Art, to Pet Supplies. All of these categories were carefully devised by Amazon expert teams to best reflect the most popular products on the Amazon Store. If you need inspiration for what kind of a store to open and which products to market, you can go along the lines of some of their categories, and you will surely nail it.
Selling on Amazon
For those entrepreneurs that are enthusiastic about brand building and marketing, but who are at the same time not so thrilled with the logistics needed for the whole operation, Amazon Affiliate is a perfect choice.
When you're an Amazon seller, you are individually responsible for the sales of your product from beginning to end. Now, let's take a look at what it takes to sell a physical product on Amazon:
You need to have the physical product available to you, at least in the initial stages of selling. This implies that you will have to handle inventory. In the beginning, this can mean being stuck with dozens of unsold items and having to get rid of them at a lower price.
You have to photograph the product by yourself. On Amazon and other eCommerce marketplaces, images are everything. Since shoppers don't have the chance to see the product live in real-time, they rely mostly on how the product is portrayed in its images. It's, therefore, essential to have the best product images available. This means that you should initially invest in a professional or at least a semi-professional camera.
Product content is also your responsibility. After you have your photo, it's time to come up with the title, caption, and description for your product. If you are familiar with eCommerce, you probably know that these skills have also been boiled down to a science. With all the competition out there, you have to use titles and text to make your product stand out. If you don't have a way with words, you will have to outsource the writing of your product descriptions, which will set you back financially even further.
After your product has been launched on the Amazon Store, it's your next task to spread the word. Most probably, you will have to use paid ads to stand out.
Affiliate Marketing for Amazon
As you can see, selling on Amazon is all but a piece of cake. Now, let's take a look at the process of becoming an Amazon affiliate look like:
You join the Amazon Affiliate Program.
You add product banners to your website/blog/store.
When a product is sold, you get a commission, but Amazon and the seller deal with the rest of the tasks. Basically, you only take over the 4th step – marketing.
Now, we hope it's crystal clear that becoming an affiliate for Amazon is about a zillion times simpler than selling yourself. However, there is the most obvious drawback: you won't get 100% of the profits, so growth may be somewhat slower than if you owned your very own Amazon store.
But, the math is not really that transparent on this one: when you take into consideration the costs of managing a website (hosting + marketing) versus the costs of running an Amazon business (products, inventory, employees, outsourcing of tasks, marketing), you can actually see that the profit is not that much higher for Amazon sellers.
How Much Can You Earn with the Amazon Affiliate Program?
Now, every entrepreneur is always curious about how much you can earn with Amazon Affiliate to determine whether it's worth the effort to even plunge into the business.
Of course, there are no clear-cut answers for this. Some affiliates who are running poorly-visited blogs earn a total of zero per month. On the other hand, there are big online stores that earn millions of dollars through Amazon Affiliate sales.
If you do a quick Google search, you can find many success stories of people making hundreds of thousands of dollars on their first year, making Amazon sales. At the same time, you will find stories from frustrated entrepreneurs who wasted time, effort, and money, only to see their business completely flop.
Just like with everything else, your success will depend on a huge number of variables. The best thing to do before opening your own Amazon Affiliate store is to inform yourself as much as possible in order to go into the industry ready and educated.
If you have decided that this is something you want to do, it's time to start creating your own Amazon Affiliate store!
Signing up with the Amazon Affiliate Program
Amazon's affiliate program is available at Amazon.com Associates page. Here, you can find the link for signing up, as well as many other useful resources for learning how to sell with Amazon Affiliate.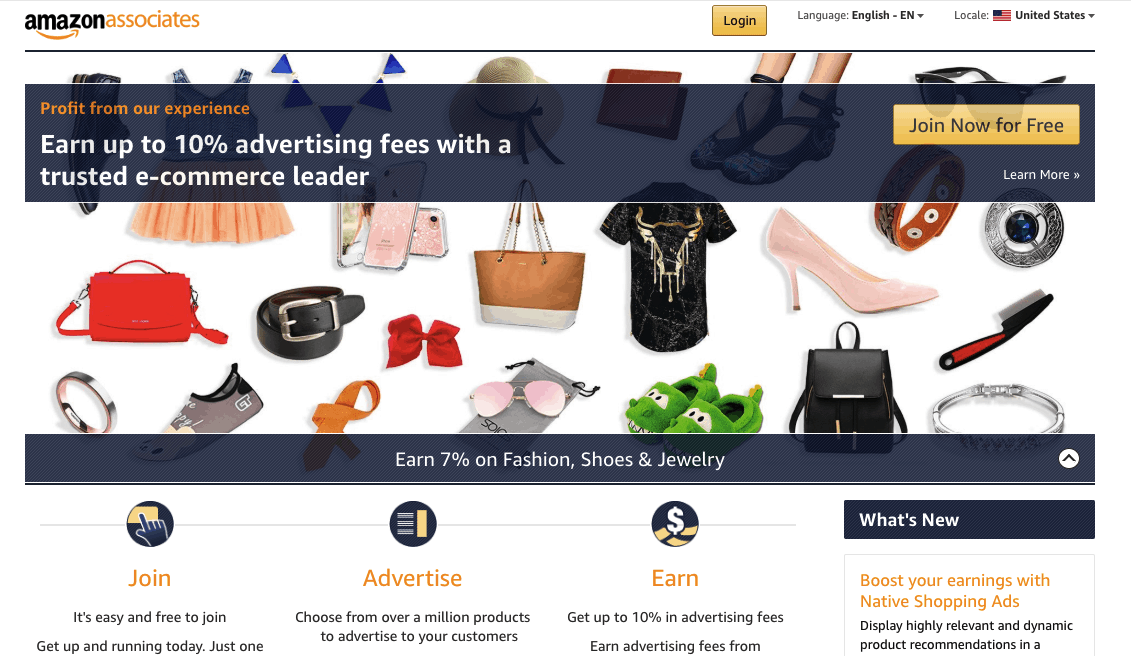 As you can see, Amazon Affiliate provided a simplified step-by-step visual: Join, Advertise, Earn.
Let's go with joining first. When you're ready to sign up, click 'Join Now for Free.' You will be redirected to a page asking you to log in to your Amazon account or sign up for one. If you already have an Amazon account, you can use that one to sign up. However, if you're starting a separate business and you don't want your affiliate sales to be jumbled into your Amazon purchases, it's best to set up a new Amazon account.
After you sign in, you will have to go through a 5-step sign up process:
1. Account Information
Amazon will require you to fill out your personal data with your real name and physical address. It's important to put in the correct info because you will be required to verify it at a later stage.
2. Website and Mobile App List
Here is where you put in the URL of your website/blog/online store or a link to your mobile app. You can add up to a maximum of 50 websites or apps.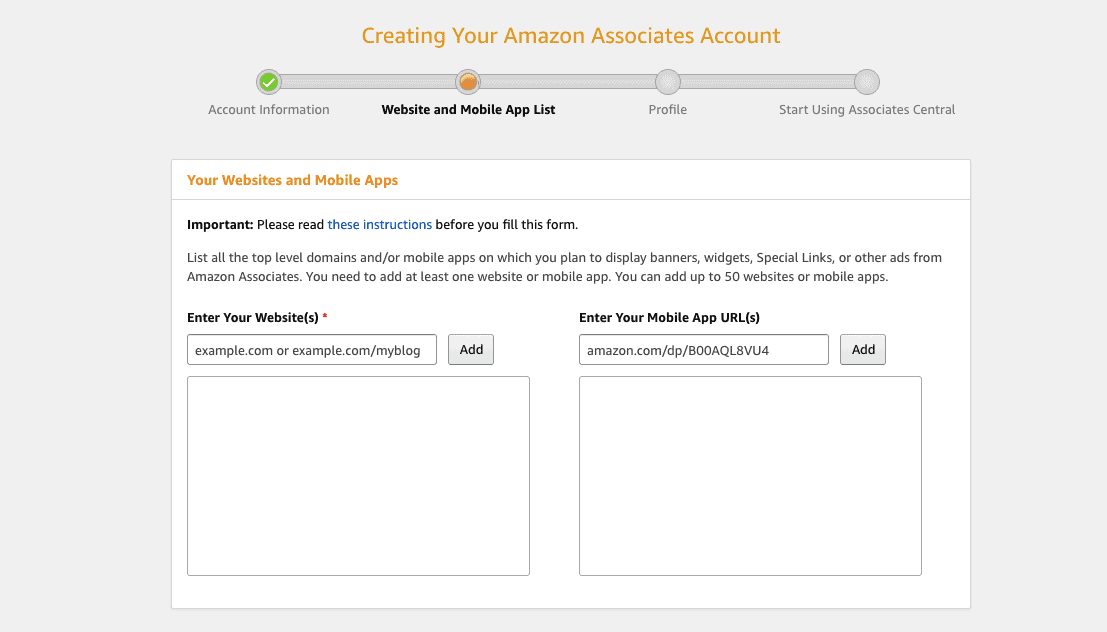 Simply put in your website URL and click on 'Add.' You will see the final list of your URLs below.
After confirming, you will have to state whether your website is age-sensitive. If the content on your website is primarily targeted at children under 13, you cannot use Amazon Affiliate.
3. Profile
This is where you will fill out all the details related to your store.
First, you will need to state your preferred Store ID.
Then, you will have to manually type in a short explanation of what your website is about.
Next, you select a category for your website. It's important that you choose a suitable category because Amazon might use this information for the placement of native ads.
In the next section, you will have to fill out some info related to the traffic you get on your website and the ways you monetize your content.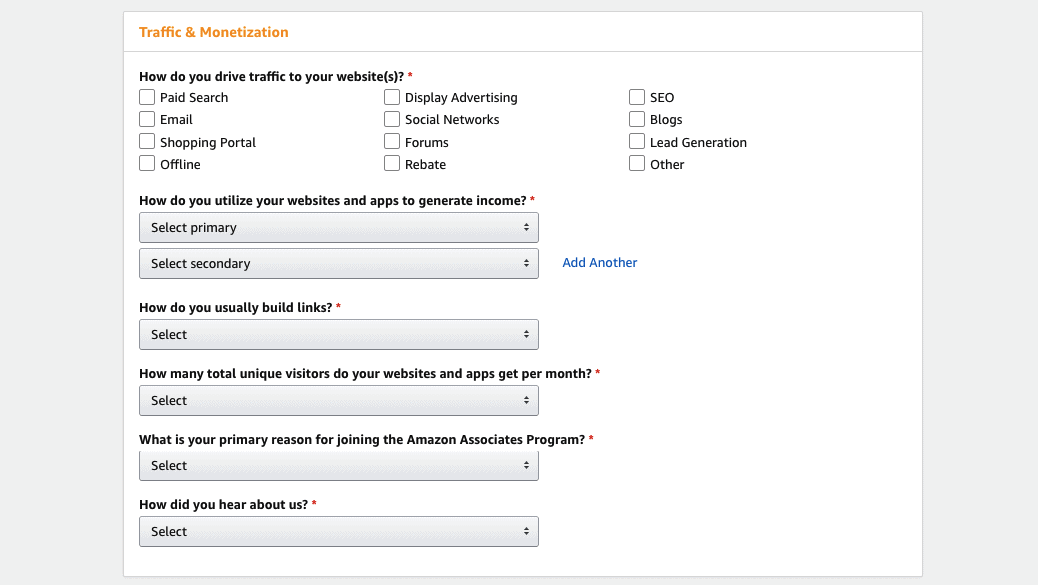 4. Identity Verification
You will have to verify your identity using your mobile phone number. Simply put in the mobile phone number that you use, and Amazon will call you with your one-time PIN to verify that the number is yours.
5. Start Using Associates Central
Voila! It's time to start using the Associates Dashboard and placing product links to your website.
Adding Amazon Affiliate products links to your WordPress Website
WordPress is the optimal channel for developing an Amazon Affiliate empire because it's highly customizable. If you're a book blogger who's giving their take in the form of 10,000-word long book review essays, you can smoothly place Amazon Kindle products without looking like an online store and losing that blog flair.
If you're selling with the Amazon Affiliate program, there are no limitations on how your website should look like. Of course, many marketers choose to make a store that has a classic eCommerce look and enter into the market just like any other online store, except it's only an affiliate.
Adding Amazon Affiliate to your WordPress site is very easy, and it takes just a couple of seconds. However, WordPress doesn't allow affiliate links that are not related to your website. So, make sure that the content you're presenting is somehow related to the products you're promoting.
1. Search for a Product
The first step is to go to Amazon's Associates Dashboard, where you will see a search box. Here, you should enter the keyword for products you would like to promote.

If you're still quite confused about what it is you actually want to sell, you can go with the 'Browse for Product' option instead to get that much-needed inspiration.
2. Get Product Link
After you have entered your product keyword(s), Amazon will show you the top picks based on the product you were searching for. If you can't find the type of product you're looking for, you should be more precise with your keywords.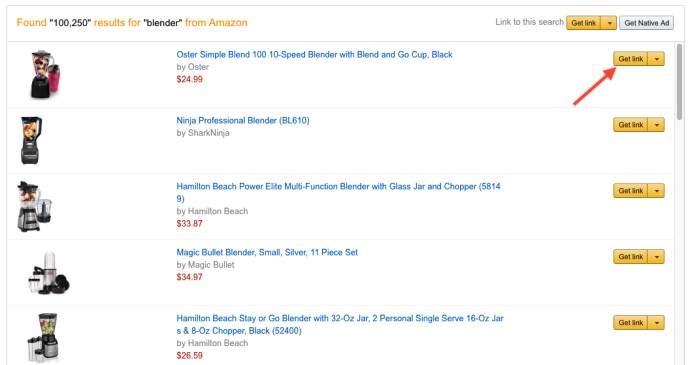 On the right side of the product list, you will see the 'Get Link' button for each of the products. Click on it to create your own Amazon Affiliate link.
3. Design your Link
Now, it's time to customize your affiliate link and really make it pop on your website. After you have clicked on 'Get Link,' you will be directed to the link building area.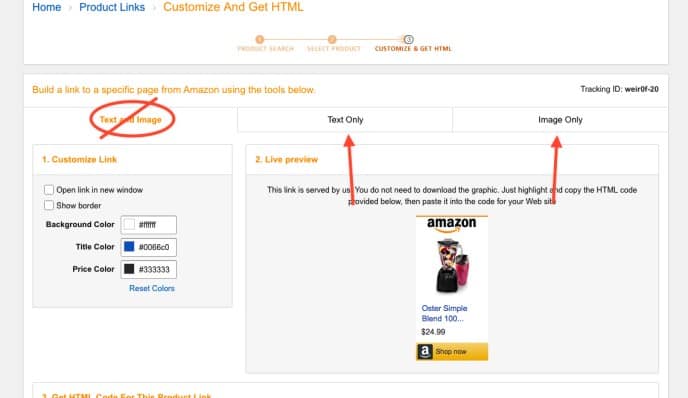 Usually, Amazon offers three link options: Text and Image, Text Only, and Image Only.
For WordPress, Text, and Image are not supported, so you will have to decide between Text Only and Image Only.
On the left side, you will find the options for whether to open your affiliate link in a new window, show border or not, choose the background, title, and price color.
4. Pasting your affiliate HTML code
You're done! After you choose text or image, you will see an HTML box beneath the live preview. Use this HTML code and add it to your posts and pages.
How to Create a Mega-Successful Amazon Affiliate Store
After you read all the Amazon Affiliate success stories, you might end up daydreaming about making thousands of dollars in your first week on Amazon. However, things are actually not as shiny as they seem.
As a basic rule of thumb, super successful Amazon Affiliate stores are actually websites that have a huge number of visitors by themselves, especially websites and blogs with loyal readers and a community around them.
The easiest way to launch your Amazon Affiliate program to success is by simply spinning off a high-traffic website into an Amazon Affiliate store.
Of course, there are many marketers that start from scratch and develop an Amazon Affiliate store, even without having any visitors. If you decide to go with this option, you will have to invest a lot of funds into marketing. This is why having a loyal audience in the first place will put you miles ahead from a fresh-made website.
Next to great marketing and reaping the benefits of your current visitor base, it's also important to optimize your processes. One of the ways in which you can do this is by installing Amazon Affiliate WordPress plugins that will help you save time and effort.
WordPress Plugins for Amazon Affiliate Stores
If you want to localize all your processes and run your Amazon Affiliate store all within WordPress, there are plugins out there that you can use to do just that.
Amazon Affiliate for WordPress (AAWP Plugin)

Just like all plugins, Amazon Affiliate for WordPress will let you run your store without leaving the safe cocoon of the WordPress dashboard.
Some of the other nifty features of AAWP include:
automatic price updates (out-of-date pricing is a violation of Amazon Affiliate program's terms and conditions)
product comparison charts
automated new release lists and bestsellers
AAWP is a premium plugin with a one-time fee of EUR 39.
Amazon Associates Link Builder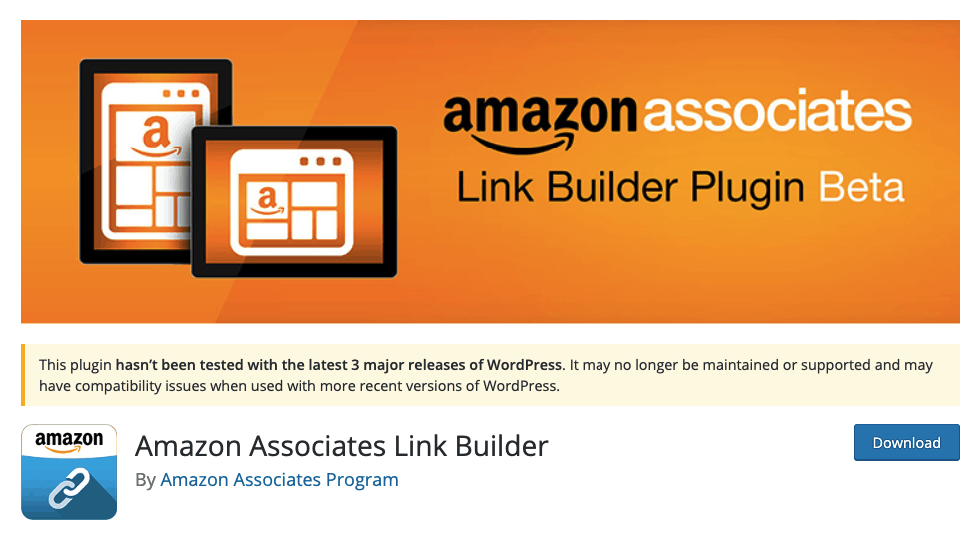 The Amazon Associates Link Builder is the official plugin for the Amazon Associates program, but it's far from well-liked in the industry, with a red-flag rating of under three stars.
It basically allows you to search for Amazon products right from your WordPress dashboard and get links with ready-made templates.
EasyAzon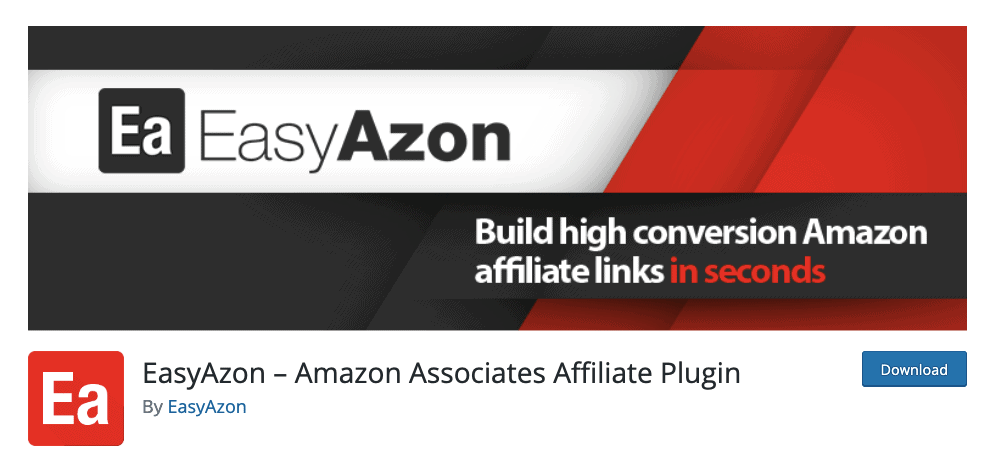 EasyAzon is a very powerful plugin that, unlike others, lets you grab and add Amazon affiliate links right from your text editor. It's an amazing time-saver that will allow you to skip the entire process of going out of WP to search for products and building/customizing links.
EasyAzon plugin is free, and it also includes a comprehensive guide on how to run a successful Amazon Affiliate store. If you're just starting out in the business and you don't want to make investments without testing your site's viability and profitability, EasyAzon is a great free resource to simplify your Amazon Affiliate game.
Back to you
Now that you have all the knowledge you needed, and some extra on top of that, what are you waiting for? Go and create your soon-to-be successful Amazon Affiliate Store, and start making a living while you sleep!