The reality is that there are more and more influencers each day, or at least those who call themselves that. First, you have to stand out with content, attitude, or something third. And then, the number of your followers grows. As you gain more followers and more people start to recognize you, the interest of brands will grow for you.
Also, you can afford to work with, by our standards, "more luxurious" brands. However, your followers will no longer be able to afford it, and you become just a beautiful image on the Internet.
Whether you are an influencer that agencies have known about for a long time or belong to the group of micro-influencers, here are some great platforms on which you can stand out even more.
1. Influence.co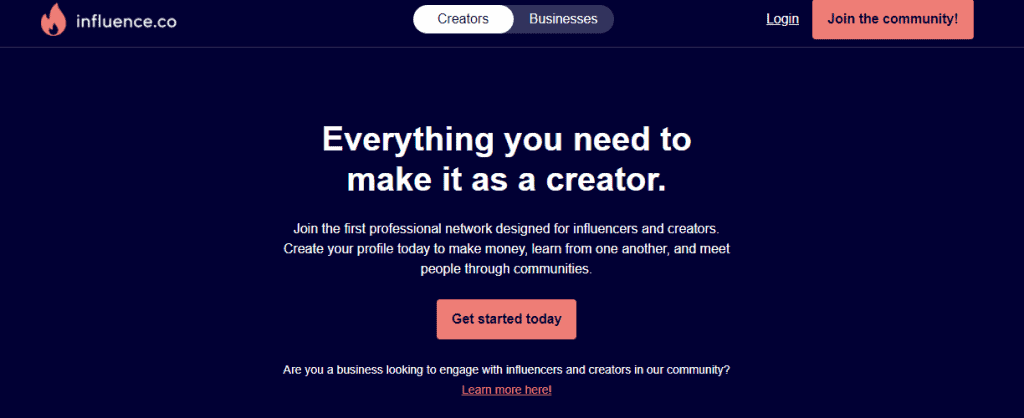 Influence.co is an online platform that helps you quickly find and easily connect with other influencers who want to work with your brand. This site is an excellent database for almost any industry.
Plus, it's free to use until you reach the point where you contact more than 30 Influencers a month. It is effortless to use. You have to type the desired category/industry in the search section and click the "search" button.
If you click on the "Advanced search" button, you can choose Influencers by the number of followers on Instagram, location, age, Google Analytics, and many other factors. If you are not interested in Instagram, that does not represent any problem. You can search YouTube, Pinterest, or Snapchat.
However, all you have to do is highlight what you want to search for and click the "Advanced search" button.
2. Webfluential
Webfluential is, for many, the most significant "influencer performance" marketing platform for brands and agencies. This platform is a complete solution that combines all the necessary tools and results in real-time. Also, this way, it simplifies connecting influencers, agencies, and brands.
Besides, it helps young people who have all the prerequisites to start acting as influencers and are unaware of their impact and potential.
Webfluential is extremely easy to use. It gives accurate and detailed campaign results in just a few clicks, does analytics, exports data, and makes presentations. For one, 5, or 100 influencers, it does not matter – a detailed report with all the metrics developed is available immediately, in real-time.
3. CreatorIQ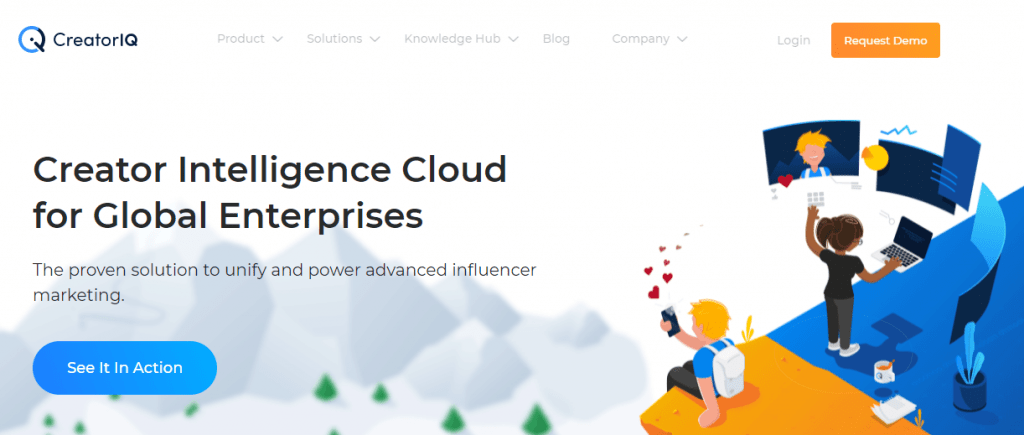 CreatorIQ is genuinely end-to-end, with an interface that is smoothed and practical. It has a fantastic feature set, including everything you would require of an influencer marketing platform.
Also, vital information is that this platform targets big agencies. And even large businesses searching for an indeed all-in-one solution and has integration instantly with social platform APIs. CreatorIQ has focused on large companies and enterprises rather than small and medium-sized businesses.
However, once you pick your favored influencers, it can reach much more data than is available publicly. Also, CreatorIQ has a white-label option, a fully customizable portal where called influencers can join you and go through an onboarding process.
Lastly, we have to mention that you build out your network and create your private marketplace entirely for this platform. Influencers do not log on to CreatorIQ to find possibilities. They log on to your portal to recognize what your brand has going on.
4. Tagger
Tagger started life as a music recommendation engine. Now, everyone likes to use it for influencer marketing, using the best parts of the existing software.  This platform has more than 3.5 million influencer profiles, resulting in an incredible amount of data. You could think that Tagger is a full-fledged digital marketing research tool.
However, the platform's focus on psychographics is what places it special. It has all the features of an influencer marketplace. Brands and agencies can get an exact look into the varieties of content that will encourage engagement with their audiences. It involves competitor research, where property information gives you insight into what has been working for them. Also, it helps as inspiration for your campaign.
5. NeoReach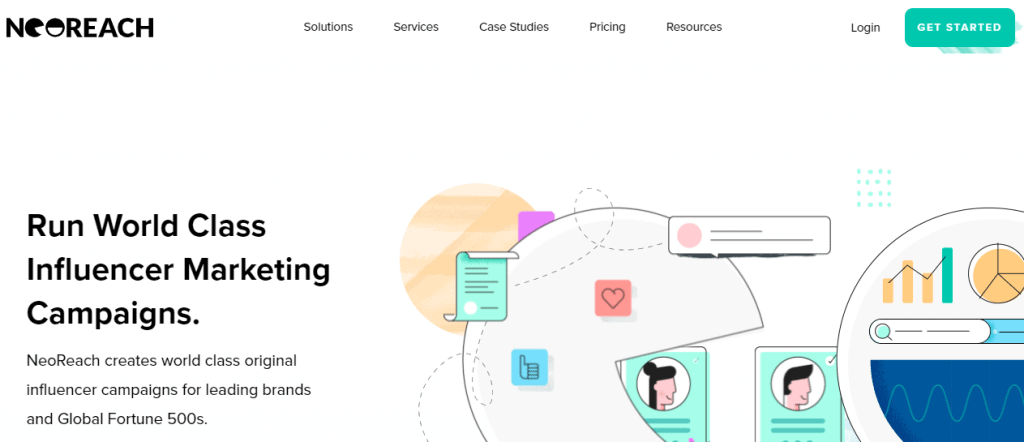 NeoReach is a pretty small startup, and they do give the impression of trying to define themselves fully. They present their platform as a self-service influencer marketing software. Also, they offer an option for "Managed Campaigns." That means they will design and run full campaigns for you. However, you are free to hop on to their dashboard and see how things are going.
Also, NeoReach puts no exclusivity boundaries on the talent pool. Preferably, its powerful search engine enables brands to filter searches across multiple criteria. Criteria like brand affinities, social performance, followers demographics, and so on. Also, companies can handle all their influencer relationships through NeoReach. They can negotiate rates, create campaign briefs, approve posts, and manage payments.
6. Lumanu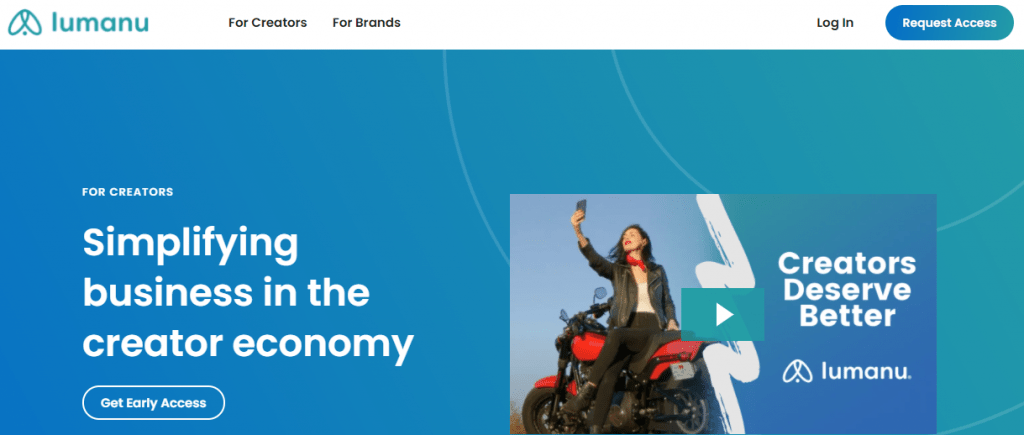 Lumanu holds itself very differently from most influencer marketing platforms. It does not allow influencer finding for a start. Instead, it proposes to help brands repurpose their influencer content. Like Facebook and Instagram ads, delivering a perfect illustration of an influencer marketing platform designed to magnify your campaign.
7. Grin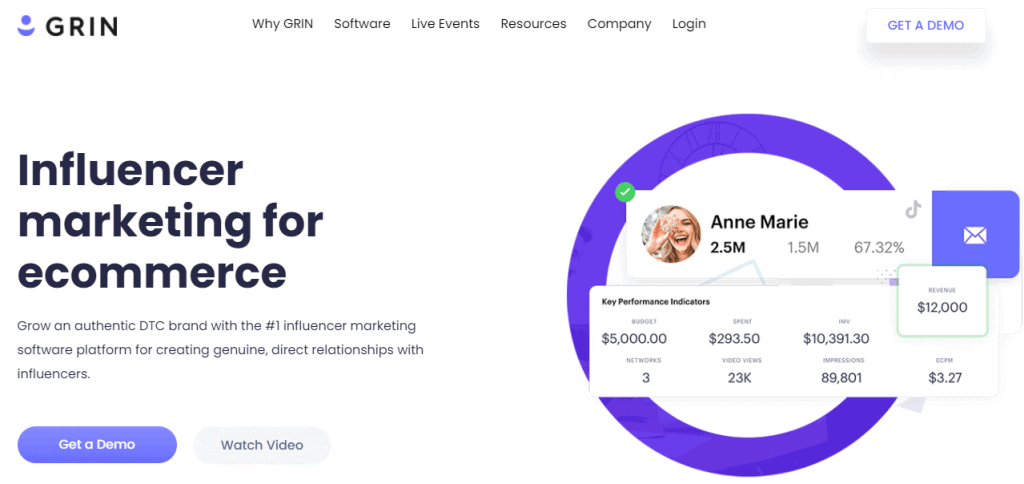 Grin has theory is that influencer marketing is marketing specifically to the influencer. If you develop a trusting bond with them, all else comes into place. However, the main focus of this platform is on eCommerce businesses with combinations into some of the significant purchasing platforms.
Also, Grin's searchable database covers influencers from social media like Instagram, YouTube, and TikTok. You can seek more than 100 million influencers there.
8. Moonio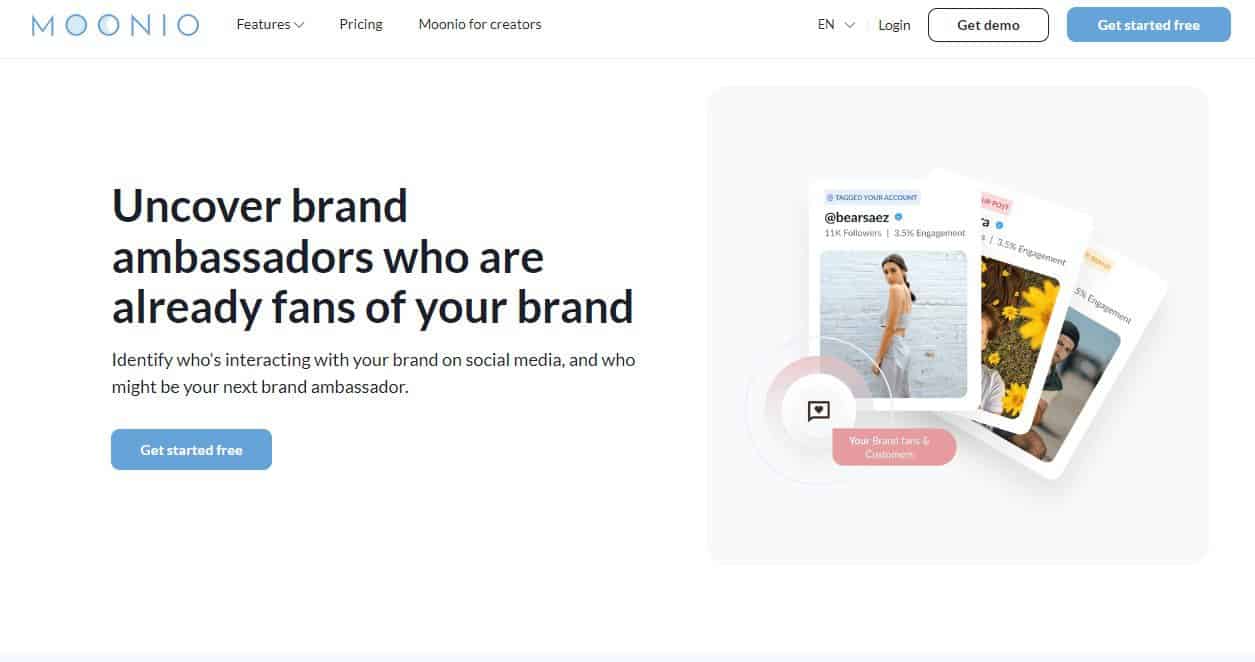 Moonio is a cutting-edge blockchain platform that aims to revolutionize the world of decentralized finance. By combining the power of blockchain technology with smart contracts, Moonio offers a secure and transparent ecosystem for various financial activities. One key aspect of Moonio's success lies in its dedicated team of brand ambassadors. These brand ambassadors, who are passionate advocates of Moonio's vision and values, play a crucial role in spreading awareness, building trust, and fostering community engagement. Through their influential presence and effective communication, Moonio's brand ambassadors help drive adoption and create a thriving ecosystem for users worldwide.
Conclusion
In conclusion, we can say that this is a new chance for platforms. To offer a base of micro-influencers because agencies already know the significant influencers and profiles that aspire to that status. Small and medium-sized influencers can have a more substantial impact than the better-known ones because they have more loyal followers who believe in their announcements.
Also, micro-influencers are the ones who are the hardest to find in sufficient numbers to make a more comprehensive campaign.