A Coming Soon page can be like a welcome mat for your visitors. It can serve multiple purposes: it can notify visitors when the site is expected to be back up, what's currently happening and what's next for the brand and the company. Coming soon plugins are an easy way to set this up and welcome your visitors.
There are numerous occasions when you might need or benefit from a Coming Soon page and when you can benefit from coming soon plugins:
Maintenance
Regular and detailed WordPress maintenance is mandatory if you want your site to run perfectly. Many websites and brands hire outside help to do it, but some website owners do it themselves. Basically, WP maintenance implies a set of tasks that needs to be done and checked in order for the site to run smoothly. The recommended mode to do this is by 'pausing' the website, i.e. not taking in new visitors on your regular domain. Rather, setting your site in maintenance mode will help you do your thing undisturbed. After you're done, you can reclaim all your staff back in a couple of clicks.
Rebranding
Design and audience taste changes as swiftly as new trends appear. Due to various influences from the market, businesses sometimes have to go through rebranding. Of course, when a brand goes bye-bye, the ex-website goes with it. If you have to align your website to your new logo, color scheme, typography, and visual identity, you can keep a Coming Soon site up while you do it (e.g. Gucci). You can even give a sneak peek of your new brand so that customers know what's going to happen.
Theme updates
If you own a starter blog, it's very easy to play around with theme customization. You change the layout 5 times in 20 seconds, delete the footer area altogether, change the fonts, or even switch to a whole different theme… When you're starting, it's important to go through this trial and error process to see what you like best. If you're a self-taught WordPress designer, the easiest way to achieve your vision is to play around with the theme and discover all of its perks.
If you already have readers and visitors, it's definitely not recommended that you fuss around with your layout, colors or fonts while you have incoming visitors. Then, it's better to set up a Coming Soon or a Maintenance Page. Your website should be visitor-ready when you decide you're done.
New product/feature launch
One of the features of the Coming Soon page is that it can create hype and anticipation. If you're a well-known brand, redirecting from your home website to a Coming Soon page for a new product can be a baller marketing move.  This will show your visitors that a new product or a feature will soon drop. Not only that, but it's so important that it will have a separate website. Many brands worldwide use this marketing strategy (e.g. Adidas, Nike).
Testing
If you're a developer or you're working on WordPress maintenance, you frequently have to test theme functions and plugins. While you do so, it's also helpful to put the website in maintenance mode. This will not scare away visitors who happen to enter your website address at the same minute you've completely changed something. It's better to do it all behind the scenes and come back when everything is fully ready.
Plugins for Coming Soon Pages
Since manually developing an 'Under Development' page can be a hassle, there are some coming soon plugins out there to save you the hard work. We have looked at and reviewed some of the most popular WP plugins out there to give you a final ranking. Here are the features we looked at:
Easy use. Coming Soon plugins are primarily targeted at non-developers. So, it's crucial that they're not too complicated and that they don't use too much programming lingo. If a basic user can go about the plugin, it gets extra points.
Different functions; versatility. A Coming Soon page is not only a text saying: Coming Soon. The 2019 audience is much more demanding than that. So, a great Coming Soon plugin will give users the opportunity to add different functions: email boxes, banners, countdowns…
If Coming Soon plugins have ready-made templates, it will make your job even easier. You can quickly preview what your site will look like and simply adapt it according to your needs.
1. Coming Soon & Maintenance Mode WP
Overall, WebFactory's Coming Soon & Maintenance Mode WP is definitely the best coming soon plugin out there.
It boasts an impressive combination of responsiveness and easy use, versatile features and a huge image library. The plugin is pretty straightforward and it can be easily used by beginners.
20+ different templates: whatever your coming soon site purpose may be, you'll definitely find the right choice in the template library. These are all well-tested out templates that work well with mobile, too.
Image library: we're all concerned about copyright and using unlicensed photography, but with Coming Soon WP you don't have to be. There are over 650,000 images in the plugin's library to choose from: they are all free and in high resolution.
Drag and drop builder: This tool makes it easy to set up a Coming Soon page even for absolute beginners and basic users. You just click on the feature or option you want to add (color, layout, fonts) and tweak the website in real-time.
SEO: it's important to take care of SEO from day one. A lot of website owners are not even aware that their Coming Soon page has search engine potential. But, when you use Coming Soon & Maintenance Mode WP, there are built-in SEO tools which will help your website rank even if it's not up yet.
Embedding: This plugin allows you to easily upload YouTube, Vimeo videos or Google Maps to your Coming Soon page. You can also add a progress or a countdown bar.
GDPR-compliant email address form: if one of the goals of your website is to build your email list while staying GDPR compliant from the very beginning, you can add the plugin's email subscription form which has a checkbox for GDPR Consent.
There are many more exciting features that you can discover in this flexible plugin. It's available for free, but you can get a Premium version which will unlock absolutely everything for $29.
2. UnderConstructionPage
Coming from an experienced WordPress plugin developer brand, the UnderConstructionPage plugin is one of the fastest ways to a beautiful Under Construction page.
It contains amazing perks and templates that make it easier for users to find what they really want. If you don't know what your Under Construction website should look like, you could easily get inspired browsing the library. Here are some special features of this plugin:
Drag and Drop editor: after you have installed the template you like best, you can alter it to suit the purposes of your website. The interface is very intuitive and it can be used even by the most basic of users. If you want to have complete control over how your Under Construction page looks like, the Drag and Drop editor will do the trick.
App integration: Under Construction Page enables easy integration with some of the most powerful marketing tools in the industry. In just a couple of clicks, you can integrate Google Analytics, which will allow you to track traffic that comes to your site while it's building. This will allow you to recognize some successful keywords, even without any content up yet. The Under Construction plugin also integrates with MailChimp, which will allow easy access and newsletter distributing to your new subscribers.
Contact Form: if they visited your Under Construction page, they probably have something to say to you. Let your visitors express their excitement, joy, anger, confusion, and questions by integrating a contact form.
SEO-friendliness: just like Coming Soon WP, the Under Construction page will allow you to get search engine juice even if the site's not up yet. The plugin uses built-in methods to boost your SEO ranking and you can expect to see results even without doing the work.
3. WP Maintenance Mode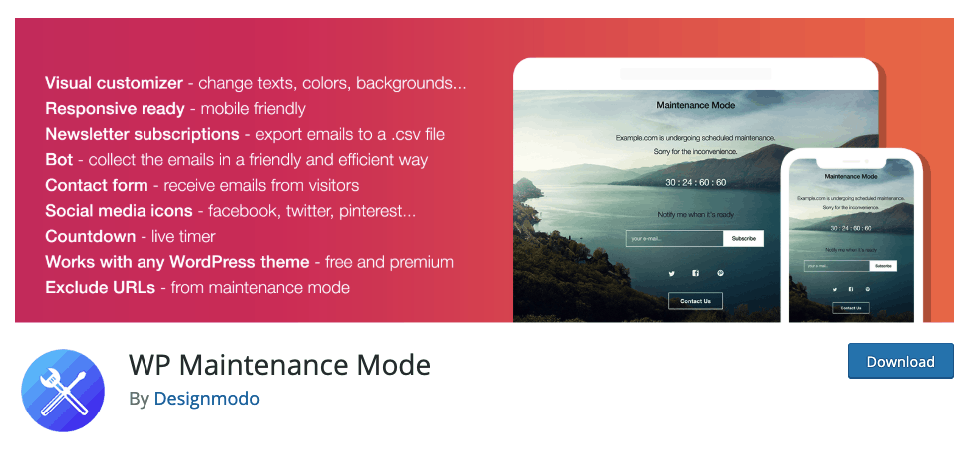 WP Maintenance Mode plugin has a great ratio of value and price. It's one of the Coming Soon plugins that will get you places, even on a free plan. It doesn't even have a premium plan. This reflects on the quality of its features, though, but what you can get for free really goes far. If you need a simple Coming Soon or Under Maintenance page for your WordPress with few extra features, WP Maintenance Mode should do the trick.
Background customization: WP Maintenance mode doesn't have ready-made templates like some premium Coming Soon plugins. Instead, you can opt for background image customization, where you can place your own logo or brand image. From there, you can also customize the font, text position and color scheme of the page.
Chatbot: next to some features that are found in most Coming Soon and Maintenance plugins, WP Maintenance Mode actually contains quite a unique feature. It's possible to include a chatbot which will lead the visitor to the update subscription or email subscription. This works quite well and it's a real treat for a free plugin.
Countdown Timer: WP Maintenance is a pretty good choice for Coming Soon pages that require only a logo and a countdown timer. If you're aiming for a super-basic coming soon page, WP Maintenance will get you there in a matter of clicks.
Email collector: It's possible to embed a form for email subscribers and to later compile a database of those extra-loyal visitors who viewed your page during pre-launch. However, it's not integrated with Mailchimp so you will have to manually transfer the database of the emails you've collected onto your email service provider.
4. Coming Soon WP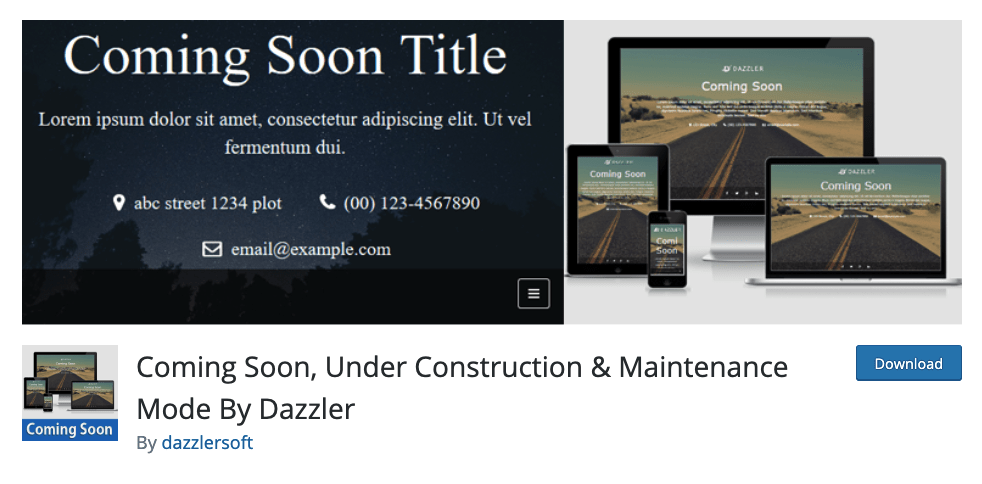 Coming Soon WP basically does exactly what it says: you can develop your own Coming Soon WordPress page hassle-free. The pages that this plugin creates in its free version are basic and simple, but they basically do the trick. If you want an extra feature or two, you will have to opt for the Pro plan. However, the Pro version is much richer in features and special perks and it will allow you to develop an on-fleek Coming Soon page.
Email subs integration: whichever email newsletter provider you may be using, the Pro version of Coming Soon WP has got you covered. You can choose to integrate your email marketing form to MailChimp, GetResponse, Madmimi, Icontact and more. It makes contacting subscribed users extra-easy.
Design templates: collections of templates are available only in the Pro version of the plugin. The designs included in the offer are quite good, and you will probably find some that will suit your purpose.
Customization: Coming Soon WP allows you to customize a lot of things on your Coming Soon page. When you upload a background image, it can be in the form of a background slideshow (up to five images). Using this feature, it's possible to present more information to visitors in a visually-appealing fashion. It's also possible to customize fonts, colors and add contact info.
Social media and SEO: Coming Soon WP supports 3 social networks: Facebook, Twitter, and LinkedIn. The plugin also performs search engine optimization of descriptions and site titles.
5. WordPress Coming Soon Plugin

WordPress Coming Soon Plugin is another high-quality service provided to thousands of websites worldwide. It's available both for free and in the premium version. As you can expect, the premium version will get you a much cooler plugin than the free WordPress Coming Soon Plugin. However, if you're looking for simplicity and functionality, the free version will be enough.
The special thing about the Premium version of this plugin is that it lets you add some very cool features like eye-catching animations, sliders and product offers. These features can make your Coming Soon page as effective as the soon-the-be homepage, but be careful not to go overboard. Here's some of the magic that you can do with the WordPress Coming Soon Plugin:
Customize everything: even the free version of the plugin really lets you customize anything that you can think of. You can add your own brand logo, adjust the background image and elements, change the color schemes and typography… You can also customize your contact and email subscription forms. One of the most unusual customization options is definitely social media: you can add social media account banners with your own images, which is something that's rarely seen in plugins.
YouTube video background: this is the biggest difference-maker for the WordPress Coming Soon Plugin. If you prepare a video in advance and publish it on YouTube, you can present to your audience what you and your team are preparing. You can even do sneak peeks of the product or services that you're preparing to launch. The possibilities are endless, and you can really let your creativity loose when there's an option to embed a YouTube video background!
Neither the free nor the premium version don't have a versatile collection of ready templates. However, this is compensated through very deep customization options. Even though there are no templates, you can make your Coming Soon page look like anything you have in mind. This also means that you will have to put more time in it, but if appearance is your priority, this plugin is one of the best.
6. EZP Coming Soon

EZP Coming Soon is another one of WordPress community's favorites, and for a good reason. It comes both in a free plan (with a lot of features nevertheless) and a Premium plan which is relatively cheap ($15 per website). Some of the most interesting features of this plugin include:
Good customization opportunities: even though the customization options don't go as deep as in some of the previous coming soon plugins, you can still do a lot on a free plan. Users can freely customize the background, font and color scheme and effects. Just like the WordPress Coming Soon Plugin, this one allows a fullscreen video background.
Email sync: the email subscription for is automatically linked to Constant Contact and MailChimp. This is a great perk because other plugins usually include this integration as part of their premium plan.
Social: EZP Coming Soon pays special attention to the social media dimension of your Coming Soon page. It offers some really unique solutions and you can play around and surprise your visitors with original social media icons. For brands that focus on social media accounts, EZP Coming Soon might be a good choice.
7. Maintenance Pro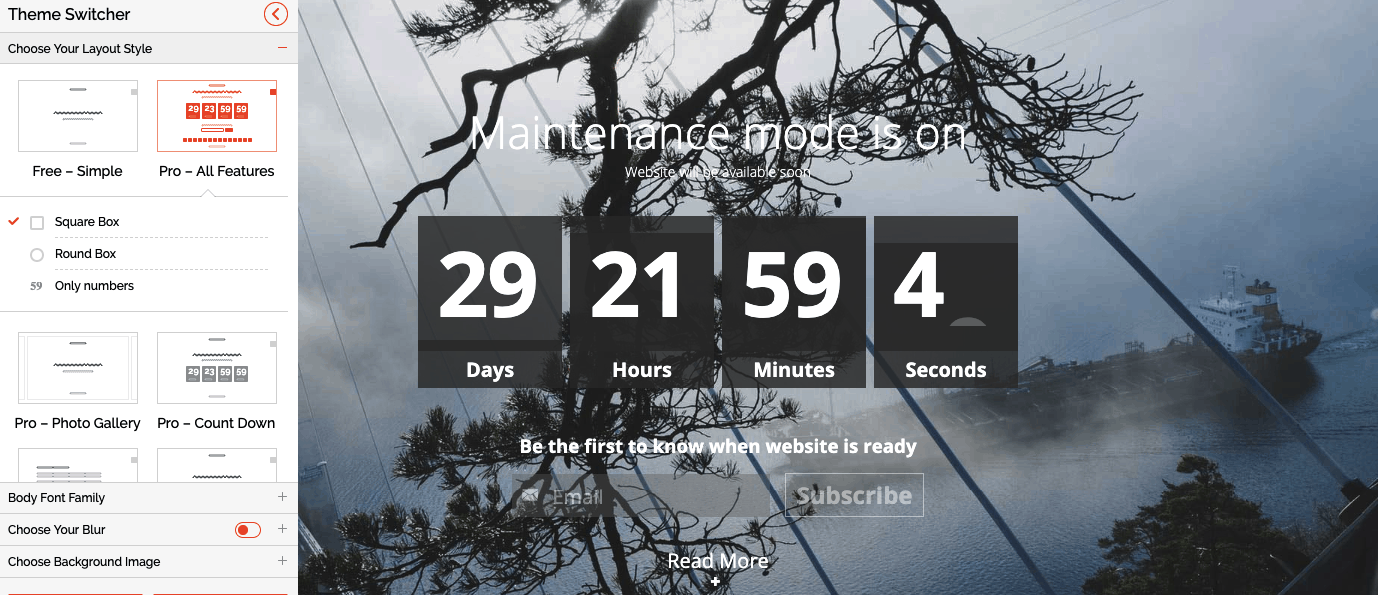 Maintenance Pro is a very good plugin both in the free and premium version. The free version will not skim on the features and options, but the premium version is not expensive at all. Maintenance Pro serves customers who place very high importance on their 'Under Maintenance pages'.
Free Maintenance Pro will really let you do a lot: customize backgrounds, colors, font, logo, icons, texts, set a full-screen background and integrate Google Analytics. If you get the Pro version, you will also get:
Sleek editing GUI: Maintenance Pro is a high-power tool, but it can be used by complete beginners, as well. It has one of the most elegant-looking interfaces for editing. If you like your designing and developing experience to have an aesthetic flair as well, Maintenance Pro is your guy.
Video Background: Maintenance Pro offers versatile options for background video embedding. You can import YouTube, Vimeo and, interestingly, self-hosted video. You can choose to auto-play your video to visitors or not.
8. Maintenance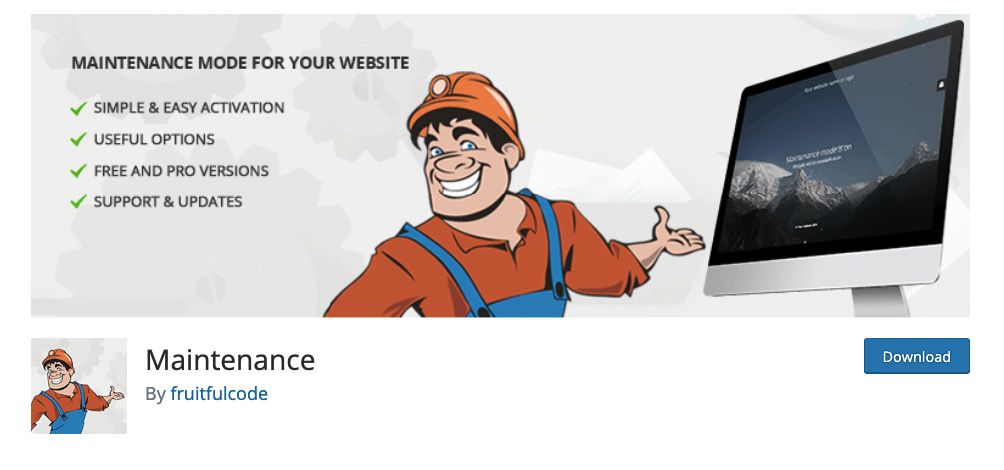 Maintenance is very simple and straightforward. It will perfectly suit users who want to put up a basic Maintenance page as quick as possible. After all, most WordPress users are looking for this exactly when they're going through maintenance.
Anyone can use this plugin: the developers have really made an effort to simplify the interface to the highest degree. However, this simplicity and speed come at a certain price: the free version doesn't provide users with email integration. The Pro version will not cost you much, though. For $14, you will get a lifetime license to use the Pro version of Maintenance.
Background image customization: Maintenance allows you to customize the background image of your Coming Soon page for free, which is one of the basic needs of most users
Custom HTML field: Here, you can really let your imagination go wild. This HTML field will allow you to embed all kinds off code: from the sign-up and contact forms to payment buttons and banners.
Login panel: Maintenance plugin allows your users to log in to your site even when it's under maintenance. This way, they can access relevant pages that are of interest to them even while the site is undergoing maintenance. This is great for forums, for example.
9. Ultimate Coming Soon Page
As you can see, the Ultimate Coming Soon Page hasn't actually turned out the be the ultimate plugin for us. It has cool features and the pricing is fair ($29 per website, $49 for unlimited sites), but there are many better and cheaper plugins that do the job.
Design: Ultimate Coming Soon Page boasts the richest design template portfolio of most of the plugins on this list. If you want to have a variety of choices at your fingertips and you value aesthetic, Ultimate Coming Soon Page will make you happy.
Custom HTML: the basic free version supports HTML, which means that you can go a long way even without investing in the Premium version of the plugin. If you're imaginative and you know your stuff when it comes to HTML, you can make your basic plan look very much premium-grade.
Landing page: The plugin allows you to quickly form a landing page that will show after your launch. It can be based on your visual elements and it will save you much time if you're planning on a simple page.
10. Easy Coming Soon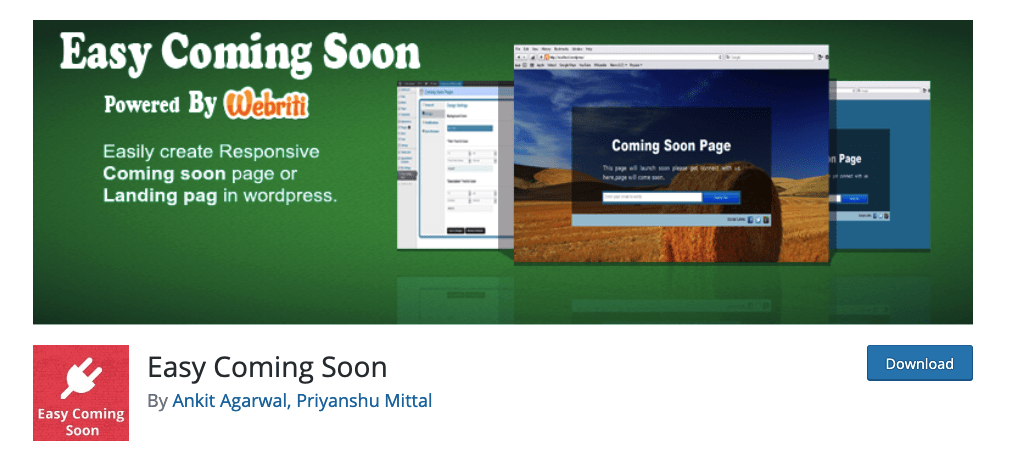 Easy Coming Soon will get you where you need to go, but it's not exactly the most user-friendly among the bunch. It's not too hard to use, but the design and UX are not very intuitive and it might take some time before you can start using it in its full capacity.
The Pro version of Easy Coming Soon is $29, which is not too cost-effective considering the limited choice of special features:
Default + additional templates: many users have agreed that the default template of the Easy Coming Soon plugin is not exactly beautiful. However, the Pro version will give you access to additional templates, so you can change this. It's worth noting that if you're planning on a zero-dollar investment and you care about the site's appearance, Easy Coming Soon isn't exactly the number 1 choice.
Pro version: some semi-advanced features are available only in the Pro version, the most important one being detailed customization and email integration. If you decide for the Pro version, you will be able to integrate your email subscription list with MailChimp, Constant Contact, Campaign Monitor, Get Response and Aweber.