Today´s topic is affiliate programs- What are they? What do they do? Why do we use them? Also, we will look at some WordPress-related affiliate programs and the way a person can profit from them. So let´s get started, shall we?
So, affiliate programs. There is much misinformation that surrounds this topic and people are not sure how to feel about it. Old school affiliate programs gained a bad reputation due to their cookie stuffing, link-farms, trademark infringement, spyware, and sometimes even brandjacking. But, what exactly are affiliate programs?
An affiliate program is a program used for affiliate marketing. It is a tactic in which a product owner increases sales by allowing partners, "affiliates", to earn money by recommending the product to others. It also allows affiliates to earn money by only recommending products, without creating their own.
Simply said, affiliate programs entail advertising a certain product by sharing it on a blog, website, or any type of social media platform. And many say there are 3 parties involved in affiliate marketing: the advertiser, the publisher, and the consumer. But there is also the network they use to make it all happen.
The inception of affiliate programs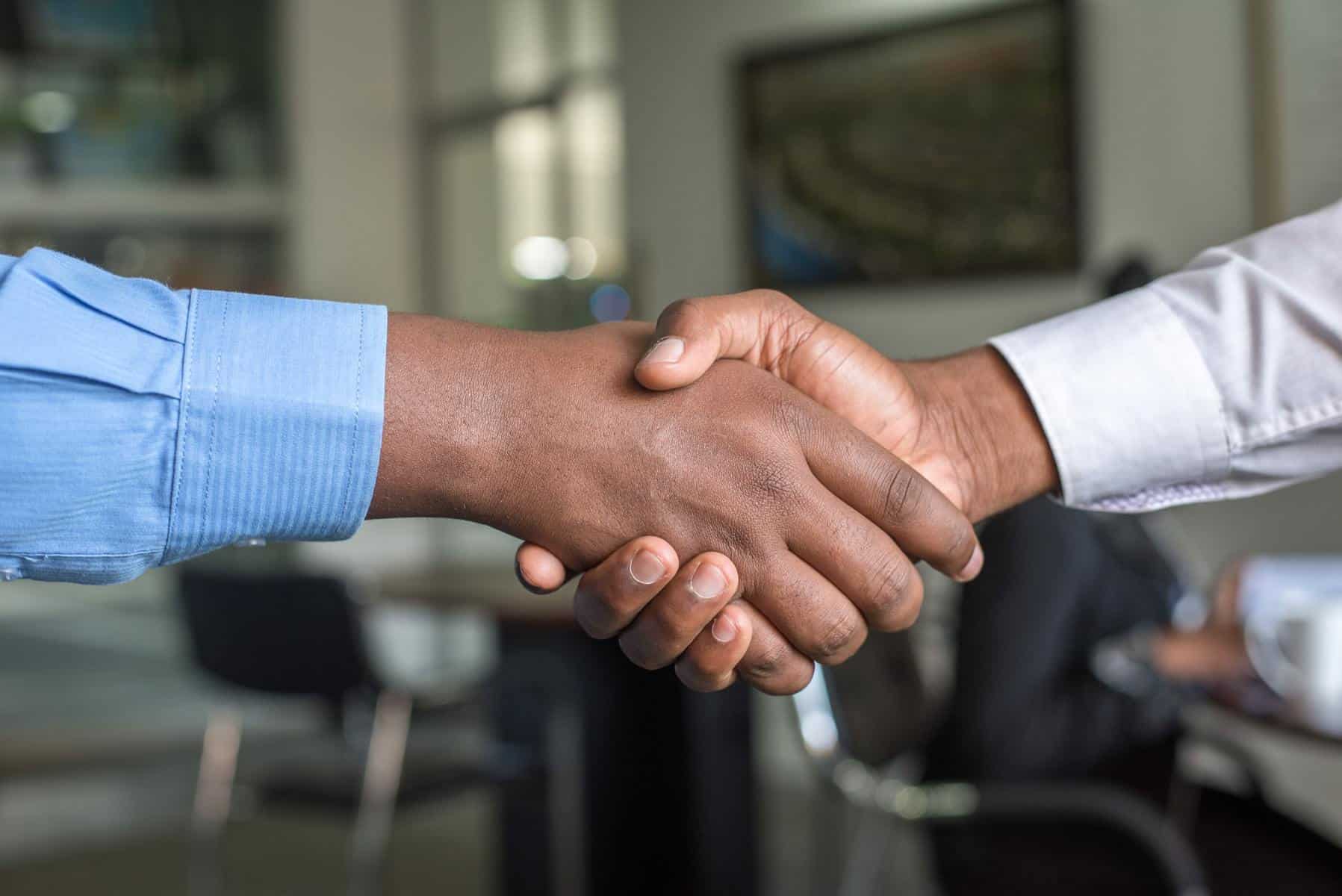 So, you are probably wondering how did affiliate programs even start?
In 1989, a man named William J. Tobin, founder of PC Flowers and Gifts used Prodigy´s network to advertise his business. This could be considered the first-ever affiliate program. But, Amazon´s affiliate program was the first to become widely known and is today referred to as the first REAL affiliate program.
Whatever the case may be, like eCommerce in general, affiliate programs have grown remarkably over the years.
Pros and cons of affiliate programs
First, let´s talk about the good sides. With the rise of eCommerce in general, affiliate programs and affiliate marketing have grown enormously and have become a billion-dollar business. How so? Well, it is easy to start your career in this industry since it does not have any requirements. You do not have to be an expert in any way and it does not require any big investments on your part.
This all sounds great, right? Well, there are many bad sides to it as well.
Let´s be honest, when taking up a job you would like to be paid as soon as possible. So if you are inpatient, this is not the best way to earn money.
Affiliate marketing takes some time to get established. Some say it takes somewhere between 18-36 months for your first paycheck to arrive, and the earnings are not that hight in the beginning. Even worse, it is possible to not be paid at all!
But with that out of the way, let´s talk about commissions.
You can not affect how much percentages you make. And it does not matter if you are a product´s best affiliate or barely do any work. For example, these are the commission rates of one of the biggest affiliate marketing sites, Amazon: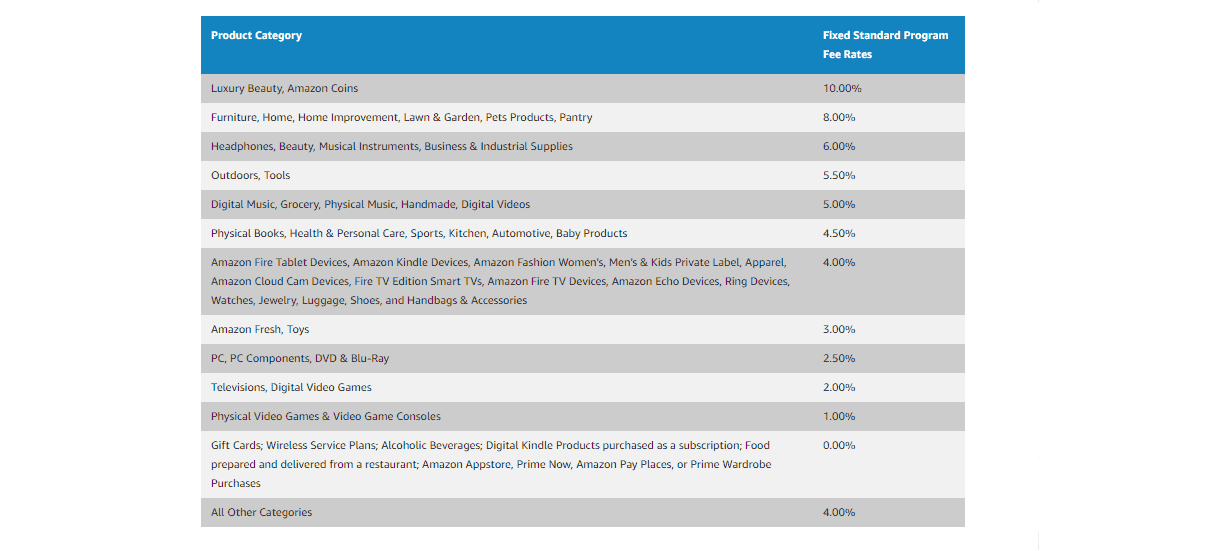 Amazon´s affiliate program pays out 1-5%. Keep in mind that 20% is considered a good rate, and 100% is not so uncommon in online marketing.
Affiliate commission rates of WordPress sites
Most WordPress affiliate programs pay around 30% commissions but, in the image below, we can see that some offer even 50% or more.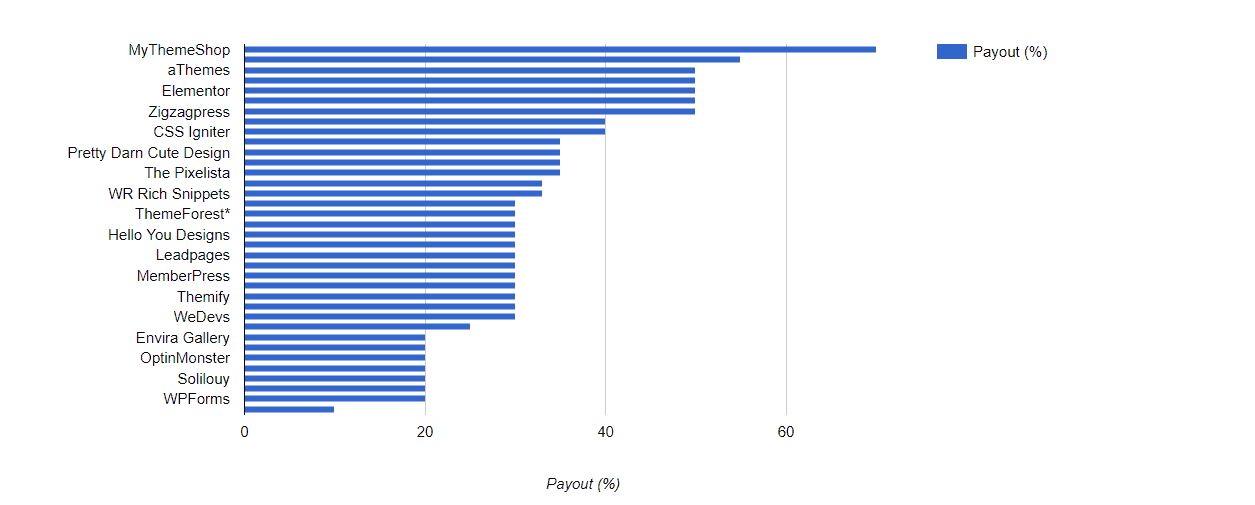 The average commission rate is around 35%, but there are some big variations. For example, MyThemeShop has the biggest commission rate (70%), and WPForms the lowest rate(10%). But MyThemeShop products are not that expensive, while that is not the case for WPForms. So a smaller commission rate on higher-price products pays off better.
Now let´s look at some WordPress themes and their commission rates.
Affiliate commission rates of WordPress themes
Elegant Themes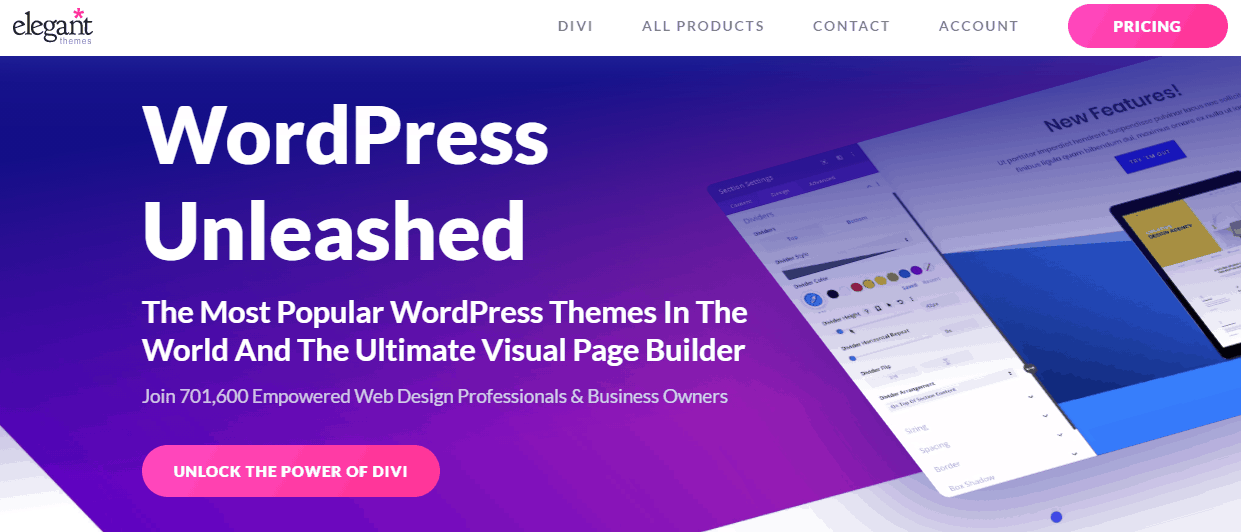 Elegant Themes' affiliate program is world-famous mostly because of their Divi theme, other high-quality WordPress themes, and user-friendly plugins. Their affiliate commissions rate is 50% on all sales. But their membership is not free, it starts at $69/ year.
ThemeIsle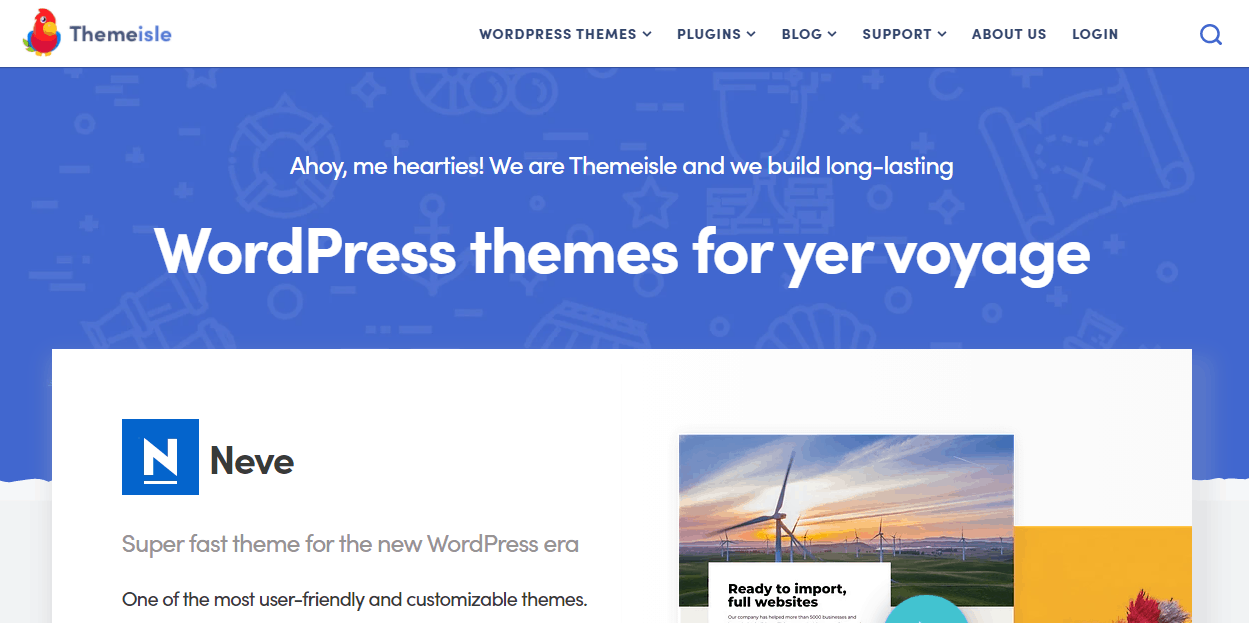 ThemeIsle is one of the fastest-growing theme stores online and one of the most popular WordPress clubs. Its affiliate commission is 55% and their product prices vary from $14.99-$299. Customers pay yearly and have access to all of ThemeIsle collections.
StudioPress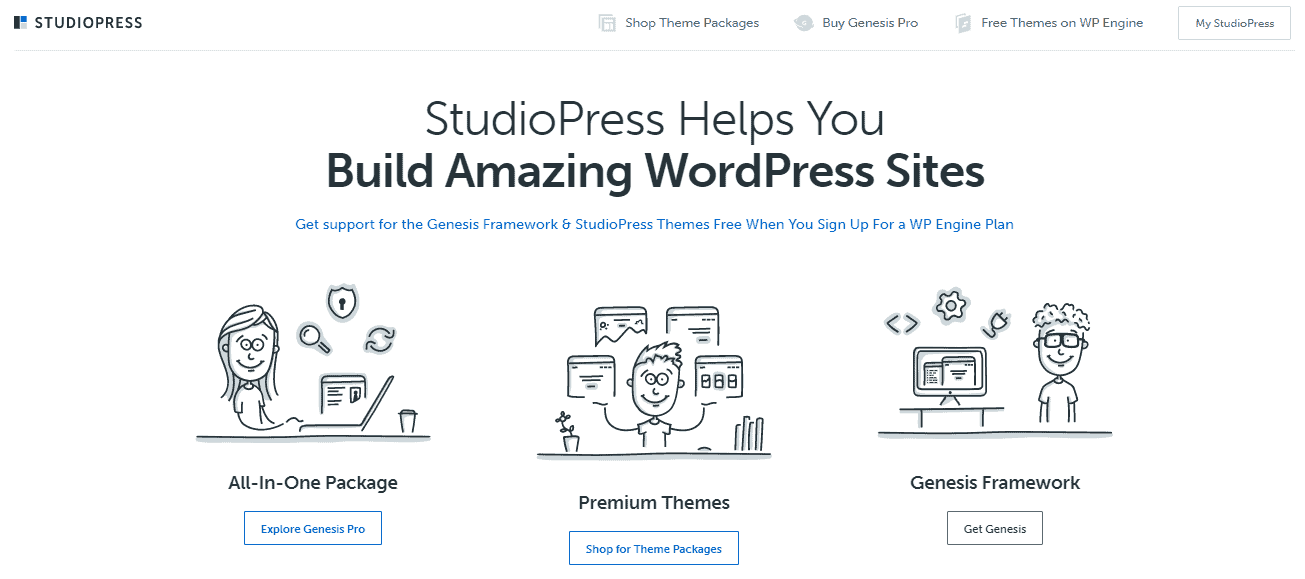 StudioPress has a lot of content, a lot of options, a 35% commission rate, and pricing ranging from $59.95-$499.95.
Okay, enough about themes. Let's talk about plugin affiliate programs.
Affiliate commission rates of WordPress plugins
Beaver Builder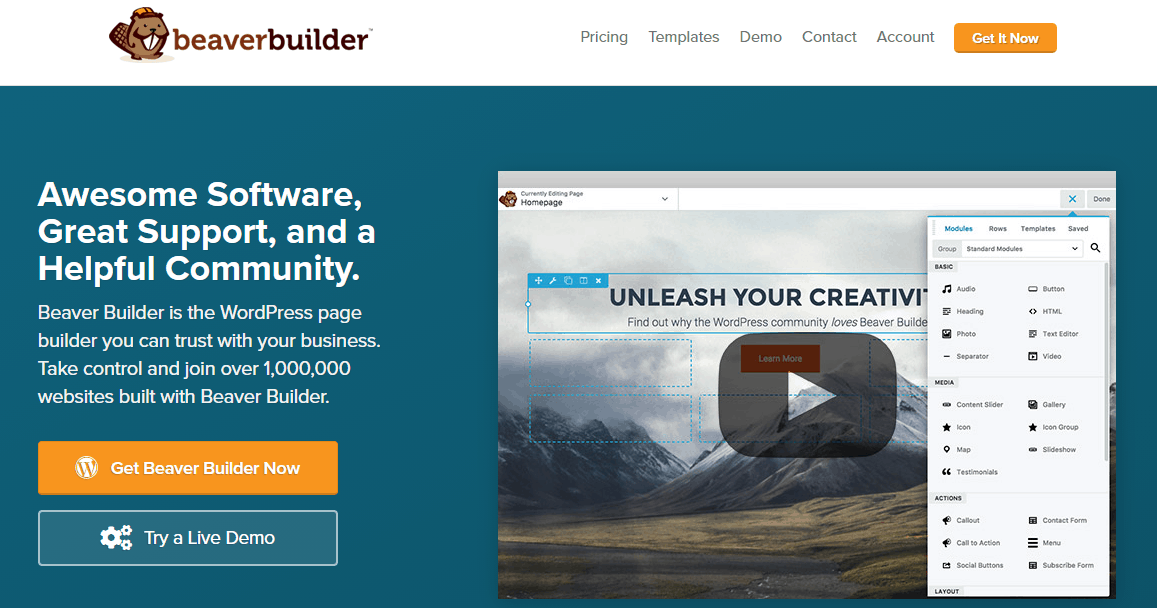 Beaver Builder's affiliate commission rate is 25% with product prices from $99. And in case you are unfamiliar with it, Beaver Builder is a page builder that allows you to edit your pages by easily dragging and dropping content, and customize them without knowing any code!
MemberPress

This plugin allows its users to easily build WordPress membership sites, accept payments from websites, and do much more. Its affiliate commission rates are up to 30% for MemberPress users and 10% for non-users. Its product prices start at $99/year.
CSS Hero
CSS Hero is also used for easily customizing your WordPress themes, without having any knowledge in CSS. Its affiliate commission is 40% and product prices go from $49/year.
Final Words
In this article, I have given you insight into what affiliate marketing is, and also its good and bad sides. But it is for you to decide if you would like to take up a job like this now or in the future.
My opinion is that this, like any other job, has its ups and downs, but when done effectively and conscientiously, affiliate marketing presents a great tool for eCommerce marketers. Just remember, you will have to do the work, always be prepared to learn new skills, and of course, be patient.
Hope you found this article useful!