WordPress has always represented one of the best ways to start your career. Thanks to WordPress and its simplicity, many great business stories started, and most of them included Elementor.
Elementor is a professional and free WordPress page builder using which you can easily create the best websites possible. This page builder is not the only one available, but it is definitely special. There are many reasons why we say that, and one of them is the excellent and professional website you end up with.
This page builder is the only frontend one that offers limitless design possibilities thanks to its many useful plugins, widgets, and templates. Together with an exclusive mobile editing toolset and a visual revision feature, in Elementor, you get many other amazing features using which you can do almost anything while you are in the process of creating your site. 
Elementor Features and How to Use Them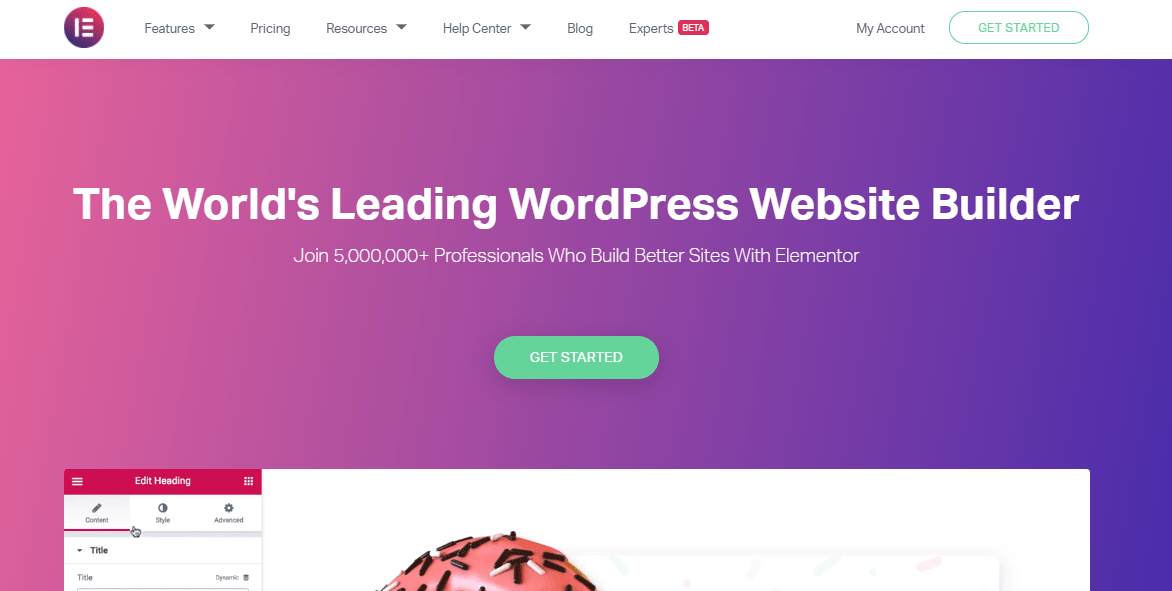 Elementor has many awesome features; the most important ones are the drag-and-drop editor, 300+ designer-made templates, as well as 90+ widgets.
Then we have the theme and popup builder that allows you to build advanced themes and popups along with excellent targeting options.
Finally, there is the WooCommerce builder that allows you to utilize the power of Elementor in order to take control of your WooCommerce stores.
Using Elementor is no problem at all; after you install it, you can immediately start to work. And if you are a beginner, you can learn everything, step by step, in a short amount of time since it is very easy.
For example, on the left side of the editor, you can search for specific widgets, elements, and other important things that make up a site. Here, you can find a big number of elements, ranging from basic ones such as a heading or image gallery to more advanced ones such as animated headlines and testimonial carousels.

On top of that, you can also edit things such as default colors and fonts as well as configure general settings for your entire website in Elementor.
Although this software is free to use, it is worth mentioning that you can get a pro version of it at an affordable price. But to be honest, the basic version is usually enough to create a great professional website.
Still, if you need to add more elements to Elementor, then you might consider using plugins that can improve your experience of using Elementor. There are a few worth highlighting, and we will introduce them to you right now.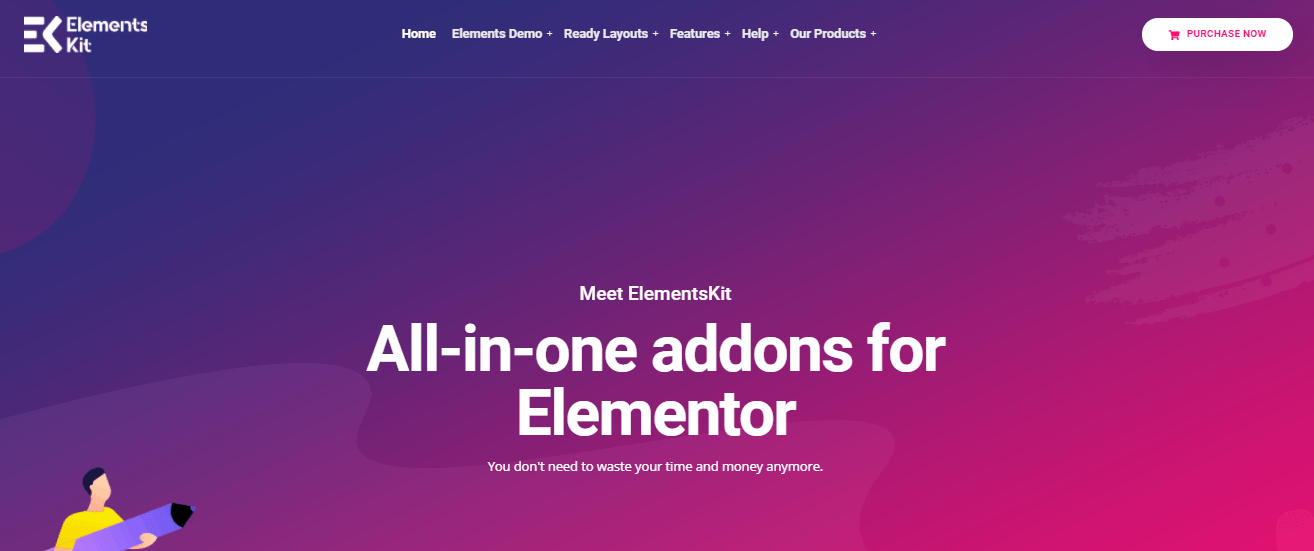 This WordPress plugin, which is specifically designed for Elementor, offers you dozens of additional widgets, modules, and templates using which you can add more elements to your site. 
Everything you get with ElementsKit is of high-quality and will increase your productivity and site performance.
Using ElementsKit, you can easily create any type of header and footer for your pages. You even have an option to include mega menus, in vertical or horizontal versions.
This plugin includes an enormous library with more than 30 templates and over 600 ready-made sections and widgets. And most importantly it enables you to develop your site without coding.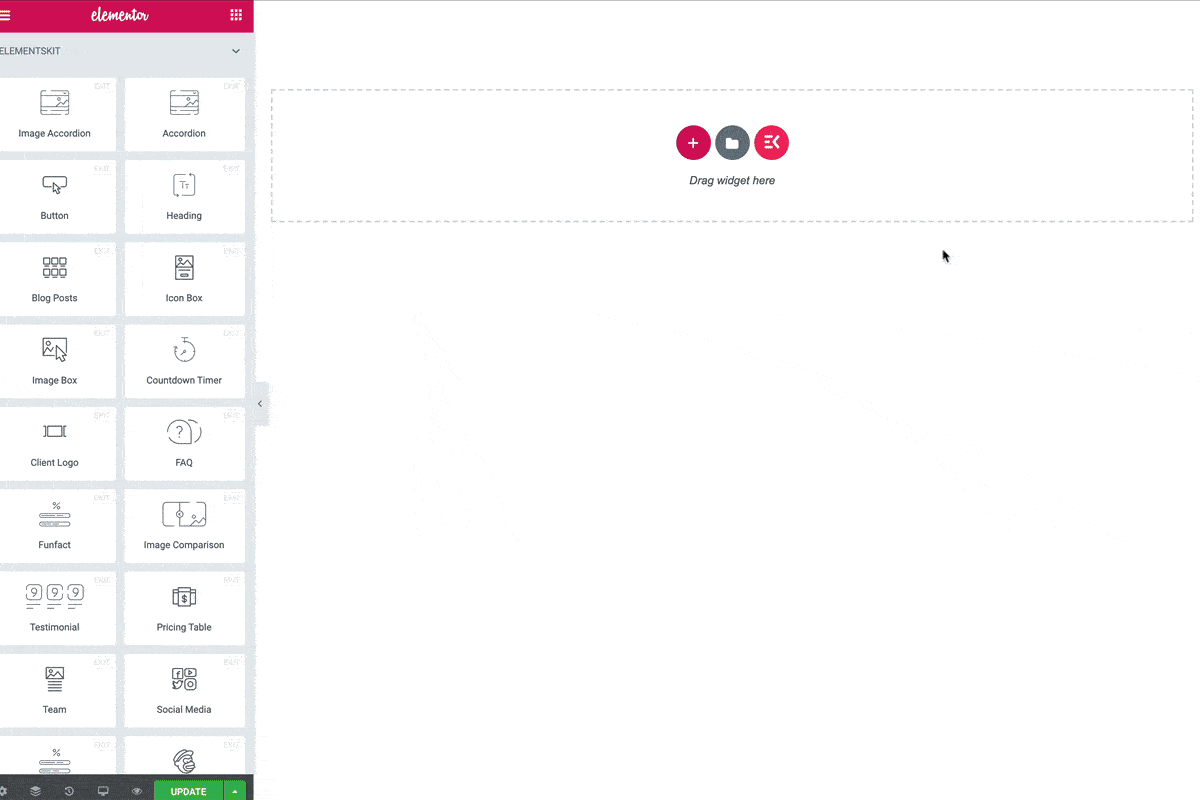 Then, you have the option to choose from multiple parallax effects which include global and widget-based variations. And thanks to the default SVG library, you can add CSS animations to your images.
You can also incorporate feeds from Facebook, Twitter, Instagram, Pinterest, and so on. And if you are dealing with WooCommerce, you are covered as well. WooCommerce widgets include things such as product listings, carousels, a mini cart, category list, etc.
When using ElementsKit, you can count on optimization, meaning that you can enable or disable specific elements through the options panel, and thus keep your site very fast.
All in all, this plugin is simply the best for web professionals, marketers, designers, and agencies. With it, you can count on many widgets and modules and the option to create new ones yourself, without any expert knowledge.
As for pricing plans, you can choose between three options: Single, Double, and Multiple, with prices ranging from 49 dollars to 147 dollars for a one-time purchase.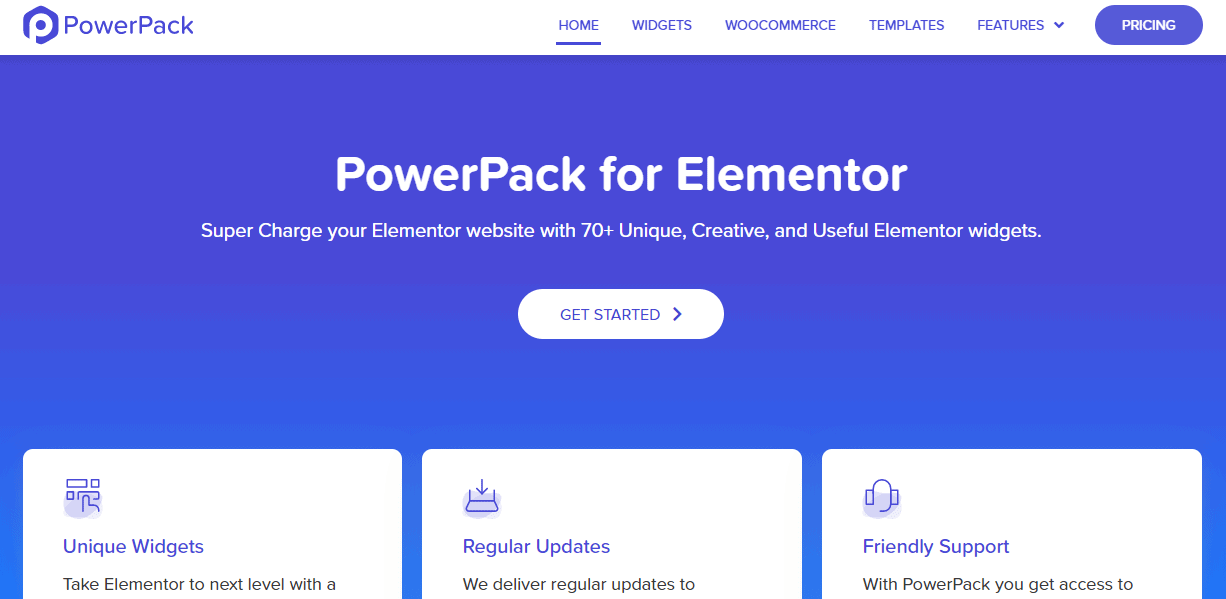 PowerPack is yet another great Elementor plugin helping you create and improve your website. With this plugin, you can count on more than 70 unique, creative, and useful widgets for Elementor. And along with this, you can also count on regular updates, as well as friendly support.
PowerPack widgets keep your site functional and fresh a put special focus on user experience, creativity, and flexibility.

The widgets are divided into a few categories; The Form Styler Elementor Widgets provide you with different forms for your site. The Creative Elementor Widgets provide you with specific features such as a countdown timer, popup box, page navigation, info table, carousel, and so on. The Content Widgets give your site distinct elements such as an advanced menu, tiled post, price menu, content toggle, etc. And finally, the WooCommerce Widgets provide elements such as Woo products, categories, Add to Cart buttons, etc.
When using this plugin, you can rely on professionally-designed, even full-page, Elementor templates, with more than 150 exceptional section blocks, which are completely customizable and easy to import.
There are also various extensions for things such as background effects, a header and footer builder, and cross-domain copy paste.
All of this makes this plugin one of the best ones you can find online. And as for pricing, there are three pricing plans: Starter, Professional, and Lifetime with prices ranging from 39 to 209 dollars.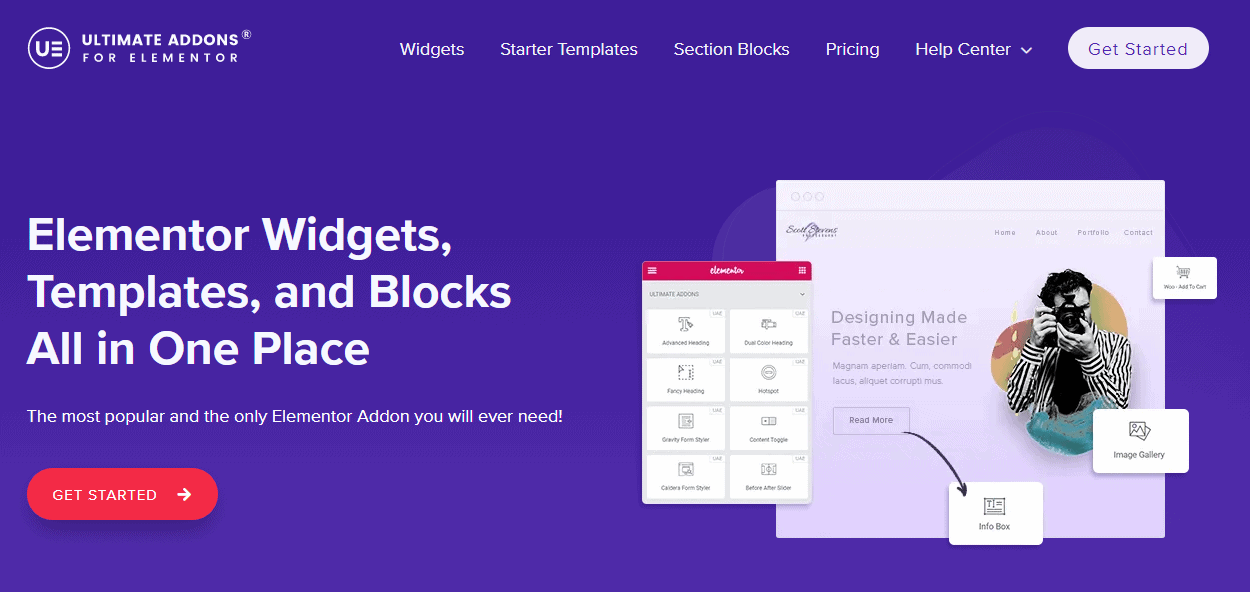 This plugin represents one amazing set of features and widgets. When using it, you can count on more than 22 widgets for Elementor. And just like in the previous plugin, these widgets are divided into several categories.
The Content Widgets category includes an advanced heading widget – which makes your site attractive using many beautiful designs,  the business hours widget – which allows you to customize and match business hours on your site, the content toggle widget – which allows users to switch between different kinds of content, saved templates or pages, the Google Maps widget – which can be used to add multiple locations one a single map with localization support, map skins, address information, etc., and the price list widget – which enables you to easily drag and drop the price list module in order to design pixel-perfect menus, product lists, and catalogs.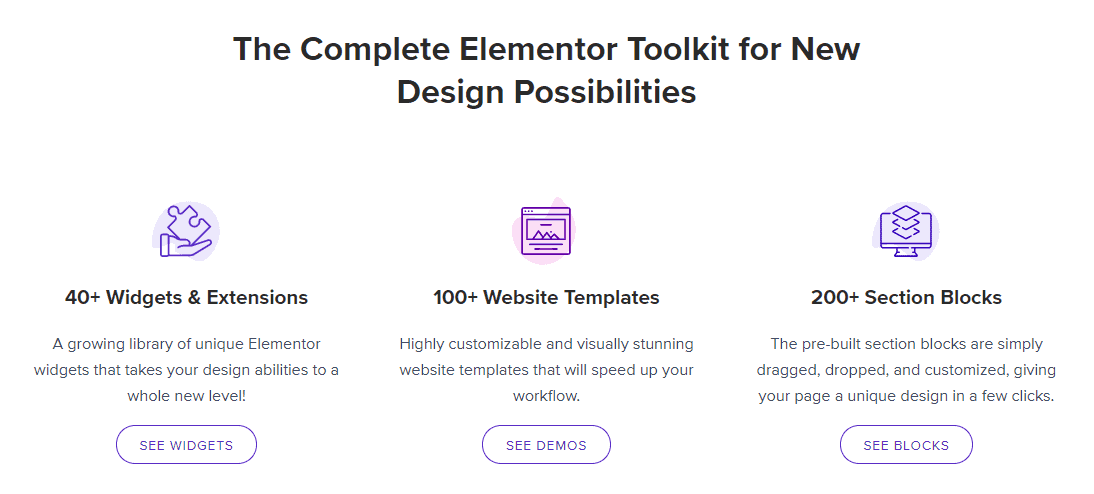 Other popular widgets in this category include the modal popup widget – which helps you create intuitive modal popups containing conversion-oriented messages, and the video widget – which allows you to customize the thumbnail, play button, and so on.
Popular widgets in the Creativity Widgets category are the hotspots widget – which allows you to insert an interactive image and create a remarkable tour using attractive hotspots in an image on a page, and the timeline widget – which allows you to display timeline charts or road maps.
The other widget categories are the Form Styler Widgets, SEO Widgets, and WooCommerce Widgets.
There are also more than 200 ready-to-use section blocks that users can import with a few clicks. You can also rely on many demo websites that are professionally-designed with ready-made starter templates.
So in a nutshell, with this plugin, you will save a lot of your time and money, and you will get many great addons for Elementor.
There are three pricing plans available: Ultimate Addons (55 dollars), Mini Agency Bundle (169 dollars), Agency Bundle (249 dollars). 
Conclusion
Elementor proved to be one of the best tools for page-building that you can find nowadays. Thanks to its simplicity, effectiveness, and professionalism, it attracted a lot of users over the years. But even this success story can be made even better thanks to the many plugins and Elementor addons that allow you to add more elements and make your site better and more professional.
That is why we highly recommend using plugins ElementsKit, the perfect extension for Elementor, which will make your work as fruitful and as productive as possible.