Imagine your website serving not just as a blogging application but also as a file management server. Imagine if you could use your WordPress website to browse files and share them with your readers.
Imagine no more because WP File Download can transform your WordPress blog into a file manager and let you do so more with your webspace. WP File Download offers the possibility to share files with your users, so you can provide helpful tools, sell your content, or maybe allow the users to download what they're reading. Possibilities are unlimited!
An Easy-to-Use WordPress File Manager
WP File Download is indeed an advanced file manager. Still, it is also true that it is straightforward to use, so you will have a file manager where you can add files and use it just like how you use the file explorer on your PC / Mac with beneficial panels that you can use to customize how the files will look like in the frontend.
You also have all the options available in your desktop file explorer, like a copy, cut, and paste by doing a right-click. There are other useful options like the direct link. There is also a bulk editor in case you want to, for example, remove a selection of files without having to click on each of them.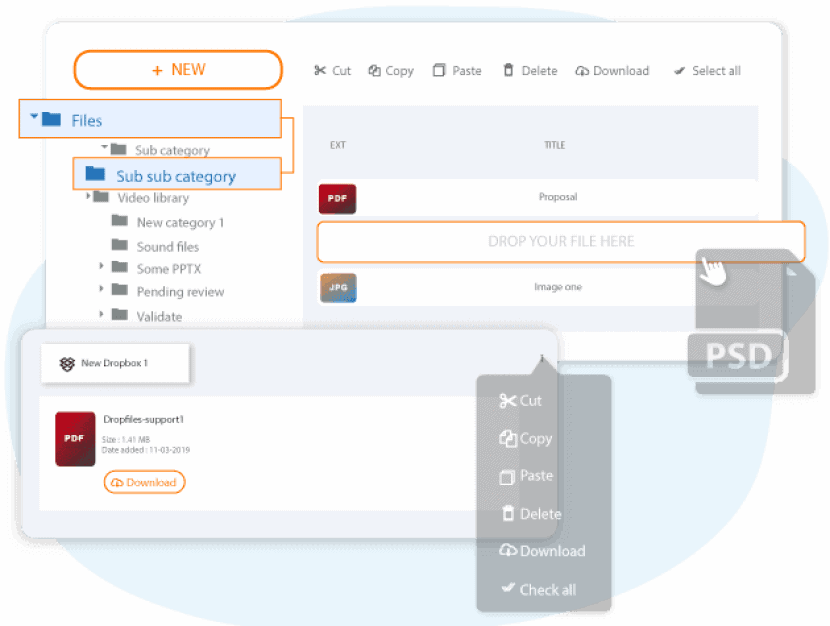 There are also many cases when the copy option doesn't help at all. For example, you need one single file in multiple categories, but you want to avoid storing all these copies because of the storage space. You don't have to be worried about this anymore. WP File Download gives you the option to have one single file in multiple categories without having to copy it. Just click the file, and select all the categories where you want the file in the left panel.
As you can see, it is not a simple file explorer. Insert your categories or files in the front-end with functional blocks directly on your Page Builder or using a Shortcode; the selection is only yours! Still, advanced one that is effortless to use tools, with great themes, so you can style the categories in one single click.
Manage Your WordPress Files Security
One of the most significant issues while using a file manager is security. As everybody with access to the admin side of your site can usually check all the files available in the file manager. However, this causes other issues like users doing things that they shouldn't be mistaken for by removing files or renaming categories. Still, you won't have these issues anymore with WP File Download and its security options.
WP File Download offers you tools such as managing roles permissions so that you can define. For example, if a user role can edit categories from different users or only their classes (beneficial for creating personal repositories), they can also create categories.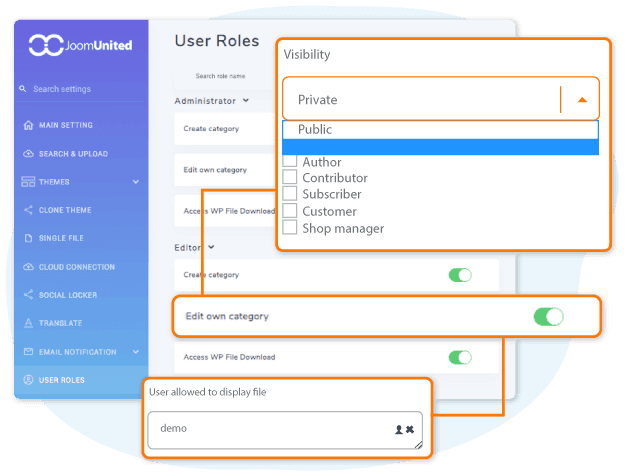 Another good tool that you can use to improve the security of your files is the ability to set entire categories as public or private. Further, these can be accessible to the whole public or just a few user roles. You can manage who can download and view the files available in the frontend. There are not going to be users who are downloading the wrong files. Serve and share only the files that you want.
There are other cases when you want to specify the access to a file for a single user, not a fundamental role. It is not perfect to set a position for a single user to show a file only to that specific user, but there is also a tool to do this with WP File Download.
With the Single user access, you can assign a category to be available for a single user, beneficial when you want to, for example, assign tasks to a member of your team, or share content with a single user and not to a fundamental role.
Other tools like Email Notifications are available, so you will know when a file is added, uploaded, modified, or also when you download it. Also, you can define who will receive the notifications like customized emails, the category owner, the file owner, and all the administrators. With this tool, you will know what is happening with your files on your site.
And what happens if you get a notification for a file edited,  you didn't want that file edited at all? As with the version tool from WP File Download, you will be able to revert these changes with a single click.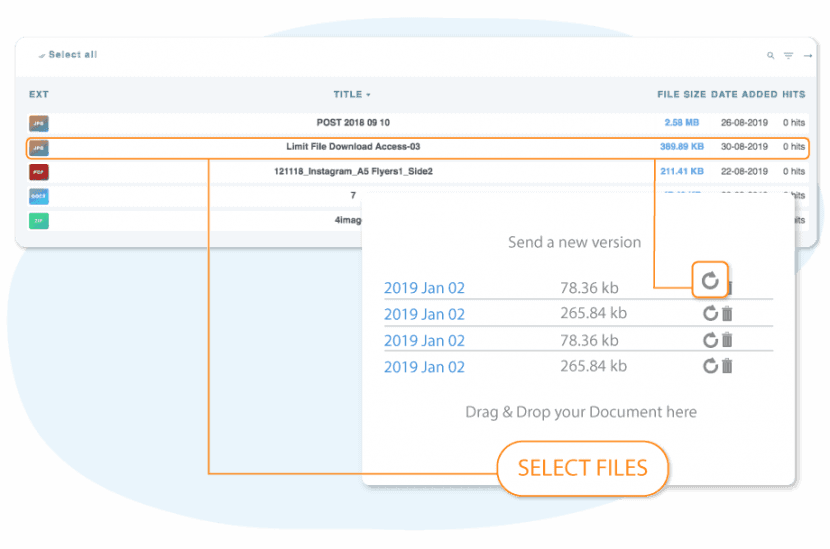 Valuable and easy to use tool to back up your files without doing major things than making a click, so a mistake is made, or a file is broken? Just a click and everything is solved.
Going Forward With Your Files
With the time using your file repository, it will keep growing up. There will be a time when you will need more help offering the files to your users because of the number of files as it is not the same to serve five files as 30 files with pagination in a category. WP File Download also offers you a solution, the file search engine.
The Search Engine shortcode generator will allow you to customize how it is created. The categories that you will include, select the filters available, the theme that you will use to display the files, how are going to be declared the tags, and the number of files per page that you will show.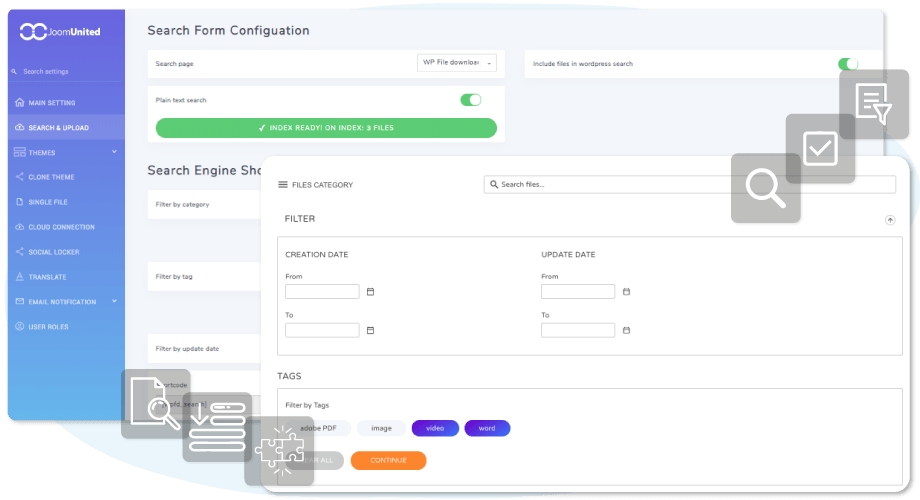 There is also a plain text search available to search directly inside the Word, and PDF files available, so if your users are looking for a specific text, it will help them a lot.
An icon builder is created to improve the customization. You have the option to set an SVG with a massive number of symbols or set a PNG to upload your custom icons. Also, you can set the icon per file type or set how it will look like when you insert a single file in your content.
Sharing Files on WordPress
WP File Download allows you to share your files most professionally, making them available for downloads and with also an option to preview your files before downloading. You also have the opportunity to choose excellent themes to display your files with a simple click.
One of the tools available to insert the files and categories in the content to share them is the Shortcodes. Each file and type has a direct shortcode that you can easily copy and paste wherever you want in your content.
The Shortcodes are available in the right panel with a lot of other customization options. You will notice options like what is shown in the category, select the theme, set the colors for that category or file, set a custom icon, and the permission options. Everything is directly in the right panel, so you won't have to look at different pages to change one thing, like the theme background.
What else can you ask for? Statistics to check how your downloads are going? Yes, there is.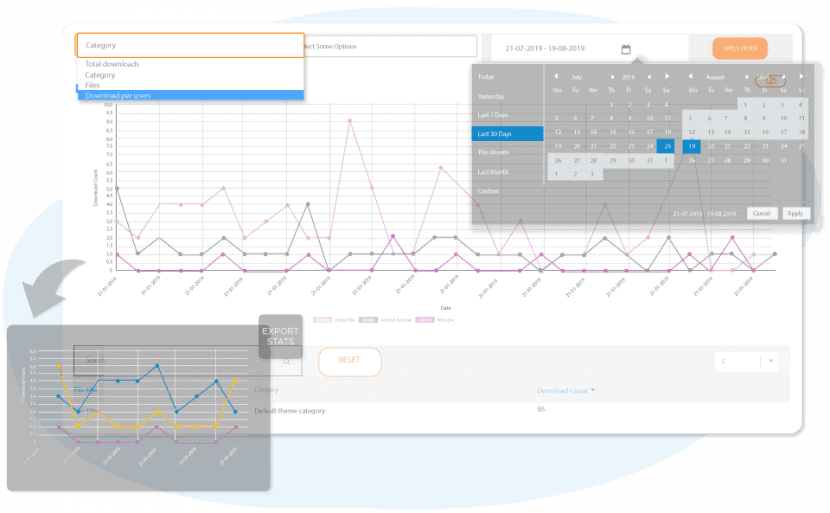 As we said before, a professional file manager with this tool will check the most downloaded files. Check the statistics for a single file and per date range, and as a big plus, you can connect it to Google Analytics, so you can easily track your downloads in Google Analytics to be able to use all these tools as well.
Integrate WP File Download With Your WordPress Page Builder
When building a website, usually there's a page builder integrated (Elementor, DIVI…). WP File Download is integrated with all major Page Builders and most popular themes and plugins, so there is no need to do important things to use your standard plugins.
One of the first integrations we will notice is the blocks added to the Gutenberg Editor. You will see one block to add a file category and another for single files, so you can easily embed your file or type with a few clicks directly from the Gutenberg editor.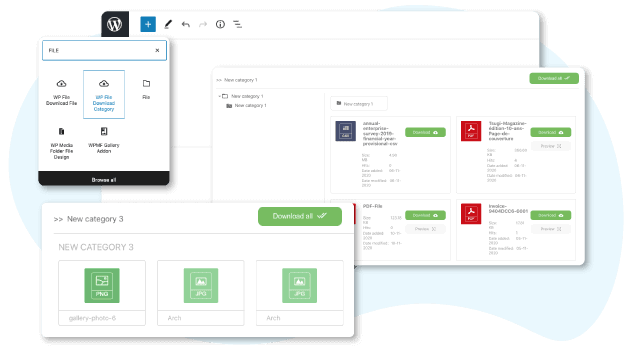 WP File Download works with all significant Page Builders. Also, it has direct integration with 4 of the most popular ones. Such as DIVI, Elementor, WPBakery, Avada, and the list will grow up! You have the file, category, and search engine in all these cases, so you have almost all you need right there.
As WP File Download will offer you these blocks with all major Page Builder, you will also have the option to use a shortcode, so everything is covered. There are shortcodes for all the options available to display your files in WP File Download like the Search Engine, Single Files, Categories, and the chance to show all the files directly from a shortcode.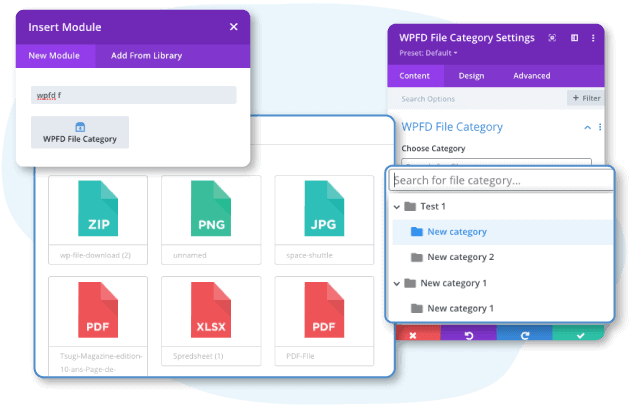 Another extensive integration recently added is the one with WooCommerce. You can easily create an eCommerce to sell your digital products most efficiently. WP File Download will allow you to define a more advanced access setup to create memberships and limit the files per download count or date.
Use Files That Already Exist on Your Server
Maybe you already created a download repository using WordPress, and now you want to avoid recreating it again. Still, you want to use WP File Download because of all the remarkable features. It is good to let you know that it won't be an issue as a file importer tool is available.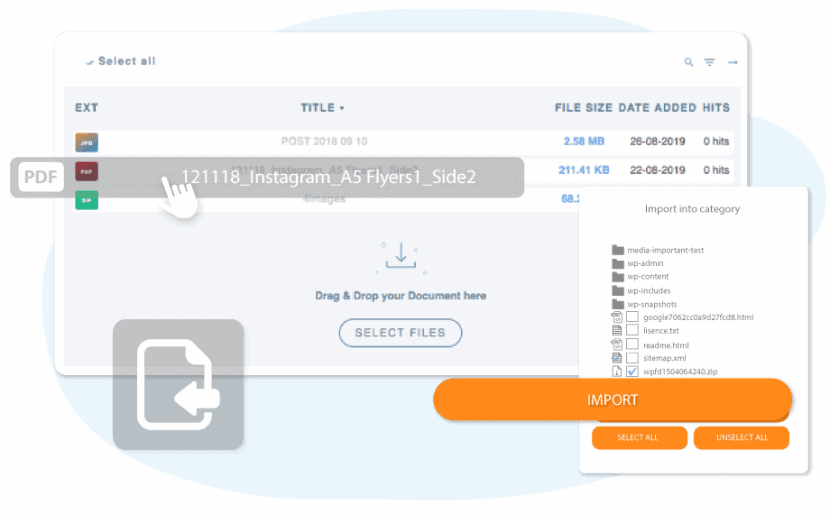 Using this tool also implies that you can upload files using FTP. For example, upload files directly to your server and then import them to the category by selecting the files from the right panel and clicking on import. Recreating your file repository won't be complex with this beautiful plugin.
Integrating Google Drive, Dropbox, and OneDrive With WordPress
If you think that it is all you can do with WP File Download, well, let me tell you that it is not all you can do. You also have the option to use the addon that includes incredible tools like the integration with WooCommerce mentioned before—also, cloud integration to send your file manager to the next level.
Cloud services are one of the essential tools in the actual world as their uses are unlimited. You can have a complete repository of images for a project, work with your team, share files with the world as a whole. However, it is to mention a few of the uses for these services. Right now, WP File Download works with 4 of the most popular cloud services, but you can be sure that this list will grow up. These services are Microsoft OneDrive, OneDrive for Business, Google Drive, and Dropbox.
The process to connect WP File Download to the cloud is elementary, and it is well explained in the plugin documentation. You will only have to connect to your Google account using our dedicated Google App. This process won't take more than one minute.
When the connection is made, creating folders and checking the files is simple as the option to create the cloud categories will be displayed as buttons directly in the File Manager. You will have all the options that you have for local categories for your cloud categories too.
The two-way synchronization will work as expected. All the things you perform on WordPress will be reflected in your cloud as well.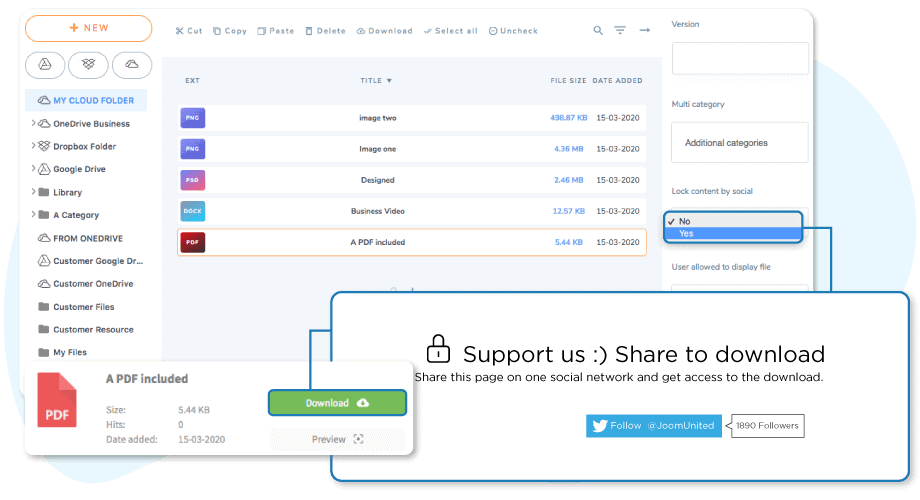 There are many other tools that we can use but, we have no time to mention them here. It would be impossible to read if we go ahead and talk about all the functions available. So, we will end by talking about a handy tool that you can use to make your visitors support you, and it is the Social Locker available in the addon.
This social locker will lock the downloads until the visitor shares your content on Twitter or Facebook; useful if you think about it, isn't it?
Conclusion
An excellent file manager, connection to the cloud to help you with your server storage, protect your files. And if you want to, you can also send your ideas as the developers always listen to them to improve the plugin. So, if you want an excellent File Manager, easy to use, and also with really professional tools, WP File Download is your plugin! Also, integrate with your favorite tools, and mention a few of the WP File Download features, what else you can ask for.
Now that you know all the vital information, what are you waiting to start sharing your files with your users in the most professional way? Go here and check the Demo or obtain your membership now!