While it's true that a few years back, in order to build a website, a person needed to have great technical and coding knowledge, this is no longer the case. Today, we have on disposal extremely powerful and practical tools that can enable a person who has never written a line of code to build a full-fledged and functional website.
Those tools or let's rather call them platforms come in a large variety, all with their own unique way of functioning, their pros and cons, and their special features. Some of them stand out more than others, and because of that have a larger user base. In this article, we will talk about the three platforms that stand out the most and that have gained a lot of popularity over the past few years.
Those three platforms whose names will likely ring a bell are WordPress, Wix, and Squarespace. If you're interested in finding out what they each have to offer and if they might be the right option for your website building needs, then keep on reading.
WordPress
WordPress is definitely the most famous platform among the three we will talk about in this article. While it initially started as a simple blogging platform, WordPress has grown into something huge that powers more than 30% of the world's websites. What a lot of people who aren't active users of WordPress might not know is that WordPress comes in two different types, WordPress.org and WordPress.com. When using WordPress.com, you are basically going for a scaled-down version of WordPress, one that gives you less freedom and fewer options for customization.

In most cases WordPress.com is used for blogging, by people who don't want to deal with technical aspects of owning a site, aspects like hosting, backups, etc.. WordPress.org, on the other hand, allows you to build, customize, manage, and basically have full control over your site. With WordPress.org, you design the website, incorporate the necessary functionalities into it, and are also in charge of finding a domain name and hosting plan for it. Since WordPress.org is the more powerful, recommended, and popular type of the two, in this article, when talking about WordPress, we will be referring to that type specifically.
The installation of WordPress.org is pretty straightforward and only requires you to have a server on which you will do the installation. Downloading and using WordPress is completely free, so the only things you will be paying for are the hosting plan and add-ons like themes and plugins. Some people aren't fans of the fact that they have to pick the hosting plan themselves, and with that fail to realize that that can actually be a great thing, especially for people who have specific hosting requirements for their site. It's a great thing because you are the one who makes the decision on which hosting company you want to use and which plan will the best fit for your site; that way, you aren't forced to use a hosting provider or plan someone else chose for you instead.
Another thing that intimidates a lot of people when it comes to WordPress is its not so playful interface. The naming of some sections in the admin dashboard can be seen as quite technical and might confuse the novice user, but to be honest, the names really aren't anything that can't be understood and learned after a few tries.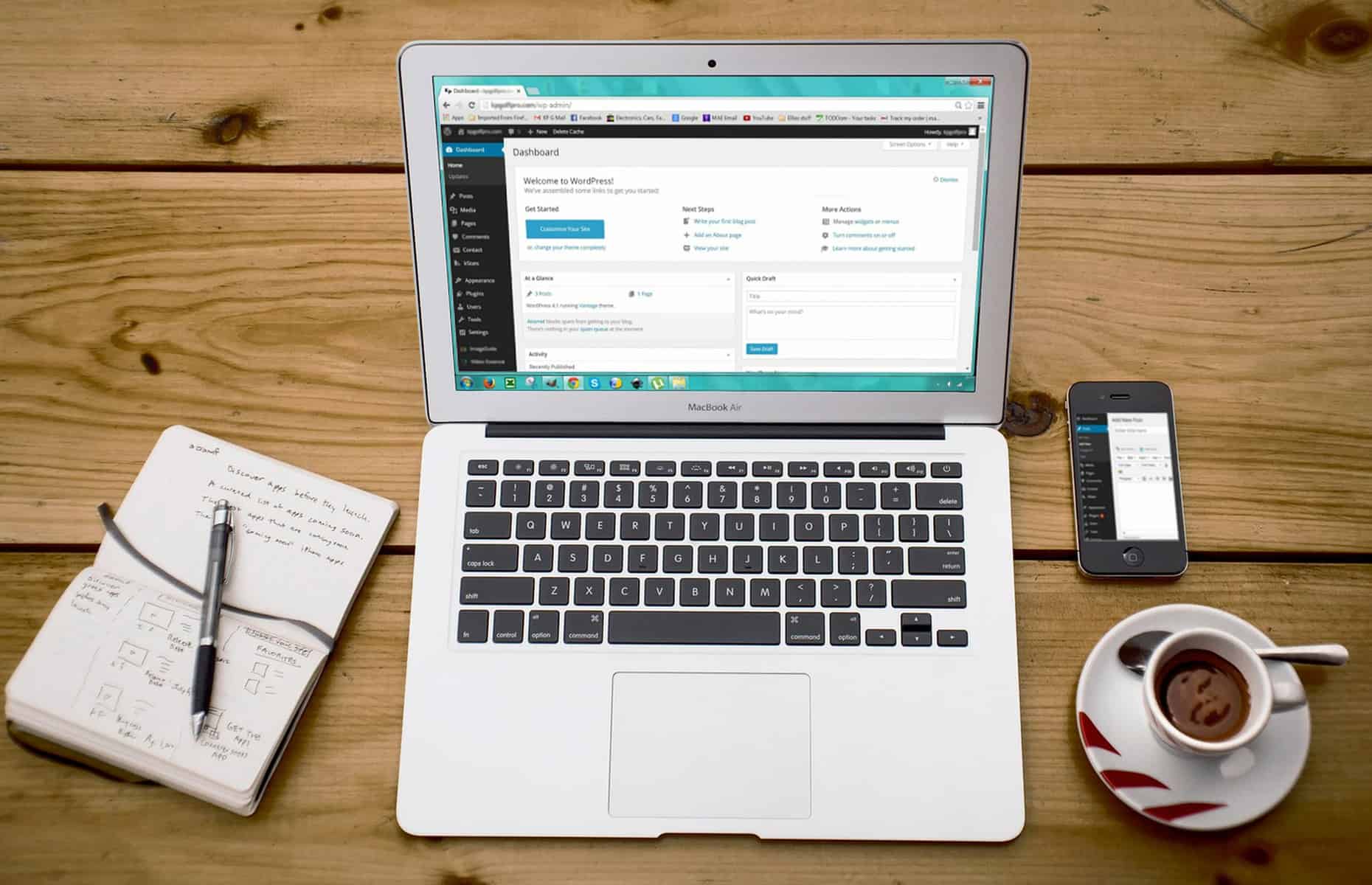 The reason why WordPress requires a bigger learning curve than its competitors Wix and Squarespace is mostly because it is quite more powerful and gives you better control over your site and the customization process, which definitely can't be seen as a downside. Also, since WordPress separates the backend and frontend of a site and lets you edit both parts individually, that can take some getting used to for people who aren't accustomed to this method of website building. But don't be discouraged – there are a lot of ways to master the website building process and with the help of a WordPress management service, you'll get your website running in perfect shape in no time.
When you use WordPress, you get quite a lot of options for the type of content you can publish on it, ranging from posts and pages to products, events, portfolios, basically anything your site might need. WordPress will also allow you to use different techniques of building your website; you can use the built-in editor, which functions on the drag-and-drop method, or you can install some other editor that you prefer using more.
When it comes to features, WordPress is hard to beat. The vast collection of plugins it has, both free and paid-for, will allow you to give your site any functionality you have in mind, regardless if it's marketing, eCommerce, online payments, third-party app integration or something completely different, there will most likely be a plugin for it. There are even plugins that are dedicated to making your site more search engine optimized with minimal effort.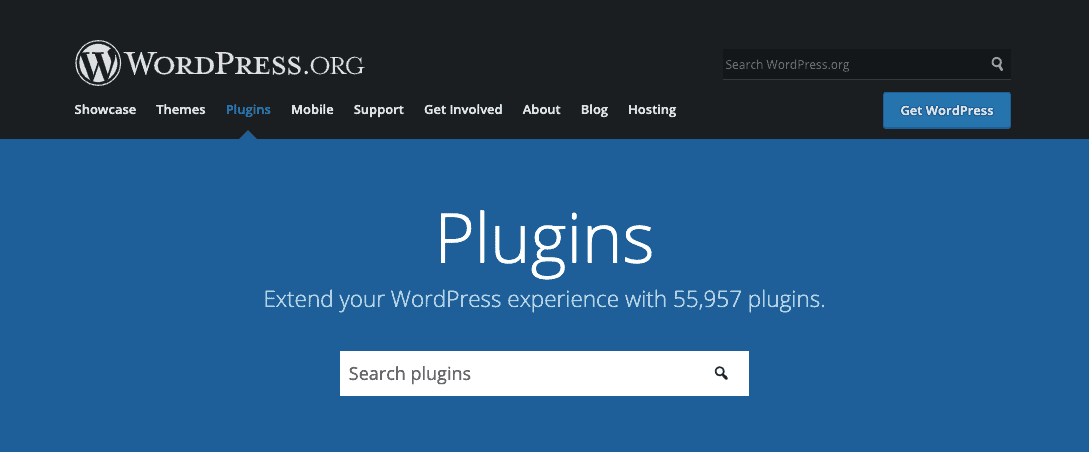 Design-wise, WordPress does a good job there as well. On the WordPress marketplace, there will most likely be a theme for any vibe you are going for, with 99% of those themes being mobile-friendly, and all of them are tested before being released for download or purchase.
Since WordPress does give you full control of your database, backups, and other important aspects, they even make it easy for you to leave their platform if that's something you want to do.
While WordPress doesn't have a live chat or other similar ways of providing support, it does have a huge community of users who are constantly working to improve the platform and find solutions for common and even the less common issues users face. Thanks to that large community, if you decide on using WordPress, you can always expect new advancements and additions to be made to the platform. You can even make contributions yourself if do you possess the necessary knowledge. All of this means that a site built with WordPress can always be further upgraded in order to be up to date with all of the latest web development trends.
The most important thing you should remember about WordPress is that when you start using it, you won't be creating the perfect websites right off the bat. As you get more accustomed to the platform, you will start creating sites that can come very close to those that were coded from scratch. But if you are looking to use WordPress to create just a simple website, then the time required to get used to the way it functions will be even shorter since it won't be necessary for you to dive into all of its features.
Probably the best description of WordPress is that WordPress is a platform that gives you great flexibility and power in exchange for putting in some effort and practice. So if you are on a budget but are ready to take some time to get used to the way it functions or you are a tech-savvy person who wants to have full control of your website building process, WordPress is the platform for you.
Wix
Wix markets itself as an easy-to-use all-in-one solution for building websites that aren't particularly large in scale. The process of building websites with Wix is designed to be as simple as possible thanks to a large number of available templates and the fact that both building and customizing are based on the standard drag-and-drop method. The templates Wix comes with are so detailed and well-designed that they can be used as the finished product as soon as you remove the dummy content and replace it with your own.
As mentioned a bit earlier, Wix is geared more towards building sites that aren't of much complexity, which is clear from the fact that it limits the amount of storage a site can have and also allows only two sub-levels of navigation.
One special feature that Wix comes with is the Artificial Design Intelligence tool or ADI in short. This tool will provide you with great assistance during the design process by analyzing your social media pages, logo, and other visuals, asking you questions about your site and then giving you design suggestions based on the data it has accumulated. Besides the ADI tool, there is, of course, the classic editor, which is extremely intuitive and flexible and won't confine you to using a specific layout as some other editors might. For those of worried about your site being responsive, Wix will also provide you with a dedicated site editor for mobile so you can be sure your site will look great on any screen size. The editing process using any of Wix's editors is done only on the frontend, meaning all the changes you make will be instantly visible.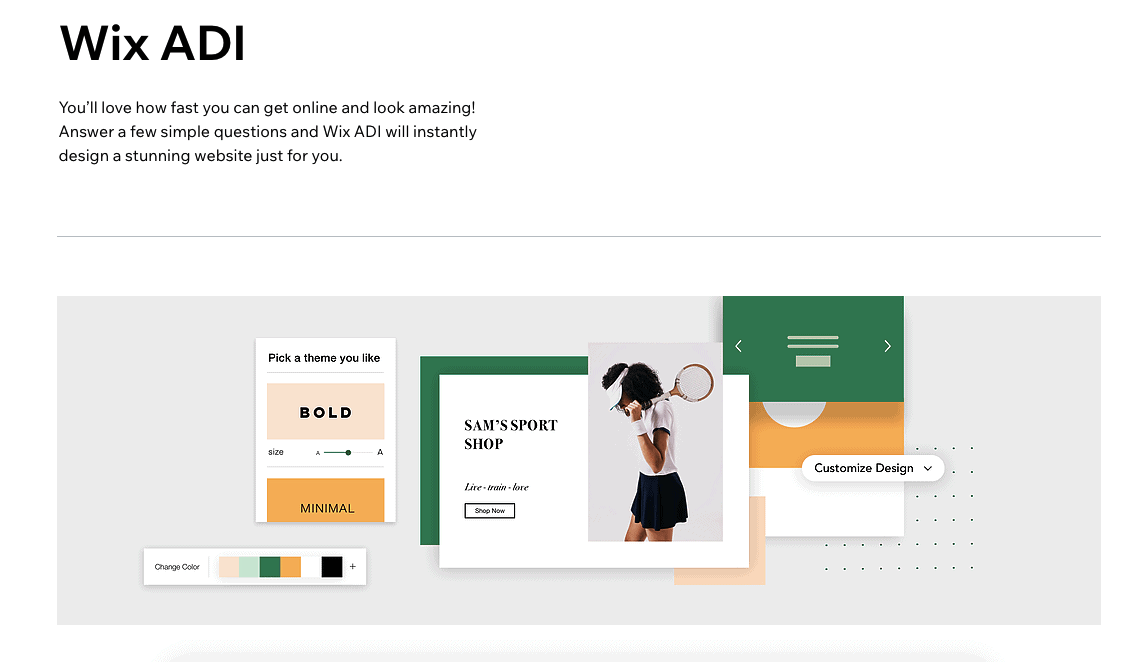 Another convenient feature that Wix has is the built-in image editor, which can be used to edit your own images or one of the many free stock images Wix will provide you with as well. Wix really does try its best to help you make your site as visually appealing as possible and will even allow you to use videos or parallax 3D effects as backgrounds.
When it comes to functionality, Wix has a dedicated app market called the Wix App Market, which contains a large number of apps indented for extending the functionality of your site, apps for analytics, marketing, lead generating, social media integration, and so on. If you are skilled enough, you can even create your own apps and publish them on the market.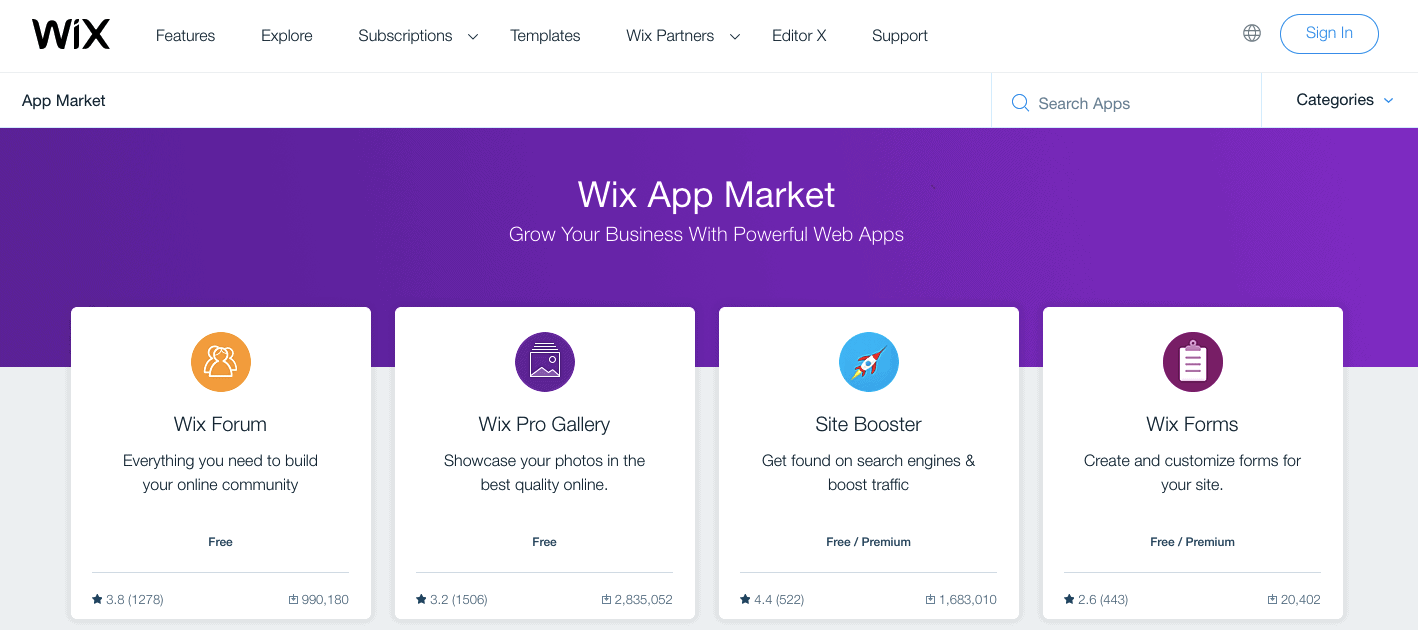 Having a site on Wix is free for however long you need it, but the free plan does have a few drawbacks. The first drawback is the fact that you are forced to use a domain that Wix provides you with, which always contains the word "WIX" in one way or another. To be honest, this isn't the best look for those of you who want their site to look very professional. The next drawback is, as you might have guessed, the fact that your site will be filled with ads, ads that you aren't getting paid for.
In a nutshell, this means that if you want to use your own domain and have an ad-free site, you'll have to sign up for one Wix's paid plans. When choosing a plan, you'll have to be careful since not all of them come with the same options or the same amount of storage and bandwidth. Although you do get the freedom to choose the price plan you want, you won't be able to choose the hosting your site will be on; instead, you will have to stick with the hosting Wix provides you with. That could be great for the people who don't want to bother with those technical aspects but not so great for the people who have specific preferences when it comes to hosting.
All the ease of use that is signature for Wix does come at a price and not only a financial one. If you decide on using Wix, you'll have to bear in mind that the sites you can create using it will mostly be simple sites that you can't migrate to other platforms later along the line. Even though the sites will be fairly simple, we do have to note that Wix can be used to build eCommerce sites, too, sites that can contain all the crucial order management, payment processing, and shipping tracking features.
SEO-wise your site will have decent performance but nothing stellar, so don't expect to have a super high rank in the search results with a site you created using Wix.
Lastly, we want to mention the great customer service Wix provides all its users with. For their non-VIP customers, the support works on a ticketed system, while for the VIP customers, there is the always-available priority phone support.
All in all, if you want a website builder that won't take too much getting used to and will enable you to create beautiful but not overly complicated sites, Wix is the way to go.
Squarespace
When it comes to ease of use, Squarespace is right in the middle between WordPress and Wix. It's a bit more challenging than Wix but still much easier to get accustomed to than WordPress. Although Wix can, without a doubt, create beautiful websites, Squarespace is undefeated when it comes to design, largely thanks to its stunning and professional-looking templates for websites belonging to any industry/category. The great thing about Squarespace besides it having great customizable themes that are all mobile-friendly is that it will allow you to use multiple themes on one site, even themes of your own if you have such.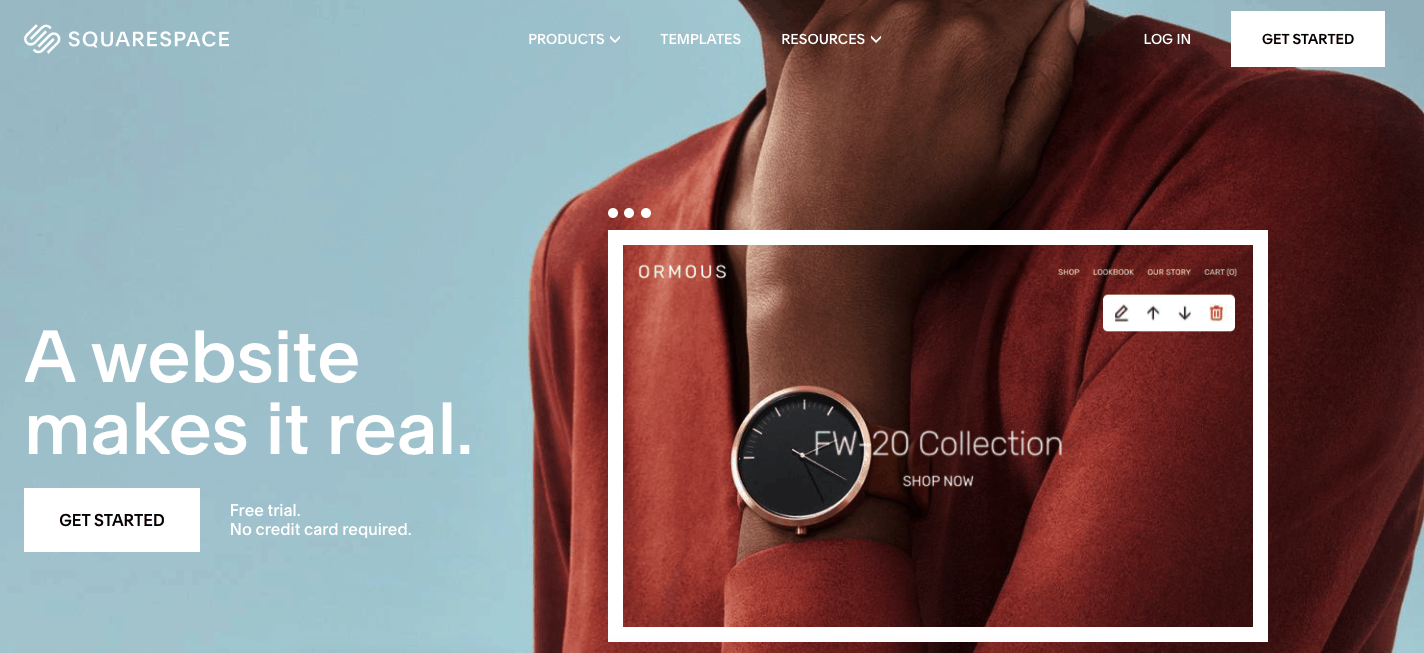 Squarespace being more complicated than Wix does mean that it also offers more customization options, going as far as allowing you to edit the site's code directly if you're up for the challenge.
Unlike WordPress where you add features to a site by gradually installing more and more plugins, Squarespace comes with most of the things a site needs already integrated into it, which is great if you aren't picky with your features but not so great if you wish to have other features than those the site templates initially come with. Some of the features Squarespace integrates into its templates are eCommerce features, blogging features, social media integration features, marketing features, and a lot of other ones as well.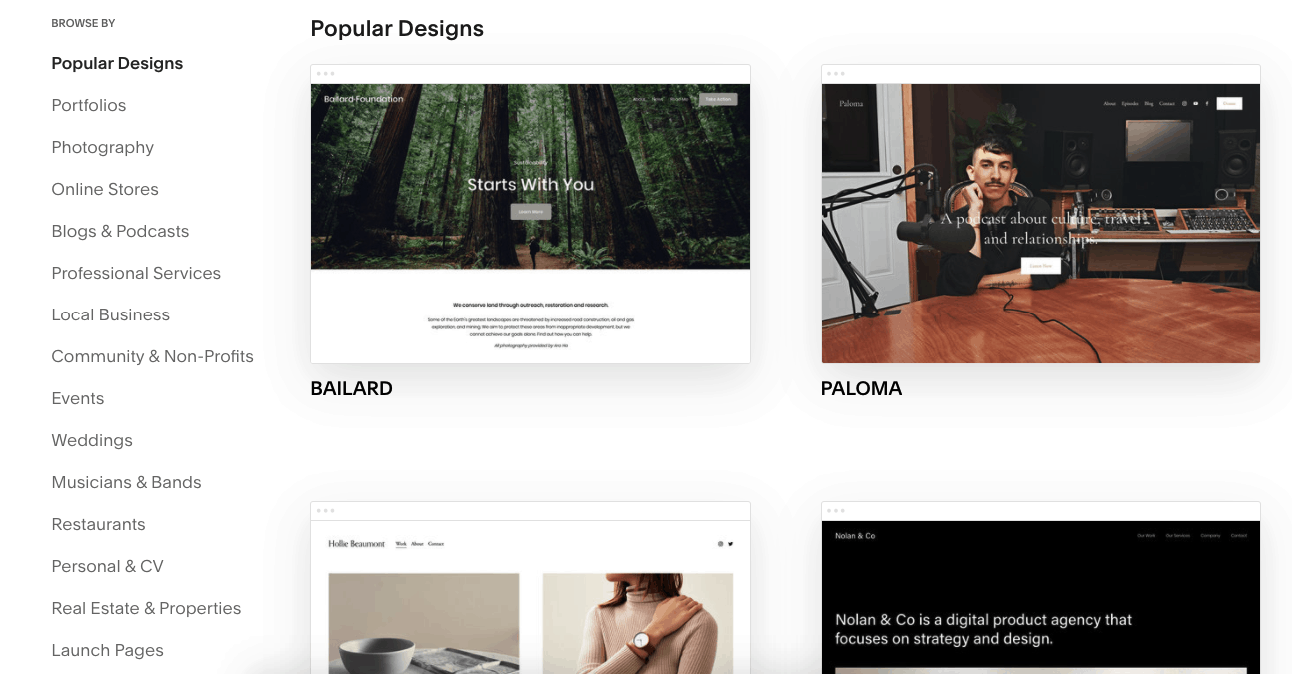 When it comes to SEO, the situation is similar to Wix, with only some basic features on disposal but nothing too advanced. Another thing Wix and Squarespace have in common is that they both take care of the hosting, security, and other technical details for their users, so your only worry will be designing the site and picking a price plan that works for you.
Squarespace's price plans can be roughly divided into those that include an eCommerce store integration and those that don't. Also, some plans may limit you on the number of pages you can have on your site, so make sure to keep an eye out for that. Included in all of its price plans though are hosting and the option to use your own domain name.
The building process in Squarespace, like in WordPress and Wix, is done using the drag-and-drop method, but for those of you who love working with code, there is a special developer mode available as well.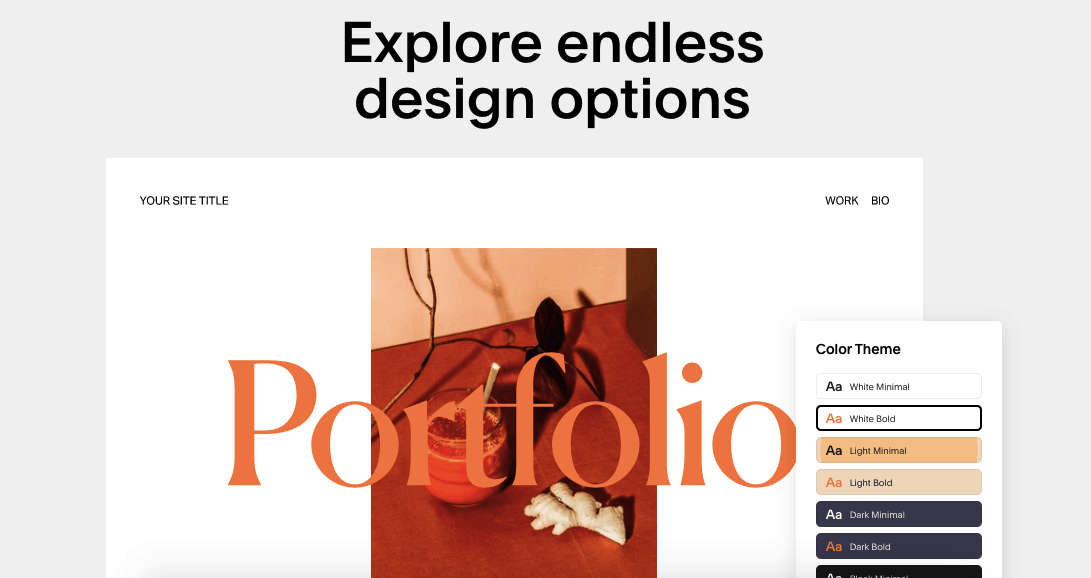 Like Wix, Squarespace also comes with a built-in image editor and an editor for building sites dedicated to mobile devices.
One drawback of Squarespace is the fact that you can't build a website from scratch but only using one of the available templates. This is most likely because Squarespace is aware of how featured-packed their templates are, so they see them as an essential thing to use when building a site. Another thing that could be seen as a drawback is that if you ever wish to migrate your site to another platform, you'll only be able to export certain parts, which definitely isn't ideal.
When it comes to customer support, Squarespace does a good job with its live chat (available Monday to Friday) and email support (available 24/7).
To wrap things up, if you are a person that puts design first and doesn't need complicated features for his/her site, you won't find a better solution than Squarespace. Websites built with Squarespace look extremely professional and sleek, are easy not only to build but also to maintain and will come with all the necessary features already included, enabling you to have a brand new site up and running in less than an hour.
Conclusion
Each one of the three platforms we covered in this article is undoubtedly great. Which one should you use to build the site of your dreams completely depends on what features you want the site to have, how much time you want/can spend building it, and how technical you want to go while building and maintaining the site. Now that you know all about the three most popular website building platforms think a little bit more about the requirements your project has and see which option will be the best fit. We wish you the best of luck!