If you want to showcase your skills properly, make yourself easier to find, and thus make your chances of employment higher, you should consider creating a personal resume website.
Whether you are fresh out of college, still studying, or you've been on the job market for a while trying to find work, creating an online CV will very likely impress HR agents as it will show off your personality and skills better than a traditional resume.
In order to do this, you will have to choose a WordPress resume theme that fits your style and personality. For that reason, in this article, we will present to you some of the best ones that suit many different preferences and skillsets.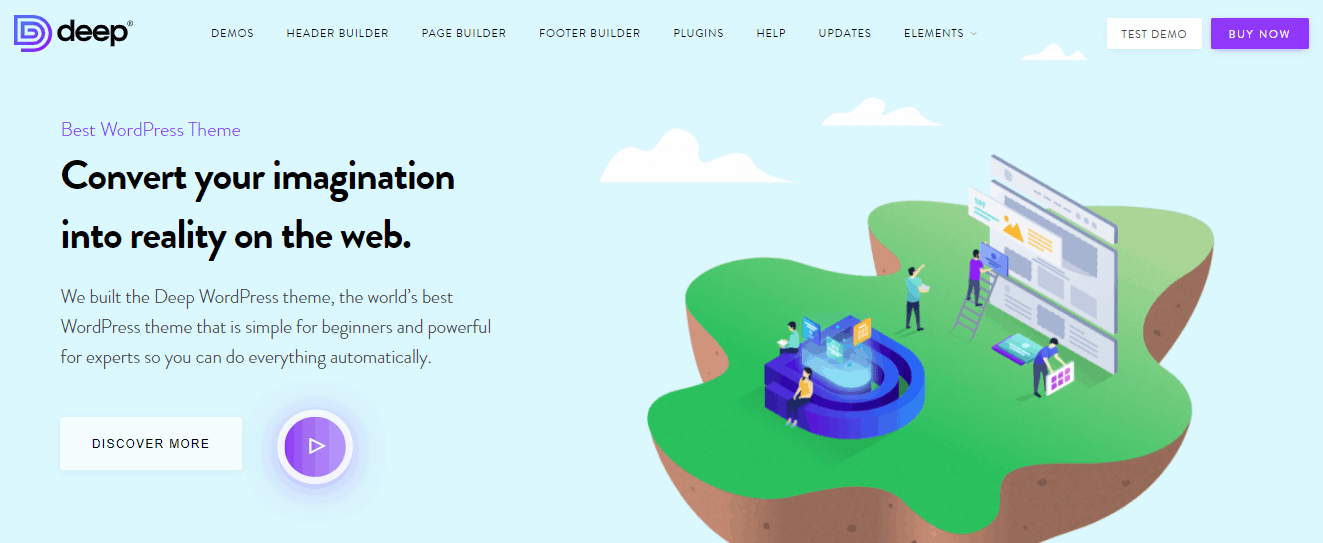 Deep is a professional-looking resume theme creator that is sure to make your resume stand out. There are separate "builder" tools for every vital part of your online CV, these consist of a header builder, page builder, and a footer builder, each of which is highly customizable to your desires and needs.
The best thing about Deep is that all of its many features and tools are laid out on just one page, so there won't be any confusion on what to do next.
You can get the Deep theme creator for $49, or if you wish, you can get a yearly subscription and have their fantastic customer support on hand as well.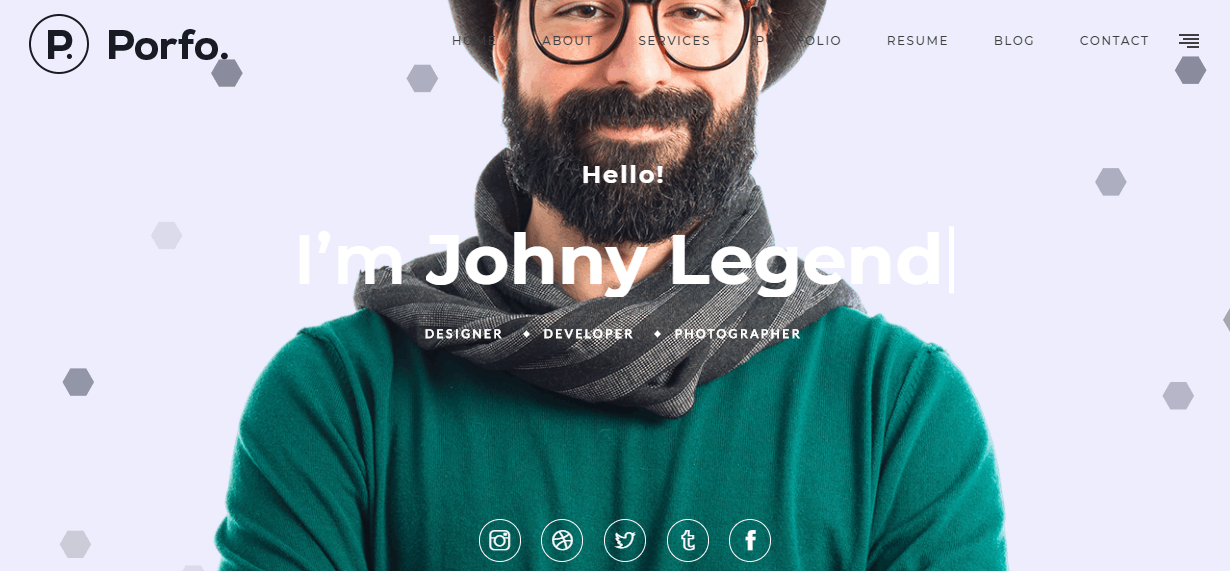 Porfo is a super minimal and clean WordPress resume theme. It is aimed at highly creative individuals such as designers, freelancers, or marketers since it also works as a portfolio builder for any kind of creative work you can think of.
This theme has a drag-and-drop page builder intended to make your experience of making a great online CV as fast and as easy as it can possibly be. The theme is also optimized to load faster and is translation-ready for any language you might need.
Porfo costs either $35 for a single purchase or $8.6 per month for a subscription.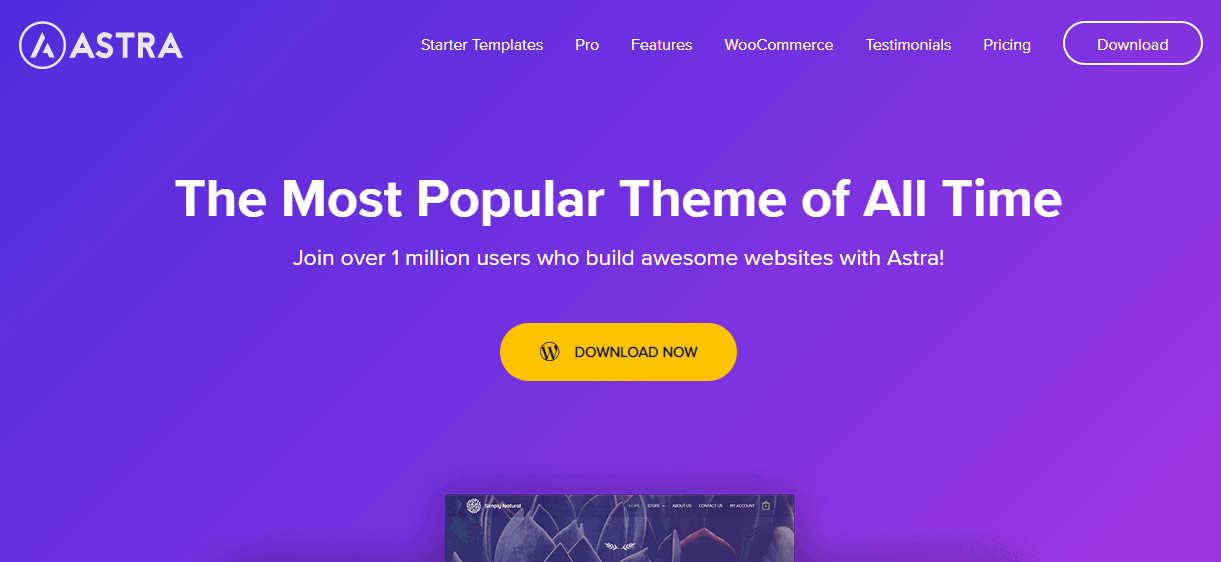 Astra has an enormous library of pre-made website templates and you can use it for more than just your CV. So if working from scratch and customizing every detail isn't really for you, fear no more Astra has you covered.
If however, you do wish to customize your CV to the tiniest detail, Astra can make that simple for you as well, since, with it, you can customize whatever you want using the WordPress Customizer tool which requires no coding knowledge whatsoever.
Another great thing about Astra is that there is a version of it that's completely free, so all you have to do is download it and you're good to go. If you decide that you love it, you can upgrade to Astra Pro at a price of $47 for a single user.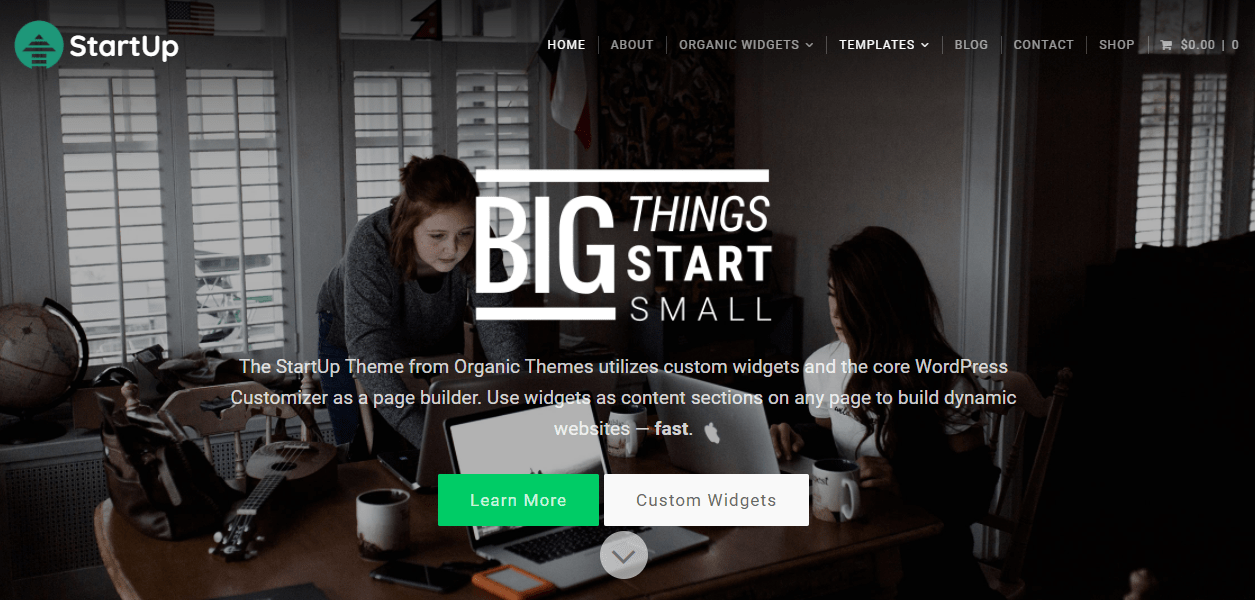 StartUp is a theme made by Organic Themes and it uses custom widgets to turn the WordPress Customizer into a simple and clean page builder. This means that there is going to be virtually no learning curve when it comes to using it because you'll be working with a tool that is already familiar to you.
There are a few very useful features that StartUp offers. The first one is the ability to include a content slideshow with background images for anything you might want to draw special attention to. The second one is the ability to insert a subpage, meaning, you can display any page as a section of another.
Also, you can get the StartUp Theme for $199.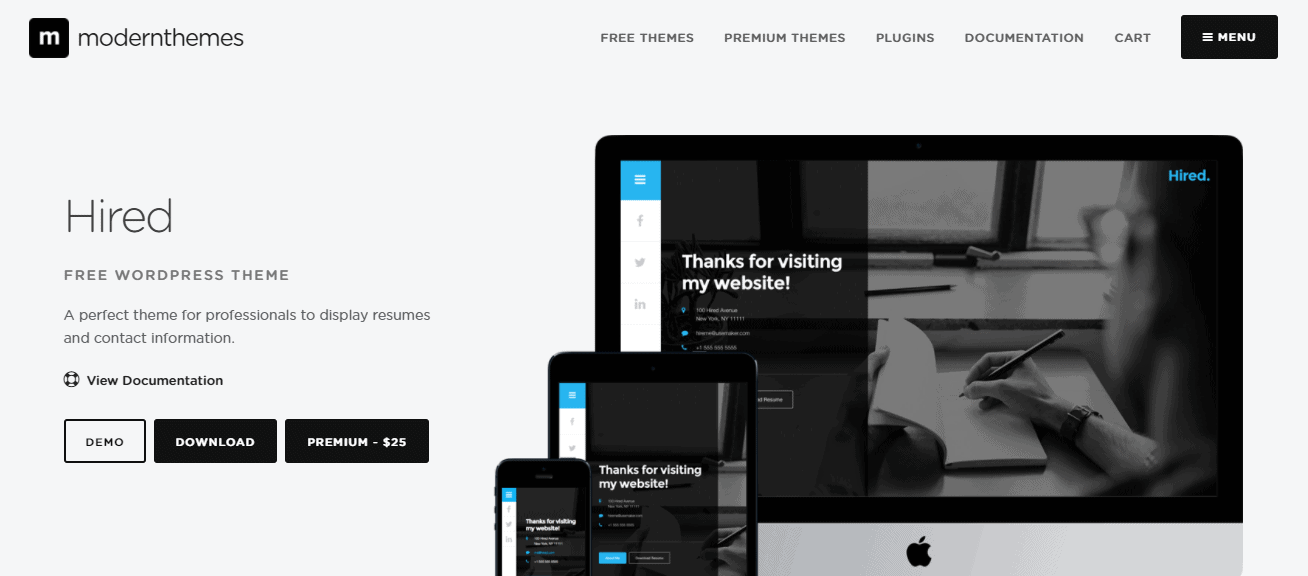 Hired is a WordPress theme made by modernthemes, it's sleek, professional, and easy on the eyes. The templates offered are clean and modern, there are unlimited color options and you can change the feel of your chosen template to make it suit your personal style perfectly.
Once you get Hired, any updates that the theme gets will be yours forever, no matter if they came a long time after your purchase of the theme. Also, the theme is fully translatable and easy to install.
If you decide that Hired will help you create that perfect CV, you can choose between two versions. The first version is free and the more advanced premium version will cost you $25.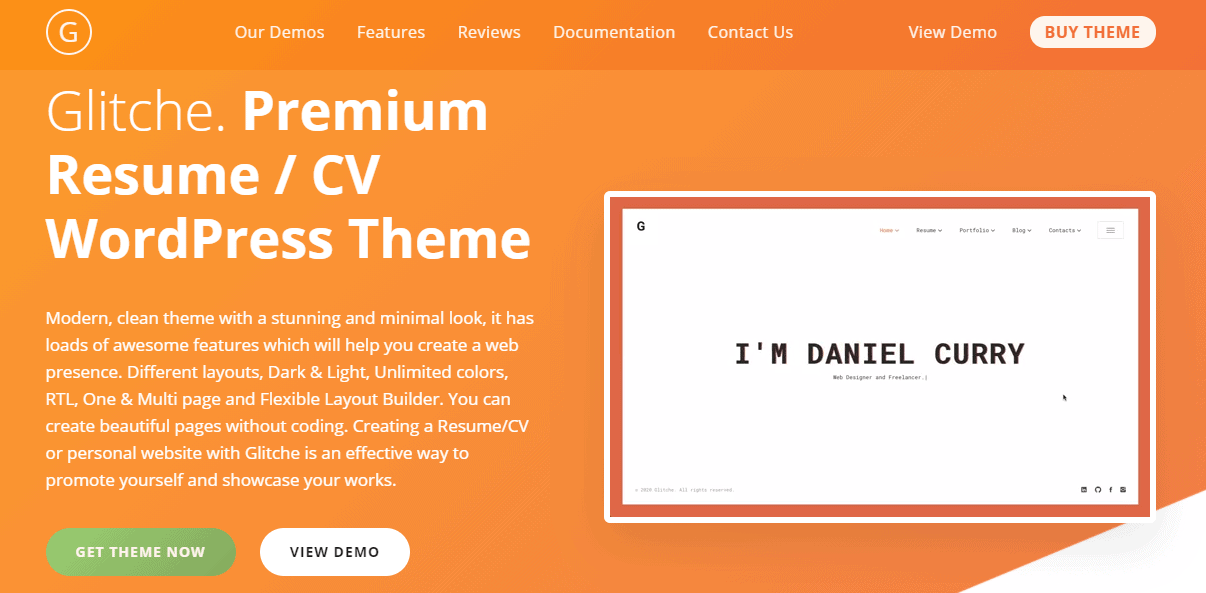 Glitche is quite minimal in appearance, but it still has many fantastic features that could help you build the perfect resume. The simplicity of the theme gives it elegance and an easy overview of anything you would like to showcase on your resume.
It comes with both Light and Dark mode, different layouts, and a flexible layout builder. So if you prefer a crisp modern look to something a bit more flashy, Glitche might just be the theme you need.
There are 2 different options to choose from if you do decide to get this theme. The Regular one will cost you $29 for a single purchase, but you can also get a subscription for $6.38/mo.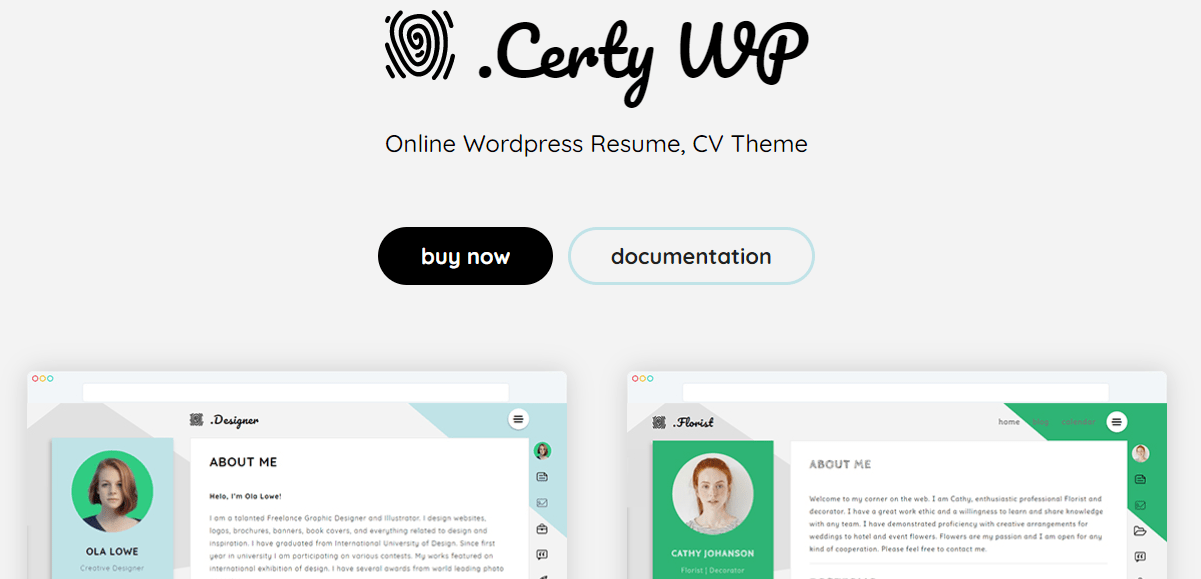 Certy is the perfect resume theme for those who like a bit more visual interest and personality in their CV. The bright colors used for its design are bound to catch the eye of any potential employer and you can be sure that they're going to remember you.
Certy is extremely easy to customize and use, plus, it's SEO-friendly. Using it, you can add a visual timeline, a skills and statistics section, your personal blog, an appointment calendar, and 11 other unique sections that can help you create the resume of your dreams.
A one-time purchase of this theme costs $39 and the subscription with 24-hour support will cost you $10.13/mo.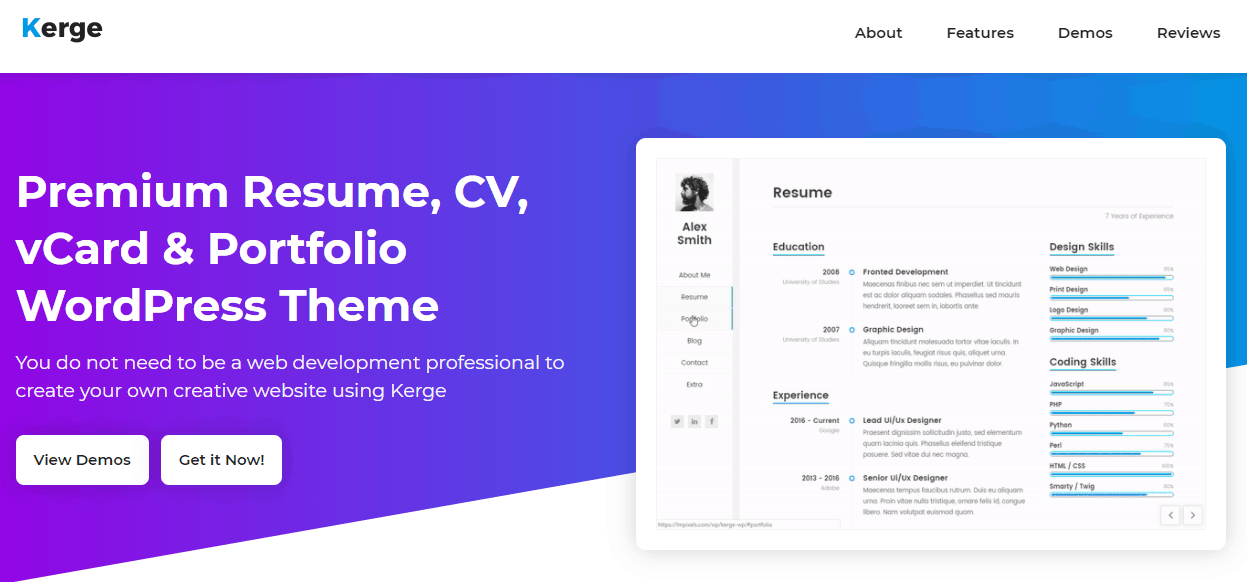 Kerge is a fantastic tool you can use to promote yourself. With it, you can build a perfect CV, vCard, or a portfolio of your work. This theme also features a drag-and-drop page builder so no coding is needed in order to customize it to your heart's desire.
The theme is modern, elegant, and concise, so you can show off all of your best features in your CV, keep it visually interesting and make sure no one ever glosses over it again.
The pricing is again, $39 for a one-time purchase and $10.13/mo for a subscription.
Conclusion
Once you've looked over our list and chosen the theme that works best for you, get on it and make the resume of your dreams. Good qualifications and a well-written, beautifully edited resume is sure to land you a great job.
To make this as effective as possible use your online resume in conjunction with your standard one that you've used so far, just make sure that their quality matches. Finally, don't hesitate and use the resume of your dreams to get the job of your dreams.