No matter which area your business belongs to, you cannot establish your place in the market without the use of social media platforms. And one such important medium regarding this is Instagram, as it offers every business or individual an opportunity to post extremely attractive visuals regarding its work. Keeping in mind the rising competition in today's time, it is important for every business to import Instagram posts on its website to make it look attractive.
In order to meet this demand, businesses need to use WordPress plugins, and choosing the right WordPress plugins to show the latest Instagram posts should be handled with care. In this post, we have enlisted the three best WordPress plugins that every website owner should use for showing the latest Instagram posts.
Before we mention the best free and premium WordPress Instagram plugins, we must tell you that it is possible for you to display photos from a specific Instagram account or your own website. The number of items to be imported can also be decided on these WordPress plugins, and it doesn't require a heavy investment on every person's part to show the latest Instagram posts on a given website.
Here is the list of the best WordPress Instagram plugins for you to know:
Instagram Feed

Instagram is an immensely popular social network. People post on Instagram even when there is no reason to. When they don't have anything new to share, they will share some good old tbt posts to keep their feed active. So naturally, for a feed so active, a good plugin is a must.
Instagram Feed is the first name on the list that is available for free to every user. The WordPress Instagram plugin enjoys huge popularity across the world. To date, it has about 10,00,000 installs across the globe, and its multiple features make it one of the most desirable WordPress plugins for importing Instagram posts.
Using this WordPress plugin, it allows every person to create multiple feeds to use for every site. Hence, one can display a constant stream of photos from multiple sources. In addition to this, one can also have complete control over how the images are displayed on a given website. And the best part about this WordPress plugin is that it is mobile responsive, which allows Instagram content to look great on every device.
Download Instagram Feed Plugin
Instagram Journal
Instagram Journal is a premium WordPress plugin that allows every website owner to create an Instagram integration of his choice. As it is a paid version, it offers more features than its free counterparts. It offers options to filter photos from certain users, all the items with certain hashtags, and the liked photos from multiple accounts.
For it is a fully responsive WordPress plugin, it makes it possible for every person to display interactive content on different devices.
Grace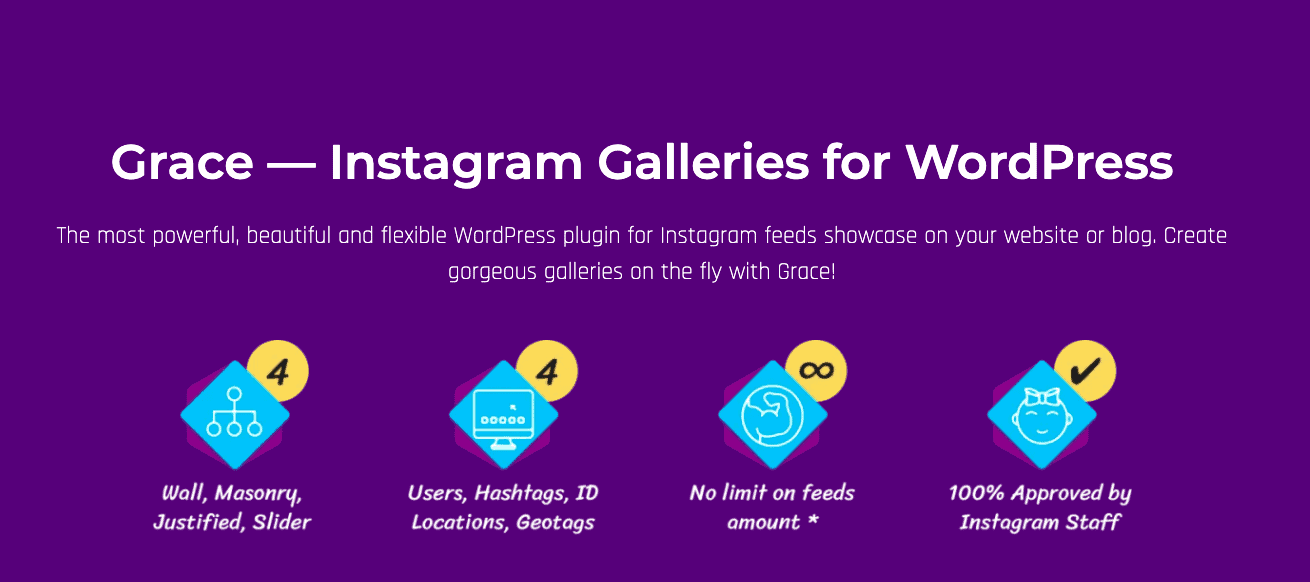 Grace is a premium WordPress plugin that is easy to use for every person, and it offers a plethora of features for every WordPress user. After activating the plugin, one can simply choose the accounts to import images from. It has an excellent feature to display photos based on different parameters such as user accounts, hashtags, locations, and other liked photos.
On this WordPress plugin, it becomes possible for every user to share a given photo with other users from within the website only.