In order to have your website be in top-notch shape every day of the week, one must first pay attention if there are any issues with its uptime (downtime). You should always try to monitor the performance and make sure that everything is running smoothly as to avoid having any downtime.
In a perfect world, the uptime should be at 100% (99.9%) while downtime at 0%. Not only would such numbers of uptime and downtime ensure that everything is running smoothly but it would also mean that you will not lose any profits.
There is nothing worse than receiving an email or getting contacted by one of your clients or visitors saying that they cannot access your site. I was always afraid that my site might go down in the middle of the night without me even knowing about it while my visitors are wondering why it is down and thinking that the site ran out of business.
In order to ensure that everything is working properly, one should have a tool or program that is able to monitor all the devices/software that are related to uptime. That is why I have compiled a list of the top 5 uptime monitoring tools that are surely going to help you out in achieving 0% downtime and a 99.9% uptime!
1. Better Uptime
First, I will be starting off with Better Uptime. Better Uptime is a great product that offers a combination of a couple of different things and features. It has a great uptime monitoring tool, a slick public status page, and the very handy and critical incident management feature. With all these things combined, you will have a great time when it comes to monitoring your site and fixing what went wrong.
I personally really like how you can get notified very quickly wherever you are, be it via SMS, email, or even a call to your phone. It also has the ability to alert all other team members of the incident if the original recipient does not acknowledge the incident within 3 minutes. This ensures that at least somebody will be notified of the incident and can then go ahead and try fixing the problem.
When it comes to solving the problem, then you have the advantage of the "Incidents" section. There you can see the complete history of the incidents that have occurred. This is great because it won't just tell you when your site went down, but it will also tell you what caused it. Indeed very helpful, because once you know what caused the incident, you can then take the necessary precautions in hopes of preventing them from happening again in the future.
Also, Better Uptime is able to integrate with well over 100 apps which allows you to be connected to a whole lot more services.
2. UptimeRobot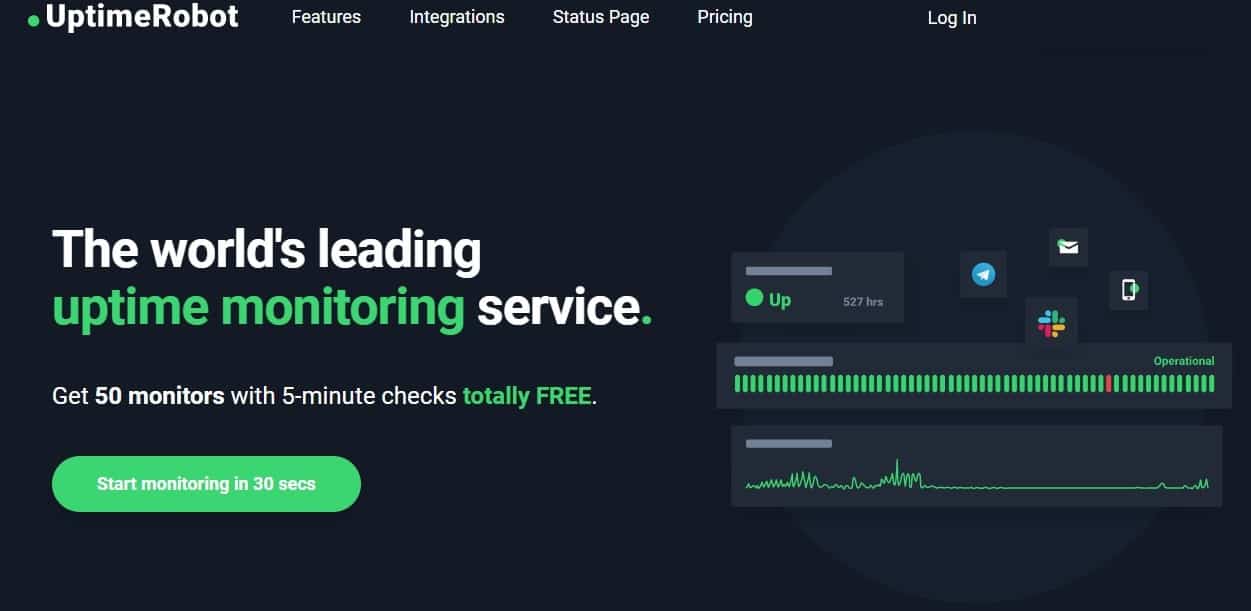 UptimeRobot is also another great service that allows you to monitor your uptime. It has been around since 2010 and has been growing ever since.
It provides you with all of the necessary monitoring tools that allow you to keep track of your uptime and downtime. It can also inform you if there has been an incident and what made it happen.
In the free plan, you won't be able to get notified via SMS and the monitoring frequency is every 5 minutes.
3. Updown.io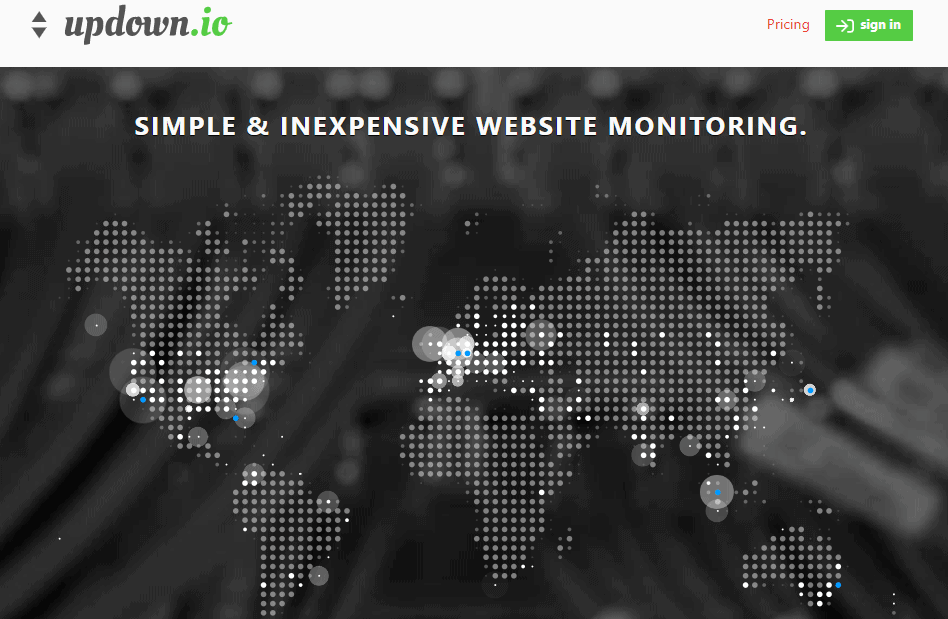 Updown.io is another okay alternative that periodically sends requests to the URL of your choosing. Then, if there has been a problem or incident it will notify you via email or SMS.
It can also be integrated with Slack using which you can then set when each team member is going to receive the notification about an incident.
4. Pingdom
You're probably familiar with this one because you might have heard that some big companies out there (HP, Google, Dell, Amazon, and so on) use this tool. It is also a great alternative which can help notify you of the uptime and provide you with the log history.
You get a complete monitoring experience that is combined with synthetic and real user monitoring to ensure that you get full visibility of everything that is going on.
5. Datadog Synthetic Monitoring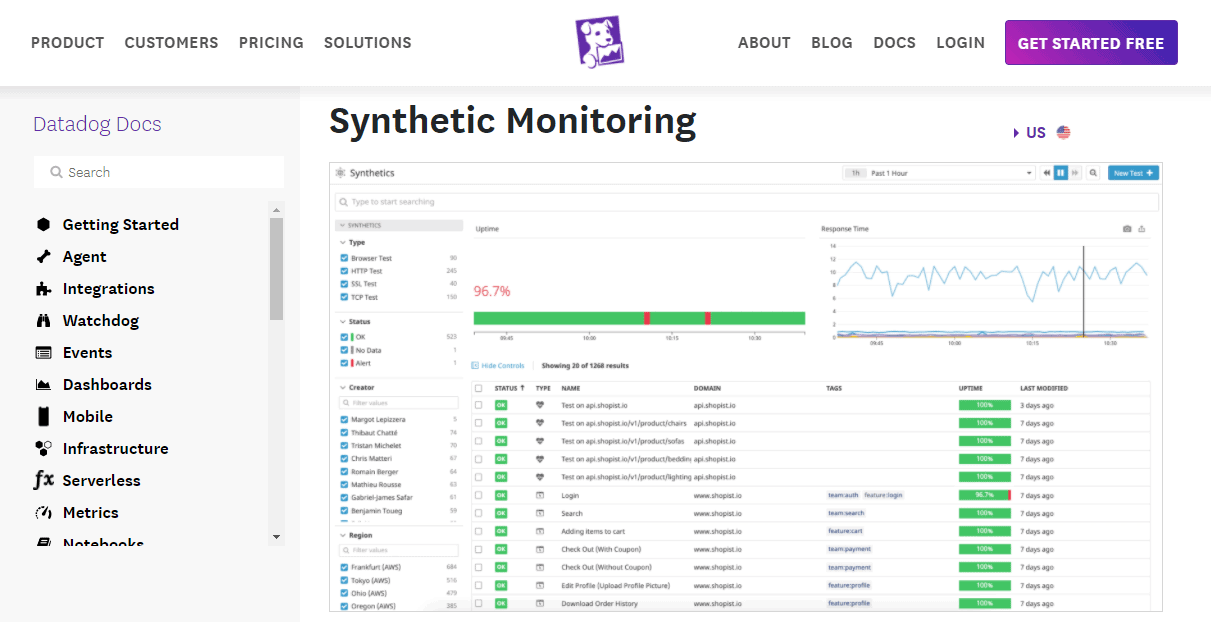 And last but not least is Datadog. Datadog is also a nice and handy way of monitoring your site's uptime. And because it utilizes a cloud-based system of monitoring, it is able to test a website's availability repeatedly from all kinds of locations around the globe.
You are able to use Datadog in order to locate issues and then resolve them quickly with unified traces, logs, and metrics. You can also go ahead and monitor business transactions and user journeys. With this, you can then detect potential front-end issues like JavaScript errors and such.
Also, you will be able to analyze performance by location or device with a handy and very user-friendly waterfall visualization feature.
Verdict
All of these monitoring tools have something special about them, but in the end, it comes to personal preference and what type of business or site you wish to monitor. You may also wish to use a single tool that can handle a lot more than simple uptime monitoring, by exploring this Grafana demo you can see how this platform can be used to not only monitor uptime but be used to monitor all of your IT systems centrally in one go.
And even though UptimeRobot is currently, let's say, the most popular, I would rather recommend Better Uptime as the best tool out there. Better Uptime is not as popular as UptimeRobot, but it still stands out as a great alternative and it is not all that expensive when you take into account the other alternatives out there.