As time goes by, more and more websites are hunting down keywords in order to gain reign over domain authority and be the king of the hill in terms of their SEO. Websites are trying to out-do their competition, so ideas are constantly being burned and keyword rankings changed so frequently due to the constant rush to be better and do better, which can take a toll on your own ranking if you're not exploiting every single tool available to you.
When we say exploit, the gist of it is using what is out there to your advantage, which means any plugin, extension or tool becomes a viable ally to aid your progress. It may not sound like much unless you're actively working on your SEO, trying to hit every single mark and making sure your keywords are on point, but the help you can get with a few clicks can change your game.
What if you knew what strategy your competition is using? Or if you could easily see what's the domain authority for the website you frequently visit? These things alone can turn the way you do things upside down, giving you a better perspective on what others are doing that improves their SEO. Once you get a good look at that, you can easily take what they're doing and apply it to your current strategy, or use it as a starting point and adjust it to your needs.
Thankfully, there is a tool out there that you can use, which will let you take a peek into everything, without having you go around trying to find the best approach. The tool we're talking about here is of course Ubersuggest, a tool/extension you can use in order to boost your SEO.
Ubersuggest review
Although you've probably heard about it, we're here to introduce it to you properly, and hopefully, shine some light on how this multitool can be used to greatly improve your SEO. But first, what exactly is Ubersuggest?
Created by Neil Patel, the tool has gotten quite a lot of positive user feedback and we can really see why. It's a freemium monster of a multitool, which works by researching keywords and picking up data from various sources, mostly from Google itself.
Understandably, if you're working with SEO you're probably constantly dealing with a number of other tools and extensions, and this one brings a lot to the table, so you might end up scrapping some of those you're currently using. With it being free to use (you can opt for the premium version, but the free one works just as beautifully), you're covered in all areas from keyword research, backlink analysis or even just seeing what can be improved in regards of your content or overall website.
If you're a professional working towards being at the top of your competition, all of these features should be something you already have under your belt. Neil Patel, the man behind this tool is providing a variety of uses in this tool, all while keeping everything simple-looking and non-intrusive.
What is Ubersuggest used for?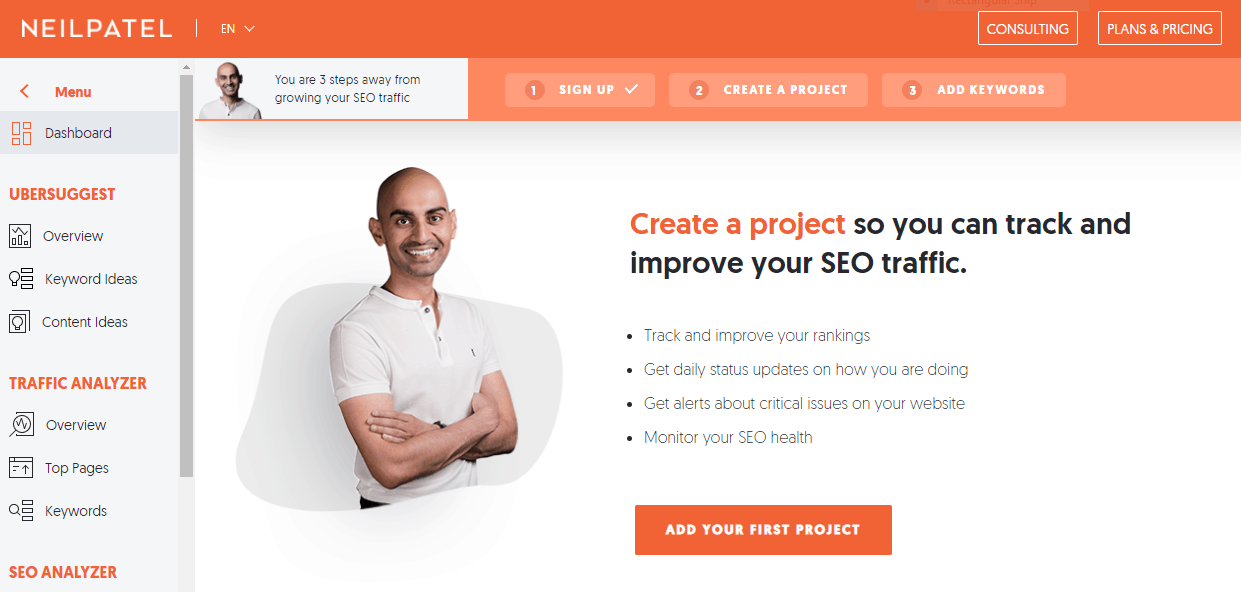 Now, why would you use Ubersuggest? As we've said, it's generally an amazing tool that can help you boost your SEO, but it's so much more than that.
If you're looking to ensure you're on the right path, having your results and traffic displayed as well as the competition's statistics is a good way to get ahead. Whether you're running a business or you're a marketing newbie, getting a good grasp of what is happening internally and externally is as important as any campaign or content you're putting out. Especially if you're just starting your marketing career, and you're tip-toeing while trying to find what you can use,
Ubersuggest will do part of the work for you. With the tool picking up on everything on Google and its' major websites, it can be of use even to those who are starting a Youtube channel and are unsure what to title their upcoming videos. While it may sound silly, that's just how versatile the tool and the extension are.
The features of Ubersuggest
Now that we've explained the use of the tool, let's expand this Ubersuggest review and go a bit deeper.
With the tool being free to use, it has a long list of features at your disposal. Going forward, it seems that specialized tools like keyword planners with no other features to offer are slowly dying off, as users are not interested in something that only does a single job. This means that certain tools and extensions will no longer be in use, especially if they're single-use, or don't do a single job no other tool or extension is capable of doing.
Ubersuggest covers three main features, which branch out in order to provide you with further information. You'll be able to see the keyword overview (keyword ideas, content ideas, etc), traffic analytics (top pages, keywords), and the SEO analysis (page audit and backlinks).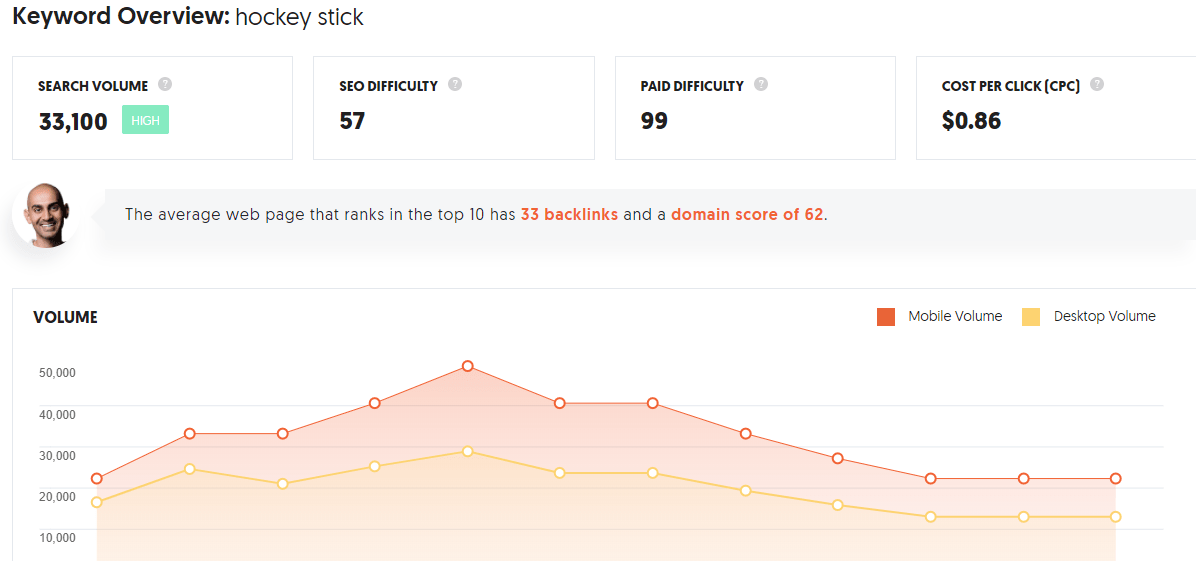 Considering that everything is done in a simple and easy-to-grasp manner, you won't be overwhelmed by trying to use the tool or the extension. This is great, with the features being so straightforward, improving your SEO and getting more organic traffic won't be something you'll have to spend sleepless nights on.
But how would you use this tool to specifically boost your SEO and content? Let's start with the main feature, the keyword overview.
It serves the purpose of providing you with all the data needed for you to rank better, top 10 keywords to be exact. The overview branches out, gives you an option to search for the keywords you want to rank for, runs the analysis, and finds data such as the SEO Difficulty, the Paid Difficulty, CPC, and the trends that the keyword has encountered so far.
The keyword ideas section is pretty much what it claims to be, a place where you can fish out ideas and use them for your own content. The tool rounds up all the data it can, and provides you with the results sorted by SEO Difficulty, in order to give you an idea of the difficulty for you to achieve a ranking with the selected keyword.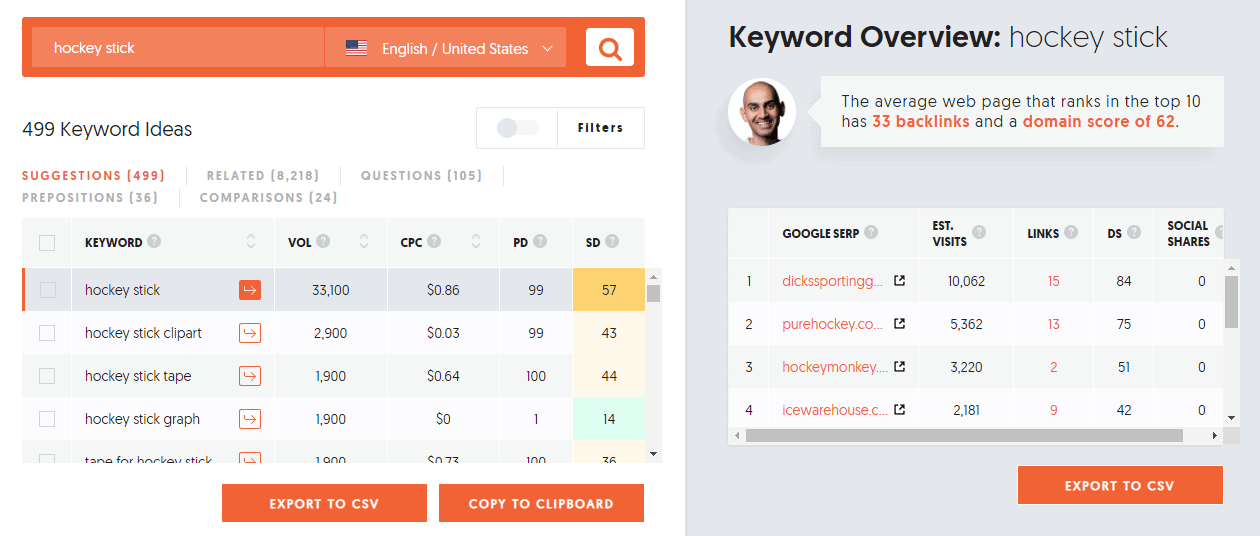 If the volume of the difficulty is overwhelming, you're offered with alternative keywords that can be used instead, which promise generally-ranking positions in search engines. Not only that, but you're offered a list of suggestions, related searches, prepositions, comparisons, and questions users have searched for in the past, that are related to your selected keyword.
It goes further in-depth by also displaying the social shares, links, who is ranking for the keywords, and so on. This is very useful as you'll be able to see the most popular blogs, websites, and more that are relevant in that subject, giving you a clear view of those who are currently doing well.
As for the traffic analyzer, the general overview checks the traffic per keyword. Normally, some would generate a lot of traffic, some would generate way less, but what you can pick up from that is what you'll be using the most.
By going in and searching a domain, you can get a clear evaluation in a form of graphic content displaying all the keywords used on the domain. This will also show you the estimated number of visits per page, as well as the backlinks and the ranking for the domains based on the keywords themselves.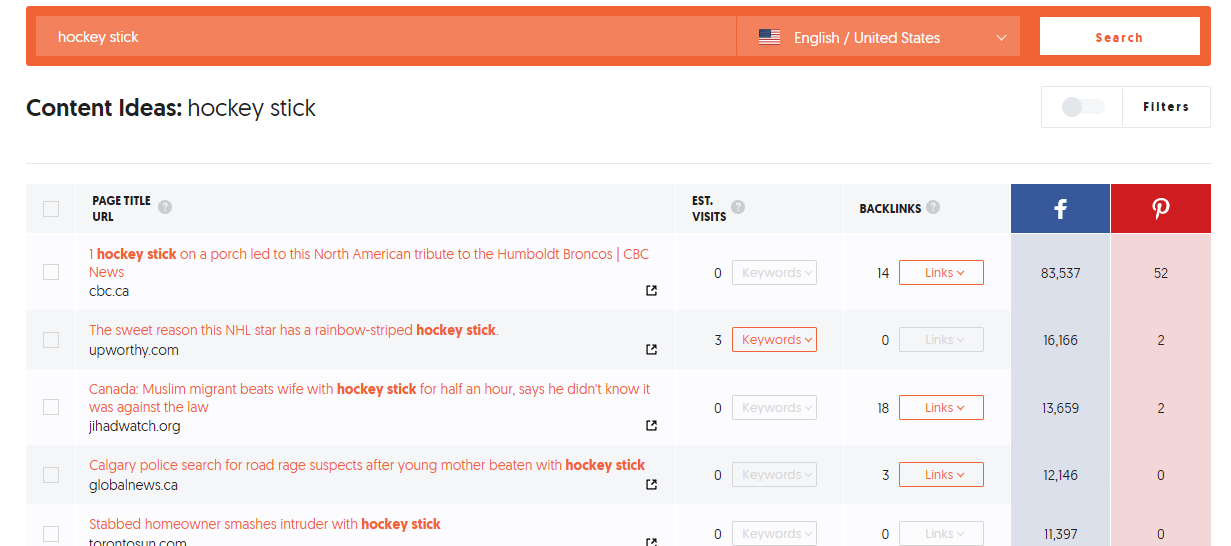 This feature alone is pure gold, as it really steps up the game and supports your SEO work. Moving to the keywords report, all the keywords sorted by popularity will be shown to give you an overview of what's been targeted by others.
Last but certainly not least of the features, the SEO based ones are a godsend for when you're in a pinch and don't know what else can you do to generate more traffic.
By simply pasting down the URL of a website in the Site Audit section you get to see what exactly is the issue, what is missing or can be improved in regards to a website's current situation.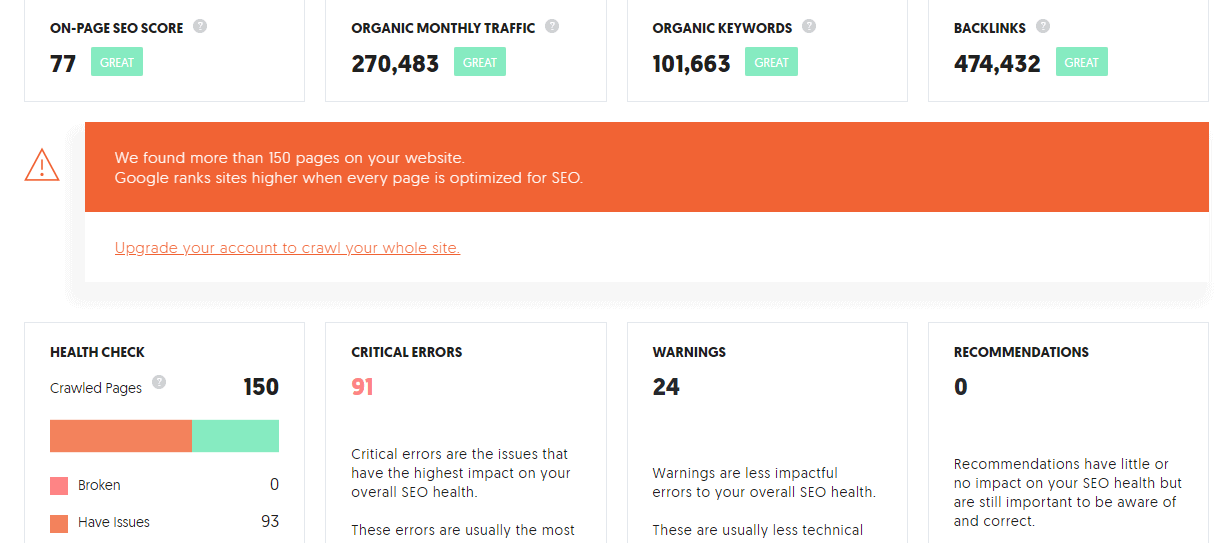 It breaks down everything for you, starting from the easiest jobs that you can get on, and goes down to the more time-consuming tedious ones which will affect your SEO. To get the best results, start your way at the top of the list and go down, the ones at the top are not only the easiest as we said, but also make the greatest impact.
You can use this to your advantage in various ways, by seeing what changes can you implement in order to have your website and SEO grow, or you can see what your competitors are missing, and use that as a guide for what is lacking in their own strategy.
Alongside the Site Audit functions which give you a rundown of critical errors and suggestions for improvement, you can use this tool to get an SEO analysis. And since working on your SEO is split into OnPage and OffPage optimization, this will certainly cut down on all the work you would be doing without it, especially considering that there is no other tool out there that offers so much in this area and is free of charge.

Once you've checked that out, head over to the Backlink Report tab. Again, with only pasting down the domain name you'll get to see the growth or decrease of backlinks for the domain. Not only that, but you also get to see the new and lost backlinks showcased in graphs, with the tool going as precisely as to tell you which of the links were for the domain you are looking up.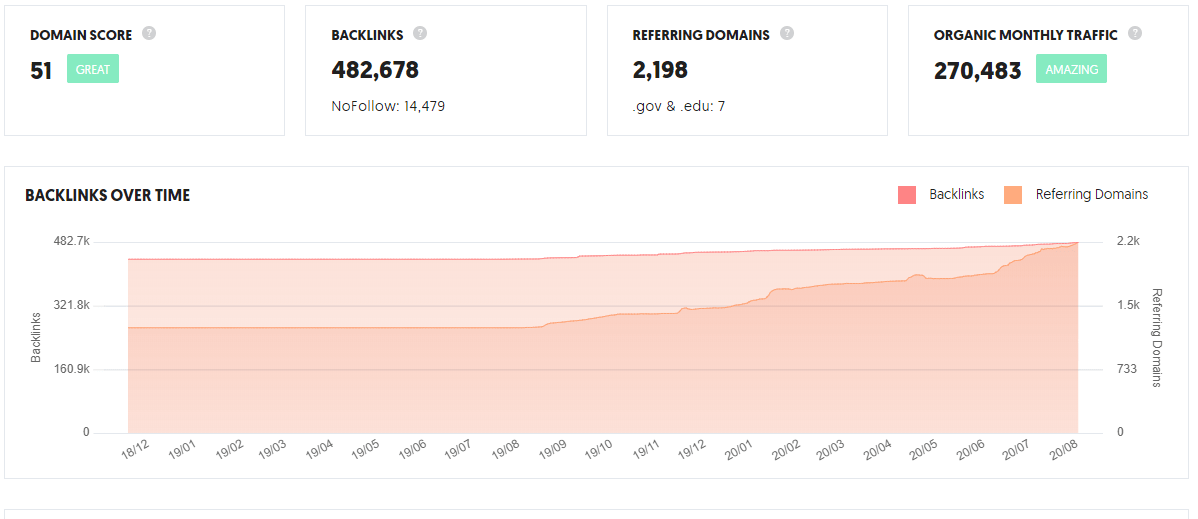 This is generally the last step you should be taking when you're working on your SEO, and Ubersuggest works like a charm in supporting you by making a complete analysis.
With all the great features the tool provides, we'd also like to mention something that tends to stay in the shadows. The Dashboard, as the last section of Ubersuggest, is basically a complete rundown of how well you're doing, and all you have to do is add a project.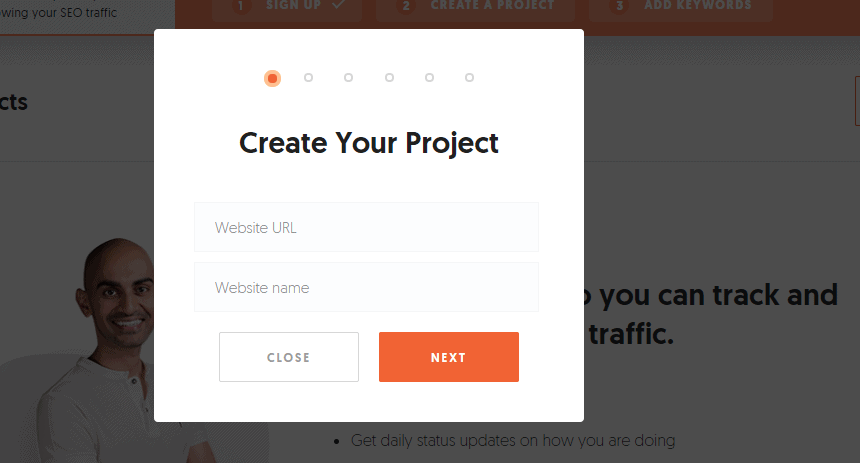 It will collect information on your traffic, your daily rankings, scan your competition, and potential SEO errors and send you a report of all the changes and potential mishaps that are occurring. While it does not affect your SEO or anything in terms of improvement, the Dashboard has been proven to be very useful as it keeps updating and tracking all changes, which is great if you've already been working on the suggestions from the Site Audit section.
Keep in mind that everything you've done can be exported as a CSV file, which comes in handy if you're doing a more thorough research work by picking out the most relevant data.
Pricing
Ubbersuggest is free. But there are daily limits you can quickly reduce by signing up for a free account, or remove them completely by going premium, which would also get you more features.
You will be happy to know there are different payment plans you can choose from. You can start with a basic plan that will cost you $12 per month. The most expensive plan comes with a pricing tag of $40 per month, which still makes it relatively affordable when compared to other tools.
Closing thoughts
At the rate that this tool has been mowing down on all of the others out there, we're not surprised by the amount of positive feedback it has been getting. For a tool that comes free of charge, and is made with both bigger businesses and newbies in mind, there is nothing more we could possibly ask for.
Having a tool on hand that constantly works on improving your SEO, offers you ideas for content, and is so extensive to the point of it beating similar tools that come with a decent price tag is a win in our book. But don't mistake the tool for a simple add-on, with all of the features it currently has, it is expected that with upcoming updates and innovative ideas it will rise to the top of the list as an SEO tool.
All in all, Neil Patel really stepped up with this one, adding some great value to the community by providing us with Ubersuggest. So far, we've been loving working with it and we're sure you will too if you're already not on the Ubersuggest train.
Are you a user of Ubersuggest? Is there a tip you'd like others to know, or feedback you'd like to give? Let us know, we're happy to support great tools that contribute to the community.