One of the biggest social media platforms today is for sure Instagram. It has a jaw-dropping 1 billion users.
Instagram is a platform for sharing photos and videos. It has changed a lot over the years, from its logo to its features. What's more, this platform birthed influencers.
Companies use Instagram as a way to market to their younger audience since most Millennials and Gen Z are now turning away from Facebook.
There is a place for everyone on Instagram, and you can market anything on the platform (cooking, music, fashion, activism, books, movies, etc.).
So, if you have a great profile on this social media platform, why not incorporate it into your site? To help you out, we found some of the best plugins for that purpose.
Let's dive in!
1. 10Web Social Photo Feed
The first plugin on our list is 10Web Social Photo Feed. This is a very user-friendly plugin that will help you bring your Instagram feed to your site in no time.
Feeds and aesthetics are a big part of Instagram. You will be able to put those feeds on any page or post that you want. The settings of this plugin allow you to customize how you want to display things. You can put filters and do feed merging like a pro!
With this plugin, you will seem more authentic to your audience, and your website will look very modern.
2. Social Slider Widget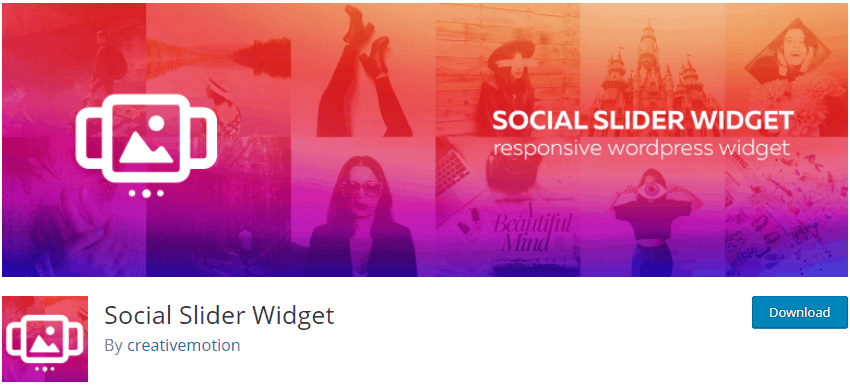 Next, we have Social Slider Widget. This little helper will let you put your images from Instagram wherever you want – posts, pages, and most importantly, as widgets.
It is one of those tools that are so easy to set up that it is almost unbelievable. You just need to create a widget with all of the settings that you want and place it on your website using shortcodes.
The widget shrinks all the images in the sidebar, but it shows them on all pages.
This plugin is a great free tool considering the options that it provides.
3. Instagram Feed – WordPress Instagram Gallery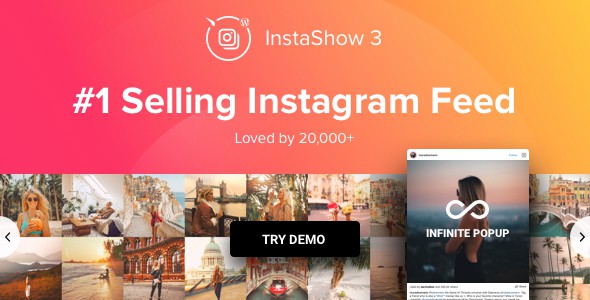 Instagram Feed – WordPress Instagram Gallery is our third pick. This one is for those who like captivating effects. Plus, it lets you show off the image descriptions and tags when people scroll above your images.
You do keep all of the metadata of your images, and the feed you incorporate will look elegant in any theme.
If you want, you can change the color scheme. Besides that, the plugin also provides two different formats. The first one is the carousel, and the second one is the grid layout.
Other features worth mentioning are adaptable parameters, support for hashtags, usernames, and locations.
4. WPZOOM Social Feed Widget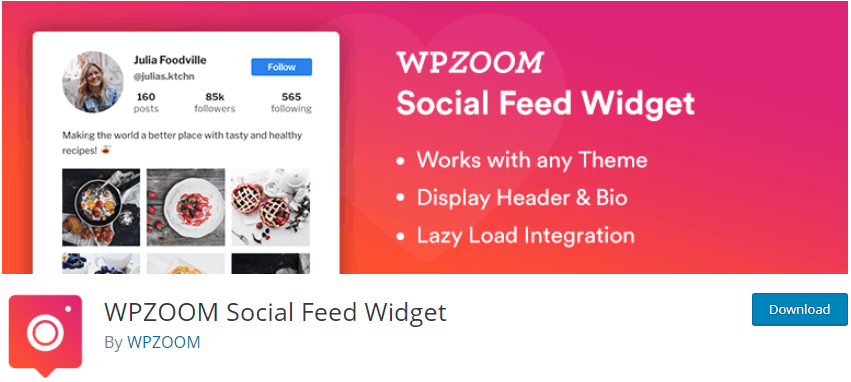 The fourth spot is reserved for WPZOOM Social Feed Widget. This little helper lets you work with usernames and hashtags on Instagram. This means that you can now show images on your site with a hashtag that your brand uses. You can also link any Instagram account you want – it is all in your magical hands.
Besides that, you are able to customize the headers and colors so that they go with your branding and website color scheme.
Since the plugin allows for cool customization of the design, it also gives you the freedom to adjust the size of the images.
WPZOOM Social Feed Widget is fully mobile responsive and won't slow down the loading time of your website since it loads images as the user is scrolling down.
5. Enjoy Social Feed plugin for WordPress website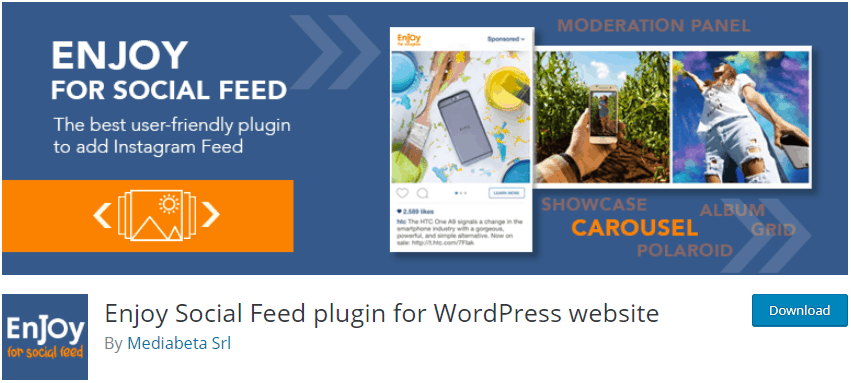 Enjoy Social Feed plugin for WordPress website offers a customizable gallery and the option to choose between a grid and a carousel view of the gallery.
The interesting thing about this plugin is that it gives you some new formats. It has a polaroid, badge view, and album format.
Furthermore, you will also have the option to click on the images and be redirected to a specific URL. This is a great way of getting conversions or sending people to your Instagram page. You can be clever and redirect them to a sales page as well.
6. Instagram Journal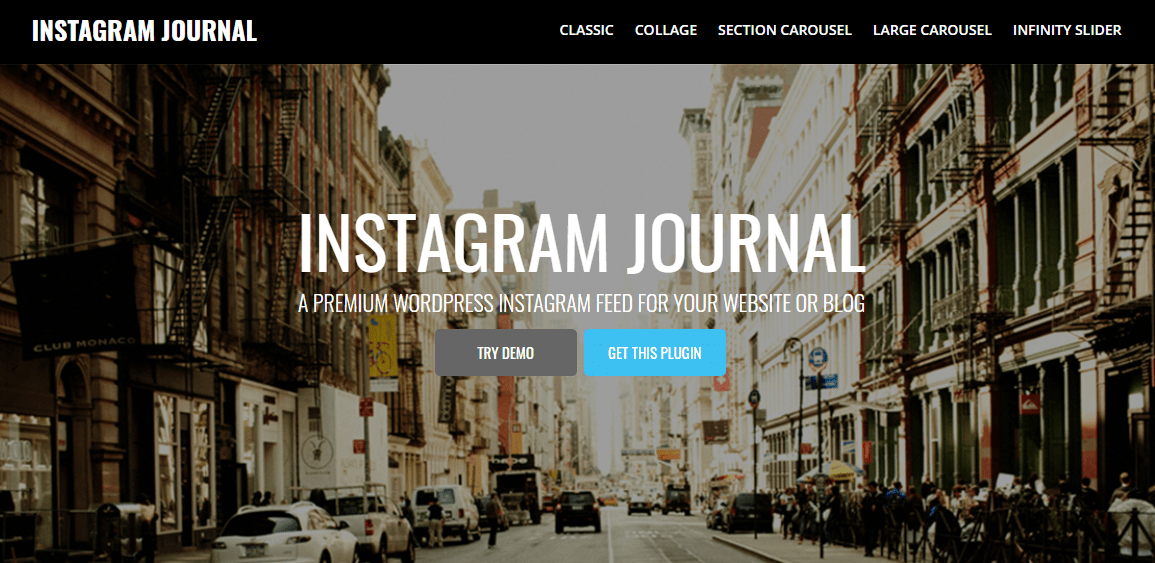 The last spot on our list goes to Instagram Journal. This plugin has a lot of things to offer, so buckle up.
It has a variety of filtering options available. So, you can display images from any of your accounts, images you have liked, or images with specific hashtags. It also gives you a lot of gallery types for presenting your images.
This plugin lets you be the designer of your gallery, thanks to options for changing sizes, color settings, layouts, and color schemes. With them, you can make sure that the gallery fits your style and aesthetic.
The plugin is fully responsive, so no need to worry that visitors using mobile devices won't have a great time.
Conclusion
In the end, an image is worth a thousand words. Even more, if it is from Instagram and with a link to your profile.
The plugins we listed will elevate your site in no time and bring you closer to your community. Not to mention, if you link your images to your Instagram, you can turn a site visitor into a regular customer. So, be sure to use all of these advantages for your own benefit.