We all know that adding videos to our website will make it look much better and more professional, but not many of us know how hard it actually is to make those videos.
Hours and hours of editing, cutting, and adjusting go into making one simple video, so if you decide to add videos to your website, you'll need a good tool to make the process easier and faster.
For that reason, in this article, we'll present to you the top 5 video editing tools that you should consider using.
1. Wave.video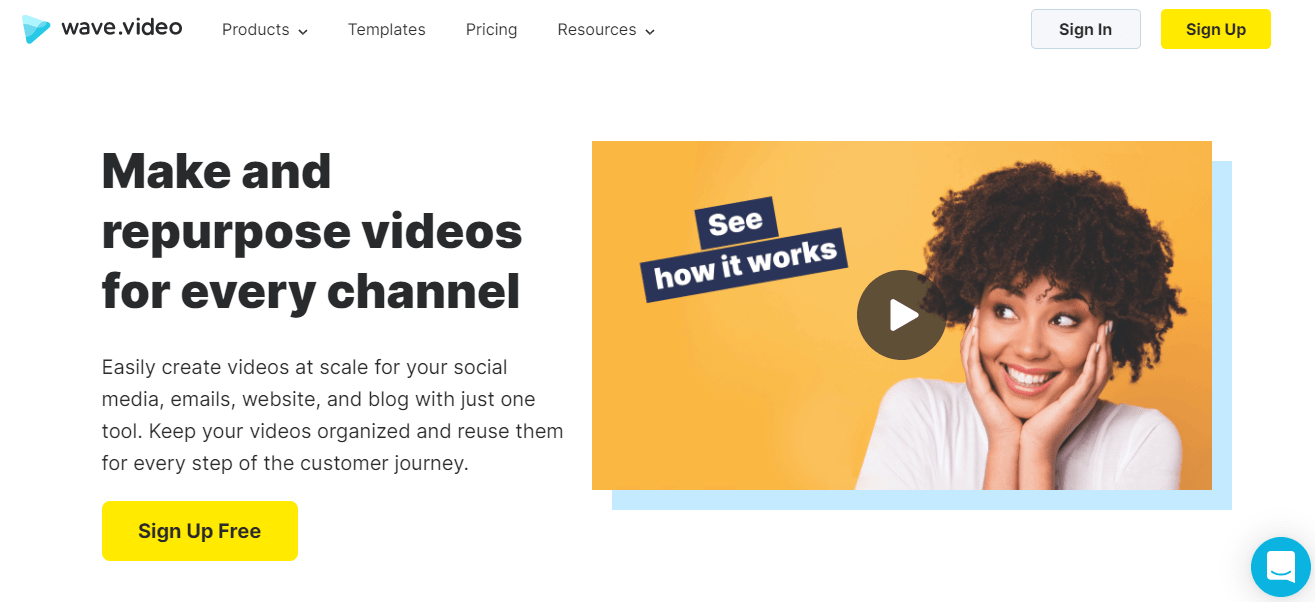 In case you are someone who can't really set aside 2 or 3 hours just for editing videos, you'll be happy to meet Wave.video.
The way Wave.video works is pretty simple. It does all the hard work for you and offers templates that you can use and edit in just a couple of minutes. And no, we aren't talking about just two or three basic templates that look like they came from 2003 – we are talking about over a thousand beautiful templates that were designed by professionals over at Wave.video. With the help of these templates, your videos will look like you've put hours into editing them.
Alongside all the templates that you get, you'll also have the ability to browse through over 200 million stock assets and pick the ones you like the most. But of course, you can always use your own footage.
After you picked out a template and swapped the sample footage with your own, you can proceed to change the layout, add GIFs, stickers, watermarks, and music – all to your own taste.
You can even add captions in case you have visitors that don't want to make too much noise while watching your video – and it's all automatic. Your videos will get captioned by Wave.video's advanced speech recognition technology. Pretty easy, huh?
When you finish up your video, you can head straight ahead and create a landing page for it too, in case you need one. Besides setting up a landing page for your video, you'll also have the ability to create an email campaign using your video.
Now, you might be thinking that a tool with all these features comes with a big price as well, but that's not the case here.
Wave.video's starting price is only $59 (one-time purchase), and for that, you get both the Animatron Studio Pro Plan and the Wave.video Creator Plan which has all the features we just mentioned.
2. Vimeo Create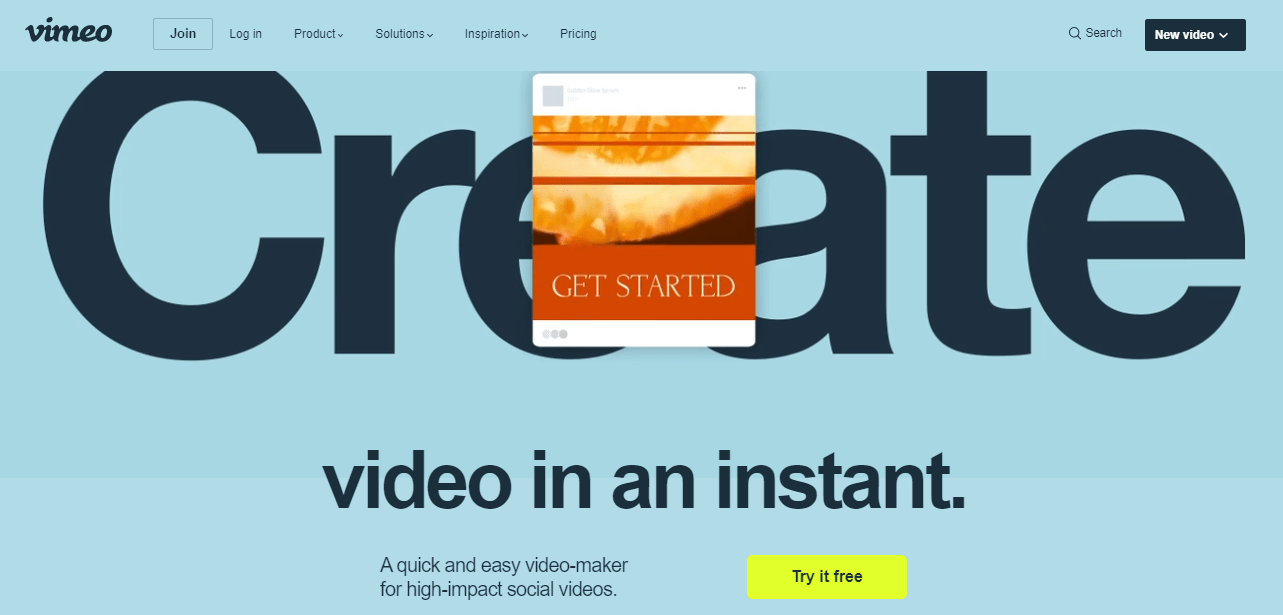 One of the most popular video platforms, Vimeo, besides letting you host videos on their website also lets you easily create videos – and for a low price, too.
The low price usually doesn't mean something good, so Vimeo Create has a few cons that can push some users away, so let's check it all out.
When you first land on the website, you'll be welcomed by a template browser using which you can choose a template that will fit your preferences. They are all sorted by categories, so you shouldn't have too many problems picking out a template for yourself. Another nice thing about Vimeo Create's templates is the fact that some of them are completely free, but these don't look that nice if we are being honest.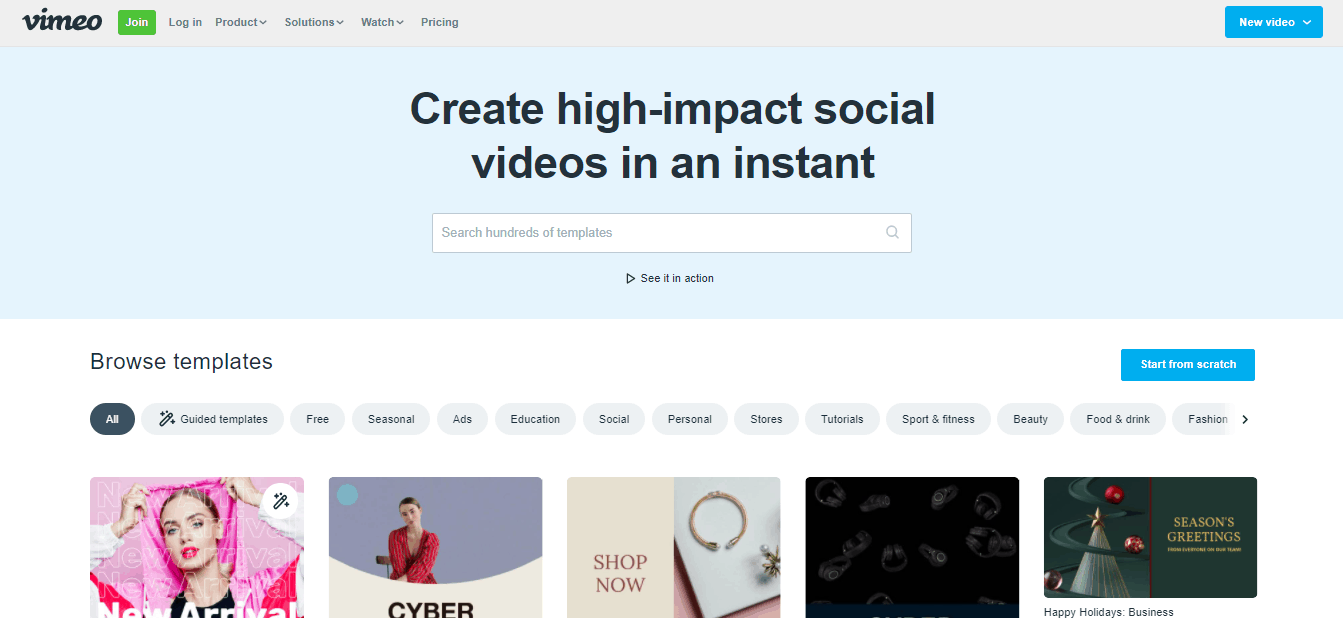 After you pick a template, you can proceed to Vimeo Create's editor using which you can change the text, style and add some stickers to your video.
Sadly, Vimeo Create doesn't offer many editing options compared to Wave.video, but for basic users, it should do the job.
After you edit everything that you need to, you'll be able to save your video and use it later wherever you want to.
In case you used a free template and you are on the free plan, a "Made with Vimeo Create" watermark will appear on the bottom of your video, so be sure to look out for that.
When talking about the price of this tool, you'll have to go at least with the "Pro" plan to get the video creator, which is not that cheap considering the few features it provides.
3. Animoto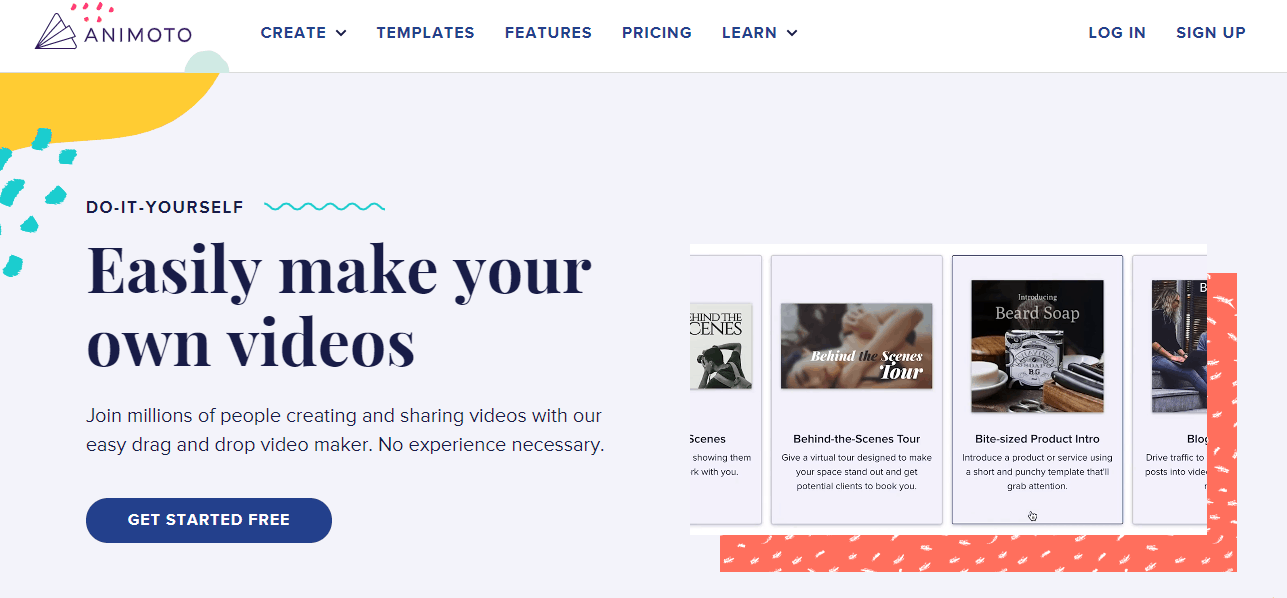 In case you are on a tight budget and need to create a quick video for your website that you don't have to pay for, Animoto could be a perfect choice.
Just like Vimeo Create, Animoto will provide you with a template picker, using which you can find lots of free templates, depending on your needs. Each template has its own description and tells you where it should be used, alongside some other info.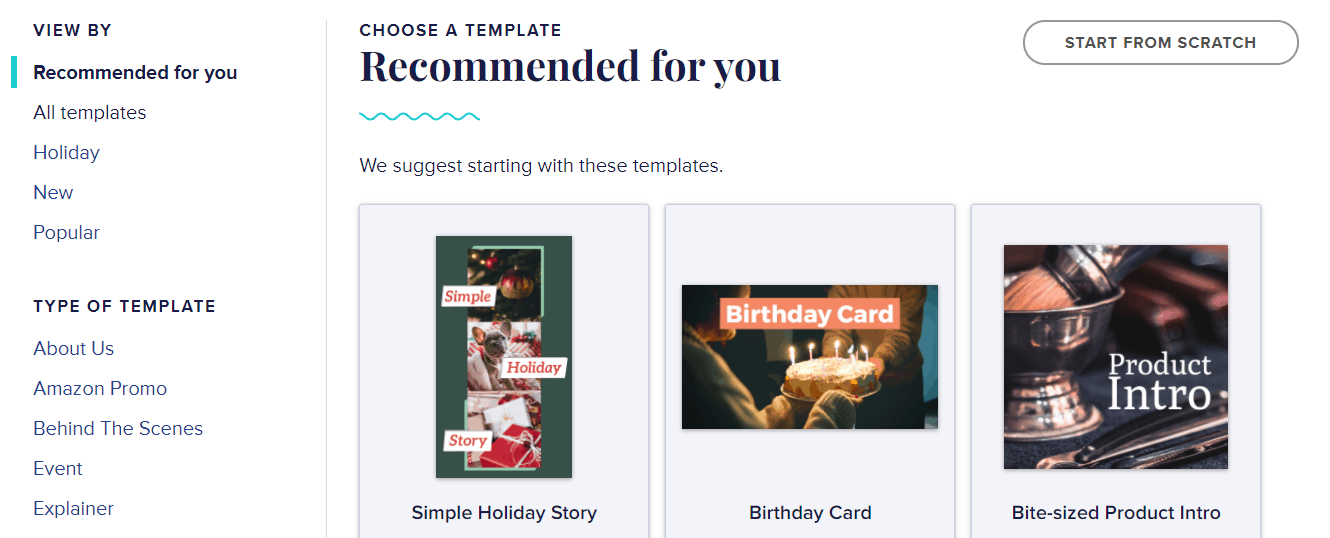 After you pick a template, you can go straight ahead to their editor which has its own free collection of pictures that you can use. Along with this, you can also edit some basic things like the text and the color of certain parts of your video.
All in all, for a free video editor, this is pretty good. Although, you will get a watermark which always looks a bit noobish. To remove the watermark, and also get more features, you'll have to go with a monthly plan with a price of $33 dollars, which isn't really cheap when compared to Wave.video that costs $59 for a one-time purchase.
4. Filmora9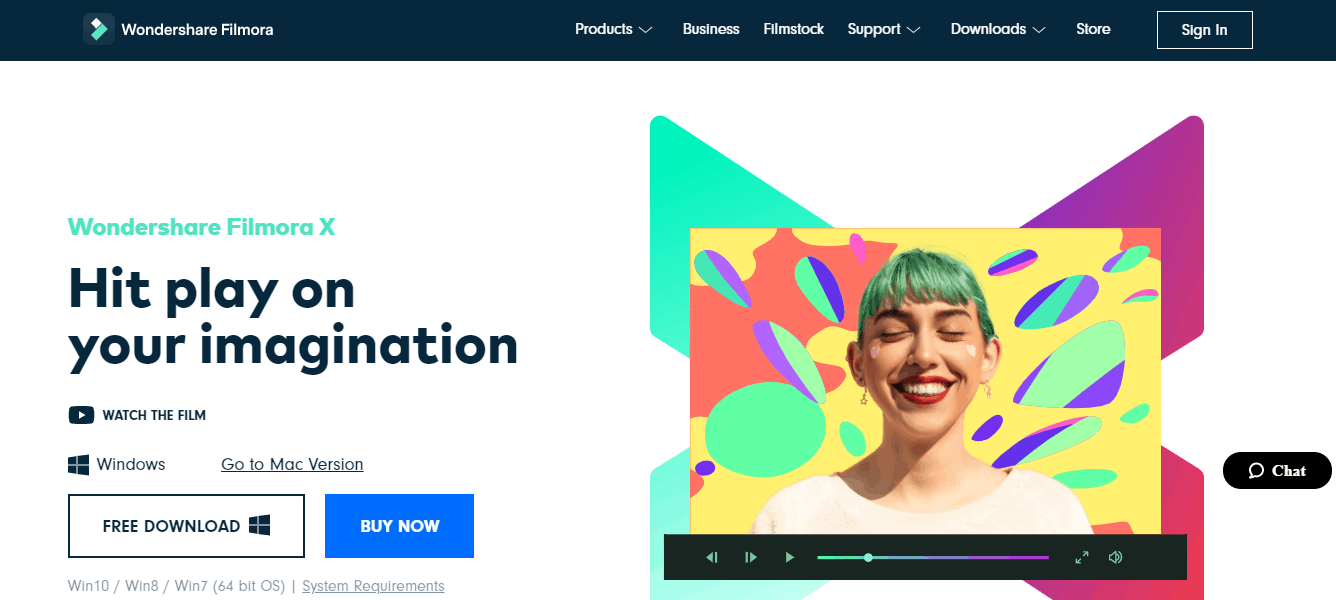 If you ever searched for video editing tools, you probably saw Filmora9 somewhere, and for a good reason, too.
Filmora9 is another video editor that lets you create professional videos pretty quickly. It is not as quick as Wave.video or other tools we mentioned before, but it does a good job.
Right now, Filmora9 is used by over 50.000.000 users, so you can be sure that you'll always get proper support and tutorials.
You can get Filmora9 for a one-time fee of $69.99, meaning you won't have to spend much cash on this tool either.
5. Camtasia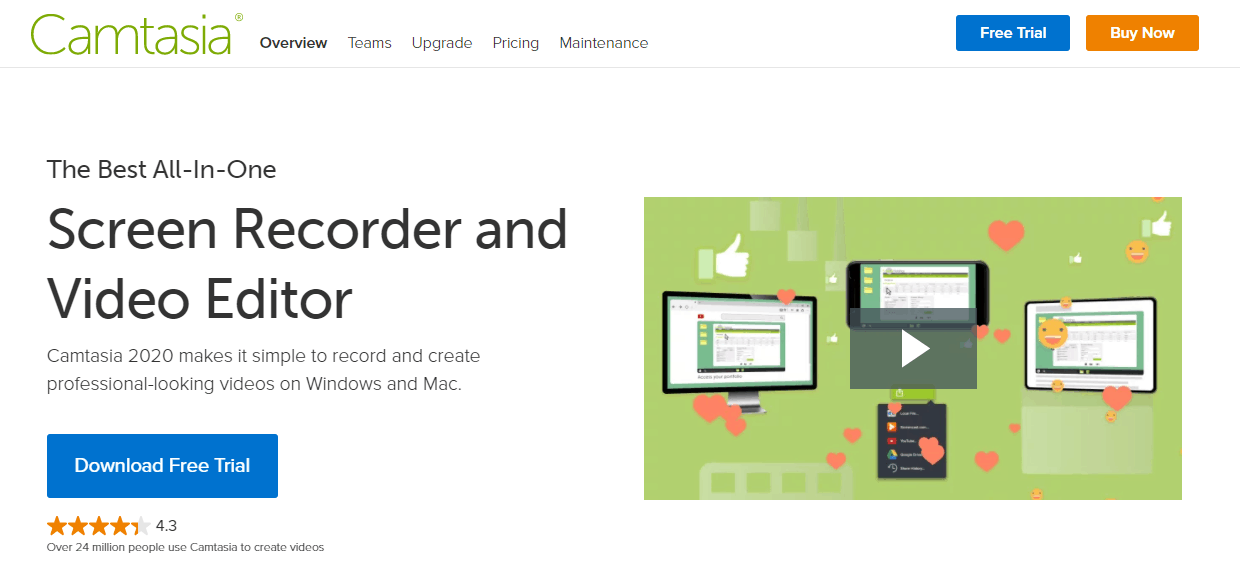 With thousands and thousands of users, Camtasia is one of the oldest video editors that lots of you probably already know.
This software is available for both Windows and Mac devices, and it is also very easy to use, so you won't have to worry about experiencing any problems. Everything is very straight forward, but still pretty powerful.
While there is a free trial using which you can test out all the features of this software, after that ends, you'll have to pay a one-time fee of €251, which isn't cheap at all.
Conclusion
When looking at all of these tools, you come to the conclusion that not every tool is for every user. For example, if you are a basic user who doesn't need movie-level editing, your best bet will probably be Wave.video.
It has a cheap one-time price, lots of good features, templates, and a nice editor. What else do you need?