Group scheduling tools are great as you can view numerous calendars simultaneously using a group calendar. When planning a team meeting, for example, a group calendar is helpful since it shows the availability of team members and conference spaces. Here are the 6 best group scheduling tools to use in 2022.
1. HubSpot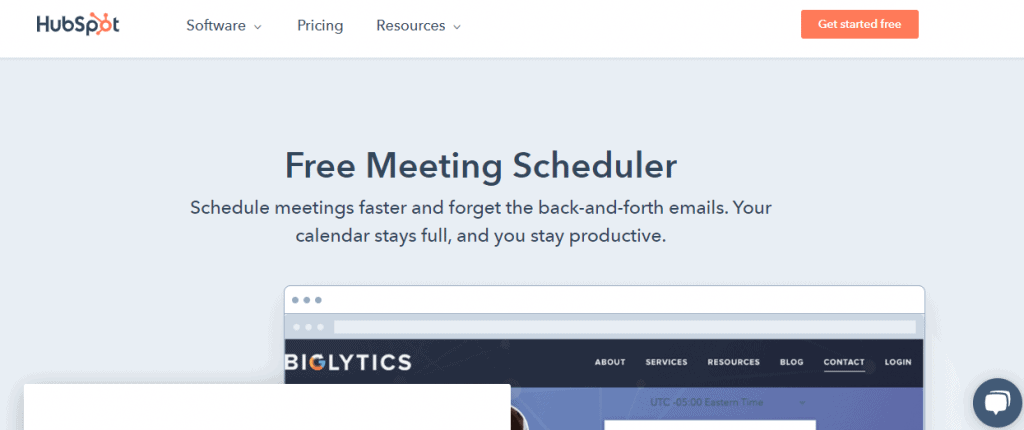 Get rid of the back-and-forth scheduling of meetings with HubSpot. Allow clients to schedule appointments with you, and you'll save hours of email time. HubSpot's meetings solution integrates with your Google or Office 365 calendar, allowing customers to see your most current availability at all times.
With round-robin and group links, you may be more flexible with how you plan meetings. As clients schedule meetings, their information is automatically added to your HubSpot connections data, ensuring that your network grows and remains organized.
Generate more appointments and sales by integrating your calendar on your website, which requires no coding and allows clients to book appointments straight on your website.
2. Doodle

By providing a clear visual representation of your availability, you can outsmart back-and-forth communications with Doodle. It's a collaborative and straightforward process. People can return to work in just a few minutes. Check availability across time zones to ensure that key players are not left out of crucial meetings and that projects move forward as quickly as possible.
When there are too many modifications and updates, it can appear disorganized. Doodle centralizes updates and reminders, ensuring that no one's email is clogged.
Doodle keeps events, meetings, appointments, and daily activities private. Plan 1:1s with external parties as soon as possible, without guessing or asking about availability. Anyone invited to participate in a Doodle poll can do so regardless of the calendar they use. This "universal" access allows all Doodle visitors to engage, regardless of their location.
3. Boomerang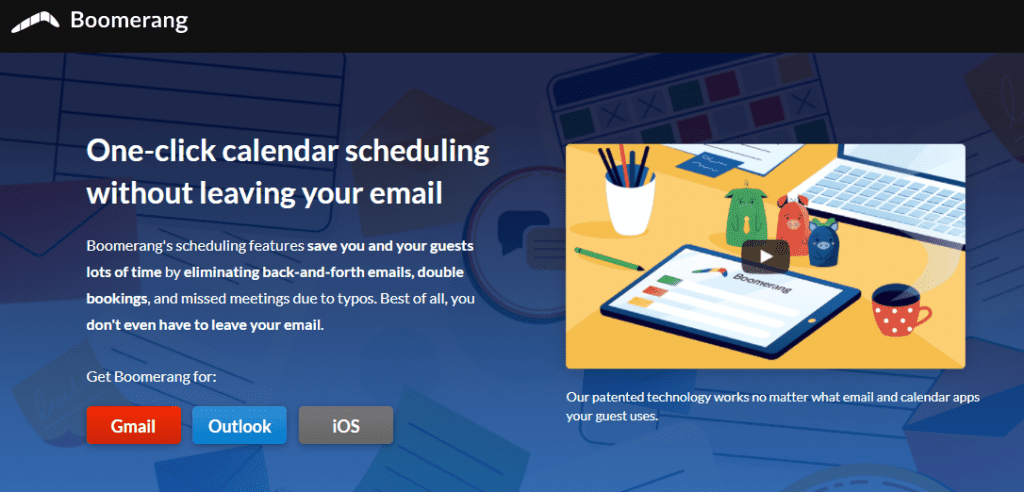 The scheduling capabilities of Boomerang save you and your visitors time by avoiding back-and-forth messages, multiple bookings, and missed appointments due to typos. You wouldn't even have to leave your email address. Set up a meeting in a single email by using suggested meeting times.
Choose a few appointments that work for you and email them to your guest. Your visitor selects a time slot within the email, and that way, add the appointment to both of your calendars. Boomerang's Magic Live Calendar makes everything work flawlessly.
Use this straightforward method to share your calendar and give your guests access to your availability without jeopardizing your privacy. Send a live glimpse of your free or busy schedule to whoever you're sending it to.
4. Arrangr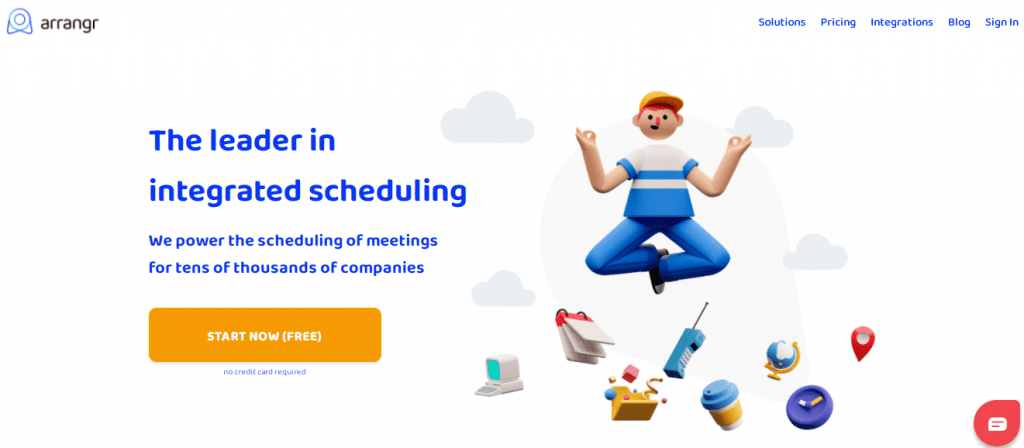 Arrangr is a scheduling app that syncs your calendars in Outlook, Google, iCloud, and Office 365. It lets you establish a booking link that clients can use to select the most convenient time for them. Because the tool is linked to your email, it will immediately display your available times.
You can also provide prospects with a list of times and dates from which they can choose. Arrangr allows you to automatically create video conferencing URLs and add them to the invitation. There's no need to visit your favorite video conferencing customer's website.
You can send a poll to up to fifteen recipients on the free version to plan a group meeting. The vote can then be linked to your preferred conferencing software, with "maybe" availability and the results displayed in a user-friendly dashboard.
5. 24Sessions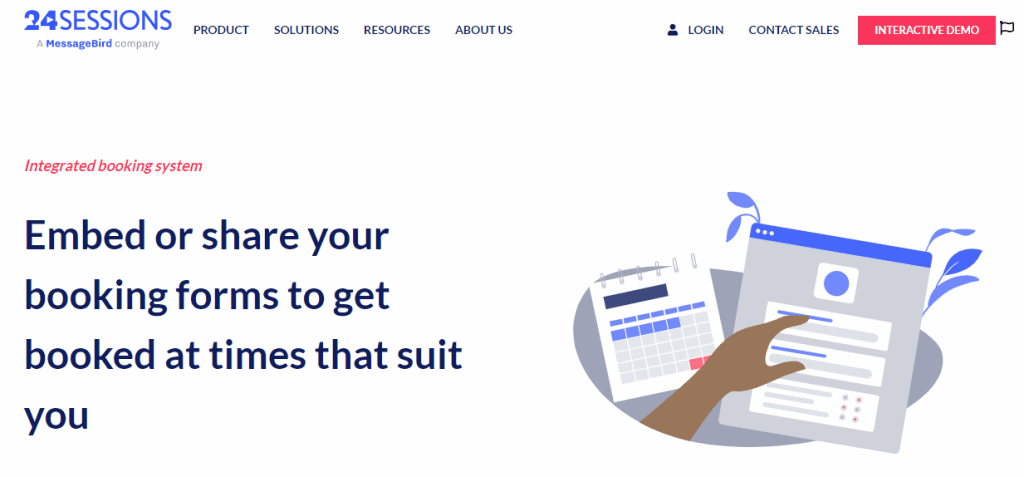 24Sessions is a group scheduling application with a lot of features. It has toll-free capabilities, meeting records, even the ability to host many users, and a slew of other features. Furthermore, these features will allow you to use it for everything from demo planning to customer service.
It also has video and desktop sharing capabilities, making it a versatile tool for most sales meetings. Customers can schedule appointments with you based on your accessibility. Also, the fantastic feature is that it integrates with Google Calendar and Office 365. The calendar provides for data monitoring and compensates for time zone changes.
Furthermore, it sends links to the video chat meeting room and calendar events and reminders to everyone. You can also use 24Sessions to embed a schedule on your website or create a separate landing page for potential and existing customers to book appointments with you.
6. Cogsworth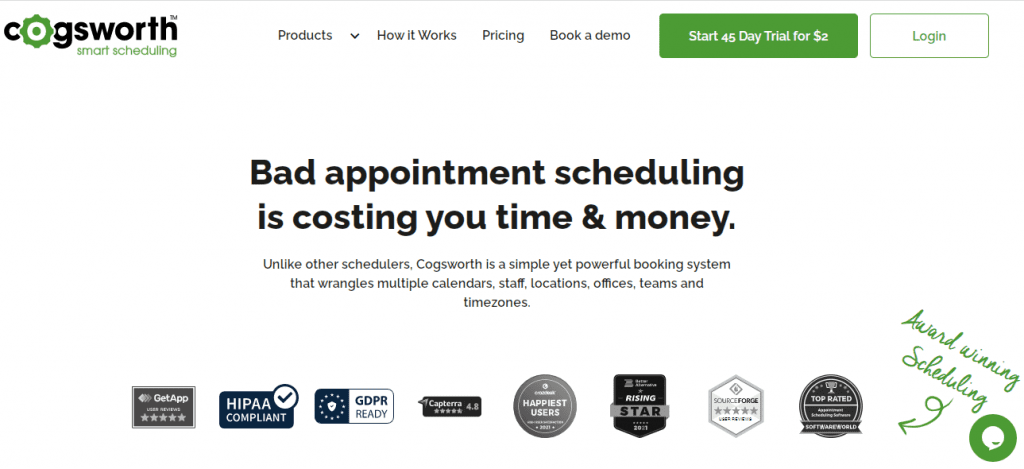 To obtain consumer comments and evaluations, Cogsworth will enable you to:
Send follow-up emails and SMS
Enhance your offerings and get greater openness
Get your consumers to commit to recurring appointments to establish loyalty and a forward pipeline
Encourage your customers to commit to recurring appointments to build loyalty and a forward funnel
Sync your Google, Apple, or Outlook calendars in both directions. When you're busy, this ensures you'll never be double booked
We should also mention that all of your meetings are automatically added to your calendar or your employees' calendars. Set the working hours, pauses, and schedules for as many employees and resources as your company requires. Create personalized email and SMS notifications and reminders to reduce no-shows.
Conclusion
As you can see, a scheduling tool is a tool that provides names, definitions, structural relationships, and formats for schedule component names that enable the implementation of a scheduling approach. The scheduling tool and other options for managing the schedule are provided by project management. The ones mentioned in this article can help you run your business successfully.