Generally speaking, an order is a request made by the customer to the eCommerce store to purchase their product. There are two types of orders, preorder and backorder. Preorder is a type of order placed when a product is about to come into the market, mainly used to create buzz around a product.
Backorder is a type of order accepted by the retailer for products that are out of stock. For an eCommerce owner, it is vital to manage orders to provide the best experience for customers systematically. Having a large number of orders can be challenging to handle, and that is why it is crucial to invest in a tool that will help you manage those orders.
Order management starts with the customer placing an order and ends with the order fulfillment. It also helps automate and streamline the order receiving, tracking, and fulfillment process.
The importance of order tracking is presented in many ways. It is vital to track overstocking and understocking for your business. Both of them could pose a significant threat to your business, as they can cause several mistakes when fulfilling orders. Save your company's reputation and time correcting those mistakes.
It also saves time by avoiding mundane and repetitive tasks and handling orders. WooCommerce allows users to add additional plugins to its order management plugin, which helps see everything related to an order.
WooCommerce Order Export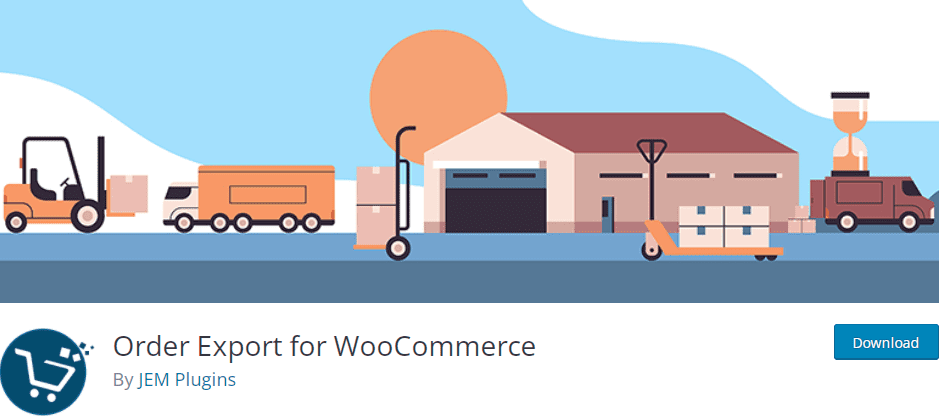 Order Export for WooCommerce is an easy-to-use plugin that allows you to quickly export data from the e-commerce store into Excel or CSV. It is available both with free and paid versions. The free version has more basic features:
Easy setup
A simple interface
Filters for orders
Downloading data with a single click
Drag and drop sorting
Easy export of orders
WooCommerce data
Paid PRO version includes more features, such as:
Additional fields for Orders,
Exporting customers,
Shipping,
Coupon,
Category data,
Exporting tags,
Scheduling exports,
Delivering exports via email, etc.
Feature and security updates are regular, and 24/7 customer support is available. Also, there is a 7-day money-back guarantee trial period. Pricing goes from $49/year to $89/year, or $169 one-time payment.
Furthermore, if you want to invest in a high-quality plugin that will help you manage your exports with ease, we advise you to look at the WooCommerce Order Export-PRO.
Autocomplete WooCommerce Orders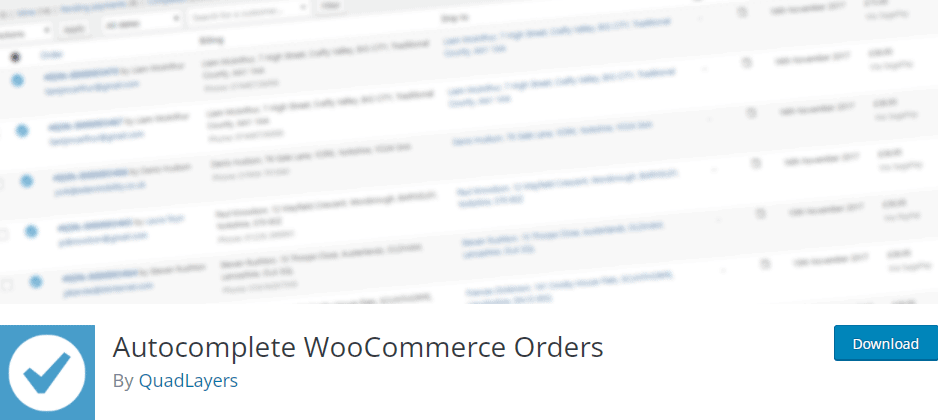 Autocomplete WooCommerce Orders is compatible with WooCommerce 2 and 3+ and works with all major payment providers. As the name says, this plugin allows your store to autocomplete orders. Some options, however, include autocompleting virtual products only, which will complete orders with a "Virtual" tag upon successful payment.
All paid orders of any product will be marked as completed after successful payment. Also, all orders will be marked as completed no matter the payment status. For this plugin to fully work, you will have to modify some features in your settings.
Sequential Order Number for WooCommerce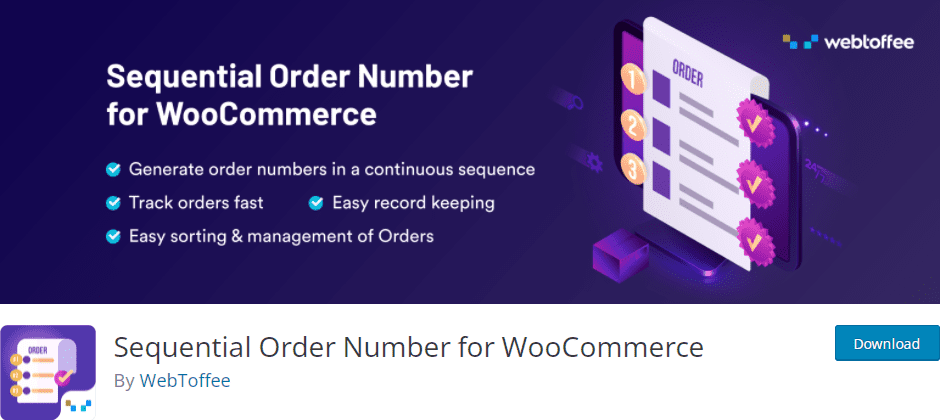 Sequential Order Number enables users to format and also arrange existing and new order numbers into a sequential or consecutive format. Getting sequential numbers can help in organization and order management, making sorting, changing, or deleting order numbers take less time, which improves store efficiency.
Some of the available features are:
Custom starting number,
Custom prefix,
Order template selection,
Custom order number length,
Order tracking, and more
A paid version also allows you to add a custom suffix, order date as a suffix, auto-reset order numbers, more templates, and so on. Visit the official site for more unique features this plugin can offer you.
Purchased Items Column for WooCommerce Orders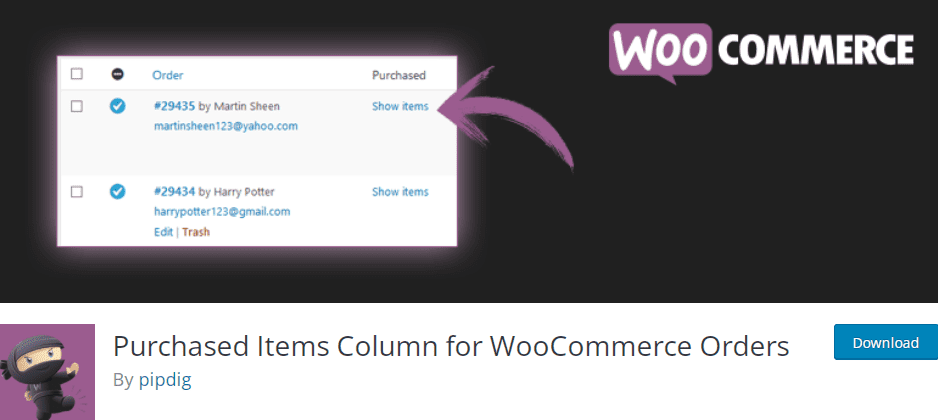 With the WooCommerce 3.0 release, creators removed the option of viewing the purchased items column due to resource-saving measures. Keep in mind that while these changes improved performance significantly, they deprive users of a handy feature.
Purchased Items Column for WooCommerce Orders adds the "Purchased Items" column back with some tweaks to resource management. This is not resource-intensive since it loads via Ajax only on button click. When you click the button, the quantity and product name for an order are displayed. Installation is easy and does not require additional setup in your site settings.
WooCommerce Order Navigation

WooCommerce Order Navigation is an administrator interface that helps navigate WooCommerce Orders inside the edit screen without going back to the order listing screen. Despite its simple design, this plugin essentially saves time.
Having hundreds of orders waiting to be processed and trying to remember them all while figuring out which one you want to edit is not an easy task. Two discreet buttons are placed conveniently under the update button, making it easier to go to the next order without going back to the order listing screen.
Conclusion
In the end, we can conclude that order management is one of the essential things in eCommerce while trying to build image and your brand while being as efficient as possible. The ability to handle all order and customer data with excellent sorting and exporting capabilities is one of the key things when running a WooCommerce site.
These plugins do different things, and each of them can be very useful in your day-to-day work. If we had to choose one, our favorite would be the one we put as the first one, WooCommerce Order Export-PRO by Jem Products.
However, feel free to check out all these plugins and use them if needed for your purposes. The time you save on the order management process is priceless.