Shipping of your products is one of the most important things for your eCommerce business. Besides needing to find quality products for your customers, it is essential to provide them with sure and safe shipping.
Also, It is not strange that the customers like to know where their shipment is in real-time and when they can expect it.
You can find many companies who will offer delivery services and sometimes you don't know how to choose the best one, especially if you are at the beginning of an online business.
The main question that will run through your head is: "What to pay attention to when I am choosing shipping options for my eCommerce?"
To answer your questions and help you find the appropriate shipping for your eCommerce business, we have singled out ten of the best carriers. You can read about their services and features that can help with your final decision.
But before jumping into that. It's fair to mention WooCommerce and its options when it comes to shipping. WooCommerce is option number 1 for setting up an online store. Although powerful on its own, it needs plugins to be further enhanced in areas such as order management or, more relevant to this article, shipping. The WooCommerce Table Rate Shipping plugin is the best solution for WooCommerce store owners who want to create advanced shipping rules, implement multiple shipping methods at once, use shipping classes, and do much more. The plugin is able to determine shipping costs based on weight, destination, cart total, and item quantity, but its star feature is definitely the one enabling you to apply shipping rules for logged-in users only. More about the plugin can be found here.
1. Rush
Rush software provides a lot of features that help your customers to trust your online business. The best part is that you can manage the entire shipment process without spending hours and hours setting up.
The Rush, with the support of 400+ carries, is completely automated shipment tracking. Your customers can check this way information about their delivery at every moment. Carries delays are some unpredicted situation that we need to be ready. This software has an option for giving information to your customers about updating their orders.
The Rush is a fully custom-branded tracking page that integrates with Shopify and helps you to increase your revenue.
Price: You can get started for free, or you can choose some of the four pricing plans.
2. ShipStation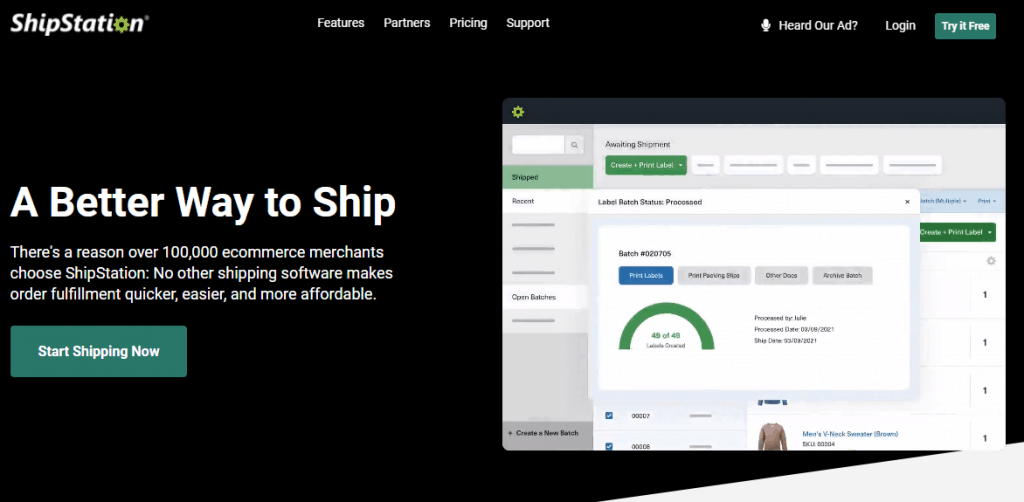 Do you use Shopify, WooComerce, Squarespace, or some other online stores or shopping carts? Which of those marketplaces is yours: Amazon, eBay, or Alibaba? Don't worry because the ShipStation integrates with all of the mentioned tools.
It gives you many possibilities to connect with more selling channels and increase your online business, in addition to providing you with the option to import orders from 100+ selling channels and marketplaces.
It is well known for the excellent organization of the entire ordering process to manage it very quickly and easily. You will have insight into the world's top carriers so that you can find the best one that suits your business the best. A team of shipping experts is available too for any problems or questions related to the software.
Isn't this something so handy to know about, especially if you are new to this eCommerce shipping part?
Price: You can try a free try 30-day trial or chose one of the seven pricing plans based on your shipment requirements.
3. ShipMonk
Here is another software that provides a lot of features and advantages if you decide to chose it. Seller fulfilled prime, eCommerce fulfillment, Retail fulfillment, and others are just some of the services that come with the ShipMonk. It is one of the most reliable software for orders that can integrate with over 150 shopping carts and marketplaces. Also, it gives you complete control over the shipment process.
Don't let your eCommerce business start decreasing because orders from your sales channels take too much time to get to your customers.
It is easy to manage all that process with automatic import orders from your sales. The entire process may seem complicated initially, but everything is explained well in a few steps. And it is very user-friendly.
Another feature that we single out is customization. The customization allows you to put some stickers, gift messages, or some other material that helps promote your brand and engaging customers. And everybody loves surprises and gifts.
Price: Before you choose a pricing plan, you can calculate your pricing estimate in five steps, and you will get one that fits the best to your business.
4. ShipBob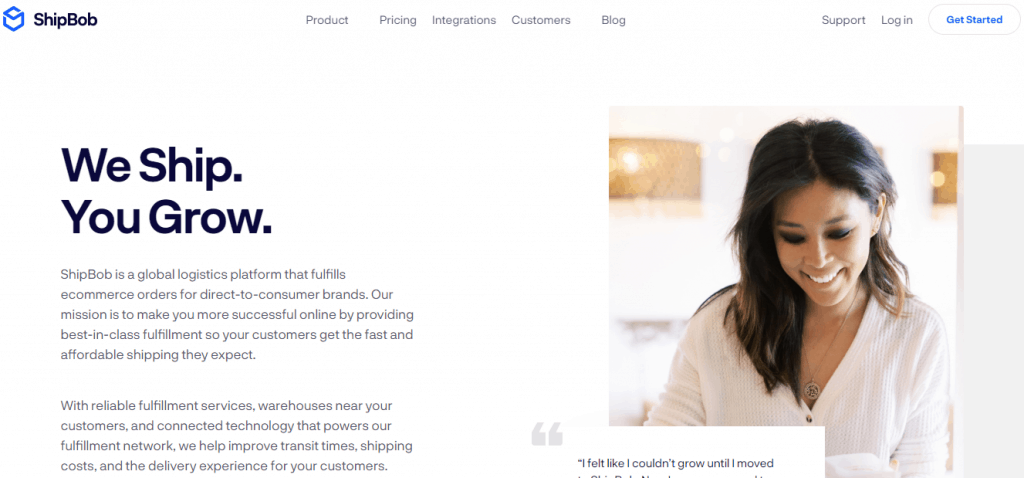 This platform will help you to make your business even more successful. ShipBob provides your customers fast and sure shipping, so they will no have reason to be displeased.
If the software has a 99.95% accuracy rate in fulfilling orders and 5000+ eCommerce business partners, that should be for a reason.
One of the fantastic services that the ShipBob provides is 2-day express shipping. That can help your brand a lot and increase your business because people don't like to wait long for its order. Also, this service makes you more competitive.
The only thing you need to do is connect your store, and the rest of the process is automatic. Incredible, isn't it? You don't have to deal with setting everything up for hours!
Orders will come to their warehouse, where they pick and pack them. After that, the orders will come to your customers fast. You will be able to manage all order management processes, sharing information with your customers, and making some changes.
Price: ShipBob offers an accurate pricing service. For example, you can find how much is Receiving, Storage, Pick and Pack and other services, and you can choose the ones that suit you.
5. Red Stag Fulfillment
Let's represent one fulfillment company that provides picking, packing, shipping, and storage orders. Delivery to your customers can be quick and easy.
The Red Stag Fulfilment has four Coast Fulfilment Centers that offer same-day fulfillment guarantees. Your customers will get their delivery faster, and they will be more satisfied.
All of the eCommerce businesses need to return some orders sometimes because customers cancel them. With this platform, the service of returning orders is available, too, so your customers can count to get their refunds!
Custom packing is another excellent feature of this company. That means they charge shipping depending on the dimension and weight of the box. Also, they guarantee to pay you 50$ if the ship was late or if the order is shipped incorrectly.
Price: You can contact it and send a personalized quote to find out their pricing items and to get the right offer for your business.
6. ShipperHQ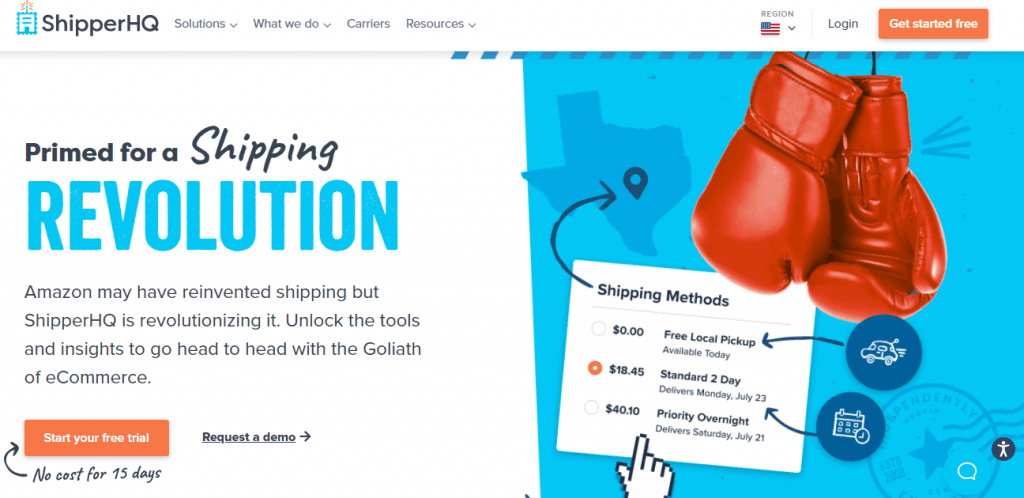 ShipperHQ also supports Shopify, WooComerece, AdobeComerce, and other stores. What this platform is known for is showing your customers the best shipping rates. For example, it is not the same price for Standard two-day delivery or Next day deliveries. Delivery date and time is an option that allows your customers to choose from the calendar date and time they want to get their order.
About 45% of customers abandon their cart because they are not satisfied for some reason. The ShipperHQ provides you with complete customization and setting up different rules that can reduce cart abandonment. And that is exactly what every online business owner out there wants to gain.
Add-on support service is another fantastic option that helps you greatly, especially if you are just getting started with an online business. You get multiple choices, such as Consultation, Configuration, and Dedicated support, to get all needed information or solve some issue.
Price: You can get started with a Free 15 Day Trial. After that, the price is different for various eCommerce platforms.
7. AfterShip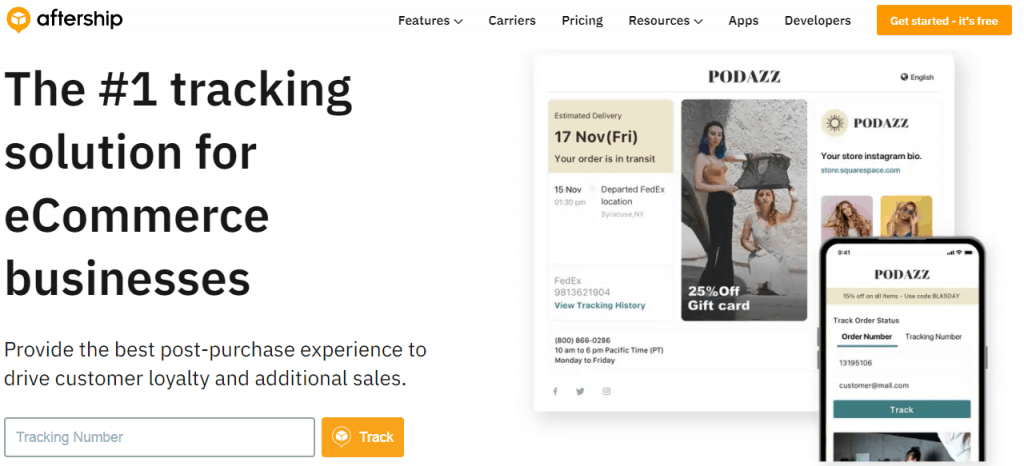 Why is this platform different than others? AfterShip provides a lot of features that can make a better post-purchase experience. You will increase customer satisfaction, and satisfied customers will shoot your brand up to the stars.
This platform has a Brand Tracking Page feature. With this feature, your customers can track their orders on a branded tracking page. As a result of this, you will retain your customers and increase your revenue.
Good organization and providing the correct information is the key to engaging your customers. With the AfterShip platform, you will get all this.
Also, customer feedback is available too. People like to read recommendations from other users, mainly if they use something the first time. So, let your customers put five stars for your services and leave comments or suggestions.
Tracking analytics is another important thing in every business. Don't miss to get insight into your post-purchase experience and to find how many clicks you had over time.
Price: AfterShip pricing plans depend on the number of shipments. For example, it is free per month up to 50 shipments.
8. Shippit
Shippit software can also help you to convert more sales because it provides plenty of delivery options. Automatization shipping and returning process will save your time and enhances customers satisfaction.
Stay tuned about your orders and track them anywhere and any time using this software. Pack and ship are available too, and you can integrate orders from many sales channels such as Shopify, Woocomerce, eBay, etc.
The Shippit helps you decide on your shipping because they allow you to choose the carrier, pack your order, and others. The tracking screen provides all information related to the orders. Senders and recipients can see where the order is and see the delivery progress or change the delivery address in just a few clicks.
This platform is known for supporting climate change and the protection of the environment. Due to that, all Shippit's delivery services are 100% carbon neutral.
Price: Shippit offers three pricing plans. The great thing is that each of that plans includes a free 30-day trial.
9. ShippingEasy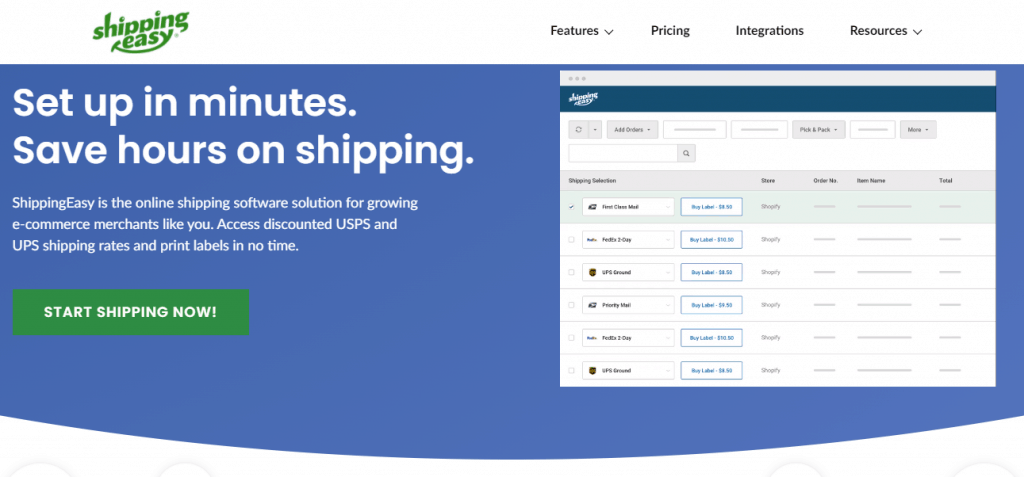 This software provides easy delivery on top of being easy to use. You can set it up in a few minutes, and you will figure out that it significantly saves your time.
No matter where you sell, on your website or marketplace. Integration with ShippingEasy is welcome.
An eCommerce marketing it's impossible to imagine without email campaigns. With customization of your tracking emails, you can make your customers more satisfied and keep them. There is the possibility that they will bring you more customers by recommending you to their friends. With a campaign editor, you can fully customize your campaigns and increase awareness about your brand.
With Branded tracking page, your customers can easily track their orders, and you can increase traffic to your website.
Don't worry about returns because the whole process is automated and makes returns easy while provides real-time tracking information. Besides email customization, you can even customize reports and get an insight into all to need information in one place.
Price: All planes include a free 30-day trial. Start with the free first and chose one of the pricing plans later.
10. Shippo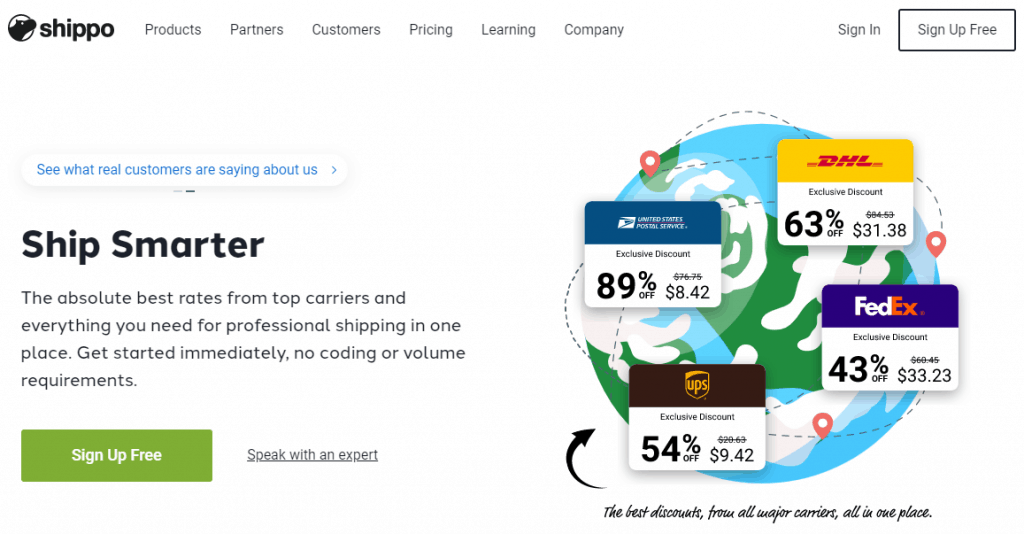 As the last platform in this article, but not less important, let's represent Shippo software. With this platform, you will get all you need for your eCommerce business in one place.
You can integrate Shippo with over 85+ technology partners, carries partners, and fulfillment partners. Those mentioned categories are available on the website, so you can search and find the right one.
Easy integration, Returns, Saves on shipping, Compare carrier rates, Address validation, etc. All these options are available if you use this software.
Save your time and create labels with Shippo in just a few minutes. Find a lot of options for customization of your labels and notification emails. You can even make some branded shipment emails, send them to your customers and increase your eCommerce business.
Price: Shippo has a starter pricing plan that is available for free. But, if you need some additional options, we recommend to chose one of the following two pricing plans and enjoy all their features.
Conclusion
We hope that this text will help you find more about shipping for eCommerce. All mentioned software provide some similar and some different features. Automatization, customization, branded tracking page, quick and easy delivery, delivery support, etc., all those services are essential for your online business, and you need to pay attention to them.
Read about the top solution to improve your shipping eCommerce and find the one that fits your needs the best.
Good luck!