Are you sick of feeling anxious before sending a very confidential email? Since anyone could intercept the message in transit, you run the risk of endangering not only the recipient's security but also your own or that of your business. Why not take extra precautions to ensure your data is entirely secure? Each of these scenarios could result in a GDPR nightmare.
If you're scratching your head, wondering "what are they talking about, what steps?", you're in luck. Today, we will discuss Sealit – Zero Trust email and file protection. See what this amazingly user-friendly technology can do for your security and how it protects each email you send, ensuring that you never lose sleep over security ever again.
Sealit? What Is That?
So, what exactly is Sealit? It is, in essence, a Zero Trust solution for all of your email security requirements. It's a simple tool that can be integrated with any mainstream email platform, including Gmail, Outlook, Dropbox, and others. Seal it can also be used to encrypt any file format on Windows and iOS! It's extremely simple to use; simply right-click on the file you want to seal and select "Secure With Sealit." And the best part? Regardless of whether your recipient's overall security is compromised, Sealit ensures that ONLY the recipient has access to the data you've sent. And how exactly does it do this? Let's take a look!
Biometrics Are Your Best Friend
Long gone are the days when the best way to secure your data was by using passwords. Nowadays, there are far too many sophisticated methods for cracking any password combination, so what's the next best thing? Biometrics, to be specific. Yes, using Face ID and fingerprint authentication is the best way to ensure your data is completely secure. Don't worry; even if your recipients are first-time Sealit users, setting up a read-only account with their biometric information takes only seconds. It's also worth noting that nobody, not even Sealit, has access to the data being transferred except the recipient and you.
Monitor and Track Your Sensitive Data
Seal it also allows you to monitor who gets access to your data and where. If Sealit detects any suspicious activity, it sends you an alert so you can take appropriate action and ensure that this data remains secure at all times. You also get a highly detailed security overview, which you can access via the Sealit dashboard, and you can even share these security reports with your colleagues!
Who Is Sealit For?
So, who stands to gain the most from Sealit? Almost everyone, but especially accountants and consultants, It makes sense, given that you're sharing highly sensitive information about someone's income or trade secrets that should not be revealed in public. Seal it is GDPR and HIPAA-compliant, so you don't have to worry about any sensitive information about your company or your clients being compromised.
Pricing and Plans
Now that we've covered the majority of Sealit's features and the general principles of how it works, let's take a quick look at how much it costs. There are currently three license tiers. Sealit provides a personal biometric Sealit ID, email and file security, and integrations with Gmail, Outlook, and Microsoft Exchange across all tiers. All tiers allow you to send an unlimited number of emails and files per month, with the only real difference being the number of users supported. Tier 1 is a one-time purchase of $79 that provides access to 10 users, whereas Tier 3 provides access to 100 users for a one-time purchase of $237.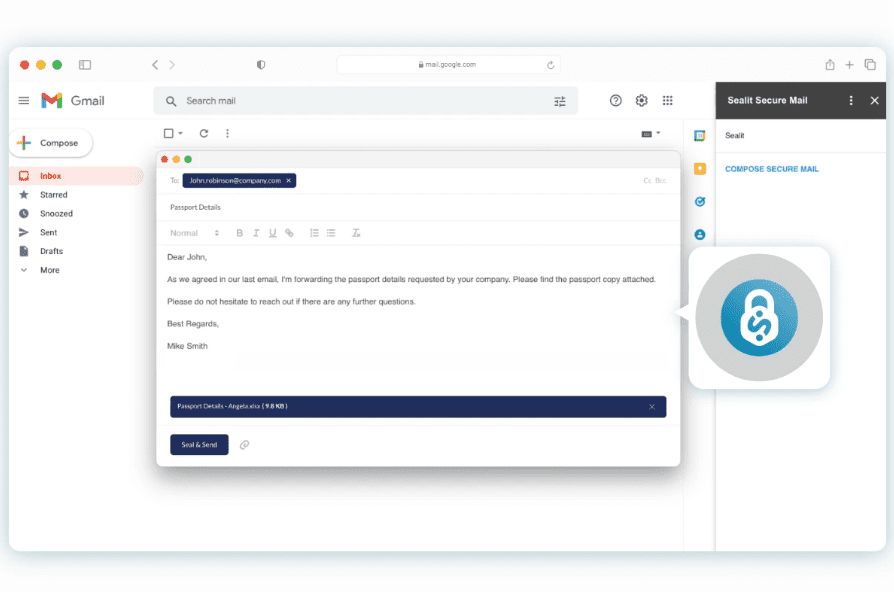 Conclusion
Email and file security is no laughing matter these days, especially if you're dealing with highly sensitive data. GDPR breaches can cost businesses billions of dollars, and using tools like Sealit to avoid these worst-case scenarios is your best bet. Save yourself the trouble and use Sealit right away!