As like every year, Google didn't miss the chance to surprise the users with the latest updates and innovative advancements; this year also Google has released the "Google Site Kit Plugin" for the WordPress Content Management system. The idea behind introducing this dynamic plugin is to extend the functionality of WordPress and enhance the ease of accessibility.
If you are all set to get deep into the concept, then before heading to get into the WordPress Plugin Development, it is worth reading this post to know what exactly it is, how you can install it, and what it has for you?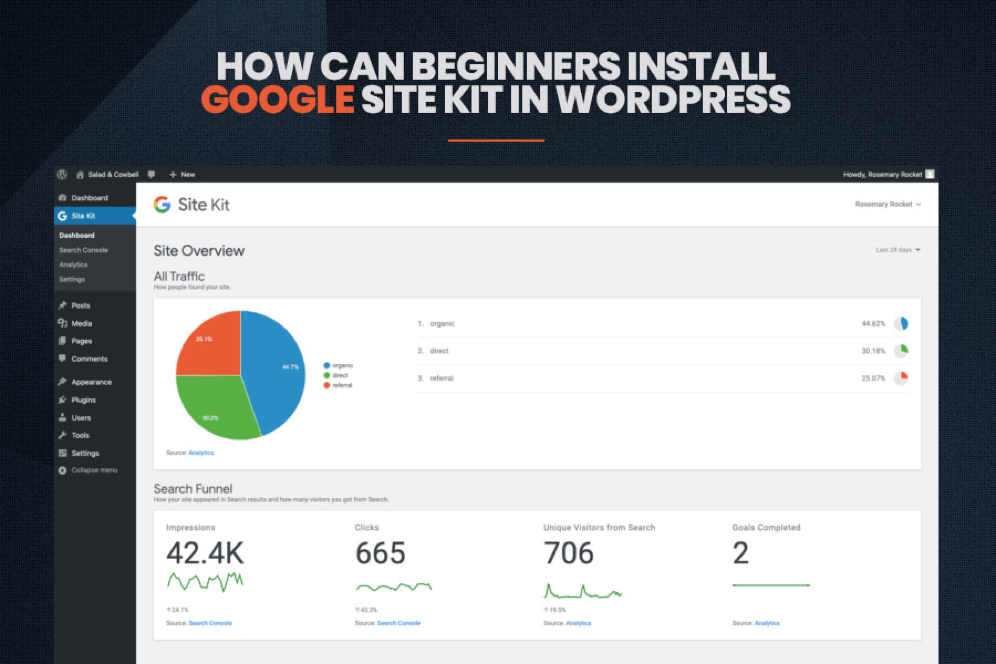 Undoubtedly, WordPress is the most common and popular choice of Content Management Systems(CMS), when it comes to eCommerce Website development. There is a wide range of plugins and features that empowers this platform and turns it into highly flexible and scalable CMS.
But, Google is giving a unique rising curve to WordPress with the seamless integration of Google-Site-Kit-Plugin.
To further enhance the integration, Google has stepped forward and released a unified open-source plugin for WordPress that developers can utilize to monitor, analyze, and improve the performance of the website effectively. With Google Site Kit, you can easily add new functionality to WordPress and get faster access to Google services.
Overview of Google Site Kit Plugin for WordPress
Google Site Kit Plugin is nothing but a brand new SEO/Analytics plugin developed by Google specifically for WordPress. With the launch of this plugin, your WordPress site can directly get connected with the pool of Google's marketing services such as Search Console, Google Analytics, PageSpeed Insights, and AdSense. Once you install this plugin, you'll be able to view your website performance and related data directly in your WordPress dashboard as well as individually in posts/pages.
How To Set Up Google Site Kit Plugin in WordPress?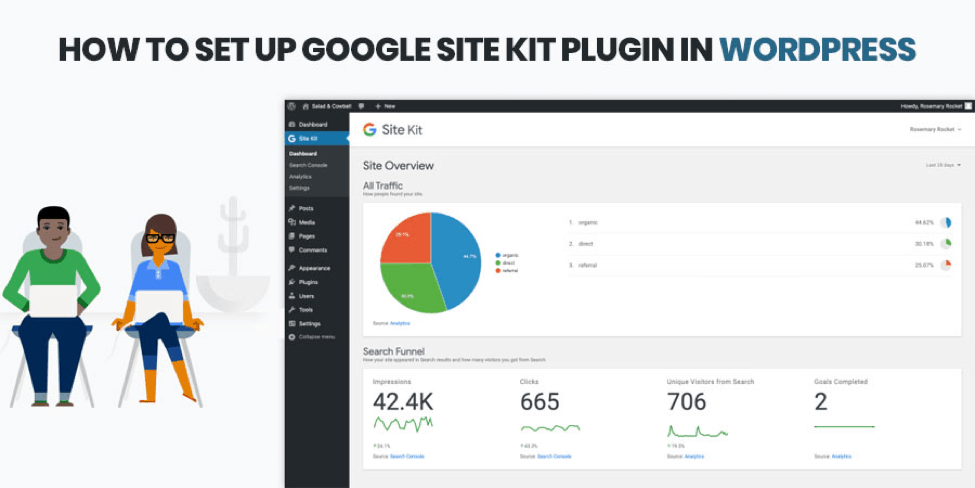 While installing, configuring, and linking the plugin to WordPress is far simpler with WordPress Development Services, but how would you choose the best service provider until you don't know the basics.
So, let's get started with the steps to install the plugins in WordPress:
While Google announced the Site Kit Plugin in 2018 and a year later, they released the developer preview in June 2019, so the plugin is available to download in the announcement post. Also, you can find it in the WordPress Plugin repository and download the zip file. Rest best WordPress plugin development companies are always there to offer you seamless support for the installation.
Once the plugin is downloaded in the folder, log in to your WordPress Dashboard and visit the plugin section to Add New and click on Upload plugin.
Here you need to upload the plugin file that you have downloaded above.
Click on Install Now.
Once the plugin got installed, now its time to activate the plugin.
A plugin can quickly get into work by clicking on the activate button.

Once your plugin is activated, your screen must look like this above image.
Configuring the Google Site Kit in WordPress
Once you have activated the plugin, now its time to understand the configuration process. Configuration of this plugin actually builds a bridge between your WordPress site and Google's tools. It is necessary to build this bridge if you want to connect the Site Kit to WordPress and make use of these extraordinary properties.
While configuring the plugin in WordPress, you need to first create a client configuration in the Google Developer Console. To create a client configuration, you need to create a new set of OAuth Credentials using your Google Cloud account. Either you can hire WordPress Website Developers for ready assistance.
The most tempting part about this process is that you don't have to create a Google Cloud account by following any complicated and lengthy manual procedure; everything will be done automatically with Site Kit. Further, there is no need to add any payment method or handle any other complex configuration; Google Site Kit Plugin will automate everything. Moreover, this process works seamlessly with both new and existing Google accounts.
How to Link Google Search Console Account to Site Kit?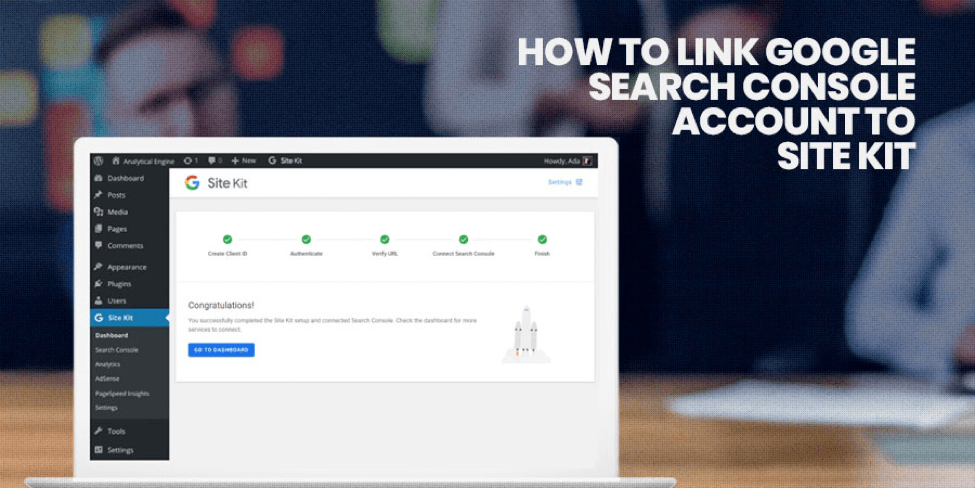 As mentioned above, that creating client configuration in Google Site Kit Pluging is an automatic process which involves click-click-copy-paste things, you can easily link your Google Search Console data to your WordPress Site. If you have not yet added your site to the search console, then Site Kit will automatically create one for you.
Let's understand the essential steps involved in linking:
Step 1: To begin with the process, you firstly need to log in to your primary Google Account. Make sure you log into the same browser and disable your ad-blocker as per Google's rules.
Step 2: Next, visit your Site Kit Page in your WordPress Admin Dashboard. There you will find the highlighted link and click on the same.
Step 3: The moment you click on that link, the Site Kit Plugin will automatically fetch your WordPress Website information and move it on to the client configuration page located in the Google Developer Console Dashboard. While moving the data from your site to the Google Developer Console, make sure the word "Demo" is not mentioned in the project name because it is a restricted word in the Google Cloud Console.
Step 4: After moving the data to Google Cloud account, Site Kit will now create a new project using the details from your WordPress site, although automatically. Once it is done, you will get a Client Configuration Code. Don't forget to copy that code on the clipboard and click on DONE.
Step 5: The code you have copied above, need to be pasted in the Client Configuration Text Box, located in your WordPress Dashboard. Once you have pasted the codes, click on PROCEED.
Step 6: Now, sign in with your primary Google Account. Click on SIGN IN with Google to continue the process. (If you have any confusion, you can get in touch with WordPress Development Company).
Step 7: Click on the primary Google Account and verify the URL you received for permissions. Grant the required permits and allow them to proceed to the final step.
Step 8: Once Site Kit will get all the permissions, it will automatically detect your linked site data in Google Search Console Account and link it to your WordPress site.
Now, you are all set to view your Google Seach Console data directly in your WordPress dashboard with the Google-Site-Kit-Plugin.
Wrapping Up
Hopefully, you understand what exactly is Google Site Kit Plugin and how you can set up in WordPress Website. It is one of the significant and beneficial steps that Google has made to ease the data access for WordPress Users. With the launch of Google Site Kit Plugin, you can immediately install the pool of Google's marketing plugins in just one click.
What are your thoughts on Google Site Kit WordPress Plugin? Let us know in the comment box below!