Regardless of whether you are a content maker, blogger, or even a co-author, there is a whole science about writing blogs and giving credits where it is due. It is not a weakness to give credit to those who write content for you. On contrary, with the right plugins, it is a win-win situation and this article will answer the most common questions that have been pondering in your head.

Can I add authors without registering them?
Even though WordPress stands out as a widely used and very powerful platform, adding authors without registration including adding guest authors is not possible by default. Instead, there are smart pieces of software called plugins that will let you handle the most complex things on your site including adding authors and co-authors with ease.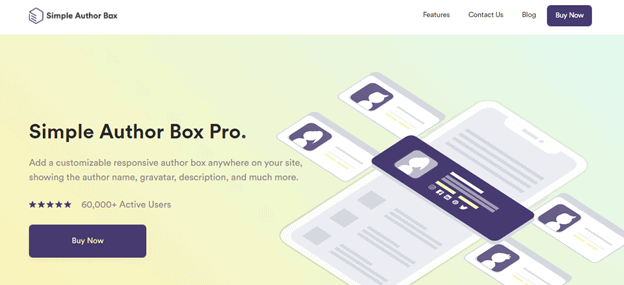 On that note, we proudly present to you our premium WordPress plugin Simple Author Box. To remind you, Simple Author Box lets you add fully customizable and responsive author boxes on desired spots on your website. The box might include the author's name, the picture, the description, and much more which will significantly increase the credibility of your content in the eyes of visitors.
How to add guest authors?
When it comes down to adding guest authors on WordPress sites, keeping it safe and simple is the main aspect of this plugin. Adding guest authors is made easy with this plugin. Moreover, there are plenty of advantages over the traditional method which refers to registering a new writer every time. By its nature, registration allows users to log in and that already presents enough of a threat. Registered accounts can be a subject of hack attacks. On top of that, such a method of having authors shown on the website is out of trend and can affect the speed of your site. It is time-consuming and does not seem like the best solution from the angle of practicality and user-friendliness.
Instead, the features that come with Simple Author Box make the work significantly easier, contributing to the aspects of higher speed, security, and simplicity. The user-friendly and intuitive interface allows full control, responsiveness, and customization of the author boxes on your website. Sounds amazing, right? Let's see how it works in a practical setting.
Before you can add a guest author, you should enable the Guest Author function located under Appearance/ Simple Author Box/ Guest Author. Scroll down and you will see a screen like this: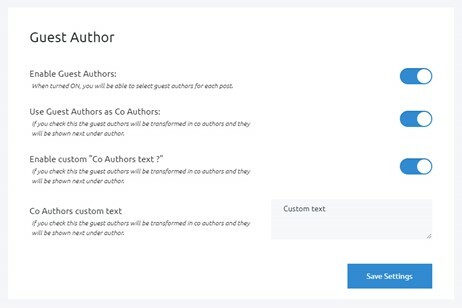 Once enabled, the user is allowed to select a particular guest author for each post. Besides that, you will be able to use the Guest Authors as co-authors. That simply means that the guest author box gets the status of co-author and therefore will appear next to the author.
When you are adding a new post, on the panel on the right side you will see the option to choose the Author.
By clicking on the Guest you will get a drop-down menu from where you can choose either an existing guest author or already registered user.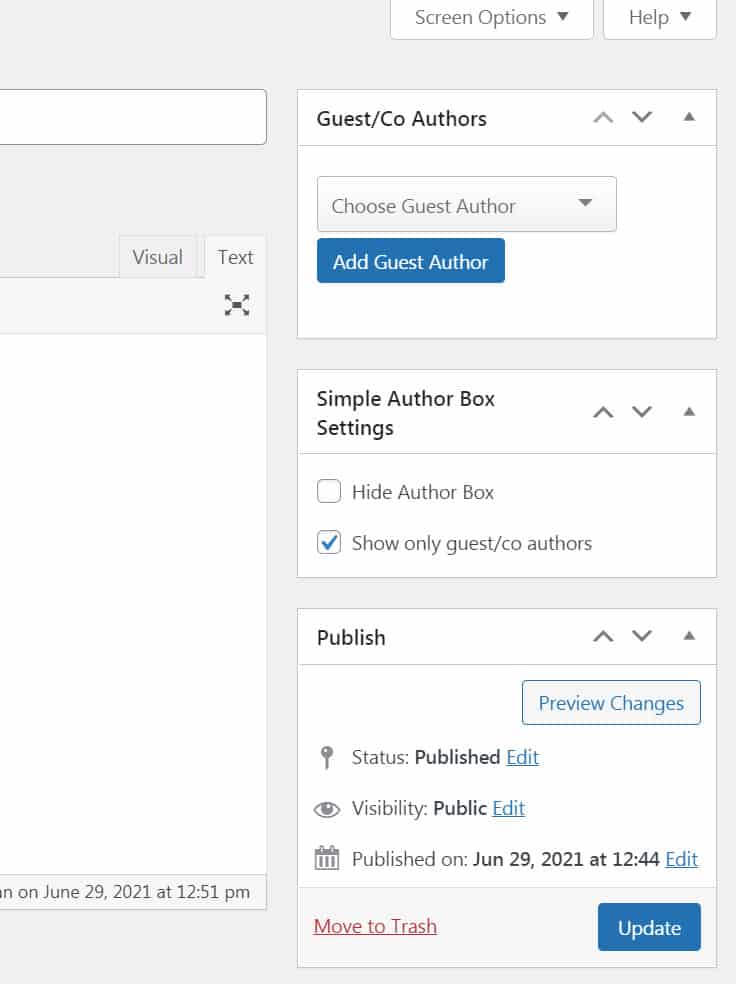 As you must have noticed, it is possible to choose the existing author or a user that has already been registered.
If the author is not yet added – no problem! Adding a guest author is fun and easy since it only takes a single click on the blue button Add Guest Author. Once you do, you get to fill the fields with information, and the screen looks like this.
Here you can put the relevant information about your guest author, by typing out his personal, contact, and biographical information. Moreover, you will be able to add social links, and similar. You can also make it look attractive for your visitors by bolding or hyperlinking some parts of the text in the description, especially in the biographical information field. When adding a new guest author there is a large list of social media platforms from which you can choose the desired one.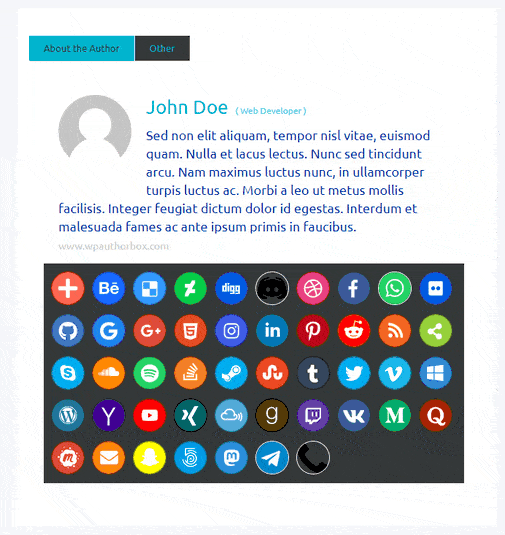 Although rarely, some posts require multiple authors to be shown on the page. If that is your case, more features of our plugin will let you do exactly what you wish you could. There is an option that lets you add more authors to the same post or even for situations where it is necessary to show the editor's name etc.
Conclusion
Simple Author Box serves more than 80.000 users with features that allow easy handling of adding single or multiple author boxes to the posts. Say goodbye to registering users every single time, and welcome the easy way of handling author and co-author boxes on your website. Regardless of your prior experience, Simple Author Box will let you create attractive author boxes in a matter of minutes, fully customizable and responsive. With so many useful and intuitive features, our Simple Author remains the number one pick of many bloggers and original web content creators.