Are you looking for a way to charge your shipping based on the number of items ordered and customer location? As always, we found a solution for you. WooCommerce Table Rate Shipping plugin allows you to do just that.
In addition, we will guide you through the process of setting up this plugin and explain precisely what it does.
Whether you're looking for shipping based on a destination, weight, item count, or cart total, Table Rate Shipping got you covered. But we'll focus on setting up your shipping per item right now.


Shipping per item gives you great flexibility on your shipping options. Get free shipping when the customer orders more items, or reduce the shipping based on a certain amount of items.
Below are the steps you need to follow to set it up!
First, you will use existing WooCommerce shipping zones to configure shipping per item. If you're shipping to a single country or multiple countries, you can create different shipping zones and assign different shipping methods to each of them.
Shipping Zone and Shipping Method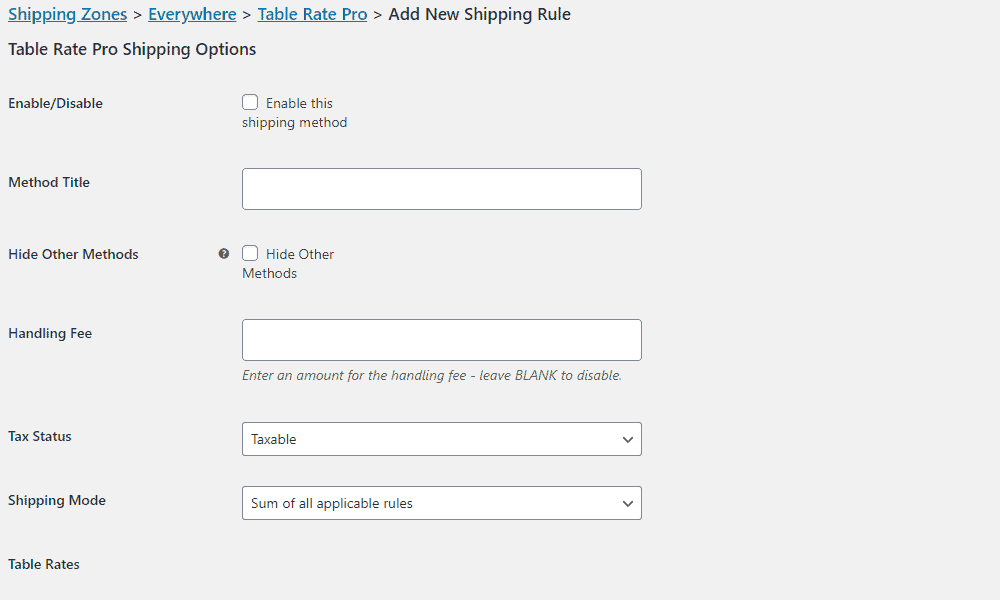 To set up a shipping zone, go to the WooCommerce settings page and select the "Shipping" tab. Here you will create your shipping zone and assign a shipping method.
As an option to add a shipping method, you will select Table Rate Pro, which is your plugin, and open the "Edit" page by clicking underneath the shipping method listed.
Further, on the Edit page, you will be creating the shipping method and its rules. Here you have a couple of fields to fill in.
Checkbox to Enable/Disable the shipping method
Assign method title – this will be the name displayed on your checkout page and can be whatever fits your business; Standard, Express, Local Pick Up, etc.
Handling Fee – an optional amount that will be added to every order
Tax Status – tell the plugin whether you want the shipping to be taxable or not.
Table Rates
This section basically implies setting the actual rule for shipping charges with a fair amount of options. Some of the fields are:
Class – Whether you want to apply this rule based on a shipping class.
Condition – How do you want to apply this rule? Select "Item Count" to tell the plugin to set up the shipping based on the number of items in the cart.
Min Value / Max Value – Apply shipping rule for the number of items in the cart. So let's put in 0 as a Min Value and "*" as the Max Value. This will apply the rule for any amount of items from zero to infinity.
Base Amount – Fixed rate to charge per order. Let's say we put in the $3 as the base amount.
Per Item – Fixed rate to charge per item in the cart. Let's put in $1.
Shipping Rule
Let's take a look at what we've done with this shipping rule. As a Condition for the shipping rule, we've chosen "Item Count." It means that the shipping cost will be applied to each item added to the cart.
As the Base Amount, we've set up $3. Further, this will apply to every specific order made regardless of the item count in the cart. For the rate of each item in the cart, we've entered 1$. Each item in the cart will increase the shipping cost by $1. Considering defined values for each field above, let's calculate the shipping costs and how they manifest.
Let's consider there is one item in the cart, and a customer proceeds to the checkout. In this scenario, the shipping cost based on the shipping rule calculation will be $4.
If the customer returns to the cart and adds two more items, the shipping cost on the checkout page will now be $6. Also, the formula is straightforward: the order total plus the rate for each item in the cart.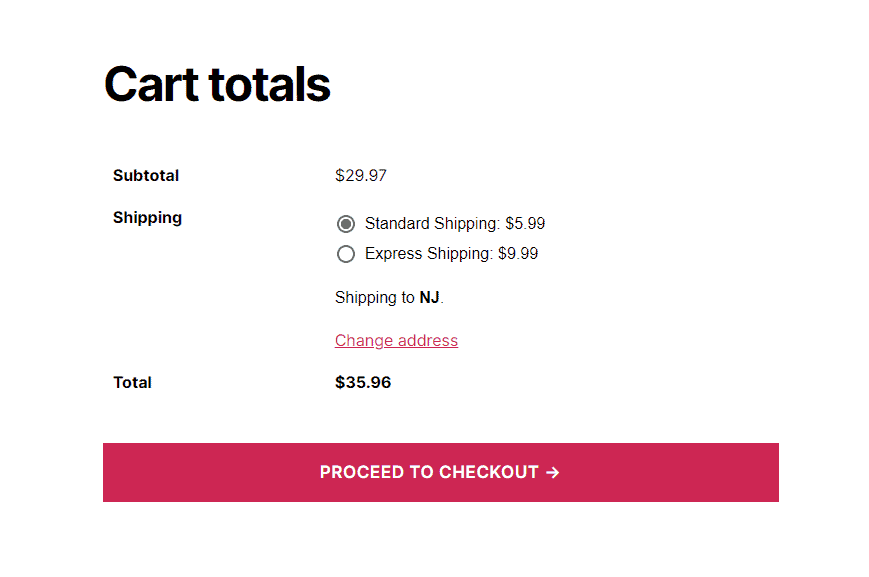 We showed you how to set up shipping per item with the Table Rate Shipping plugin. You can modify each value to satisfy your personal need and preference for shipping methods.
More Features and Price
Beyond just setting the shipping per item, Table Rate Shipping is packed with many more powerful features that will improve your WooCommerce store. Also, it allows you to import/export your shipping methods, hide shipping methods, and force shipping methods to be used, among other things.
How much does it cost? Single site license comes for $79/year. It includes priority support, so if you have any questions, you can reach out to the support page, and they will be more than happy to answer. A Money-back guarantee is ensured as well. If, for any reason, you're not satisfied with the plugin, you can ask for a return within 7 days.
Final Thoughts
Many WooCommerce store owners decided to go with WooCommerce Table Rate Shipping. Each of you has your reasons and goals for using this plugin, but what matters is that it works and is dependable!


As you can see, you don't have to be a professional to do this. Just follow these few steps, and you will be set to go. If you're looking for more things to improve on your WooCommerce store, we encourage you to check out WooCommerce Order Export plugin that will help you export all the data you need.