A hosting server is one of the essential prerequisites for a good business for every website owner. The operation of our sites directly depends on the server, its speed, and its performance. Hosting should be fast, stable, and reliable because these performances directly affect the user experience and give visitors a picture of us and our business.
When choosing hosting for our websites, we constantly reach for companies proven to be good and stable. Usually, such companies have been on the market for a very long time. And also have tens of thousands of hosted sites, and most people engaged in creating web pages have heard of them.
However, some much younger companies have become big players in web hosting with good performance and excellent hosting services and can match the biggest companies in this business. One of those companies is HostArmada.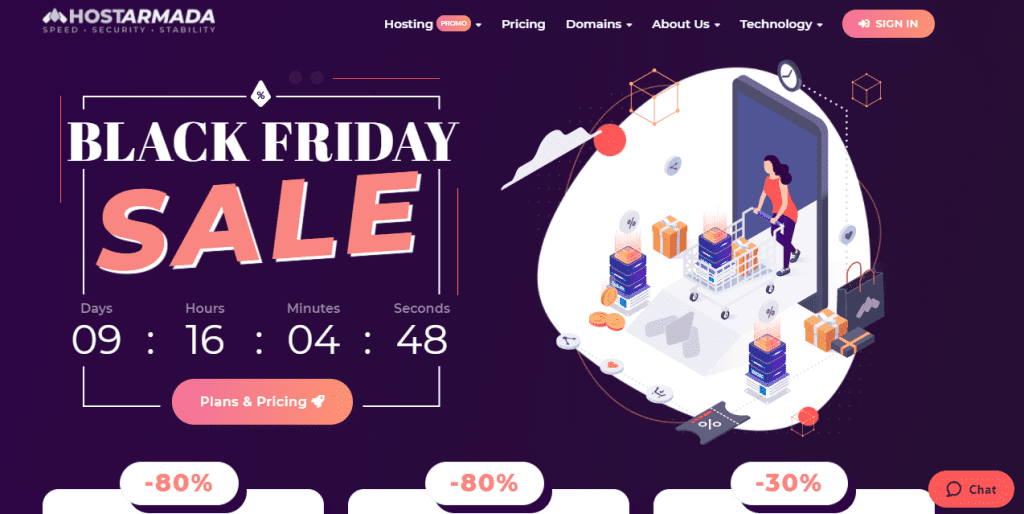 Although a relatively new company formed a few years ago, more precisely in 2019 in the USA, HostArmada has become a significant player in the world of the hosting business.
In a very short period, they managed to create as many as 9 data centers. Three in the USA (Fremont, Dallas, and Newark), one in Canada (Toronto), two in Europe (Frankfurt and London), one in India (Mumbai), one in Asia (Singapore) and one data center is in Australia (Sydney). Also, we have to mention that it has excellent user reviews.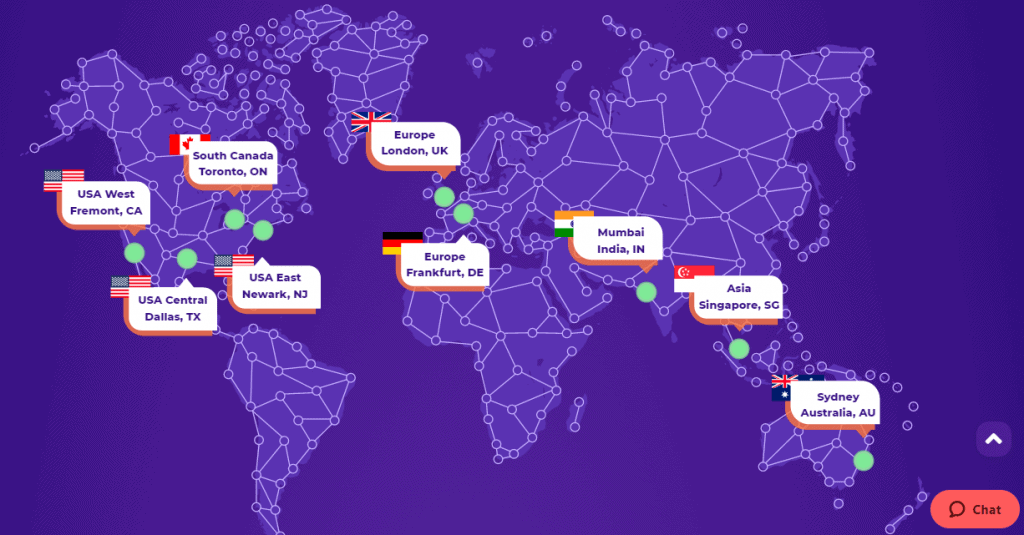 Shared Hosting
When it comes to hosting services, Hosting Armada does not lag behind the competition. They offer shared hosting, hosting optimized for WordPress and WooCommerce, SSD cloud web hosting, VPS hosting, Magento hosting, and many other good services.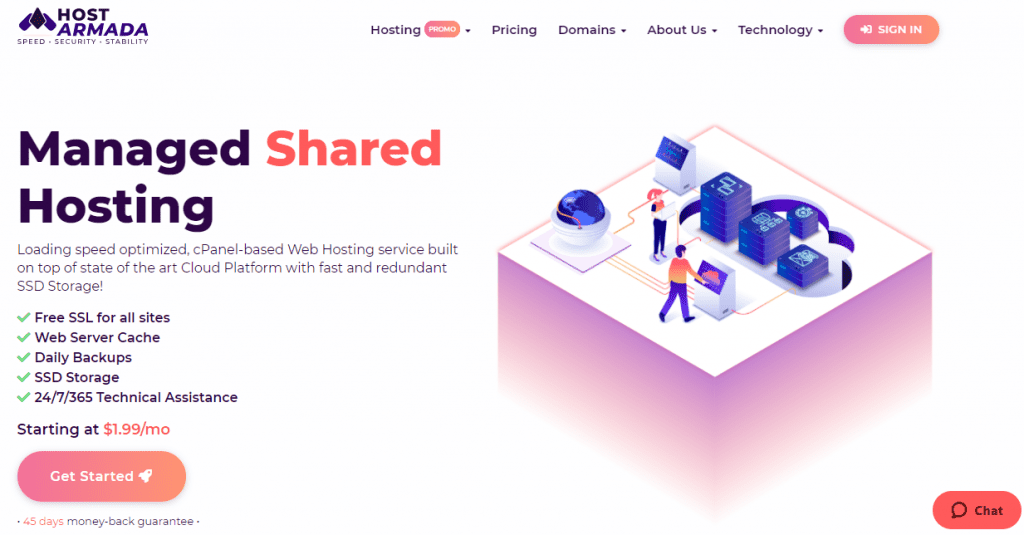 Of course, you can also register domains through this company. In addition to standard extensions for domains (.com, .org, and others), you can register many other extensions on Hosting Armada, such as .in.net, .coupons, .tel, .sale, and many more. The prices of these extensions differ from the standard ones, and it is best to visit the portal and check the price of each domain individually.
HostArmada is a severe company, and we can see that since they cooperate with some of the world's largest companies such as Intel, cPanel, Cloudflare, and many others.
What sets this company apart from the rest is cloud web hosting. They are very good at this job, and all end-user resources are deployed on multiple servers. This makes sites hosted on cloud hosting much more secure, providing much faster page load times. Also, the company has a HostArmada Speed ​​Reaper service that takes page loading speed to a new level.
Loading Speed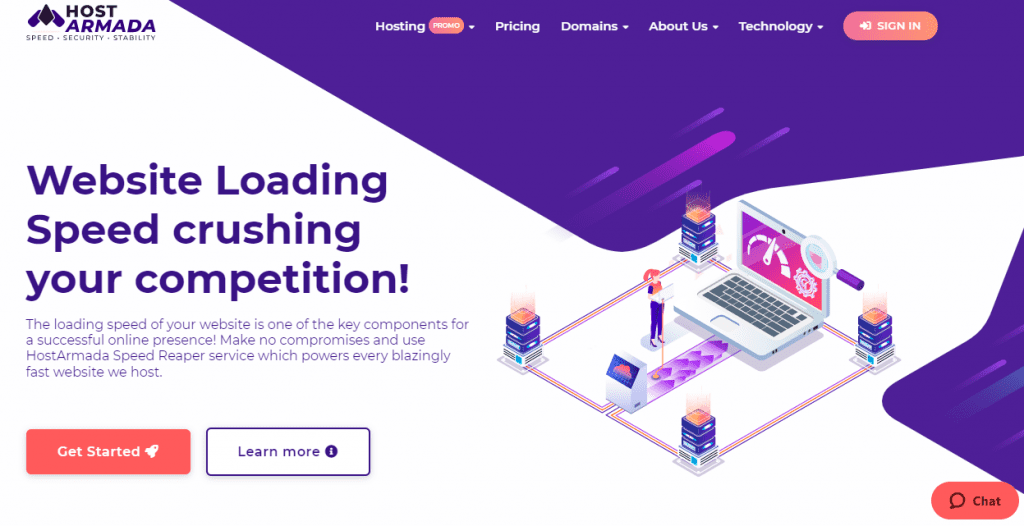 One of the components that Google takes into consideration when doing SEO ranking is the page load speed. There are many benefits to having sites that load very quickly. By loading our pages faster, they will be ranked better on search engines.
If the page loads quickly, your visitors will have a much better user experience, thus increasing the chance of converting ordinary visitors into customers of your services or products.
Researches show that users stay longer on fast-loading pages. The longer users are on your site, the higher the overall page rank is.
The Cloud SSD Platform is responsible for the high loading speed of the pages hosted on HostArmada – the platform works on SSD disks with enormous write speeds. LiteSpeed ​​cache, Memcached cash, Brotley compression, and many other combined tools are also in use, giving excellent results.
Pricing
When it comes to hosting, this company has a lot of membership packages to choose from, and all hosting packages come at affordable prices. Shared hosting starting price is $ 2.99 / mo. If you buy the service for three years, you will save money, and the price of this hosting will be 2.39 USD / mo. If your site requires more resources, you can always upgrade a package to a larger hosting plan.
What Else Does HostArmada Offer?
WordPress Hosting – a package designed to run WordPress sites;
Reseller Hosting – for all those who want to sell hosting and create their hosting accounts;
VPS Hosting – you have the virtual private server that you do not share with anyone, and all resources are only yours;
Dedicated CPU Server Hosting – have your server and do whatever you want;
Opensource Hosting – a membership package optimized for Open Source web apps;
Development Hosting – a package that abounds in tools for web developers.
Common Features
Unmeasured traffic – you don't have to look at how many visitors you had and whether the site will remain active due to spent resources
cPanel – management of resources and applications from one central panel
SSDs to achieve high write speeds
SSL certificate for free – encryption of content between your pages and the final destination
Daily backup – automatic backup to protect your site
Free domain name
Free migration from another hosting provider to HostArmada servers
Unlimited number of e-mail accounts
LiteSpeed ​​and Memcached cache
WAFS to prevent attacks
Unlimited FTP accounts
Unlimited number of databases
Security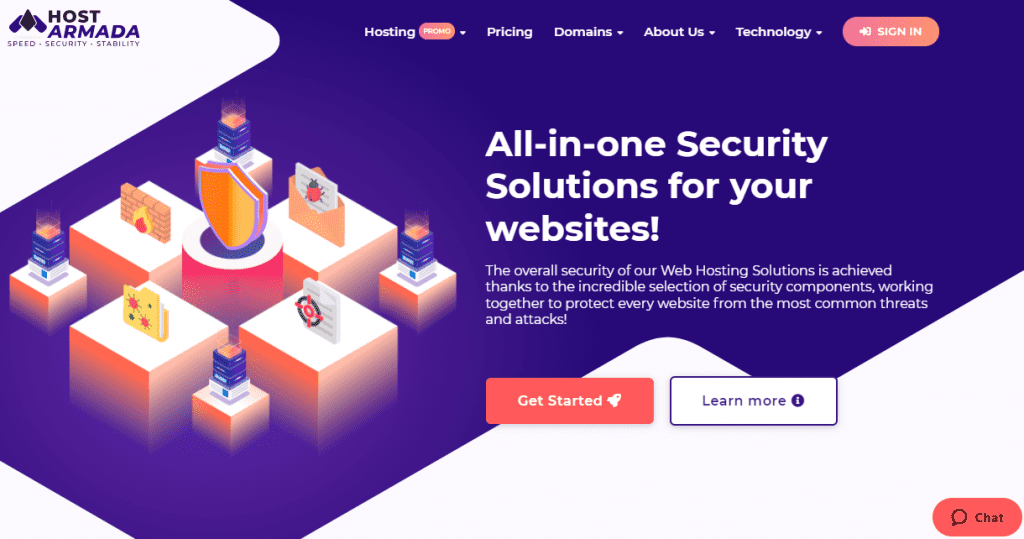 When it comes to the security of your website, we must say that HostArmada pays excellent attention to all segments of security. The company acts proactively, monitors, and prevents malware. Highly advanced algorithms ensure that AI machine learning is used, so the system automatically updates and searches for problems and solves them successfully. All hosting packages have malware scanning included keeping your files and site completely safe. User opinions about HostArmada are divided.
The advantages of this hosting provider are:
speed of loading web pages,
free domain,
free remote backup,
SSD storage on all hosting packages
free SSL certificate and migration to their servers,
excellent support that responds to all your questions in a short time
When it comes to things that users don't like, it's the inability to buy membership packages monthly, renewing hosting packages is too expensive, and inability to pass Windows hosting.
Conclusion
Although HostArmada is a relatively new company in the web hosting market, we can say that it offers excellent service and excellent performance. Their data centers that are deployed around the world provide all users with maximum speed and performance. If the price of renewing your membership package does not play too much of a role for you, but you strive for good performance, then you must try this hosting provider.