HostArmada is a brand new hosting provider that launched in 2019. The company dedicated itself to provide quality web hosting services for WordPress and all other PHP-based applications at an affordable price. The company's minds believe that everyone deserves an excellent hosting service without any gimmicks attached to it.
Having vast experience in the field and having worked for multiple other leading hosting providers, they have the know-how to incorporate the ultimate hosting experience in their services. This article will go over all the perks and features HostArmada offers, and hopefully, it can tip the scales in their favor if you have doubts about them.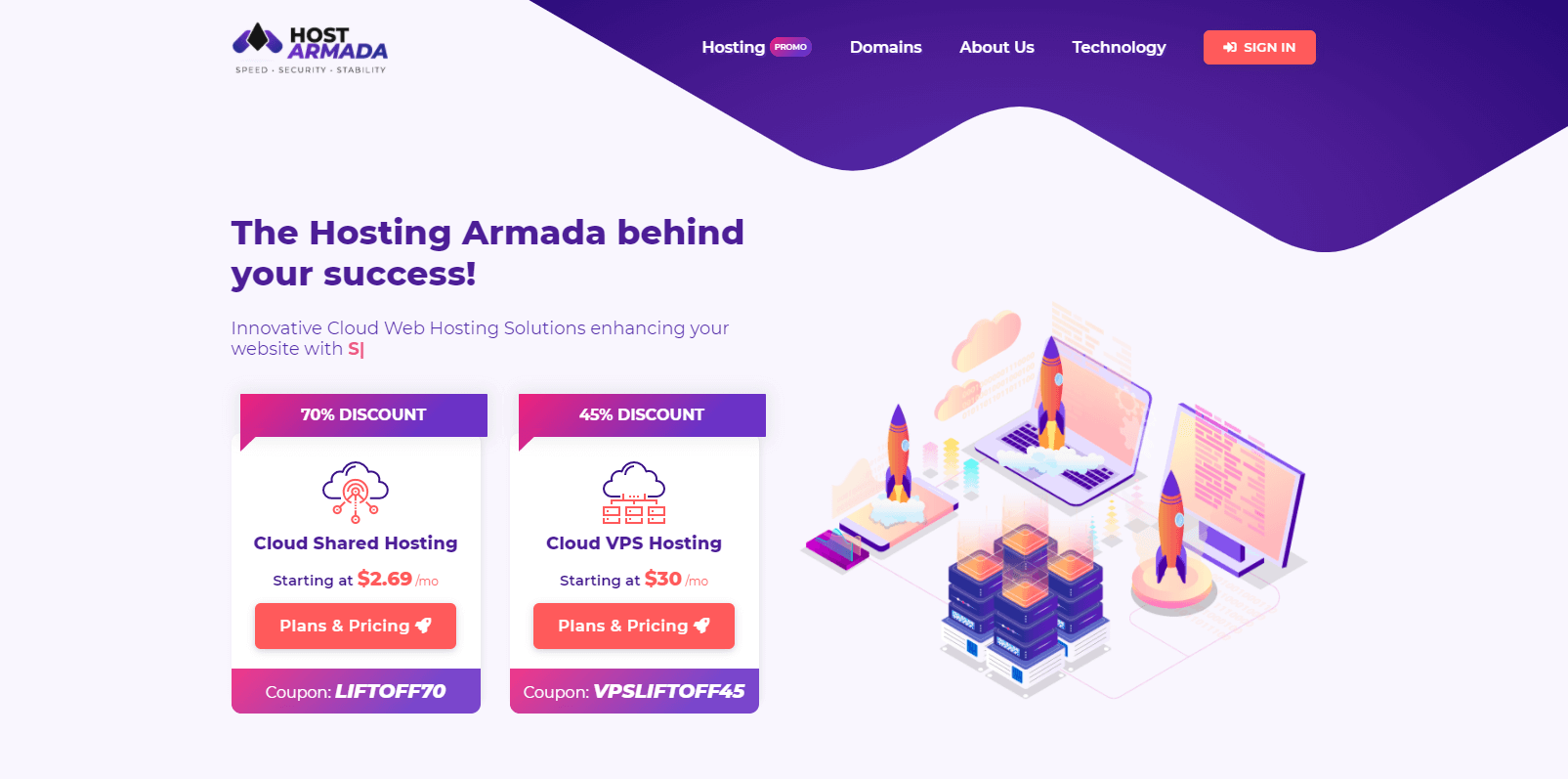 Speed
Speed is the most important metric for a website owner. The benefits of having a website are practically limitless, and every respectable webmaster should aim to get as much of it as he can! HostArmada is no stranger to speed optimization, and their system administrators have made sure to tweak each server for the best possible website speed!
HostArmada uses two technologies, which are very well-know on the internet – Nginx, and LiteSpeed. Both services will speed up your website, however, most benchmarks will tip the scales towards LiteSpeed mainly because it integrates amazingly with the LScache plugins available for most open-source applications – WordPress included.
LiteSpeed and LScache work so well together that it is hard to think of a service that matches this combination. Even though Nginx can rival them in speed, the sheer number of concurrent requests LScache and LiteSpeed can handle is insane and they can keep your website buttery smooth even under high traffic volume.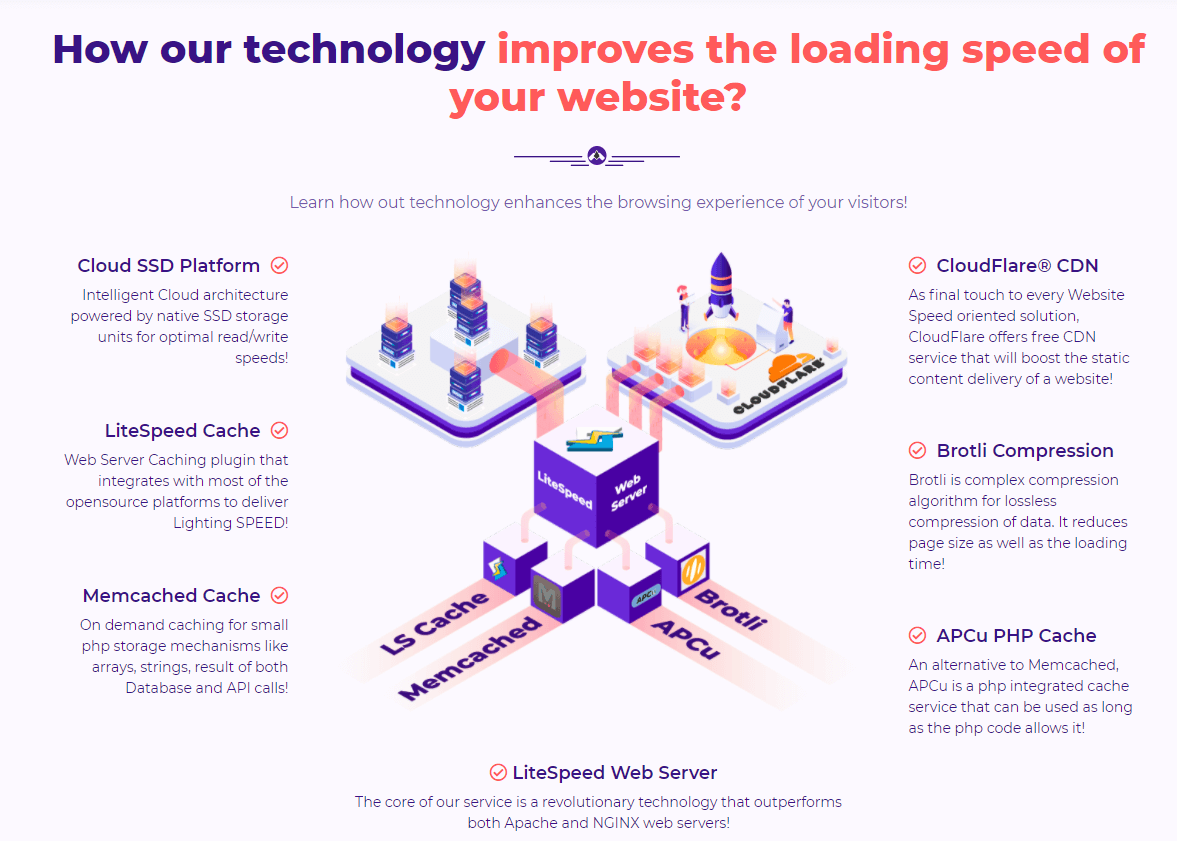 Regardless, each website owner has their preference regarding these types of technologies, and with HostArmada, you have the flexibility of choosing whichever you seem fit for your site. Other speed benefits of HostArmada include:
Latest available and stable PHP & MySQL versions
Pure SSD storage on all their servers
Nine data center locations around the globe so clients can easily target their desired audience
Keep-alive & Gzip compression
APCu and Memcached
HTTP/22 and HTTP/2 over quic(HTTP/3)
Security
Despite speed being the most sought after metric, some people are security freaks, and unless a server has robust protection systems, they do not feel comfortable using it.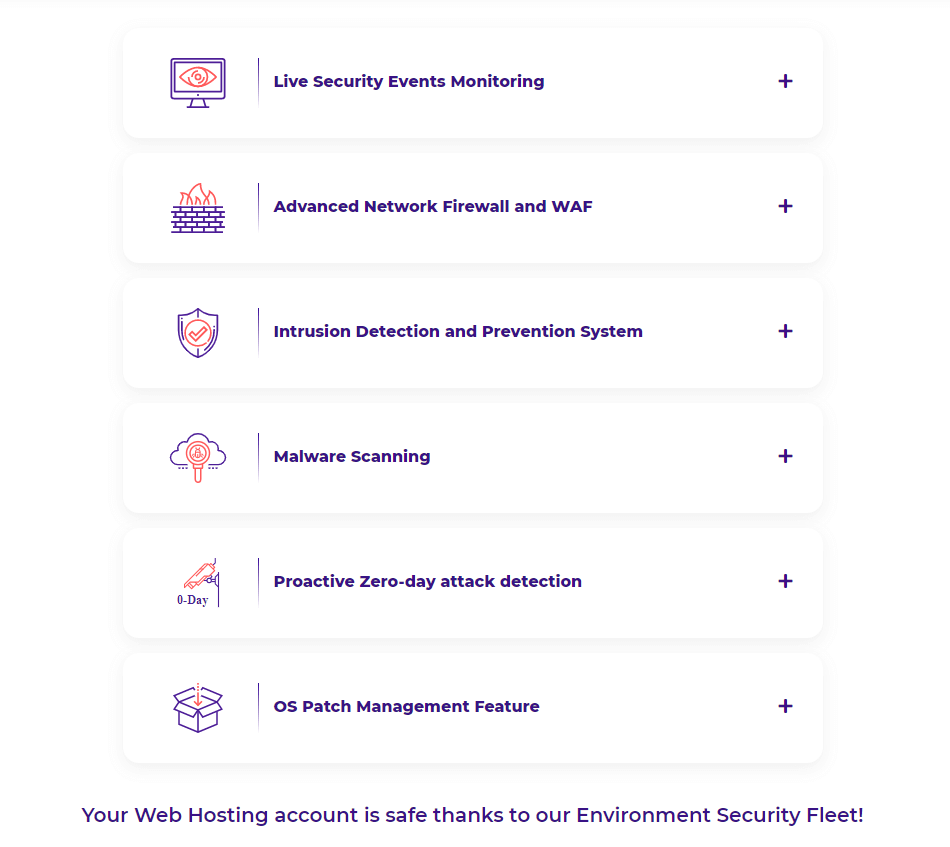 HostArmada acknowledged this fact by integrating a 360-degree software network that proactively prevents malicious threads around the clock. Here is an overview of all the security features their servers offer:
Up-to-date software and services
mod_security2 with custom-tailored rules, updated daily
cpHULK Brute-Force protection
IP based FireWall which stops malicious attacks in the tracks
Cloudflare integration for DDOS and bot protection
Intelligent, self-learning Malware Scanner
Trustworthy backup systems which generate daily snapshots of your hosting account
Free SSL certificates for all domains on HostArmada's servers
Account isolation & cageFS from CloudLinux (Shared Hosting Servers)
WAF & Machine-Learning Rules, regularly updated based on daily-discovered exploits
IPS/IDS systems that proactively block known attacks and log them
Bandwidth and connection control for malicious IP throttling
HTTP Header and Lenght checks
"Buffer overflow" exploit protection
Brute-Force protection for WordPress admin URL
Undoubtedly, the features mentioned above will give anyone the needed peace of mind regarding security.
Pricing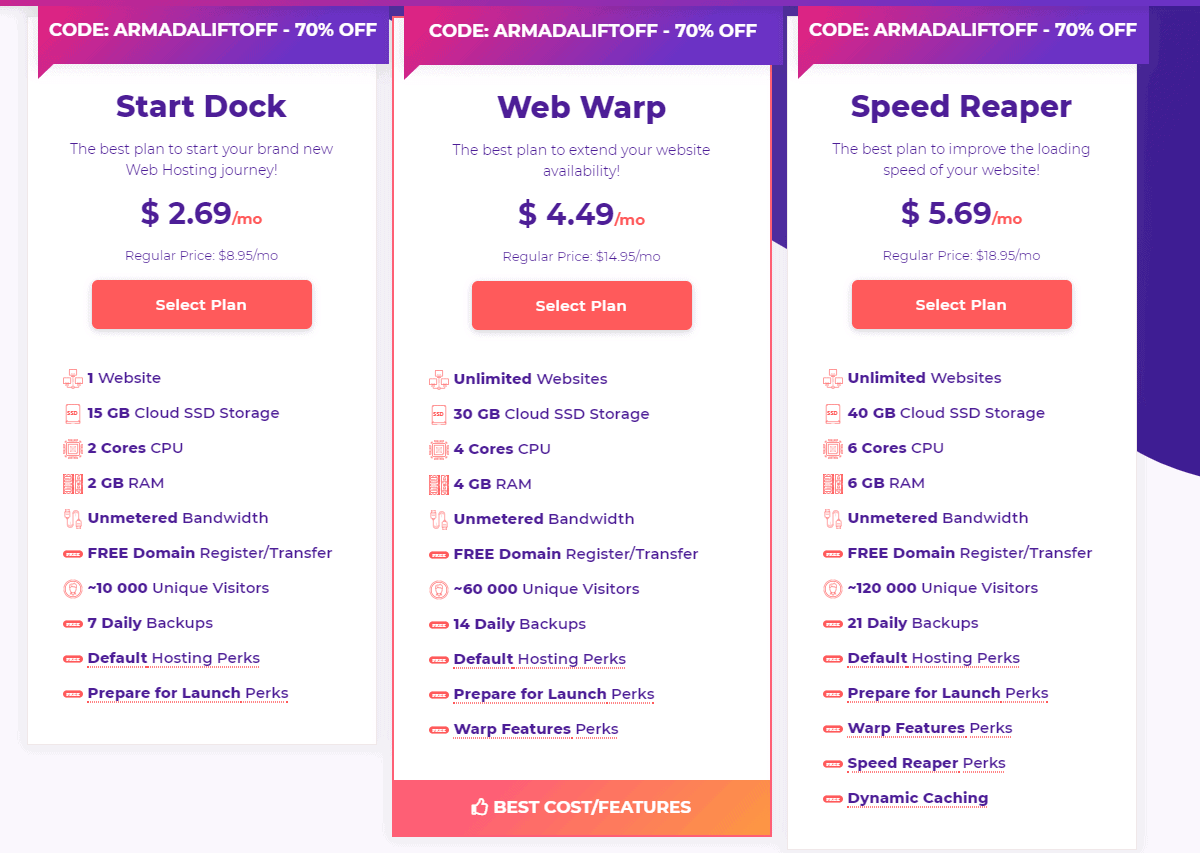 This part is where things get interesting. Incorporating vast numbers of security and speed features, people would generally assume that it comes at a hefty price. With HostArmada, this is not the case, since their plans start at the affordable price of $2.69 per month. Some may think that this is not real, or it is too good to be true, and we do not blame them as the feature list suggests otherwise. Let's go over their plans and their pricing so you can get a better idea:
Start Dock
This plan is a startup solution for small businesses or newcomers. Offering 15GB of SSD, a free domain name registration/transfer, and a free website transfer option, this plan will cover everything you need to launch your business. It starts at $2.69 per month.
Web Warp
This plan is an upgraded version of the Start Dock, able to host unlimited domain names. It offers 30GB of SSD, and you should consider it for small to medium-sized sites. It includes a free domain registration/transfer and up to 3 free website migrations. It starts at $4.49 per month.
Speed Reaper
This package is the premium service they offer able to host unlimited domain names. It provides 40G of SSD storage and triples the Start Dock plan (CPU and RAM). The server where these types of packages are deployed is also more potent than the Start Dock and Web Warp servers, and there are fewer people hosted there as well. This premium plan also utilizes LiteSpeed webserver and a wide variety of LSCache plugins that greatly enhance your website's speed and increases the traffic volume it can support. It starts at $5.69 per month.
Technical Support
When it comes to technical support, HostArmada made no compromise. The vast experience of their technical team enabled HostArmada to be very knowledgeable and fast when solving any technical requests of any caliber. The team has transferred thousands of websites, and each site is seamlessly, carefully, and professionally done with no downtime or data loss. The team also offers free application, plugin, and theme installation for their customers and offer insight for website optimization.

The support team is available over phone, chat, and ticket 24/7/365. The chat and phone are used for minor technical issues that can be resolved quickly, while the ticketing area is where the complicated cases are being looked at by their senior team. The response time for chat and phone is instant, while the tickets have an average response time of 10 minutes.
Uptime & Money Back Guarantee
HostArmada promises a 99.9% uptime guarantee, which is an industry-standard and anything less than that would definitely reflect upon the great setup they have assembled.

They also offer a 45-days money-back guarantee, and if you are not happy with the provided service, you can cancel at any time without any cancellation fees or engaging contracts.
Summary
Let's summarize all the benefits you will receive when you sign up with HostArmada:
Free comprehensive tutorials for open-source applications, cPanel, WHM, email, and a rich knowledgebase
Free cPanel account on every plan
Nine data center locations around the globe
Free one-click installation tool
Free CDN integration
Option to choose between Nginx or LiteSpeed – two of the most prominent HTTP accelerators on the internet
Free website transfer
Free SSL certificates for all domains on the server
Free domain name registration/transfer
Free application installation, as long as it is compatible with the server environment
Free theme/plugin/module update service
Free daily backups
Free malware scanner
Free 24/7/365 premium technical support over live chat, phone, and ticket
Forty-five days money-back guarantee – no engaging contracts and no questions asked!
Pure SSD cloud-based servers tunned for performance & security
Many plans that fit the need of every type of client – large business owners or small startup company – HostArmada has your back
Final Words
HostAramada is a wholesome web hosting provider, seemingly incorporating everything needed to host a website. Whether you are just starting a new project or have an existing website you want to find a new home for, HostArmada is a solid pick. With the 45 days money-back period, there is no reason you can't give them a try and see for yourself if they are the correct choice for you.