Promoting your products and services via e-mail is an important part of your work. That is why you need good e-mail content and subject lines to draw the attention of the email recipient. If you're promoting your llc delaware, email marketing has to be a part of that.

E-mail recipients often report e-mail as spam based on only the subject line. On top of that, a good subject line leads to increased chances of the recipients opening the e-mail.
In a nutshell, good subject lines can boost your e-mail marketing campaign performance. So, if you are a digital marketer or business owner, you have to pay attention to this issue.
The best possible way to perfect your e-mail subject lines is to use proper tester tools. There are many of them on the market, but not every tool is effective enough. So, we did some research and found the best ones that will present to you in this article.
SimilarMail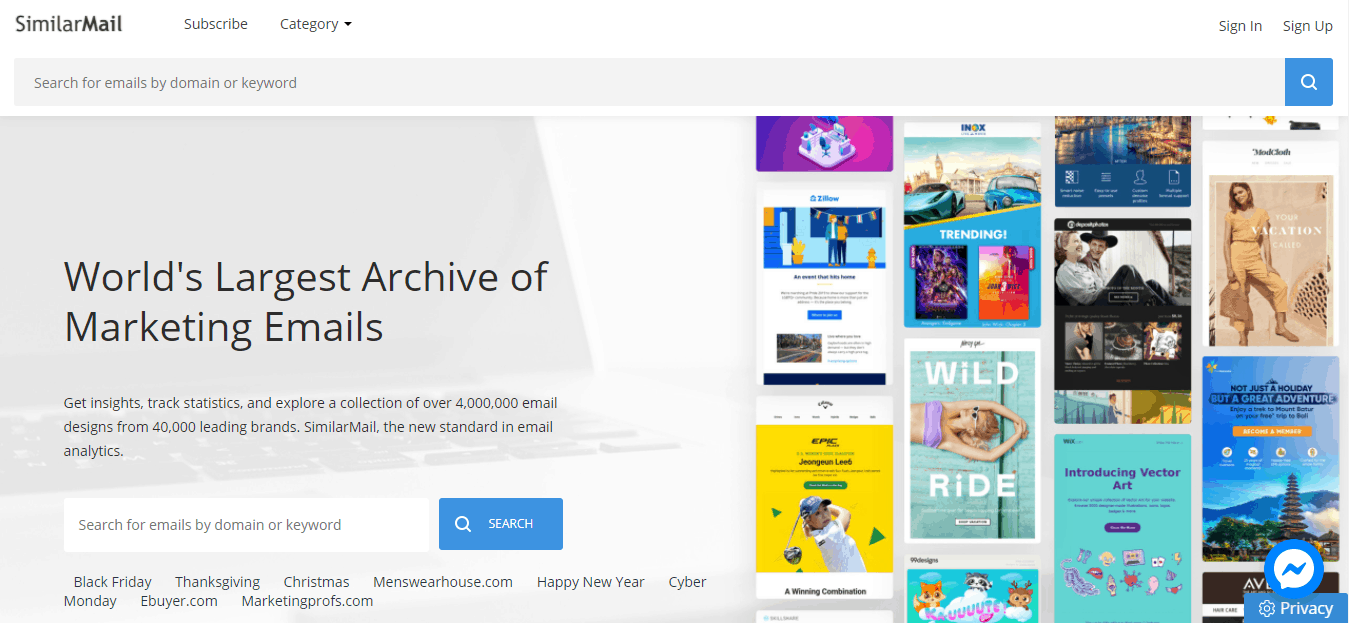 This tester tool is a true beauty. It was professionally developed and can do wonders when it comes to subject line testing.
SimilarMail will help you organize, plan, and boost the performance of your email marketing campaigns. Plus, it will give you access to the largest archive of e-mails. 
Thanks to this tool, you will quickly gain additional knowledge of current trends in the industry, find inspiration, and learn from others. You will also be able to access newsletter archives of major brands, thus giving you ideas on how to create beautiful e-mails and increase engagement with your marketing material.
With this tool, you can also lookup trending topics in every major industry as well as receive useful insights and statistics. You can then use that to increase open rates, click-through rates, conversion rates, and improve customer experience.
All in all, SimilarMail is truly a great professional tool representing a champion in this industry.
CoSchedul
e
This is another amazing and useful e-mail subject line tester, perfect for creating "Click-Worthy Subject Lines".
This tool provides many functions and helps you drive your e-mail open rate, clicks, and conversions up. Thanks to this tool, you will be able to capitalize on your subject lines by customizing them to be more related to the content inside your e-mail.
You can also optimize the character and word count for increased open rates, which means that your subject lines will be readable and noticeable since they have the right amount of words and characters.
On the CoSchedule website, you can find many customer stories that will give you an idea of what to do next with your marketing strategy. This tool also offers many guides, pieces of advice, and resources that help you improve your marketing efforts further. 
TestSubject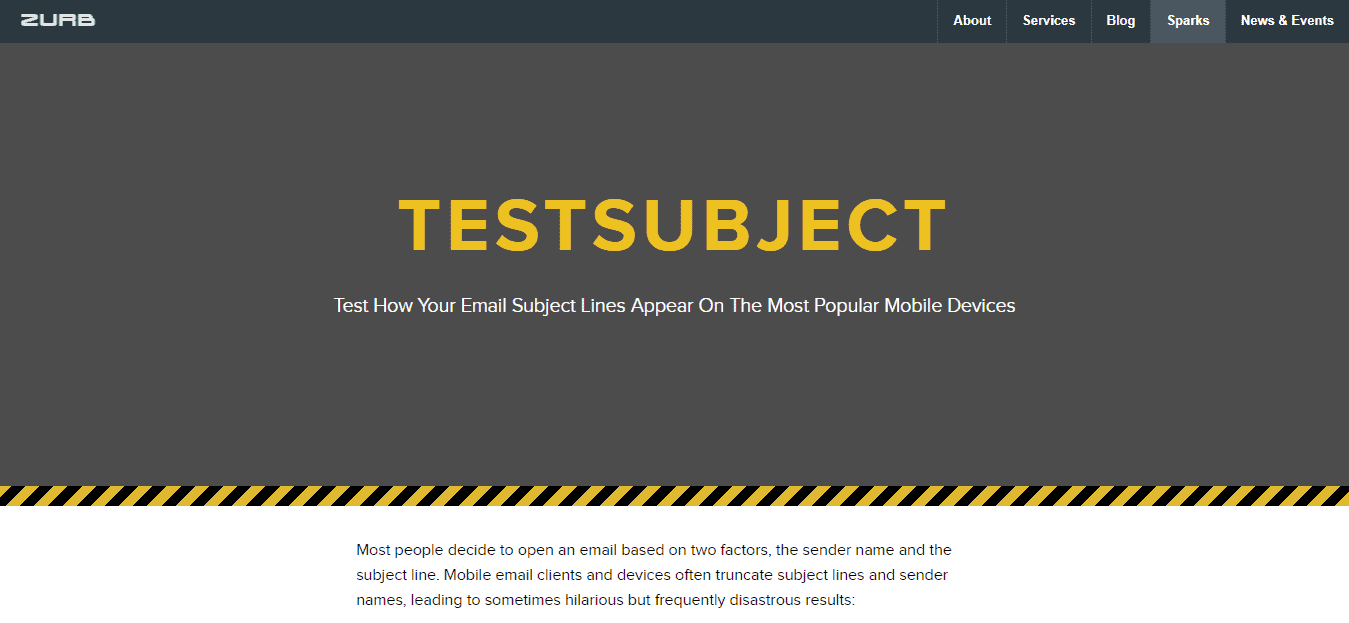 This tool is specifically designed to test your e-mail subject line's appearance on the most popular mobile devices in the world. This is a very important aspect of every marketing campaign nowadays, as more and more users open emails and other marketing material on mobile devices.
So, if you don't have email subject lines and content suitable for mobile devices, then you could be in big trouble. Thankfully, TestSubject is here to save the day.
Using this tool, you will quickly find out how your subject lines, as well as the sender name and other details, look on mobile devices. You will get a better idea of how to improve them and your email design so that they become eye-catching on every mobile device. 
Mizy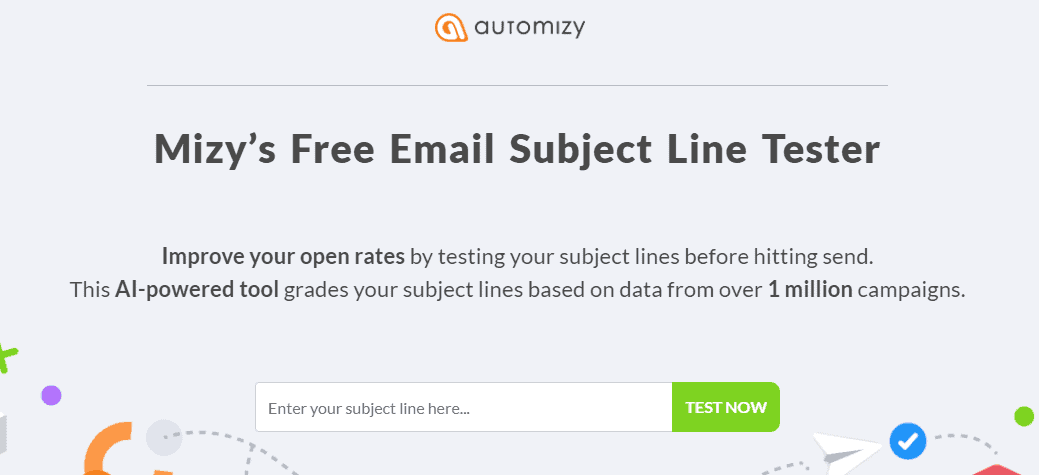 Mizy is a functional and effective tool powered by the popular and highly-praised AI from Automizy. Mizy uses this AI and its deep learning ability to help users find the best possible e-mail subject line.
This tool can access a large database of e-mails and check their open and click-through rates.
Unlike some other tools, Mizy doesn't decide your email subject line score by simply relying on benchmarks and old case studies. Instead, it gives you actual feedback based on the real results of previous successful email marketing campaigns.
Once you start using this tool, you can count on more subscribers, a higher conversion rate, and higher revenue.
Email Subject Line Tester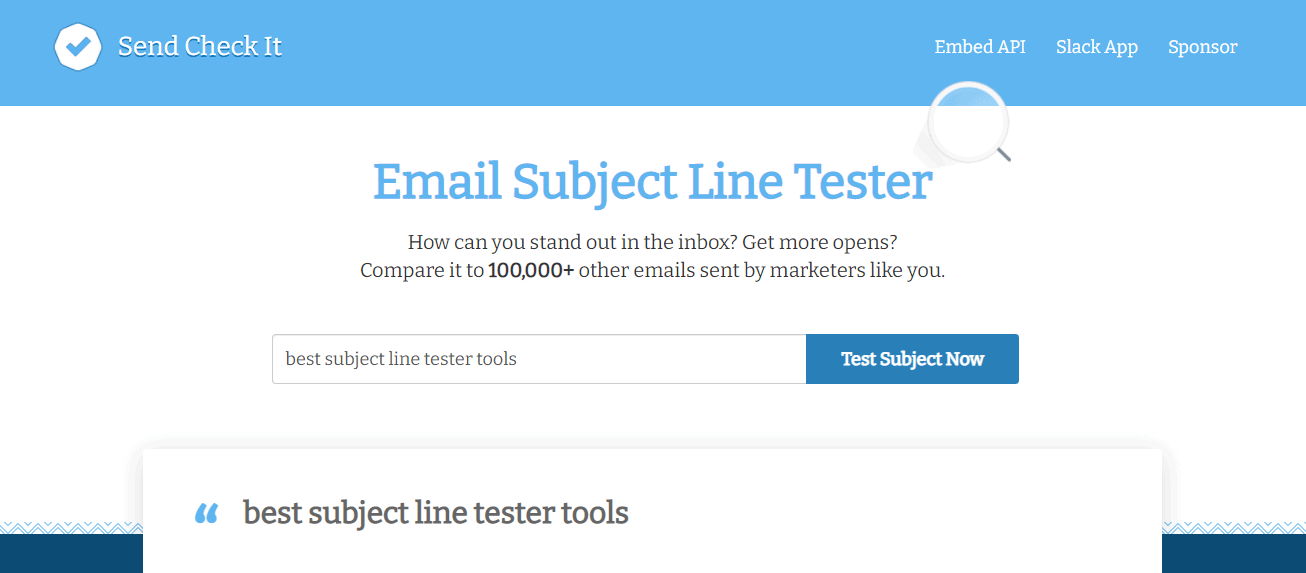 Email Subject Line Tester has one main ability: to test your subject line using different principles in order to determine its general score.
By seeing a preview, you can easily find out how your subject line works in terms of readability, sentiment, and recognizability. You also get alerts about any potential spammy wording and suggestions on the word style you can use in order to improve your open rate.
In a nutshell, this is one simple, fun, and powerful tool that can help you make improvements to your e-mail subject lines.
Conclusion
Having email marketing campaigns with positive results is extremely important because it gives you various other opportunities. That is why, when creating them, you have to pay attention to every detail, especially to subject lines.
So make good use of the tester tools mentioned above since they can guide you in the right direction and help improve your marketing campaigns.