Good communication is the base of every relationship, no matter if it's a romantic, business, or friendly relationship. For business, it is important to always be in touch with your boss and colleagues.
To make that possible, you need a good communication channel. With it, collaboration inside a company should be a breeze – no matter the size or location of the team.
It is hard to have all the emails, spreadsheets, and files scattered around different platforms. That is a mess waiting for trouble to happen. It would be a lot simpler if there were tools using which you can have all your team members together in one place. But not only your team members but also files, photos, pieces of information, etc.
Well, there are platforms made just for that, where you can have everything in one place. No more messing around with a lot of apps in order to connect to the team. And for this article, we gathered the best cloud-based collaboration apps you might want to try out!
Chanty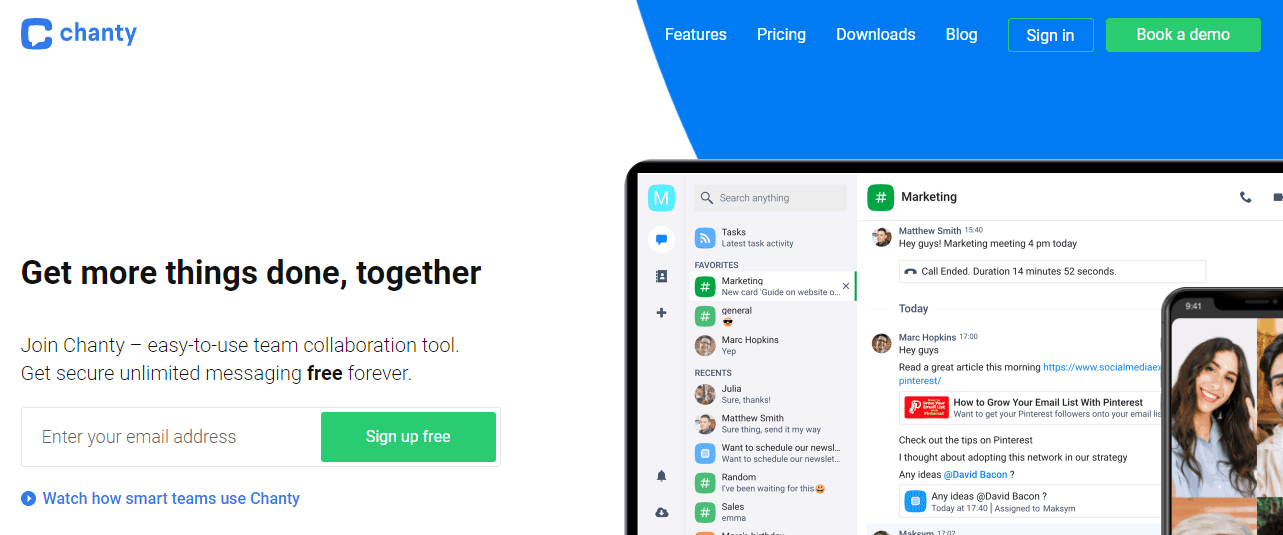 The first spot goes to the amazing Chanty – a team chats app that will help your team stay connected all the time! It helps you keep in touch with your teammates through the browser, desktop app, or a mobile device.
With this handsome devil, you can get in touch one-on-one or in a group, through video calls, voice calls, screen sharing, and voice clips!
You will save a ton of time, money, and frustration by providing this effective tool to you and your team. Collaboration is and always will be crucial for a project to succeed.
Chanty's Teambook hub stores everything you wish an app like this would, chats, links, contacts, and files. You will have everything in one place.
It is also integrated with Zapier, Trello, and Asana, making it very simple to track all the team projects you have.
Ever had a problem keeping up with a project? Chanty makes that a thing of the past. With this magical tool, you can convert a message to a task and assign it to the person you want. Also, you can add a due date so that they never miss the deadline.
The creators of Chanty also thought about notifications. You can easily decide from which channels you want your notifications to appear – from the groups or just the one-on-one conversations.
Silent settings are also available, you just set the time from when and to when you don't want notifications to pop up, and that's it! If you are on an important phone call and don't want to be bothered by notifications, just simply snooze them for a short period of time.
You may ask yourself, what happens when you have a guest member that needs to be involved in some chats but not all? You can easily add them only to those chats and specific Chanty features. 
Slack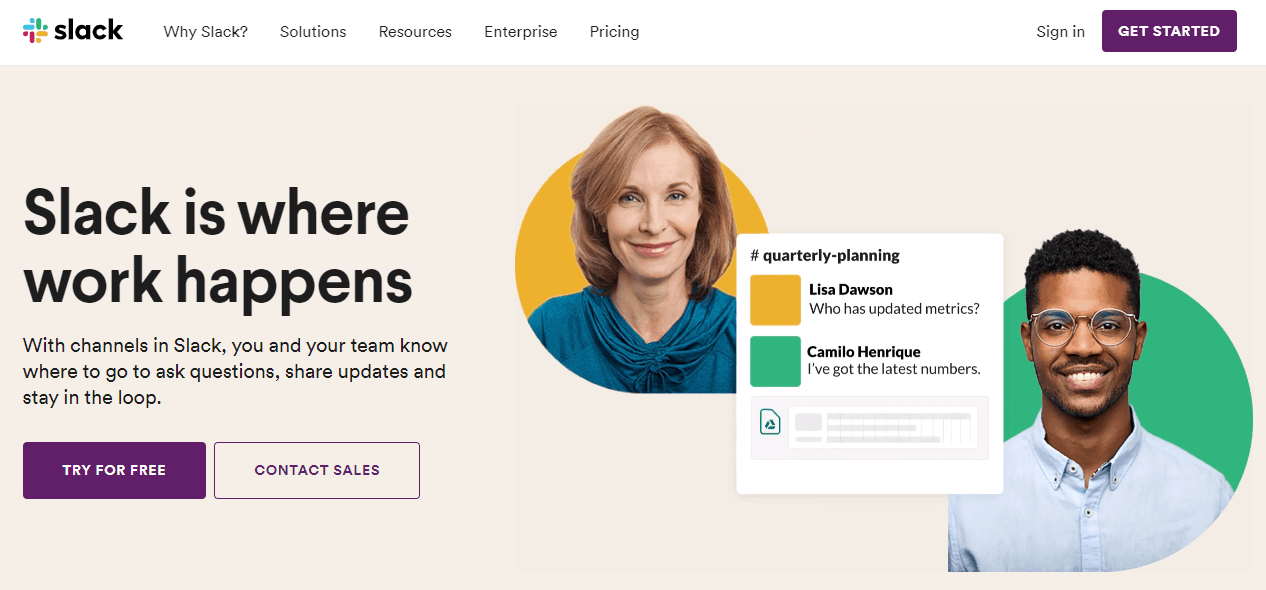 Now, it is time to introduce you to Slack. With this tool, you can follow up with everything related to your topics, projects, or your teammates.
You don't have to worry that if the project is done, or the team changes, that everything will be gone – slacks saves everything. It will be very easy for you to see all the history that you need at any given time. No need to track people down, ask unnecessary questions, and wait for someone to reply. Every piece of information is just one search away.
Just like with the last tool, using Slack, you can open specific channels for the people that are working from outside of the company. That way they will be in the loop with everything that you share!
Sometimes you need to discuss something with a college, but it is too long for a text on slack. Don't worry – you can video chat them and have a conversation face to face. This is very efficient when you have partners from all around the world. Just one click and you are on a video call.
Sharing a screen is also very important for some meetings – it's easier to show the scheme then to explain it. And Slack provides that as well!
Trello
The third app on our list is just as good as the first two, and it is called Trello. Using it, you can dive into details with Trello cards, add comments, attachments, and due dates. And it is not just for one person, but the whole team.
It has control over due date commands, calendar commands, rule-based triggers, custom cards, and board buttons. Nevertheless, it takes you a second to go from an idea to action with their very intuitive simple boards, lists, and cards.
You can edit lists with due dates, details, comments, members, and more, which will be very helpful to you and your team. Also, moving tasks from one list to another is a piece of cake!
And just as you probably expected, you can stay in Sync wherever you are and on whatever device you want.
Basecamp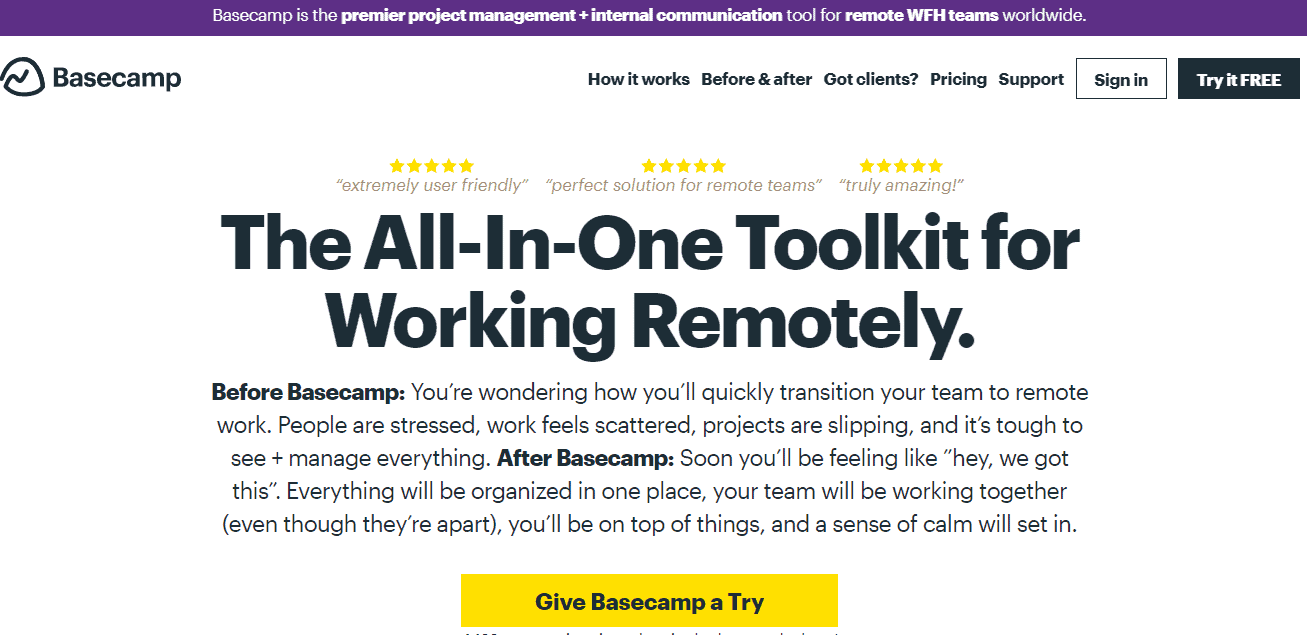 The fourth place on our list goes to Basecamp, a substitute for Smartsheet. With it, you can create a place for each project and involve anyone who is working on it. Nevertheless, you can use dedicated tools to discuss, plan work, ask questions, share files, and give status updates.
It is hard when all of your pieces of information are scattered in different emails, spreadsheets, and chats. But when you are using Basecamp, everything is in one place.
When are projects due, who is working on what, and where to put the new information? These are just a few things you can do on this platform. You can make a simple to-do list so that you can see what your team has done, and where they are at without nudging them every once in an awhile.
Not to forget, you can share doc files, spreadsheets, and images and arrange them into a folder so that it is easy to find them for everybody. Also, you have an option to create automatic check-ins, where you can ask recurring questions without bothering your team daily about it.
Flock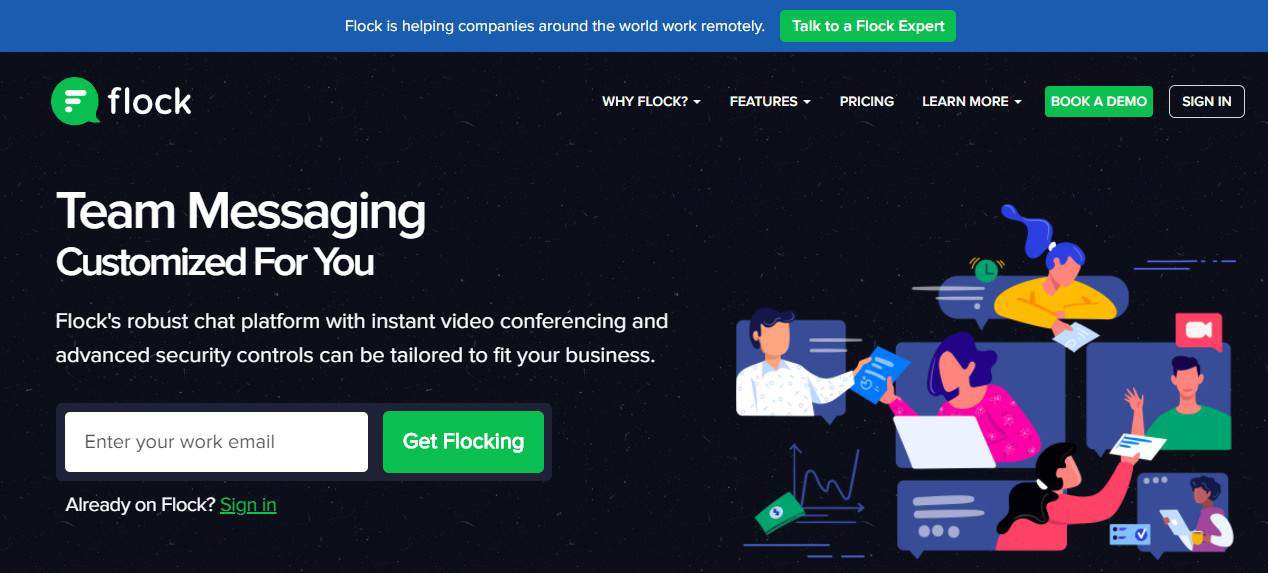 Now for the last tool on our list, we got – Flock. With this little helper, you can reach everyone in your company through customizable channels. And just like every other tool we mentioned, it also has everything in one place.
Integrating all of your favorite apps is as simple as it gets. Additionally, this app is available on all devices, making it very easy to access from wherever you are.
The option to start a conversation is right at your fingertips so that you can reach out to a team member very easily. You can create private channels or public channels – whatever you decide. Just know that private channels can't be discovered by others as public ones can.
Ignoring a conversation that is flooding with messages can be quickly done by simply using the mute button that is available. Also, right next to the mute button you have a video button so that you can jump on a video call in a heartbeat.
Adding files into a chat is possible using the drag and drop option. Just drag them from the folder on your computer and drop them into the chat.
Lastly, we should mention that teams can also vote on polls that are easy to create. Meaning that the whole team can decide with which option to go. No more scrolling through messages to see who voted for what.
Conclusion
Communication is the key to success, and that's why we should strive to find the greatest option for our business. Having everything in one place, all the team members, files, links, questions, and answers, is truly a blessing.
After you read this article, I hope that you find the right tool for your business. Every single tool mentioned will help your team work better, faster, and smarter!
The fan-favorite Chanty is a great alternative to many famous SaaS tools such as Slack and Trello. It will give you everything you ask for, and more. It is so simple and easy that your team will love it from the get-go. And there is no greater achievement than making your employees love the job they do.
Use it for your own benefit, and take your company to the next level.