When running an online store, it's usually considered a good business practice to allow your customers to purchase in their currency. That way, there are no pesky exchange rate problems that can come your way.
In addition, customers feel more comfortable purchasing because they don't have to worry about the merchant overcharging them for their purchases.
However, before everything, when you decide to develop a website, you should find an excellent hosting platform to use. By investing in a hosting platform, your customer will feel secure on your website.
WPMU DEV's all-in-one WordPress platform gives you everything you need to manage, update, optimize, secure, and host client sites – all under one roof. Get 20% off any of their plans here.
If you're an owner of an eCommerce store that runs using WooCommerce, you'll need a plugin for this. Fortunately, the options are plenty.
Today, we'll be talking about some of the best WooCommerce currency switcher plugins, so make sure to stick around.
Paid-for Plugins
Currency Switcher For WooCommerce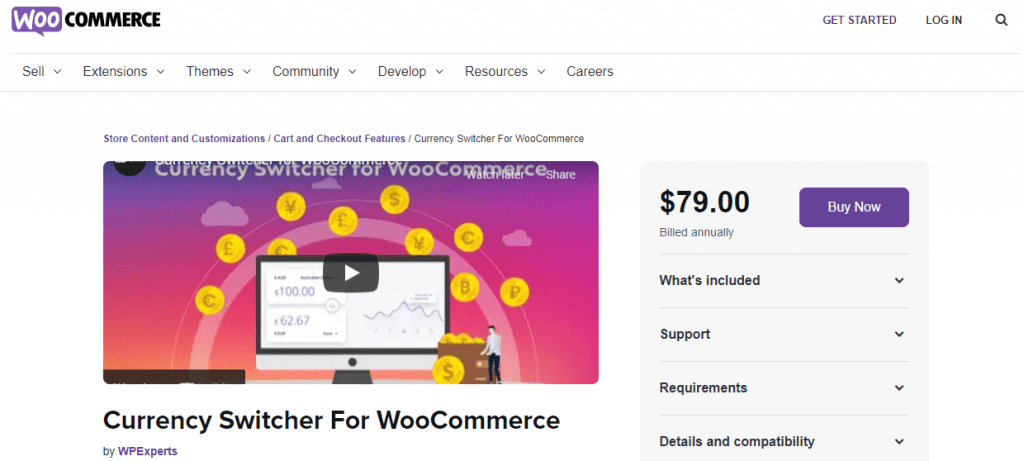 Currency Switcher For WooCommerce allows you to take your business to the global marketplace by offering a vast number of currencies.
This powerful WooCommerce extension works mostly automatically and will switch currencies based on the customer's preference, aka country. The currency will remain the same on the product pages, checkout, and cart thanks to its handy widget – every step of the purchasing journey is covered.
The conversion rates are regularly updated, so there's no way you can end up over-charging your customer, causing displeasure, or under-charging them and thus hurting your profit margin.
Currency Switcher For WooCommerce is a premium plugin, one of the more expensive ones. When billed annually, the cost is currently $79 per year.
Features:
on-screen currency switcher
disabling payment gateways based on currency
displaying country flags next to currency names
multiple pricing zones that are easily manageable
YayCuurency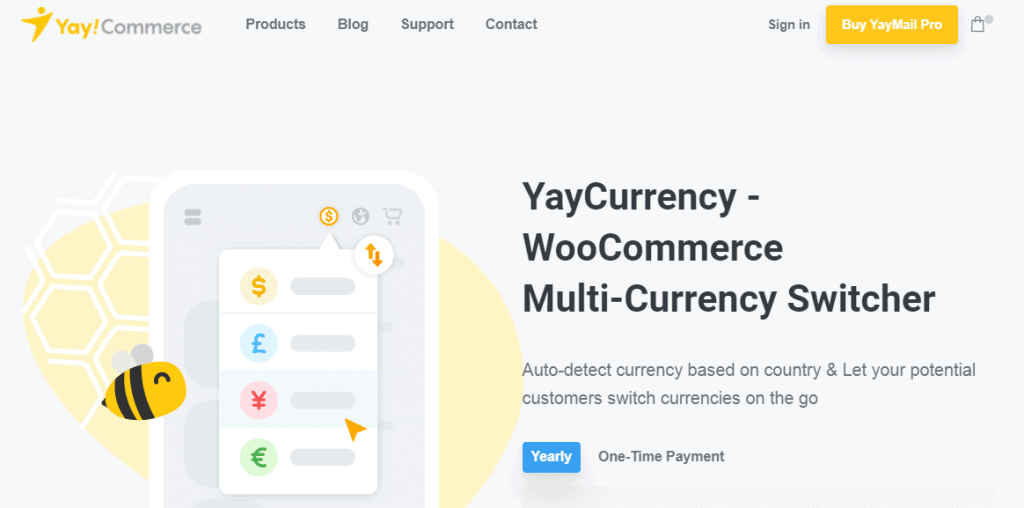 YayCurrency is a smart tool that uses geolocation and allows customers to purchase items in different currencies. It's beneficial if you have a fast-growing business or want to broaden your business horizons.
The entire tool kit was designed with simplicity in mind, but it is not short on features – on the contrary, it is jam-packed with them. One of the most compelling features of YayCurrency is the ability for each user to receive sales reports for each currency separately. You will be able to find this in similar tools.
Regarding how currencies are displayed, you can use a simple drag-and-drop system to change their order and prioritize the popular ones. When a buyer can find their desired currency quickly, it adds to the user experience and thus immediately boosts customer satisfaction.
The cost is determined by the number of sites you intend to use it. The annual fee for one site is $49, and the price for three sites is $99.
Features:
Customers can complete the checkout in the desired currency
Compatible with Stripe, Paypal, Woo Payments, etc
A free version is available on the WooCommerce plugin repository
You can apply it to the shipping
YITH Multi Currency Switcher
YITH is a company well-known in the eCommerce and WordPress world, and they have come up with some quality products – YITH Multi Currency Switcher For WooCommerce is no different.
This plugin enhances your eCommerce store's existing capabilities by allowing customers to pay in the currency of their choice. In addition to these basic functionalities, this handy helper also equips your store with real-time conversion rates of selected currencies.
Make your customers feel safer when shopping by showing them how much their money is worth and how much they're paying for their products.
In addition, just like the last plugin YITH also has a flagging system that makes the drop-down currency menu easier to navigate. The price on YITH's official website currently stands at $99.
Features:
enabling coupon codes based on regions, aka currencies
select the perfect place for it on the website to ensure it fits in aesthetically
Add shortcodes and customize them quickly
CBX Currency Converter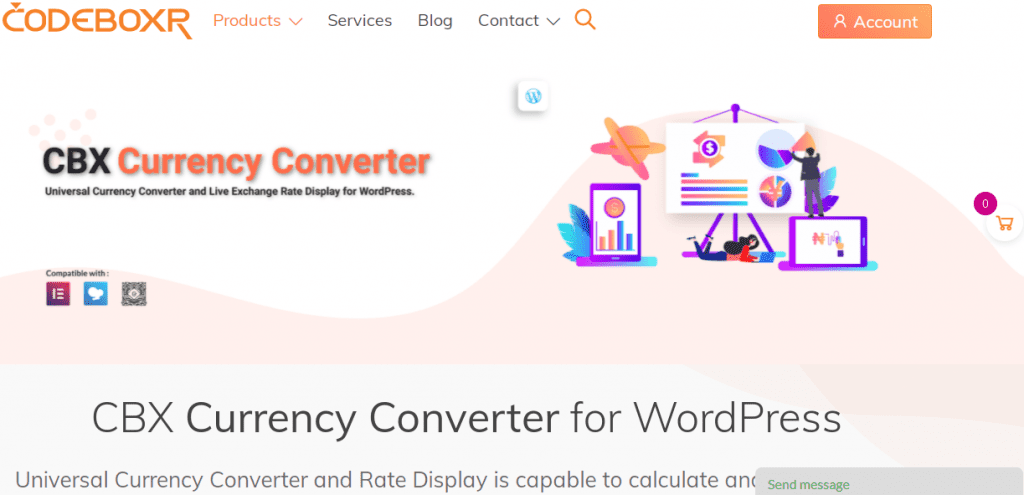 CBX Currency Converter for WordPress is going to be our last paid-for recommendation. This plugin gives customers a 24-hour accurate exchange rate of any currency they might prefer to purchase in.
Also, this is one of the most customizable plugins we're recommending today, so if you're all about aesthetics, we suggest you give this one a go.
It supports 94 currencies so far, and the developers plan to expand the offer in the future. And while its capabilities are a tad more limited when compared to our other recommendations, it's also much cheaper than most. The price of this plugin is $25 when billed annually.
Features:
Add a list of available currencies onto your pages
Select the layout and customize using shortcodes
Compatible with most popular WooCommerce plugins
Free Plugins
Most free options are somewhat limited, and you get exactly what you see. Some of our previous mentions have free versions, so feel free to take a look.
WOOCS – Currency Switcher for WooCommerce – The design is simple yet effective, offers over seven currencies, and allows users to finish the checkout in the currency of their choice.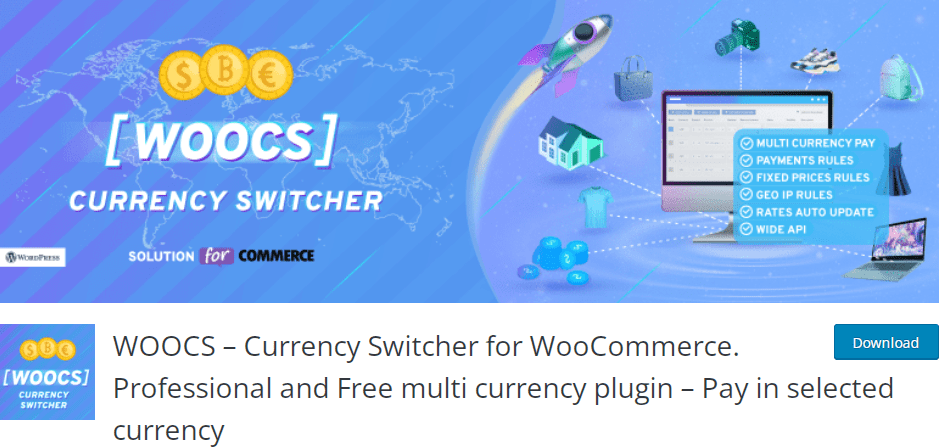 WPCS – WordPress Currency Switcher – Works with real-time rates, comes in a separate widget, optional decimals, and is easy to use.
Currency Switcher for WooCommerce – Offers automatic exchange updates. You can change the currency by language or geolocation; you can and don't have to revert to the original currency at checkout.
Final Thoughts
Choose any of the plugins we recommended today, and make your store a global marketplace. It will attract shoppers, make them feel more at ease, and thus automatically nudge them in the right direction – aka completing the purchase. There's no real reason not to include multiple currencies in your shop, especially when there are plenty of available free options.