When choosing the best web design software, the main thing that we pay attention to is functionality and purpose. There is no such tool out there that can offer you an all-in-one solution, but multiple software can help you. Take a look at different software and choose the one that suits you the best.
However, the middle of the year is always the perfect time to discover which web design software and editors are the best so far in 2021. That is why we did research and listed only the best ones for you. Ready? Let's see what these seven popular tools have to offer for beginners and skillful users.
Word Press
WordPress is a free and open-source CMS that started as a blog-publishing system released in 2003. Since then, it has developed to support other web content types and is undoubtedly one of the most popular CMS.
To give your website a professional look, consider utilizing website design for WordPress, which offers a plethora of themes, customization options, and plugins to enhance aesthetics and functionality. Selecting a high-quality theme, optimizing typography, and maintaining a consistent visual identity can help you achieve a polished and professional web presence.
With World Press, you can easily create your website. It will offer you a plugin and template system that will allow you to customize your website, online store, blog, or portfolio. You can even choose from 55.000+ plugins and 12.000+ themes. Amazing right? Also, WordPress has a block-based editor known as Gutenberg.
However, we consider that WordPress is for sure worth trying. It has countless features to offer and to make your life easier when it comes to page maintaining.
Adobe Dreamweaver

Adobe Dreamweaver CC is a web design tool, and IDE is used to develop and design websites offline. However, a powerful HTLM code editor is included that assists designers in writing code.
It is essential to mention that Dreamweaver is not for beginners. You should already be a web designer with excellent programming skills. Also, if you decide to use this tool, you need to download software with tools.
Wix

Wix is a cloud-based website builder and has a visual, drag and drop editor. It offers an App Market with a collection of around 300 apps and has approximately 500 themes to choose from which you can choose.
Also, we have to mention that Wix is a super user-friendly website builder. If you need a typical, helpful website for restaurants, photographers, and non-profits, this is just the right choice, but don't expect anything too spectacular.
When you use Wix to create your website, the main downfall is that you lose brand recognition and uniqueness. Because there are many other customers all using the same website templates, however, keep in mind that you are not a professional web designer, which is why you chose Wix.
Weebly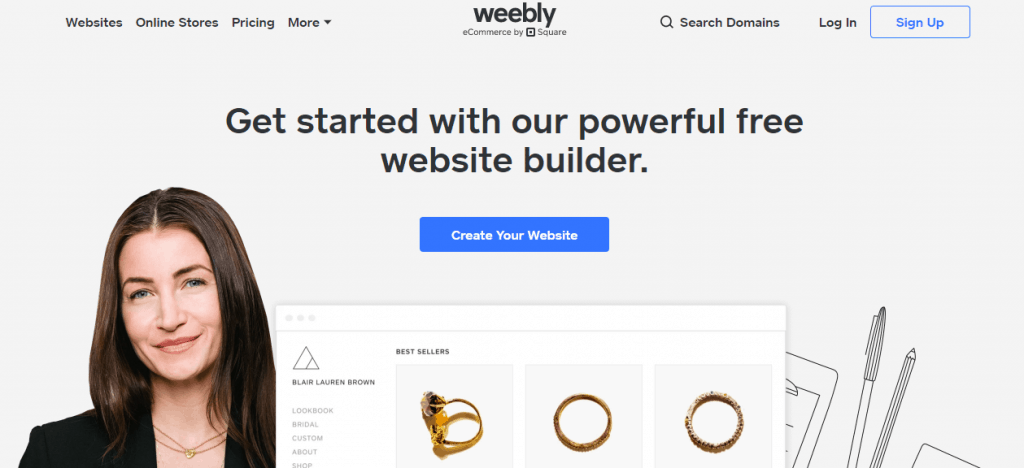 Weebly is a free online website creator. It has site builder elements that are drag and drop.
This website creator will offer 55 free templates and themes suitable for beginners who can't code. But, you won't be able to customize your site entirely. Weebly will enable you to add images easily, change text and add tools. However, most tools are available only within the paid plan.
Keep in mind that your theme limits you, and you can't use tools wherever you want. Also, when you create your website with Weebly, it doesn't offer you a preview of how it looks on smartphones or tablets.
This website creator offers you good customer support, it is effortless to use, but you have tight boundaries set by the chosen theme.
Webflow

Webflow is a web developer and is a SaaS application. It is known as an online editor platform that allows users to design and builds websites. It has complex nature, and it is not a good choice for beginners. If you like to use it for eCommerce, keep in mind that you have to pay high fees for Webflow plans.
Also, Webflow is very powerful and customizable. This web developer has a cluttered dashboard with features, tools, and design automation elements that can be confusing. However, it does not require any coding profanities to launch websites.
Webflow was launched to the market in 2012. It has grown in popularity, and mainly web designers use it, especially those web designers who would like to save time while working on client projects. Some designers consider it as cheating, but is it?
Bluefish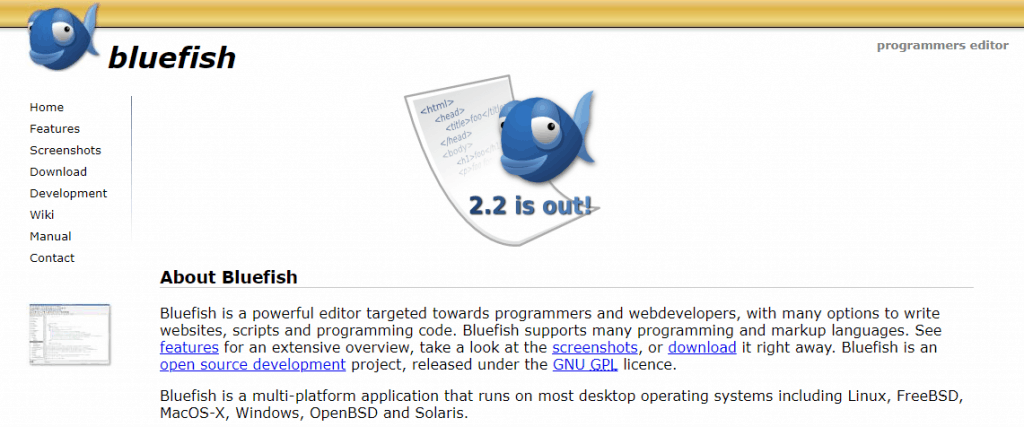 Bluefish is an advanced editor, and you can use it for programming and also website development. It's free software with a variety of tools and is available for many platforms.
Bluefish is supposed to be for programmers who know about writing HTML and CSS code. The main goal of this editor is to make coding easier for its users and reduce errors.
Also, Bluefish is an open-source text editor that supports a wide range of languages and multiple document interfaces. It also consists of powerful search tools, in-line checking and auto-recovery, and other features.
You can extend Bluefish via plugins and scripts, but they need a C plugin to interact with the main program since the Bluefish is written in C.
Bluefish is a code editor from the makers of the OpenOffice.
Visual Studio Code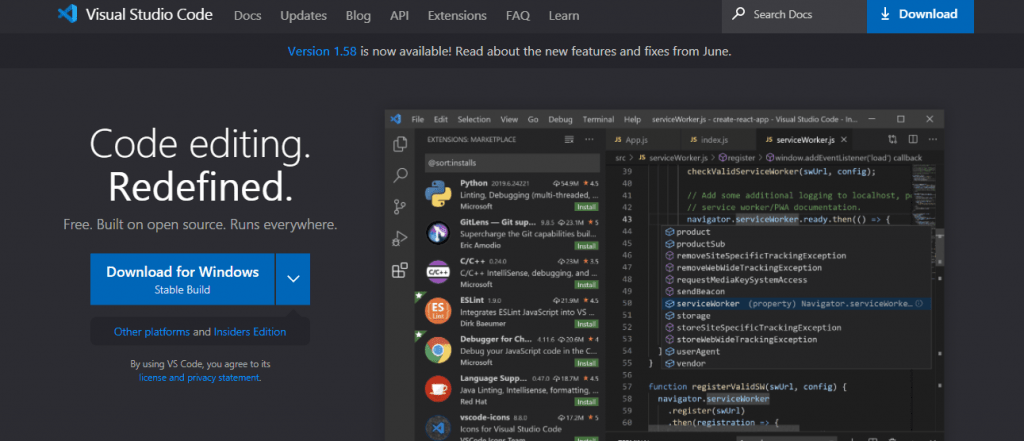 Visual Studio Code is a code editor with support for development operations like debugging, task running, and version control. It is a free edition build on open source.
It uses the least resources on your computer. Also, there is a possibility to do a majority of your development in this software. You can keep it simple or customize Visual Studio Code to suit your specific needs.
Visual Studio Code includes multiple extensions for FTP that will allow you to use this software as a free alternative for web development. Visual Studio will enable users to set a code page and within to archives documents and save them. Also, this allows it to be used on any platform and for any programming language.
Conclusion
In conclusion, what will you chose to use is up to you and your desires. Suppose you are a web designer with a deep knowledge of coding. In that case, you will probably prefer to make a web page with your unique features and unique signature, allowing you to be recognizable from a client and be chosen to create their web pages.
If you just started your own small business or blog or whatever, and you would like to be visible on the World Wide Web, then you can use some of the already made and easy-to-use free website creators.
But keep in mind that your webpage will be similar to a lot of web pages out there. If you would like to be recognizable in your business (which is your primary goal or why to start in the begging), maybe it's good to use real web developers and web designers and have from the start a unique and recognizable website.
So for the first part of the year, there are the best and most used web design software and editors. We can't wait until the end of 2021 to see all the upgrades and upgrade our list.