Infographics have become popular in the past ten years. If you are new to this term, you are probably wondering what even are infographics? The most effortless way to explain it is that infographics are a new innovative way to display information on any topic. Its purpose is to give you an easy-to-understand view of the topic you are covering. You can do that through pictures, charts, fun text, or any related methods.
They are supposed to be fun, eye-catching, but also easy to understand and remember. We use charts for many reasons, but the most significant one is that you can fit so much information in a single infographic. Readers prefer simple ways to gather as much information as possible, and no one likes going through long text.
No matter how complex the topic is, you can fit it all in a fun and innovative way inside of one infographic. You can also display survey results in the form of a chart, diagram, or anything similar. They have also been very popular due to their use in meaningful political and social activities, helping raise awareness on specific topics.
So basically, if you have something hard to describe using words, infographics are an excellent option for you. You can use them in almost any industry and by everyone, including marketing, small businesses, government, non-profit organizations, education, and many more.
However, it is crucial to mention, even tho they look like something simple to make, a lot of work goes into creating an infographic. When deciding on creating one, you should first make sure you know what you want to include in the outcome. Now we would like o present you with a few tools that can help you create your infographic easiest possible.
Adobe Spark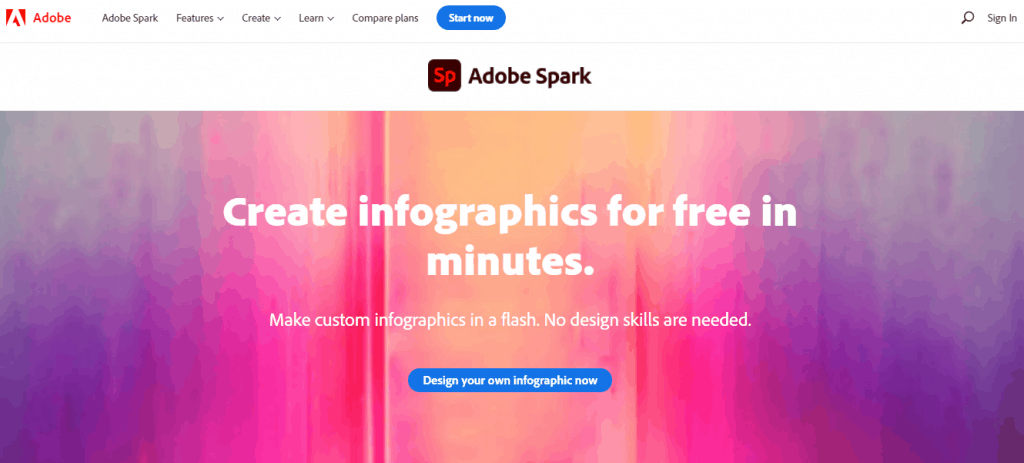 Adobe Spark is an excellent tool for creating infographics. People mainly use it to create infographics specifically for their social media accounts. It is effortless to use. Even if you do not have any experience creating infographics, it offers over 100,000 templates that you can use. Even though it is on the pricier side, they do provide a free basic plan. You can use it to create simple but great infographics.
If you decide on a specific template they offer, you can start by dropping some of your ideas into your infographics. Since it has a drag and drops function, making it easy for you to add any details to your design. Its only negative aspect is that the best templates are not available in the free plan, and the other plans start from $100/year and up.
Canva
Canva is one more fantastic tool to create infographics with. It is an online tool that can help you get artistic and create almost any infographic, brochure, presentation, or things similar. It has an extensive library of all kinds of fonts, images, icons that you can use to best present your ideas.
It also has a unique infographic maker. It also does offer a free version next to all of its paid plans. With this tool, you get three types of programs that you can consider purchasing. The minor program is free; the second one costs $10/month, and the biggest one is $30/month.
Snappa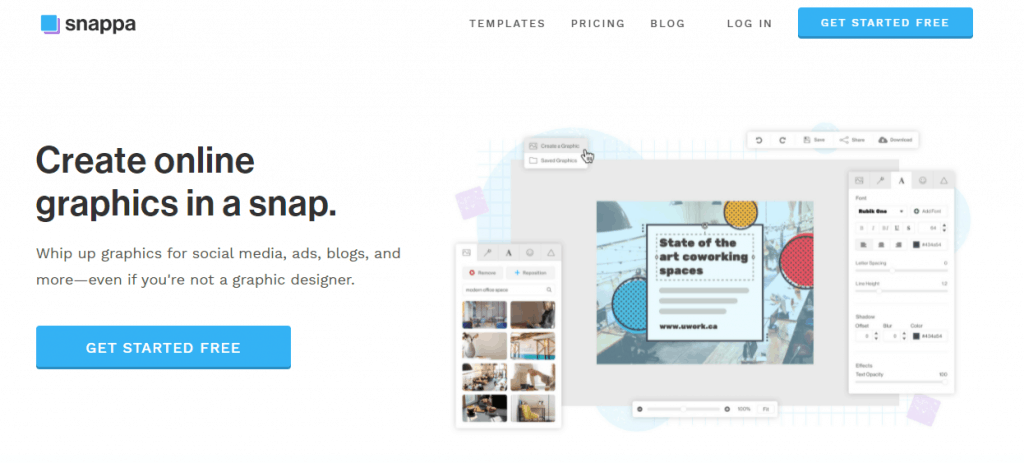 Snappa is another tool worth mentioning since it is the tool whose free plan offers the most features. It is user-friendly, and it gives you a massive gallery of amazing-looking pictures and great templates as well. It will surely bring you one step closer to creating an infographic that will amaze your audience and make them remember you.
However, if you are part of a business or company, you can easily include your logos in your infographics. You can even share them on your social media with a single click of a finger. They offer three plans, the first one being free. The second plan costs $10/month, and the most extensive plan costs $20/month. Each program is different from the other, mainly in the number of downloads you can do per month.
Piktochart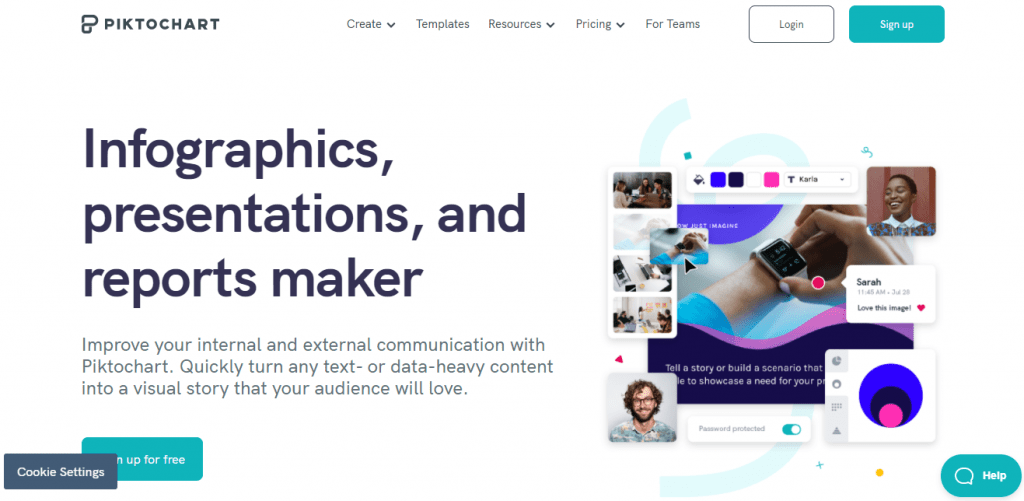 Piktochart is another incredible tool worth mentioning since it offers tons of customization options. They offer plenty of templates that you can use. However, after applying the template, you can change almost every aspect of your infographic. By customizing, it can present your thoughts and ideas in the best way possible.
This tool does offer a great free version, but its negative side is that they provide an annoying watermark onto your design and limit you to the number of visuals you can create. It takes the hard work of creating an infographic and allows you to do the fun stuff.
DesignCap
Now it would not be fair not to include a free tool in our today's article. However, DesignCap is not only for infographics. It offers a whole library of specific templates.
It offers tons of templates to use and contains some additional images, icons, or anything you might need to execute your best ideas. For example, some templates are explicitly made for logos, brochures, YouTube thumbnails, Instagram stories, and much more. You can check out all of the other information about this tool on their website given above.
Infogram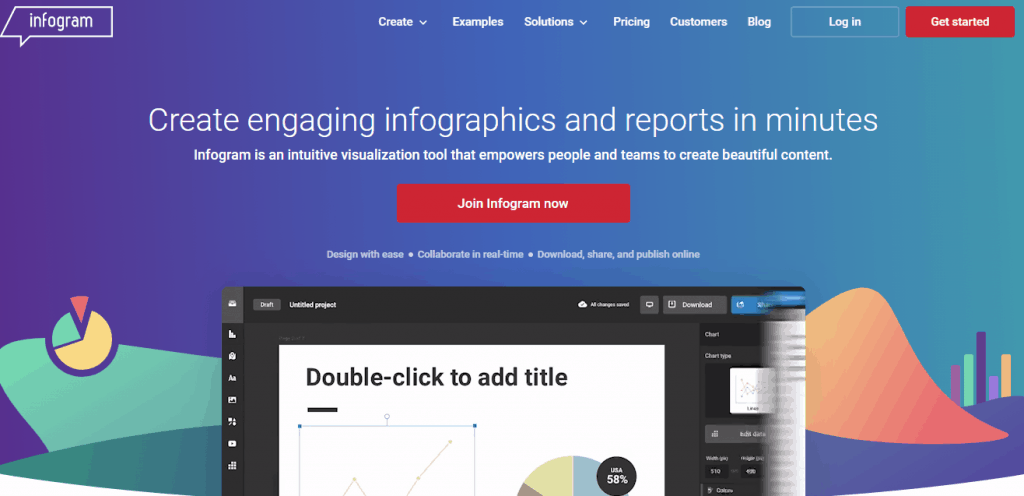 Infogram tool offers tons of graphs and charts that work best in presenting results, numbers, or percentages. You can also upload pictures, videos, stickers, or anything else you might need to best present your work.
Also, you can customize almost everything when it comes to your infographic. Once you are happy with it, you can share it on the Infogram or even export it to your social media accounts. They offer five price plans going from free to $149/month. The Enterprise plan does not have a defined price.
Conclusion
As already mentioned, creating infographics may seem like an easy task, but it asks for a lot of work. Above, you had a chance to read about some of the best tools available to offer you top-quality infographics.
We hope this article has helped you gain an insight into infographics, what they are, what we can use them for. We highly recommend considering trying out one of the tools we have given you. They are all super simple to use, and you will have no problem finding your way around them all.