Here is a short story that can sum up the professional development of many fitness experts. You learn and become a fitness expert. You gain a small but loyal following. You want to expand your audience. Your social media don't support all your ideas… And this is where you either give up or WordPress sweeps in to save the day.
Of course, you're the one who'll have to get down to work and go through with building your blog or website, but building your website without a platform as simple as WP would be much more painful.
Once you start, one of the major choices you'll face will be the one regarding the theme for your webspace. Functionality is among the major qualities to look for, and we tried to narrow down your search to the several best themes for fitness blogs.
GymEdge
This theme is one of the robust but flexible ones. It is also well-supported, so you won't have to worry about any unexpected bugs.
The aesthetics and functions make GymEdge perfect for gym fitness and yoga topics, as well as for personal trainers.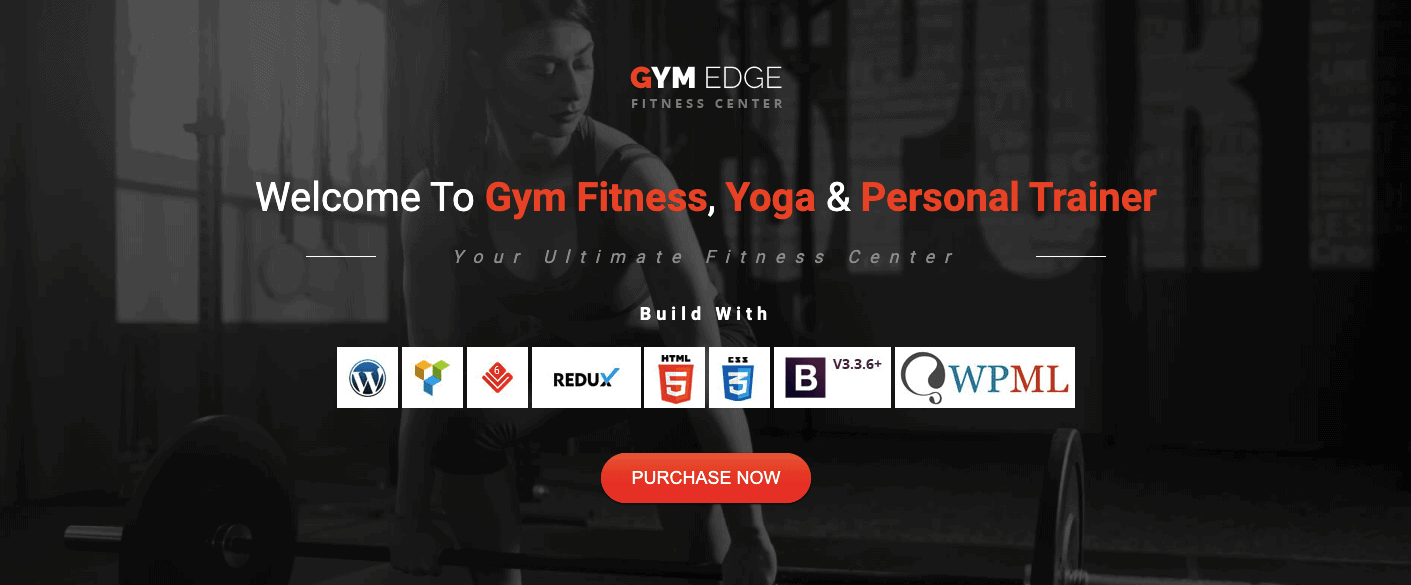 It has ten available homepage layouts, which is a solid choice. Other flexible options include over 800 Google fonts (wow!) and an unlimited selection of colors.
The bundle also includes several highly functional plugins. Among them you will find Visual Composer drag-and-drop page builder, as well as Layer Slider 6. These two will make your blog building process a child's play, and the end result beautiful. Additionally, you'll be able to add a range of useful elements such as schedule of classes, BMI calculator, and sale pages.
TopFit
This is a responsive and customizable theme perfect for personal trainers or fitness instructors looking to set up their website or blog space.
TopFit comes with six different homepage layouts and makes it simple for you to feature different visuals.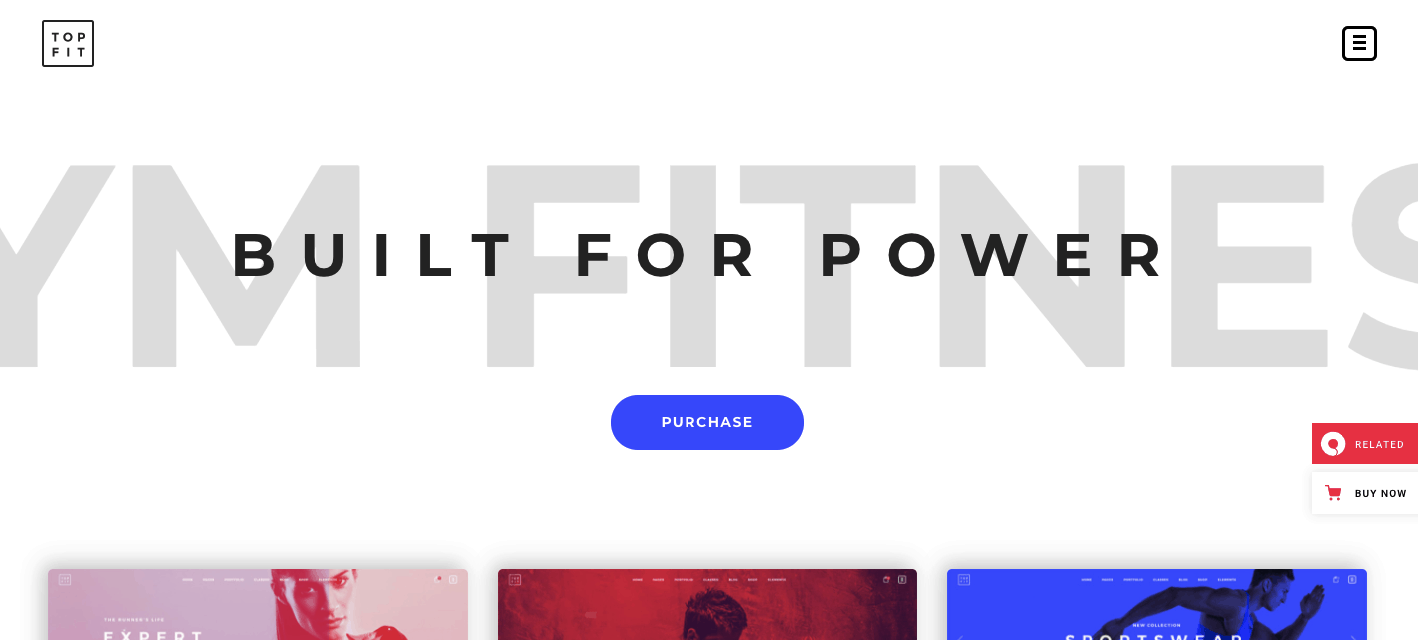 Also, it offers several distinct image viewing and display solutions, such as video or parallax backgrounds, as well as image zooms. If you want to add some dynamics, there is also the content animation feature, while custom widgets can help you in content organization.
Fitness-specific features include BMI calculator and timetable responsive schedule plugin which allows you to create both schedules and single pages about events. This theme includes a drag-and-drop interface that makes it simple and easy for anyone to use it and create an attractive fitness blog.
FitnessClub
This is another amazing theme that is maintained by an incredibly dedicated team. Their customer support team is reliable and replies to the customers' messages quickly and thoroughly, which is important, especially if you are a WP novice.
FitnessClub is an adjustable and responsive theme that is also retina ready and compatible with all screen sizes and browsers. It is great for fitness and yoga websites, as well as health and dance-related topics.
There is a selection of templates and demos which will speed up your blog creation process. In addition, you can choose among different header layouts and conduct all changes and tweaks through the intuitive WP customizer. Handy additions also include calendar, trainer profiles, and numerous plugins and widgets that will make your blog interactive and interesting to the visitors.
Powerlift
Powerlift is a WP theme perfect for gyms and fitness clubs, but its customization options and extensive admin interface make it great for all other variations on the topic of fitness.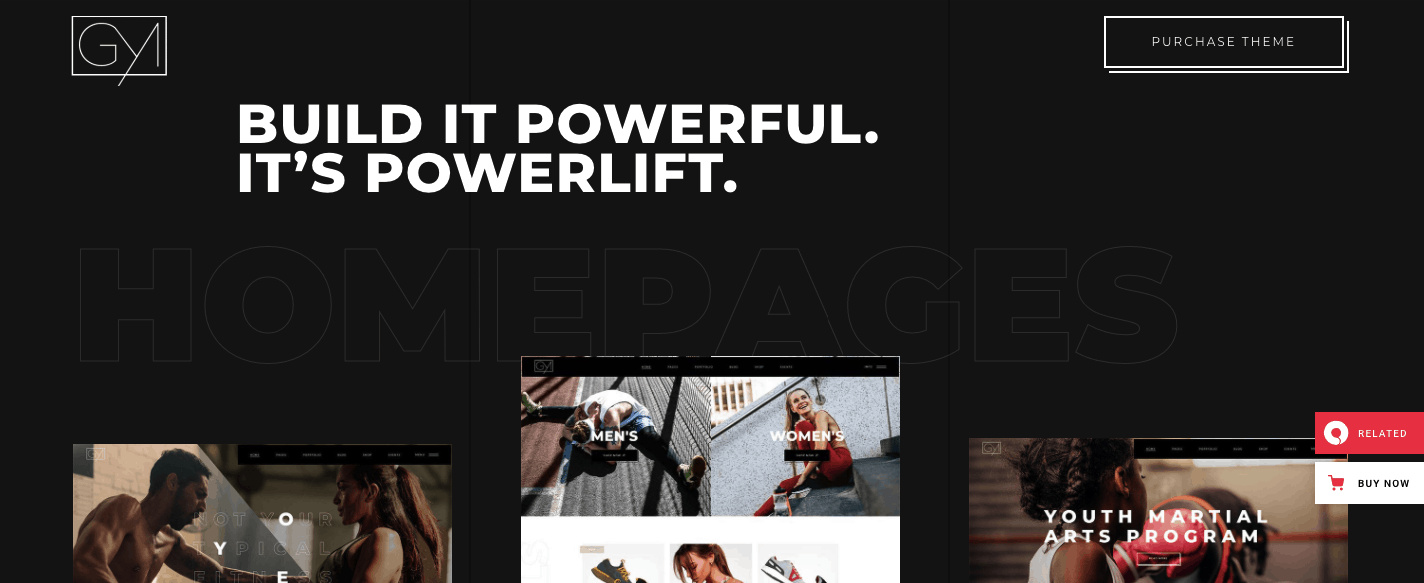 There are seven homepage layouts you will be able to choose from in case you opt for this theme. The default visuals are characterized by strong angles and a selection of dark backgrounds. These features are primarily there to accentuate your content, but also because they are compatible with the mainstream fitness aesthetics. Moreover, WPBakery and Slider Revolution integrations are a part of the bundle and will make your blog set-up much easier and quicker.
Out of the features narrowly linked to fitness, Powerlift offers a BMI calculator, along with an adjustable schedule as well as e-commerce functionality.
FitnessZone
Here is a theme that will work great for a fitness center or a sports club, but just as well for a trainer's personal portfolio.
FitnessZone comes with five ready homepage layouts and twelve color schemes. Another available integration is the Page Builder plugin equipped with a user-friendly drag-and-drop interface. On top of this, it supports plugins such as WooCommerce, bbPress, WPML, and Timetable.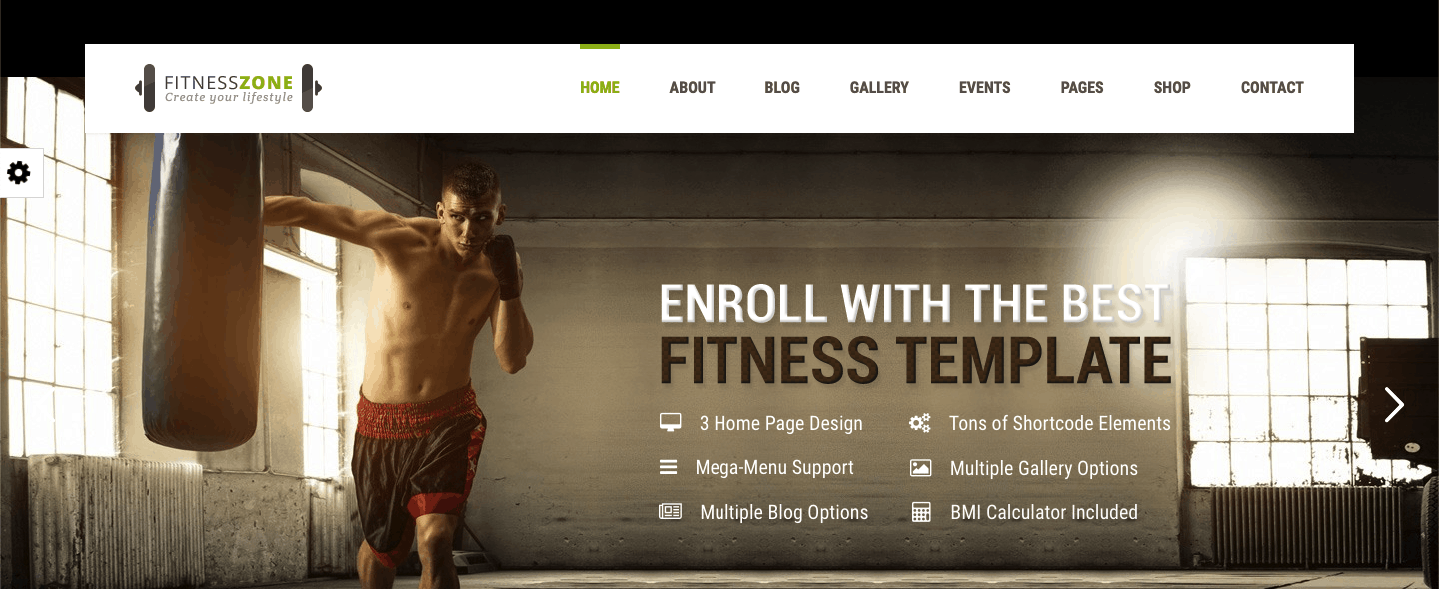 There is plenty of features that will make your fitness blog or website look polished and professional. Among the more prominent ones, there are user profiles, registration forms, and discussion boards. However, the most interesting feature is the Workouts detail page which enables you to efficiently showcase a workout routine and make it easy for your followers to grasp it.
All in all, this responsive theme will make a great choice if your focus is fitness.
Prowess
Prowess includes nine pre-made homepage layouts which can easily be customized through WPBakery Page Builder plugin according to your needs. It is great for blogs from any fitness niche thanks to its adaptability and an array of features.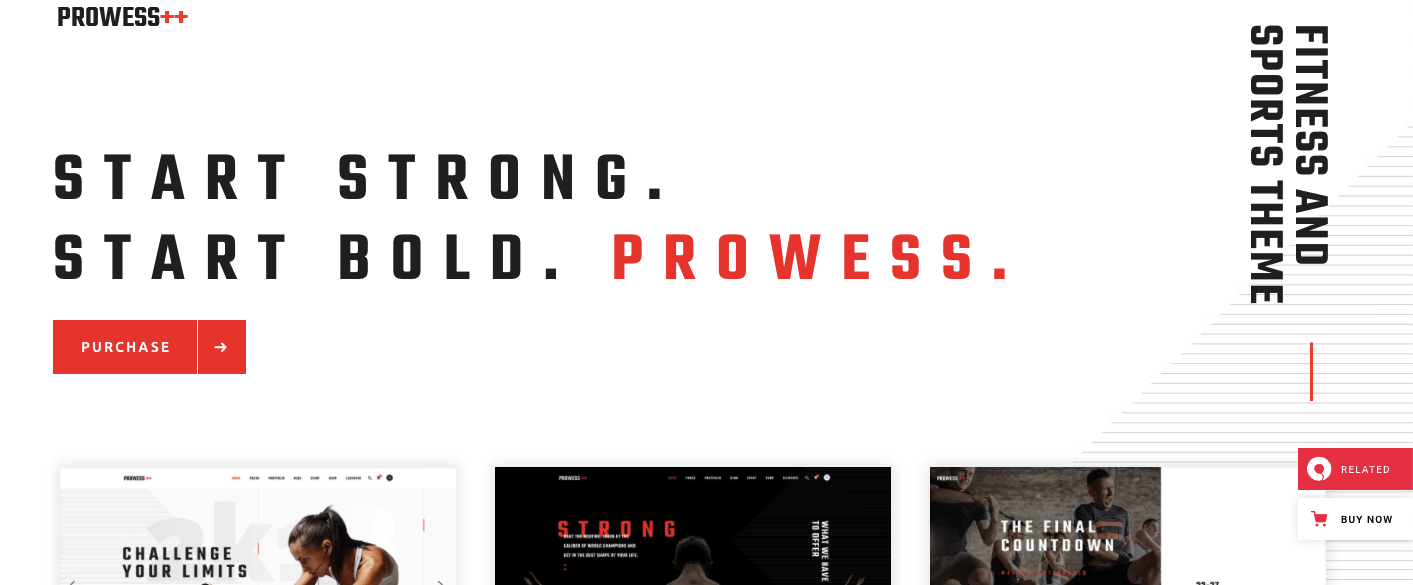 In case you are an individual trainer or a teacher, you will be delighted by the selection of portfolio templates. If you are planning to expand your reach and present your work to the audience outside of English-speaking areas, WPML plugin will be hugely useful. Any schedule will be effectively facilitated via the Timetable Responsive Schedule plugin. On top of this, Prowess also enables you to successfully manage some of the aspects of SEO.
In general, it is a smooth and yet comprehensive theme great for a fitness-related blog.
Fitness Gym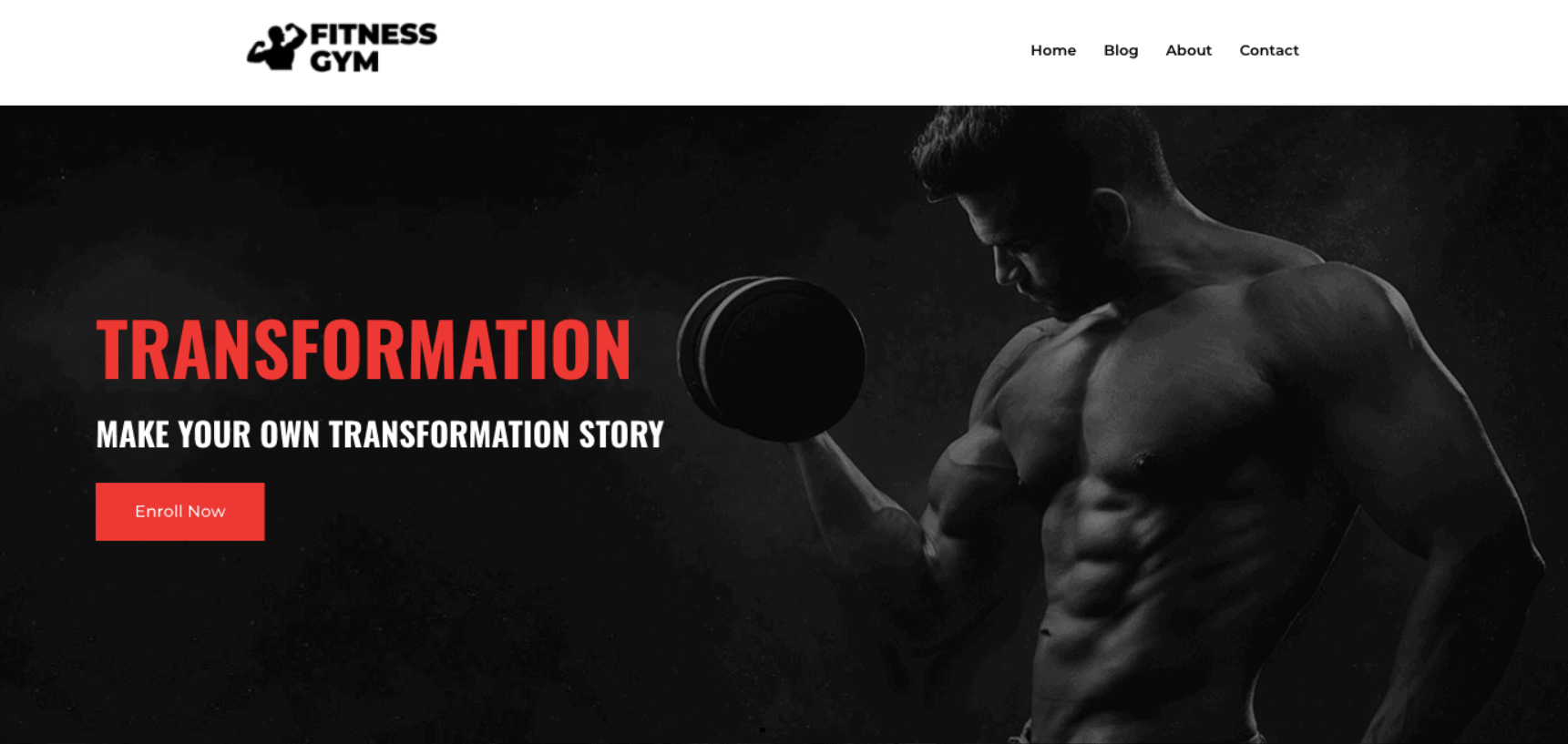 This is Responsive Fitness WordPress Theme by CyberChimps. If you are someone who is from the fitness industry and wanting to build a healthy website this is for you. With this WordPress template you need not work hard for a great design. This ready template does all the heavy lifting for you. It helps you create a fast performing business website with a clean design.

With this template your website gets a contact us page for enquiries about your gymnasium or fitness centre. You can also add  and publish articles on various topics in the blog section of the website.

You may also add information about your fitness experts or trainers as shown below.

All in all, this template is a great option for your fitness business website. Simply download the template, add content to the ready pages and go live!
Top features
Fully Customizable
Fast Performance
GTMetrix Score 96
SEO and Mobile friendly
Great Design
No Coding Required
Conclusion
Fitness blogs or websites can be an exceptional way to reach a new audience and create a large followers base. This blog building process will require several important decisions, and the choice of the theme is one of those. We tried to help you by compiling a list of the themes with the best features and customization options. You can't go wrong with any of them. The rest is up to your specific needs and aesthetic affinities. Good luck!