SaaS businesses have become a global trend, especially in the past few years, with more and more people starting them. SaaS stands for "Software as a Service" meaning you can use a product that a company is offering if you subscribe to their services or use the product through their website.
Websites like WeTransfer are the perfect example of a Software as a Service business, where they offer you their service (in this case the service of transferring data) for free, but you can only use all the features if you subscribe. This method has proved to be very effective when it comes to promoting a business over the internet because your audience can test out your product or service and get the more advanced features only if they want to.
If you are offering a product or service over the internet this way, you need an appropriate theme to make your website really stand out. That is why there are so many options when it comes to WordPress themes for your SaaS business, and in this article, I will present the best ones. 
1. Apzo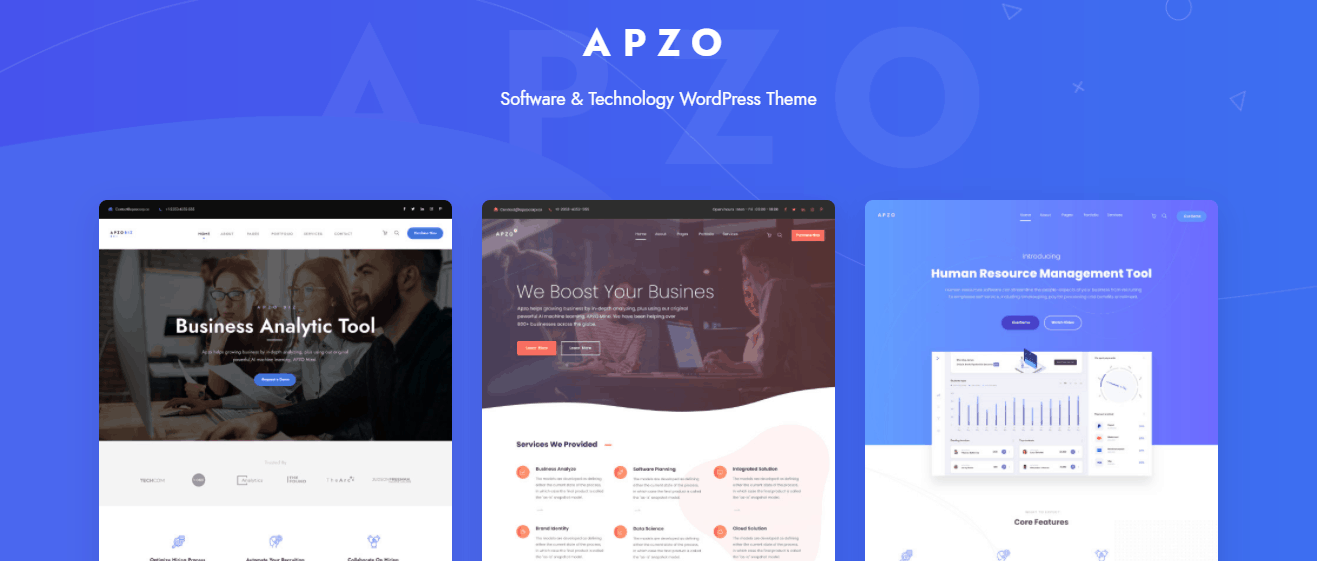 Apzo is a theme that has a feature that many other themes do not have. It has an installed page builder, as opposed to a third-party builder that many other themes have which are usually slow, unresponsive at times, and take up way too many resources.
Apzo also provides a lot of header options, so you can certainly find something suitable for your website. Plus, there is a color picker in the admin panel, so you can customize your site however you want. But if you do not feel that creative, there are a lot of pre-installed, well-made demos that were made by the GoodLayers team. Just load one up, and that is it!
One more great feature is that the theme is fully responsive on all devices, and will make your website look great on all of them.
There are two options when it comes to licenses, and those are the regular and the extended license. If your client is paying for your product/service, you need the extended one, but if your product/service is free, you can get the regular one. 
2. Appilo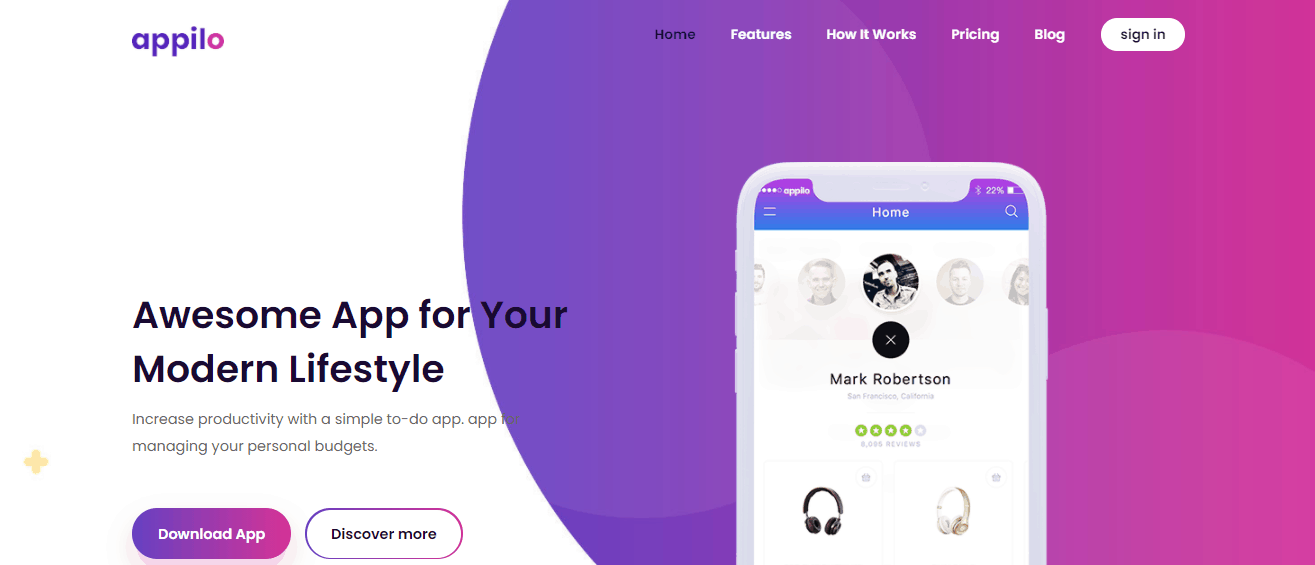 Appilo is a SaaS theme that offers you 28+ professionally-crafted demos, 20+ styles, many options for headers, and always available customer support. It is a one-click-install theme with a drag-and-drop page builder which makes it very easy to use.
With the WordPress Customizer, you can customize your theme even more since it offers you advanced options for making your site truly unique.
If you do not understand how to solve a certain problem that has appeared while using the Appilo theme and page builder, there is multilanguage support available 24/7. All of the updates are also free, so you do not have to pay any extra money when using Appilo.
It is truly a great investment and gives you an even greater advantage if you want your SaaS business website to be as unique and as functional as possible. 
3. Saasland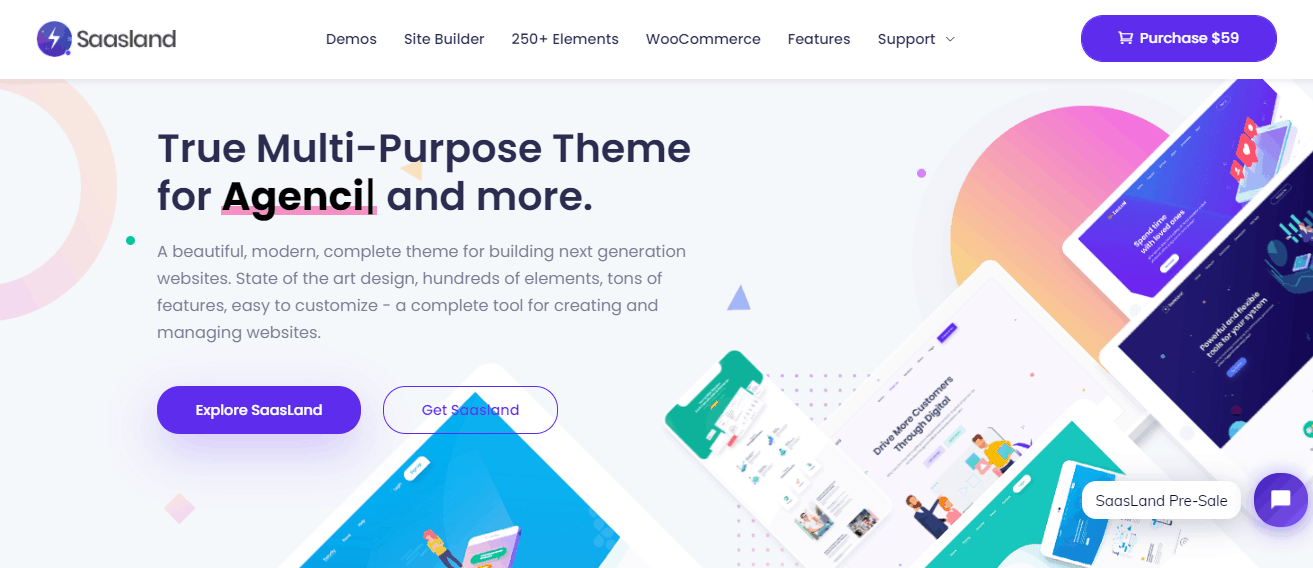 Saasland is not only a theme for SaaS business. It is also intended for websites dedicated to mobile apps, startups, software, and other related products and services.
With it, you can create a professional website within minutes through an easy-to-use user interface. And every website you create with Saasland will be fully responsive on all devices for an even more professional look.
There are 30+ homepages, 100+ pages, 250+ blocks, and 10+ header styles offered by the theme for a great number of combinations that will give you the possibility of creating a unique website every time.
If you are experiencing some trouble using the theme, you will be pleased to hear that there is an integrated chat & help desk plugin that will give you the solutions you need in no time.
Saasland also offers demo sites if you do not have the time to build one yourself, and it even offers you 12+ different portfolio layouts. Meaning you truly have everything that you need all in one place. 
4. Softa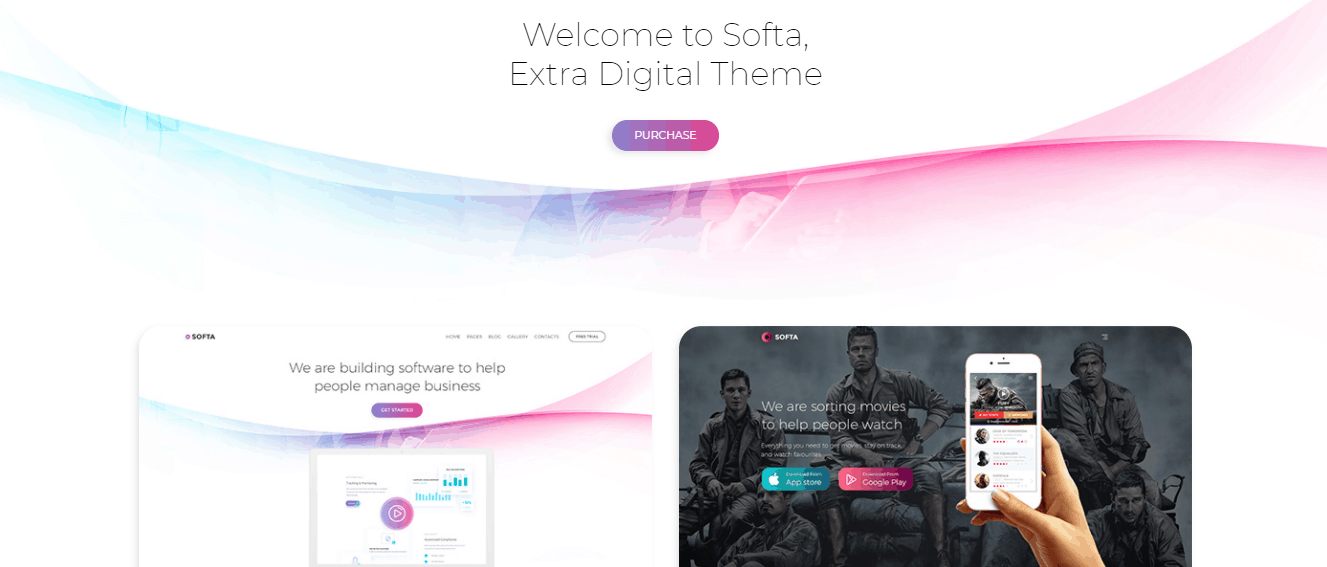 With Softa, you can create your own unique and beautiful site for a SaaS business, software solution, hosting service, web app, or digital agency. You can add various pages and galleries filled with images so you can show how unique your work is.
Many of the components of the theme are there for better functioning and an overly pleasant experience when using your product or service. The homepage comes with a video presentation tool so you can explain how to use the service or product, what it offers, etc. There is also a features iconbox where you can easily explain (through images and short descriptions) what the product/service can do, a text-image box, tabs with integrated pictures, and a pricing tab.
Lastly, the mobile version is a little bit different but is still a great theme.
5. Solicitor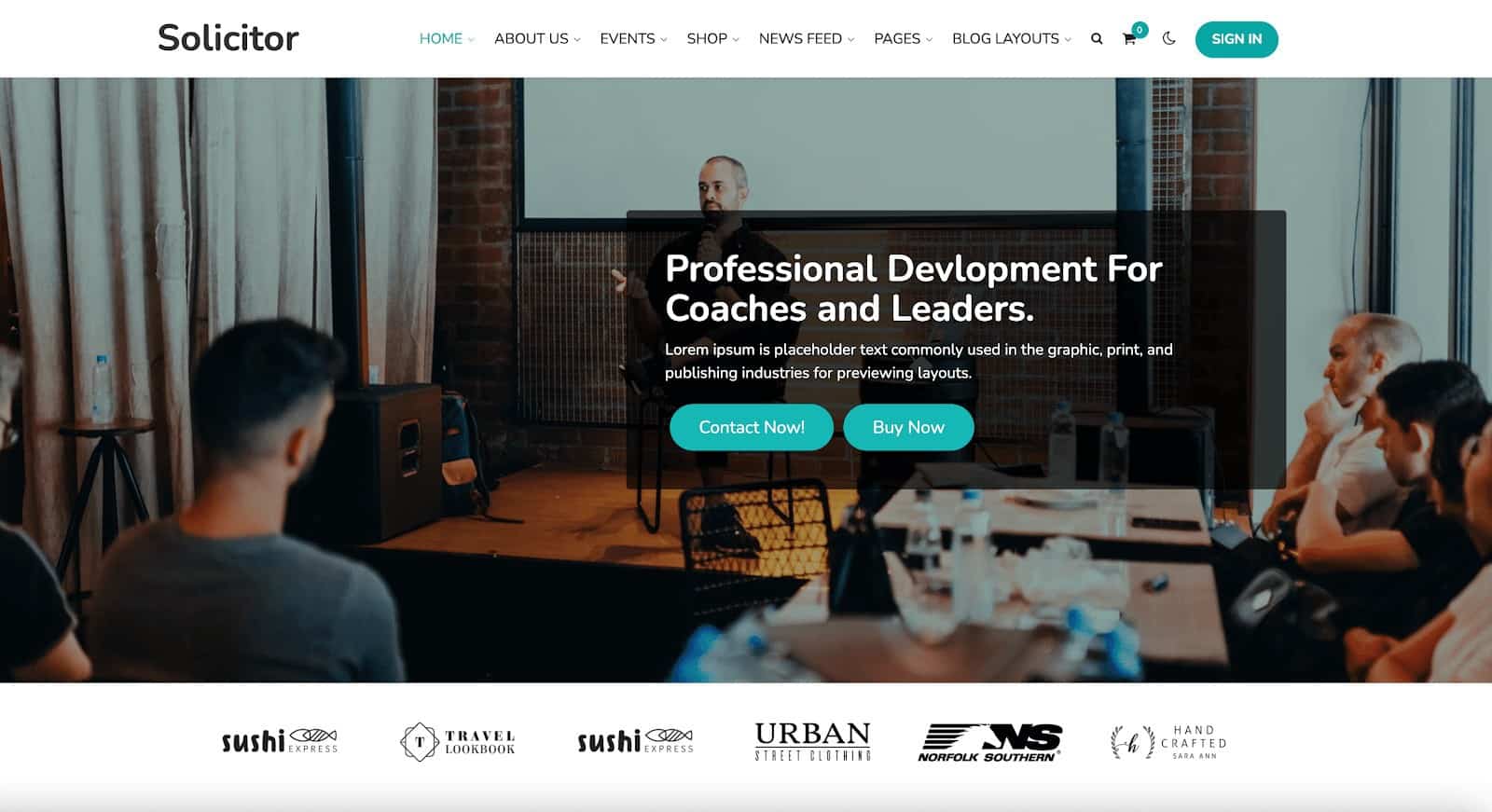 Solicitor is a multipurpose WordPress Theme that creates professional websites for various niches like Finance, Speaker, Consulting, Investment, Lawyer, Corporate websites, and service-based websites. Solicitor has features such as Multiple Blog Archive Layouts, Headers, Event Listing, Advanced theme panel, Bookings, and many more.
Furthermore, Solicitor offers integration with popular plugins like Elementor, Gutenberg Page editor.
Theme has followed standard WordPress coding and is compatible with the latest WordPress Version 5.6. Theme offers a one-click demo import for easy setup and offers various customization options. The theme also supports the community, LMS, and eCommerce features with support for BuddyPress, WooCommerce, and LearnDash LMS.

Solicitor is a one-time purchase with a lifetime license for updates and support. Brndle themes also offer an All Access pass to purchase all themes at once at much lower price. 
Buy Now: https://brndle.com/downloads/solicitor/
6. Appon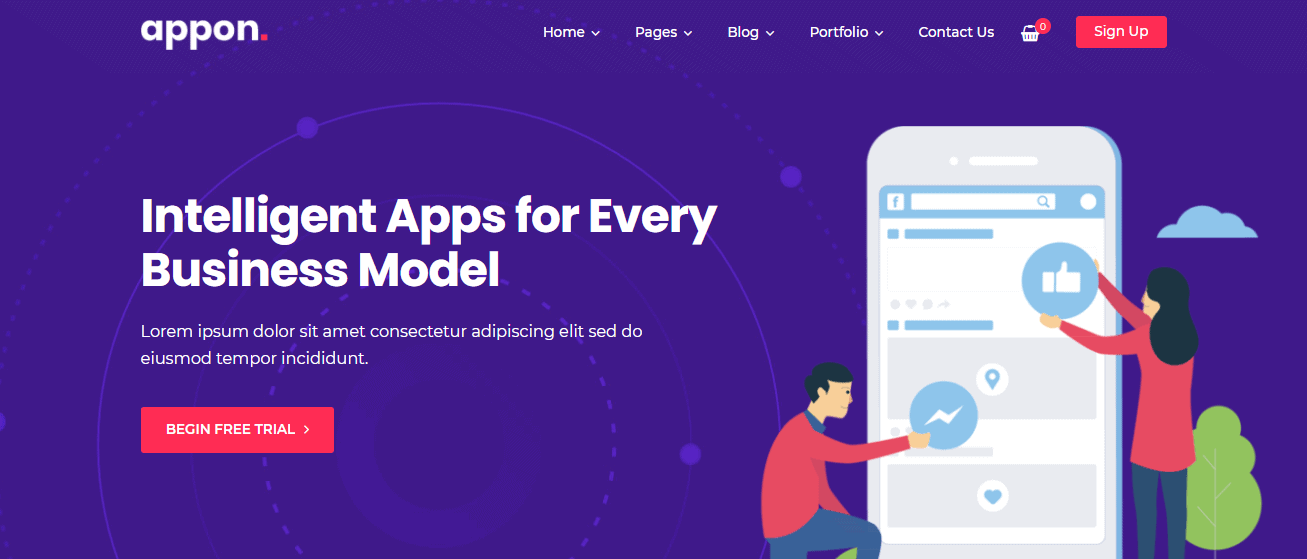 Appon is a multi-concept theme for websites dedicated to SaaS businesses, mobile apps, startups, and software. Because of its features and usage, this theme offers you endless possibilities when it comes to customization and the appearance of your website.
It offers ten homepage demos that you can use for your website, and they are all perfectly crafted to suit any service/product. It also has a multiple blog layout, so you can incorporate more blog blocks into the website with style and ease.
With this theme, you can sell what you want online, and it is easy to set up as well because of its friendly user interface.
It comes with a stunning collection of portfolios for your website, so you can make it even more appealing to the customer.
All in all, Appon has many great features, and it truly is one of the rare multi-concept themes.
Conclusion
There you have it. If you are interested in starting a Software as a Service business, consider some of these themes for your website, they will make the whole experience so much easier. These themes are designed for websites like yours, so why not use them?