The process of recruiting new members of your company or business can be very time-consuming. Especially if you have a large number of applicants for the job. Sometimes this can be very complex and might lead to a loss of track. At the end resulting in losing the opportunity to employ the best person for the job. That's why recruiting software has been developed.
Recruitment software supports companies in optimizing the recruitment process by discovering applicants reviewing summaries, and sending letters to them. Recruitment software is commonly known as a tracking system for applicants or ATS. However, these two are not the same. Just like a free paystub maker is not the same as a report generator.
That's why we have decided to list for you some of the best recruiting software in 2021.
1. Breezy
Breezy offers top-quality, small business-friendly recruiting software. You can create a site with an appealing career page and arrange candidates using the so-called Kanban view. Furthermore, you can even use a scorecard to evaluate candidates and ask for background checks and contact information. You will also be able to send letters to the candidate without leaving the system.
Breezy HR uses well-known job sites and off-the-box HR platforms like Namely, BambooHR, Zenefits, and many more to post job offers. Breezy HR also works with Zapier to build custom connectors if you use another HR system.
2. BamboHR
BamboHR is software for tracking applicants during the screening and interview process. Hiring managers and recruiters may set up an employment report. Submit it to the proper platforms, and examine all applications via the recruitment software site in question.
After interviewing the applicants, you will be able to post updates on the portal. Tou may also use recruitment software to issue employment offers, manage onboarding paperwork, and report on the recruiting process. Also, this improves the efficiency and organization of the entire process, allowing everyone involved to work more time.
People appear to like the consolidated home base of BambooHR for team ads and other crucial data. The program is straightforward to use, and also it is intuitive to users and administrators.
On the other hand, some users found it challenging to utilize the BambooHR interface. Some found it challenging to use the payroll function, particularly the time-conservation component. In general, HR experts consider this program as simple to use and very user-friendly.
3. iCIMS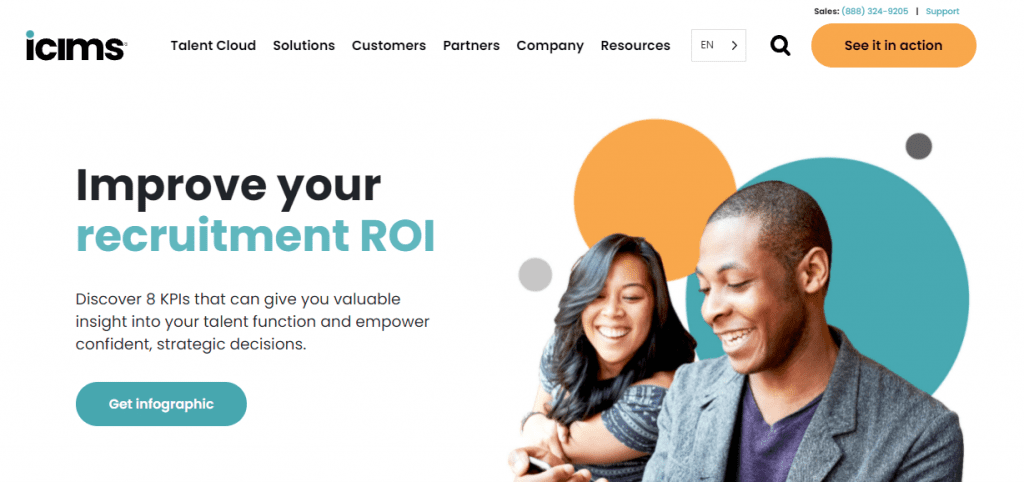 iCIMS offers a series of recruitment solutions, from the tracking system for applicants to application relations managers and employee onboarding.
iCIMS will enable companies to:
build and distribute job lists on their websites and worksites,
launch advertisements,
improve SEO lists,
accept applications through text messages, and more.
The application functionality is enhanced by artificial intelligence (AI) and natural language processing. Also, the platform as a service offering (PaaS) offers recruiters the possibility of adding applications and adapting their experience. ICIMS now works for HR with Namely, Peoplesoft, and ADP Workforce.
4. Workable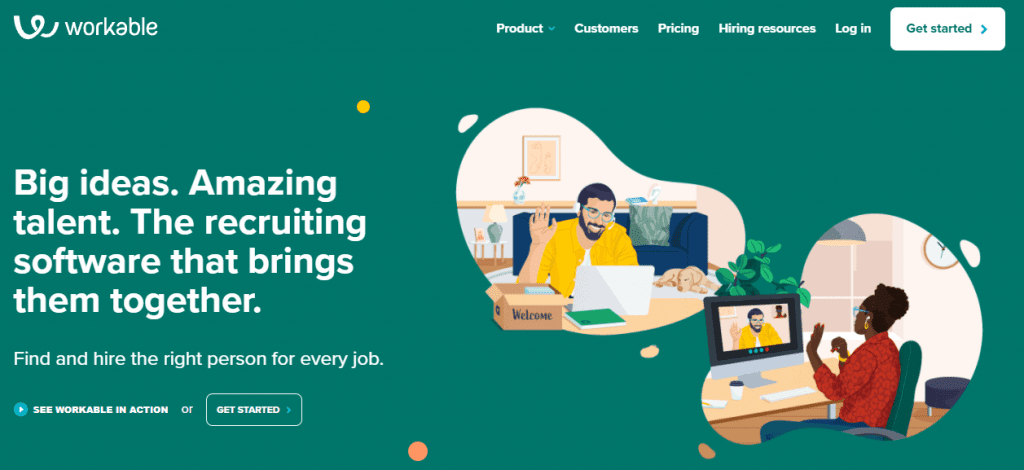 Workable works with small companies which engage new staff. It is an extensive mobile recruiting and collaborative recruitment software. Every element of the recruitment process is streamlined. Also, Workable can integrate with others.
Hundreds of job description templates and email templates, and several more valuable tools are accessible to employers. Workable means that employees can work in a central location. Another great thing is that many firms did not require much training to get staff to run the program. Workable's innovative design and straightforward nature make it easy to use fast.
5. Juro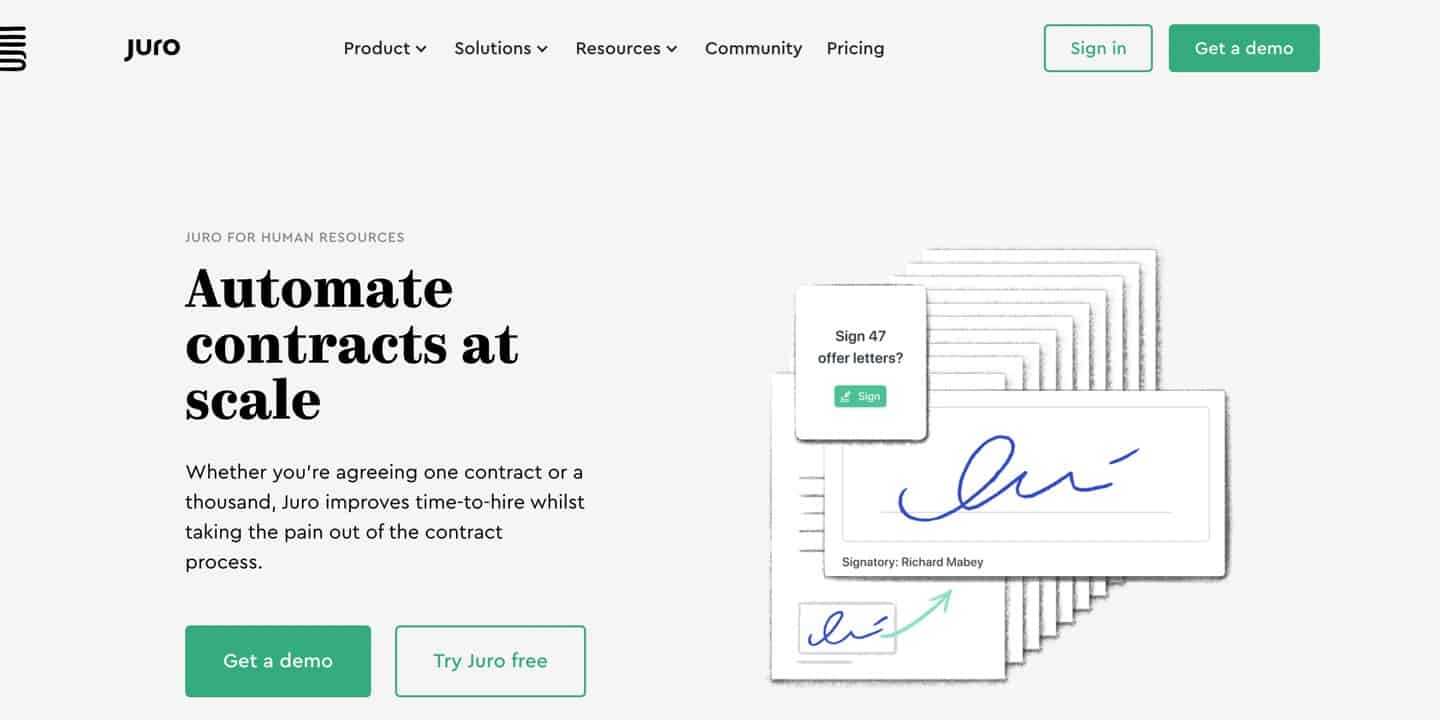 Juro is the perfect solution for recruitment teams looking to streamline the latter stages of the hiring process. Like some other contract lifecycle management solutions, it enables recruitment teams to quickly and efficiently manage employment-related contracts.
However, Juro's intuitive and advanced editor allows recruitment teams to create highly personalized and beautifully designed contracts that prospective employees are excited to sign. Juro also enables both employers and prospective employees to send, negotiate and design contracts from anywhere in the world, rather than the traditional process whereby they had to be in the same room to get employment contracts signed in wet-ink.
This makes the recruiting process far more convenient and efficient, and it also improves the candidate experience considerably.
Conclusion
Recruitment software can help you streamline the hiring process so that you don't fall behind the competition due to delayed response times and poor communication. You might miss some of the top prospects without recruitment tools. Recruitment software will track you with applicants. Even before applying for online employment, this software may assist you in locating eligible applicants.