The previous decade has brought us many changes in ways people use the Internet. We thought we would be using some of the old tools forever, but now they are long forgotten.
Instead of them, we have new and shinier ones.
Social media has changed, too: Instagram and Snapchat are increasing their popularity every day, while Facebook is somewhat losing its grip on the millennial generation.
However, one thing that has never changed, and that will always be a starting point for all Internet users, is email.
We all have an email address; we all check our emails every day. For many of us, checking our email inbox is the first thing we do in the morning and the last thing we do before going to sleep.
We use our email accounts to sign up for new social media accounts or to log in to old ones. Even though there's now the option to sign up via Facebook, LinkedIn, or other social networks, the greatest number of users still sign up via email.
With the advent of these changes in social media and Internet use, digital marketing tools and methods have changed alongside them to keep up with their functions and growth. Nowadays, many marketers turn to new social media in order to differentiate themselves from their competitors.
Meanwhile, if you do a bit of research, you will quickly find out that there is practically no businesses or companies in the world that don't do email marketing. Some choose to stay off Facebook, Twitter, or Instagram, for their reasons. But, you would be hard-pressed to find a company that doesn't use the power of email marketing.
Marketing via email is still the most effective and most beneficial method of reaching online users. While all fads come and go and social media trends get hype only to burn out quickly, email marketing is here to stay through it all.
Why? Here are some of the main reasons:
Email marketing lets you tap into your loyal customer base. Unlike many other marketing channels, when you're working with email, your audience is someone who has already subscribed to your newsletter or bought your product, which means they are much more likely to re-engage with your business. Also, there's no better and more personal way to engage with your customers than via email directly.
Research has shown it has the best performance of all DM tools. This is still subject to debate, according to some experts, but many marketers claim that no other digital marketing tool can beat the results of email. If you're wondering whether this is true, the easier way to find out is to test it out on your own and see whether your email engagements really trump other channels.
It's relatively low-cost. Email marketing is among the cheapest digital marketing tools. Of course, you can find some premium plans that will definitely burn through your pocket, but most likely, you will end up using a free or cheap email marketing provider. If your email marketing needs are basic (and everything under 2,000 subscribers is considered to be), you'll be happy with your free features.
Not using email marketing already? It's time to definitely reconsider your decision and make this a priority for your current marketing strategy. If you're already using email marketing, as you probably are, this overview will show you some of the best tricks on how to use email marketing to your advantage using WordPress plugins.
Here are all the benefits that you will receive when you install a WordPress plugin for email marketing:
1. Easy use
Email marketing tools make the preparation and organization of emails extremely easy. In the old days, you would have to hire outside marketing help if you wanted to send out a drip campaign. Now, great plugins let even total beginners be equipped enough to work on successful email marketing campaigns.
Email marketing WordPress plugins are intuitive and user-friendly, the user interface is clean and simple, and follow up reporting is great and very easy to understand. There are lots of choices for different drafts and templates, but if you want to add a personal touch to your emails, these tools let you do that fast and simple.
This is one of the biggest added values of email marketing plugins compared to using the email marketing tool's dashboard and infrastructure. Some tools are actually not that beginner-friendly, and you may find yourself confused with all the options, settings, and analytics.
Plugins, on the other hand, always work to keep things as simple as possible. So, even if you're not really clear on how to do email marketing within a web tool, you'll surely find it much easier within a plugin.
2. Great measurability
Oftentimes, you can hear people from the sales or management of a company say that digital marketing's results are "hard to measure." While this is most definitely the case if you're tracking direct sales, email marketing provides a high degree of measurability. In other words, it's much easier to track whether you're on the right path or if your email campaigns are a flop.
If you include a call-to-action into your email template and send it out, you can directly track the number of conversions. Depending on your goals, you can either perceive the percentage as a number of buyers/email receivers (readers + non-readers), number of buyers/email readers, or in any other way you define.
Email marketing tools will give you a lot of flexibility in this regard: you will be able to see how many people saw your email, how many clicked on it, how many read through it, etc.
The perk about using WordPress plugins for email marketing is that you can track these stats in real-time and see how your email campaign performs. If your business is all about agility, you can use the insight from these stats to tweak your campaign as it runs.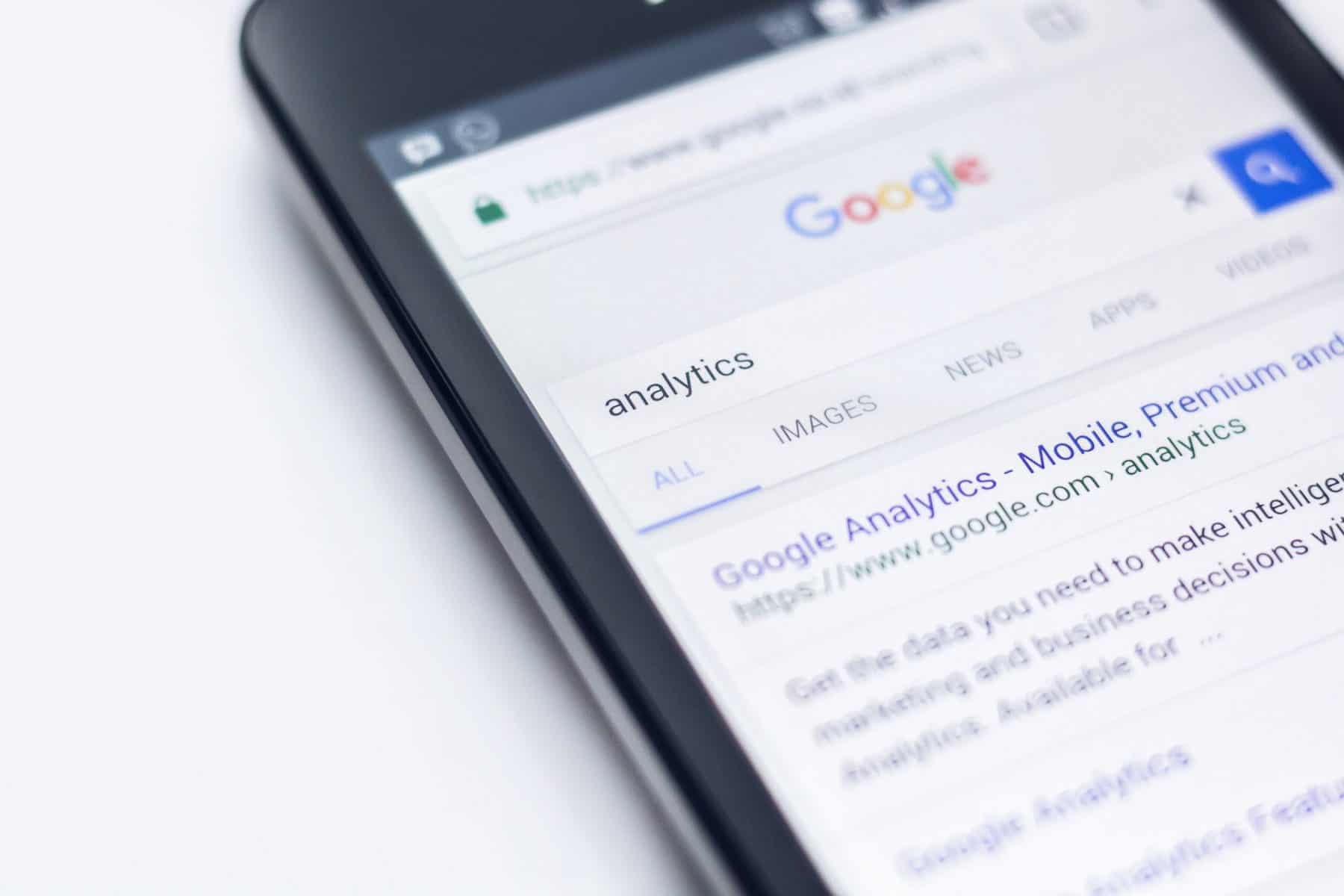 3. It's low cost
Most popular online tools for email marketing has several pricing plans, but the basic one is free, or the tool offers a trial period. Guess what – the basic plan is more than enough for most users, not only basic ones. The free plan lets you send up to 10,000 emails to 2,000 subscribers. More than generous for 0$/month, wouldn't you agree?
Of course, if you have higher ambitions for your email marketing campaigns, you might have to fork out a bit more dough, but it will definitely be worth it. As you carry out your campaigns, you will easily recognize whether you would benefit from a premium plan.
4. It's effective
Every marketer who's been in the digital industry for some time knows that email is still king when it comes to winning over and holding on to customers.
Statistics say that the number of email users in 2019 has gone over 5 billion marks. What's even more interesting is that more than half of active email users check their emails between 4 and 12 times a day. As you can assume, this holds enormous potential for all those businesses sliding into their inboxes over the course of a day.
Email is also the preferred mode of business communication. If you're making B2B sales or you're targeting business executives and decision-makers, the email will always get you much further than social media.
According to research, people also like to receive their brand communications via email the most (new product announcements, company news, promotions, etc.). In one poll, 59% of participants said that marketing emails influence their purchase decisions.
As you can see, email marketing is extremely powerful and can be used not only to make sales but to build long-term relationships with customers
5. High level of customization
Of course, when you're preparing an email marketing campaign, you can customize just about anything.
For experienced users, email marketing tools can offer a spectrum of different possibilities and match their vision of the campaign completely.
However, for basic users, it might be harder to find their way around in the forest of possibilities that are included in email marketing tools.
That's why you can easily customize your subscription banners and emails within your WordPress plugin, even if you have no idea on Earth how it's done. The plugins are extremely user-friendly, and some include drag-and-drop editors, which will help you create just what you imagined for your campaign.
6. Easier email marketing management
If you have ever run multiple websites' email campaigns from one dashboard, you know how much of a hassle it can be.
To solve this annoying issue, you can connect your WordPress site to the email marketing tool via the plugin so that you always know which site you're working on.
This makes the entire process of devising and launching an email campaign much more efficient and straightforward.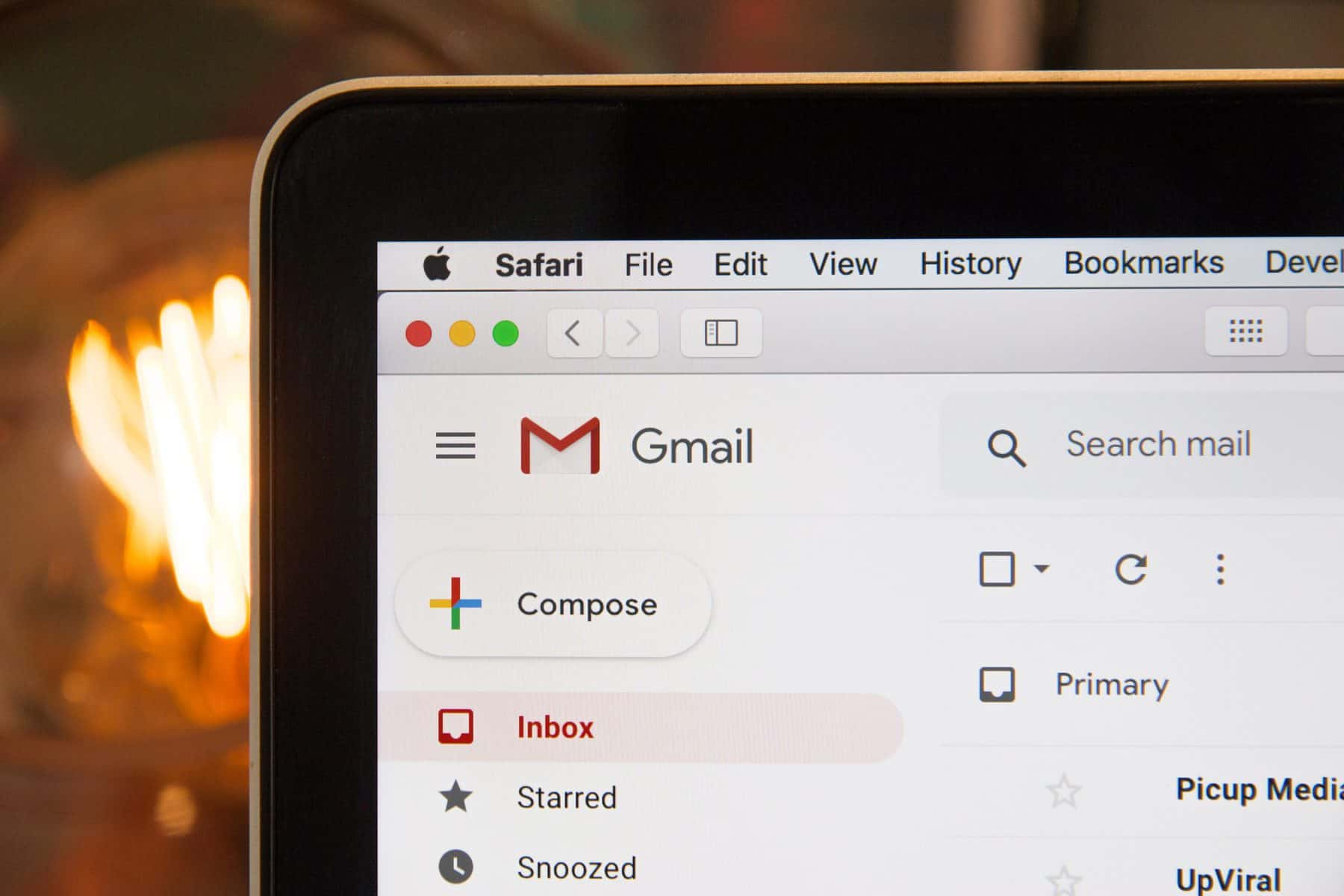 Our Top Picks: Best WordPress plugins for email marketing
OK, we've managed to convince you: WordPress email marketing plugins rule. But now what? Which one do you use, and where do you start?
Have no fear, cause we've done the deep research dive for you. In the following list, we will present you with our top 10 WordPress plugins for email marketing.
We've compared them based on pricing, features, customer support, and special features.
Of course, just because a WordPress email marketing plugin we've chosen is high on the list, it doesn't necessarily mean that it's optimal for your website. When you're deciding on which one to go with, pay attention to the focus of these plugins, and you will easily see which one will fit your goals the best.
10. Email Subscribers and Newsletters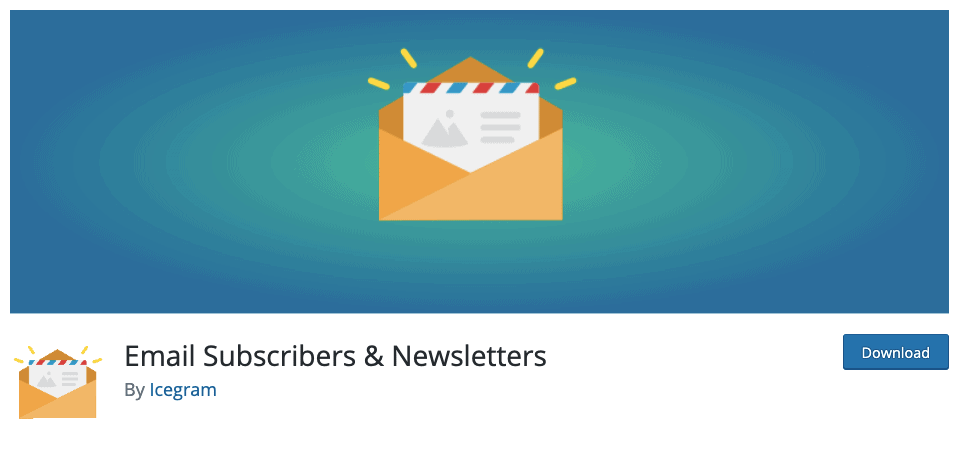 Yup, you've guessed it: Email Subscribers and Newsletter WP plugin will let you email your subscribers and send newsletters. The simplicity and straightforwardness of this plugin are among its bigger strengths. If you're a user who would like to use the basic functions of email marketing, Email Subscribers and newsletters will do the trick, and you won't have to go through much effort.
However, for more advanced users with higher expectations, some other email marketing WP plugins might be more recommendable.
Here are some of the features that you can expect as part of a free plan:
One-time set up: once you install and activate the plugin, you will have to go through an easy setup process, and then you're all ready to go. You won't have to tweak, edit, or add any of the settings that you determine in the beginning.
Automatic Welcome Emails: if you want to, you can set up Email Subscribers and Newsletters to send out a welcome email for all new users who sign up on your website.
Scheduling option: You have a bomb campaign, but it's not quite the right time to pull the trigger? This plugin will allow you to schedule your campaign whenever you feel like you should start distributing it.
Pricing: you can use many of the features available in Email Subscribers and Newsletters for free. For more detailed customization and extra perks, premium plans start at $12/month.
9. Optin Monster

OptinMonster is an absolutely fantastic email marketing software with a WordPress plugin to match. It's one of the best-known names when it comes to email marketing, and many marketers decide to use it, if not for its features, but for its reputation alone.
Some of the best features of OptInMonster include:
mobile-optimized: the designs included in OptInMonster's template collection are retina ready and mobile-friendly.
The wide selection of templates: when you subscribe to OptInMonster, you will have access to over 65 ready-made templates that will make your emails look amazing and appealing.
Segmentation and targeting: this is what many other email marketing plugins lack. Within the WP dashboard in the OptInMonster plugin, you can segment and target your desired audience in detail and send out emails based on these settings.
Advanced analytics: OptIn Monster will also get you a much better range of analytical data and options than other email marketing tools. You will also be able to view your OptInMonster conversion data in Google Analytics.
Pricing: so far, everything about OptInMonster has sounded fantastic, right? Now, there's a reason why this amazing plugin is so low-ranked on our list. Namely, OptInMonster doesn't have a free plan or a trial period. The lowest-costing plan amounts to $9/month, while the next best are $19 and $29 per month.
With a huge selection of free email marketing plugins out there, this is definitely a huge drawback for the otherwise amazing OptInMonster.
8. Ninja Kick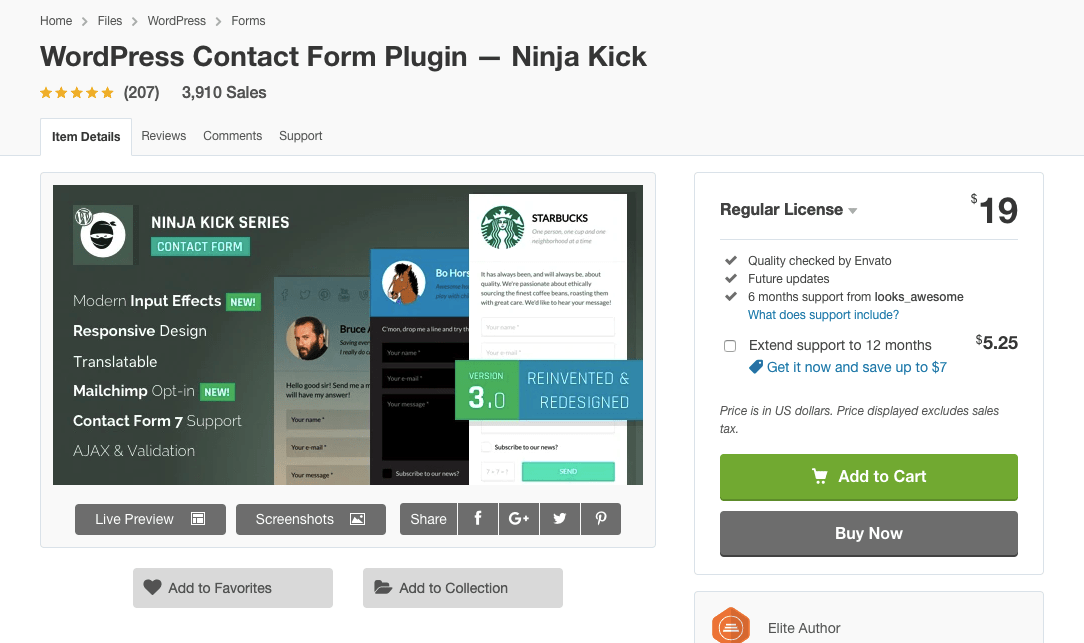 Ninja Kick is a premium WordPress plugin that will help you skyrocket the number of your email subscribers! It features a sign-up form with a non-intrusive pop-up window that will maximize your conversions and quickly build up your email list.
Whichever email marketing service you're using, Ninja Kick probably supports it. Currently, Ninja Kick is integrated with MailChimp, Constant Contact, Get Response, MailPoet, FreshMail, and eight other email marketing providers.
Here's what you can expect to find in the plugin:
Ready-Made layouts: the easiest path to email marketing success is to use tried-out methods and layouts that have already worked for other users in your industry. This saves you testing time and guarantees that your emails will be a hit from the start.
Google integration: for some services, it can be quite complicated to integrate them into Google Analytics. In Ninja Kick, Google tracking is integrated into the plugin, so you won't have to worry about anything.
Pricing: You can get Ninja Kick for a one-time, flat fee of $19. However, you will have to subscribe to one of the email marketing service providers that the plugin is integrated with.
7. Sumo List Builder
If you use an email marketing provider such as MailChimp, Constant Contact, Campaign Monitor, or Aweber, you can easily integrate them into your WordPress infrastructure by using the Sumo List Builder WordPress plugin!
Sumo List Builder offers additional services next to emails: the plugin will actually go lengths in turning your visitors into subscribers, either through pop-ups, timers, or come back messages. Here are some other perks of using Sumo List Builder WordPress:
Pre-designed templates: if you want to use tested out and well-performing email templates, choose among the ones in Sumo's library. If not, you can use:
Drag-and-drop builder: Sumo List Builder is one of the rare plugins that has a drag and drop email builder within its free version. Use the simple and intuitive interface to match the idea that you have for your campaign to the actual design.
Targeting tools: Sumo allows you to really tap into the crowd with the biggest potential. Using its advanced targeting tools, you can target only those users that are the most engaged with your emails.
Pricing: Sumo List Builder is free, but has Premium plans for users with more advanced needs starting at $29 per month. You can use the free version for as much as you'd like an take advantage of some of the advanced features even in the free plan.
6. SendinBlue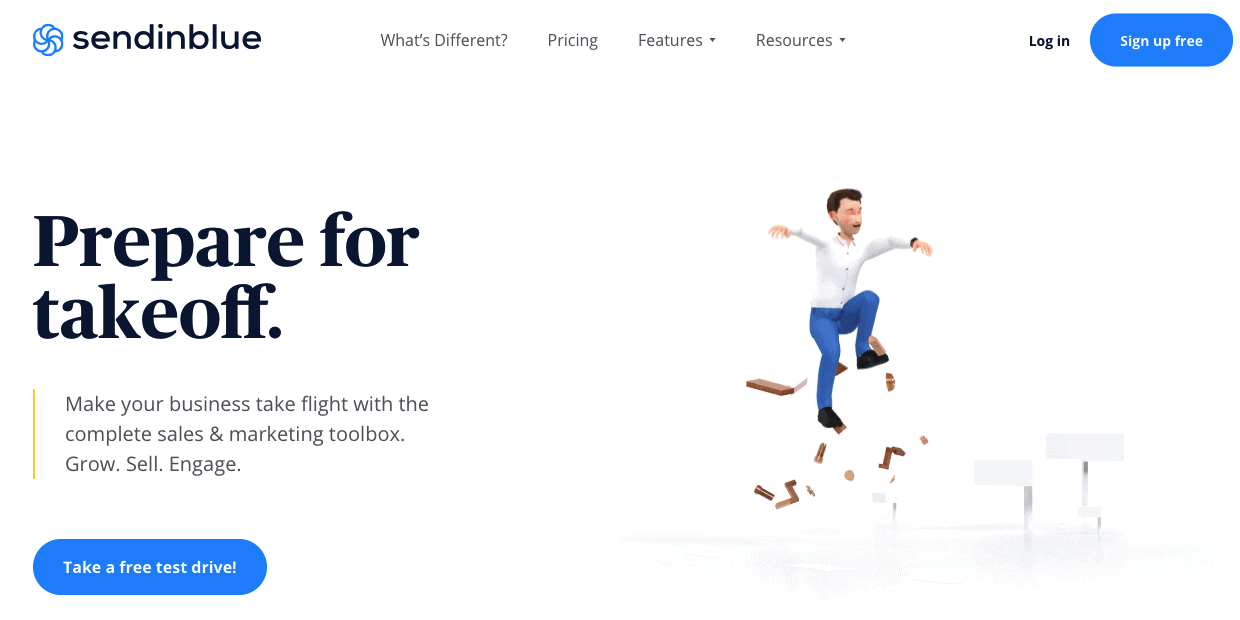 SendinBlue is both an email marketing provider and a WordPress plugin. So, if you have a SendInBlue account, it's very easy to integrate it into WordPress using their plugin.
Using this integration, you can quickly and simply send out thousands of email messages to your subscribers right within your plugin dashboard. Here are the benefits of this WP plugin:
auto-installation: if you have a SendIn Blue account for email marketing services, everything will be set up for you in a blink of an eye. No more annoying script installations, tracking codes: everything will be ready for you.
Drag and drop design: just like some other email marketing plugins on this list, SendIn Blue plugin boasts a pretty impressive drag and drop builder with many options to choose from.
Advanced options: SendIn Blue is trying hard to be next-level in their services, and it's the most noticeable in analytics and segmentation. The stats within the plugin are very powerful and detailed, while you can use the segmentation used for precise targeting.
Pricing: The SendIn Blue WordPress plugin is free, but you will have to sign up with SendInBlue if you haven't already. SendInBlue has free plans, but also premium plans that start at $25/month.
5. Newsletter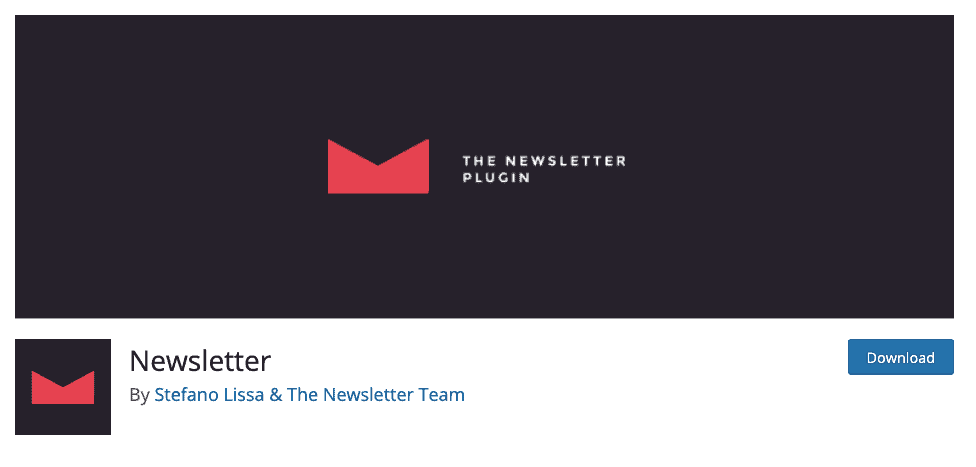 The Newsletter is a free, simple WP email marketing plugin that will allow you to set up the basic infrastructure for email campaigns hassle-free. Within the plugin, you can find the option to create an unlimited number of email campaigns for your subscribers. If you want to go a step further, you can use add-ons to pimp your email marketing even more!
WordPress focused: Newsletter was designed as an email marketing solution for WordPress users. Given that the developers are focused on WP only, the plugin is seamlessly integrated and works with WordPress like clockwork.
Add-ons: The entire experience of using Newsletter is how you make it: you start with basic components and install add-ons according to your needs. There are both free and premium add-ons available.
Pricing: Newsletter belongs to the category of plugins that will really get you places for free. For most email marketing users, the free plan will be quite enough to handle their needs. There are premium plans for pro marketers that start at $49.
4. WP Subscribe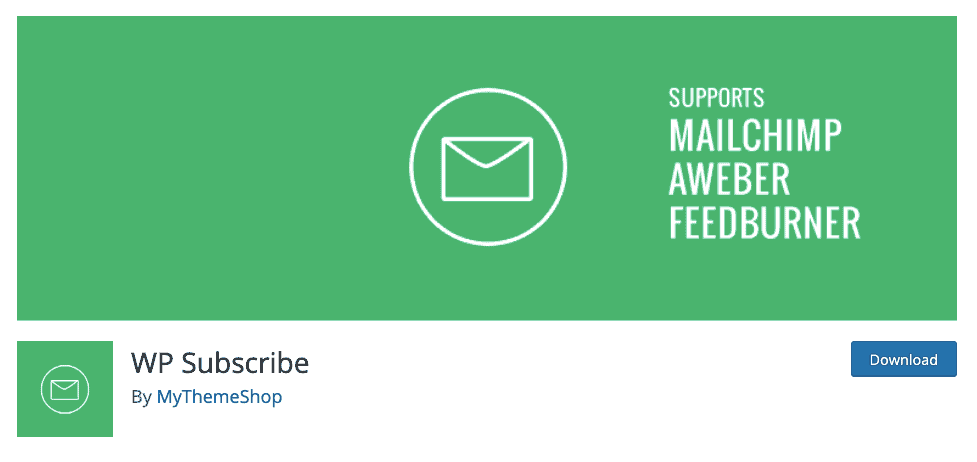 WP Subscribe will let you connect your MailChimp, Feedburner, or Aweber account to your WordPress. Through the use of its many handy features, you can boost your conversion rate and build your email list to roaring heights.
Here's what you get when you install WP Subscribe:
Speed: WP Subscribe places a lot of importance on the speed of its plugin and the overall stability and reliability of its infrastructure. If this is important to you (and it should be), WP Subscribe is as good as it gets.
Built-In support: Tired of waiting for an email back from your plugin developer? WP Subscribe has built-in support that will answer all your questions in no time.
Pop-Up animations: Do you want to go the extra mile in reminding your visitor to sign up for your email newsletter? Use pop-up animations. Some marketers consider these to be too pushy and detrimental to UX, but they have astonishingly good conversion rates.
Pricing: You can get the WP Subscribe plugin for a one-time fee of $39.
3. Mailster
Mailster is a paid plugin, but it's definitely worth investing in. It has some of the features that other email marketing plugins don't even begin to offer. The Mailster WP plugin has more than 20,000 purchases, and users absolutely love it! It's no wonder, given all the perks that they get:
Drag-and-drop builder for email campaigns: for all those users who are not too design-savvy or all those who simply like to save time as much as possible, Mailster's drag and drop email campaign builder will help you set up a beautiful email within minutes.
Advanced analytics tool: given that Mailster is a premium service, the analytics come at an expectedly premium level, too. Within the plugin, you will have access to any type of stats your heart may wish for.
Unlimited forms: no matter your plan, Mailster will let you design and launch as many subscription forms as you want. You will also be able to keep track of them in their user-friendly interface easily.
Pricing: the pricing plan for the Mailster plugin might not be suitable for everyone's wallet, but for larger enterprises and serious marketers, it's definitely worth it. The regular license is a one-time, flat fee of $59. If you want to pinpoint one plugin that you will use in the long-term and focus on integrating it with your brand, this pricing plan much be more suitable than monthly subscriptions other plugins offer.
2. Mailpoet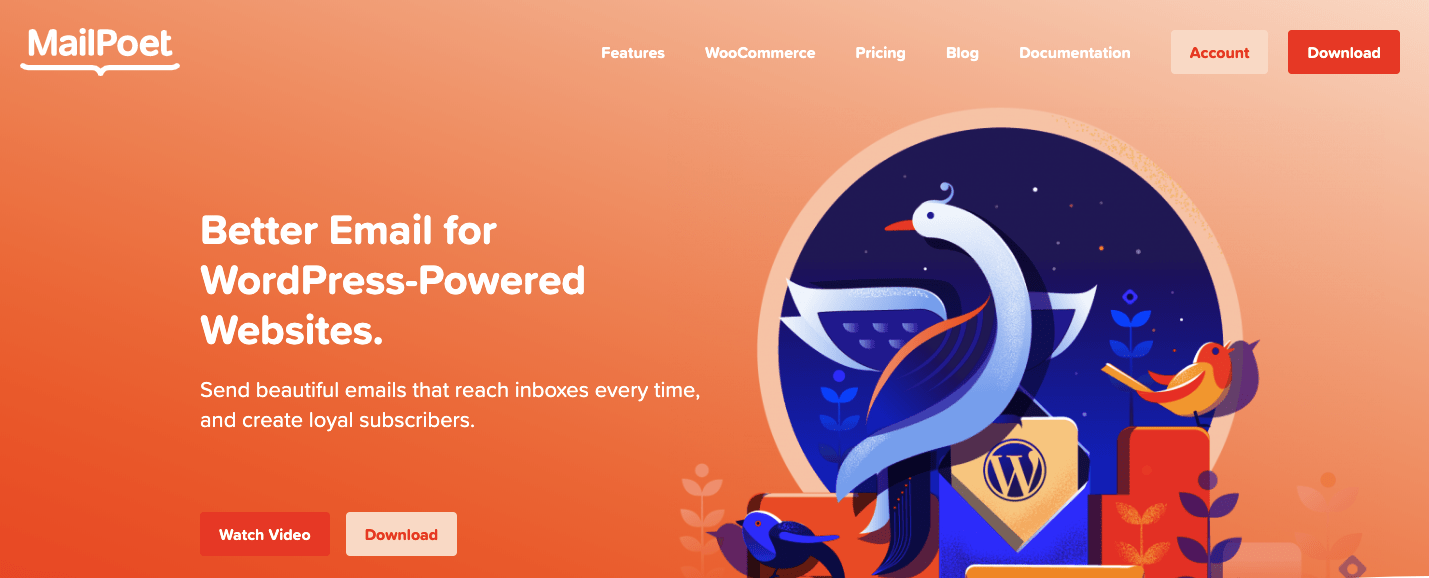 Mailpoet is a kind of a veteran in the email marketing WP plugin space. Based on feedback and new improvements, MailPoet now offers the 3.0 version of their fantastic email plugin. Mailpoet for WordPress is free and will let you send out as many emails as you want for up to 2,000 email subscribers, all in the WP platforms. If you're above 2,000 subscribers, you can easily switch to a premium plan, which is quite affordable.
Mailpoet got its points because of these features:
Great design templates: if you've tested out multiple email marketing services, you've probably witnessed that the design of their templates can be quite boring or downright tacky. This is one of the biggest strengths of Mailpoet: in their template library, you will find cool and unique email marketing templates to use for your next campaign.
Very easy configuration: Even though MailPoet has some features that other plugins don't offer as readily, it's still very easy to configure. After you install and activate the plugin, it will take you just a couple of minutes until you're all set to send out those emails!
Automatic Welcome: you can choose to set up an Automatic Welcome message for all the users that sign up with you for the first time. Also, you will have the opportunity to customize this welcome email to be aligned with your brand and voice.
Pricing: you can use MailPoet's WP plugin for free, while the upgrades will cost you from $10 to $99 per month.
1. MailChimp
If you have ever dealt with email marketing, you've probably expected this ranking for MailChimp. The fact that MailChimp is worshipped by marketers across all industries is for a good reason. Without a doubt, it allows the user the highest level of customization and special features absolutely free. Of course, there are premium plans available for larger enterprises.
As expected, the email marketing titan also has a WordPress plugin to match:
Mobile-optimized sign-up forms: the MailChimp WordPress plugin will pay attention to your mobile users, too. You can create and customize sign-up forms right within the plugin, and they'll appear on your site just like you want them!
Great customer support: MailChimp has tons of users, so customer support is very important for them. Both MailChimp as a service and MailChimp WordPress plugin has great, friendly, and fast customer support. If you're stuck somewhere or you have a quick question/comment, you can expect an answer lightning-fast.
Ready for translation: if your users and visitors are not English speakers, you will want to translate your sign-up form to your local/target language. MailChimp WordPress plugin allows you to do just that, with a simple and easy-to-use interface.
Unlimited forms: With MailChimp's plugin for WordPress, you can create as many sign-up forms as you want to. Of course, you can also delete the ones you've already used, create new ones, edit existing ones, and much more.
Pricing: As we've previously stated, the basic account for MailChimp and the WordPress plugin is free. This plan can really provide a lot of features, and we definitely recommend to start using the free one before you decide to up your plan. You can do that at any point, and it takes just a few seconds. Premium plans are available at $9.99, $14.99 and $299.99 per month.
Overall
If you haven't started on your email marketing campaign already, the truth is, there is absolutely no reason to postpone it. With any of these plugins, you will be able to get started in no time, and with as little effort as possible. Don't miss all the opportunities a good newsletter provides, and make sure to let us know of your favorite in the comments below!