WordPress is by far one of the most popular platforms for building websites, with around 30% of the internet's sites being powered by it. There are different uses for a WordPress website, from personal blogs to online shops, and all these sites need to be visually appealing if they wish to attract a significant audience.
When it comes to photography sites, highlighting the beauty and quality of the artist's work is a bit easier with the right theme. There should be no aggressive elements of design or typography. On the other hand, plenty of customization options are welcome so that the photographer can emphasize and showcase whatever they wish.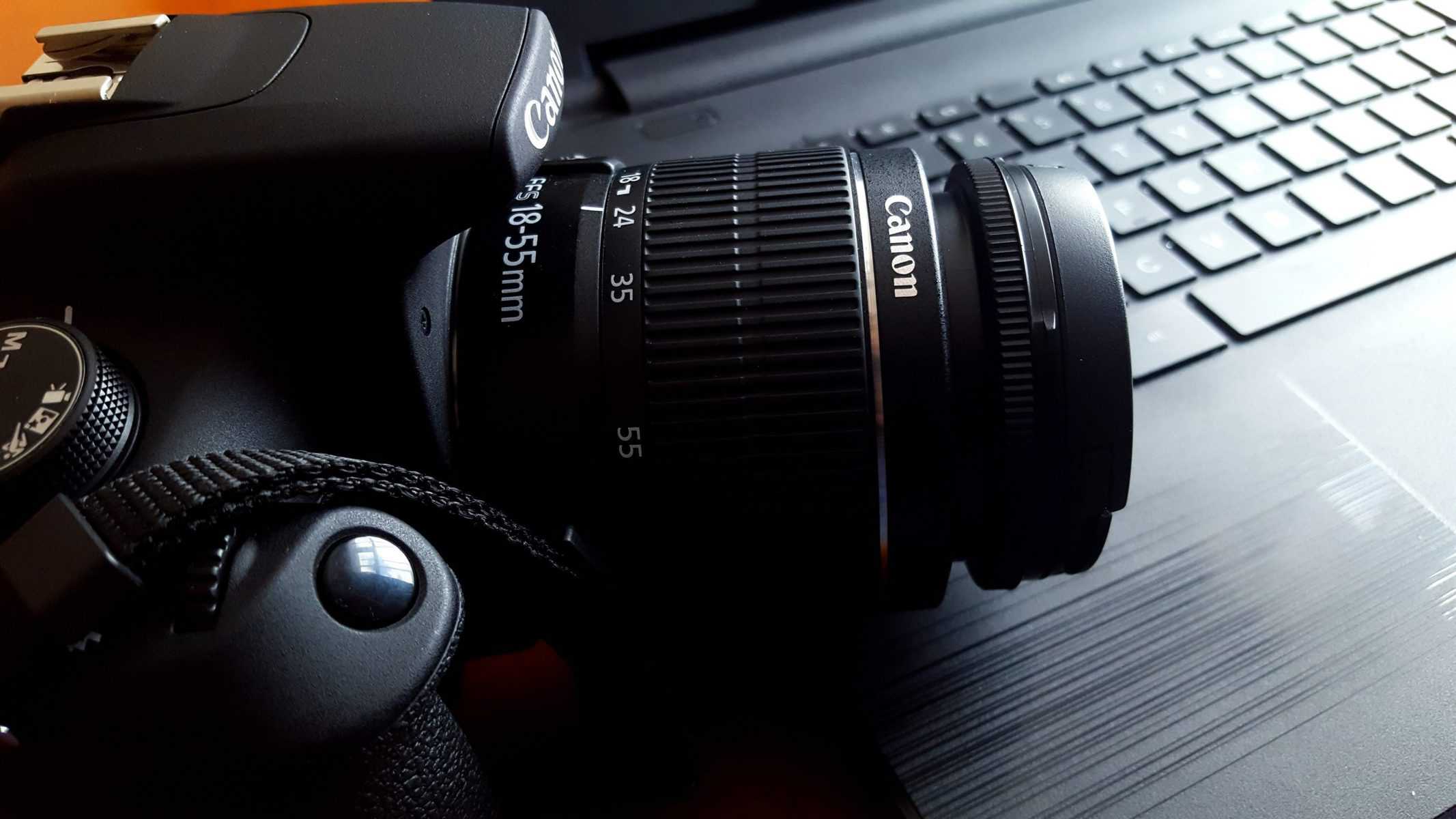 One should look for a WordPress theme that has various layout options and allows different image formats and dimensions. Also, the theme must suit the photographer's sensibility. So, as an artist, think whether it should be classic or more in line with modern styles.
There is a huge choice of good photography themes for WordPress, and we will list only the ones we find the most applicable and user-friendly. This list should help you pick the one most suitable for your needs and style.
Oshine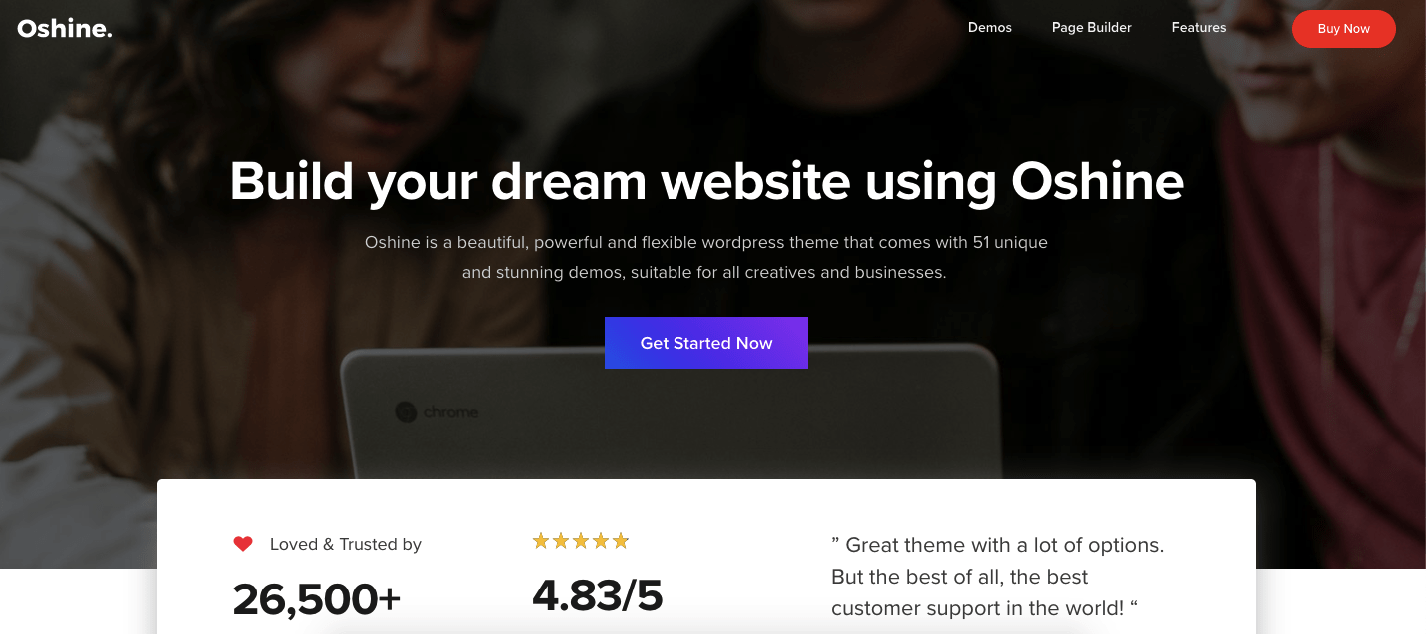 Oshine is a theme that wasn't designed strictly for photography websites and blogs. It is easily customized, and this is exactly why it's equally applicable to your photo-blog or for any other personal or business purpose. Additionally, its design is simple and discrete, so don't worry – it won't draw away the attention from your work.
There is a multitude of demos included with this theme, which can be comfortably used even by beginners. Personalization options include numerous features, and the building process is simplified by drag and drop page builder. Plenty of layout options will certainly hold the one corresponding to your vision of your website or a blog, and you also have full control over the colors.  On top of this, for a more engaging experience, you can add sliders, a carousel, and a range of video backgrounds.
On the whole, this customizable and tastefully designed theme will let you display your work and attract public attention, while also letting your art breathe.
Uncode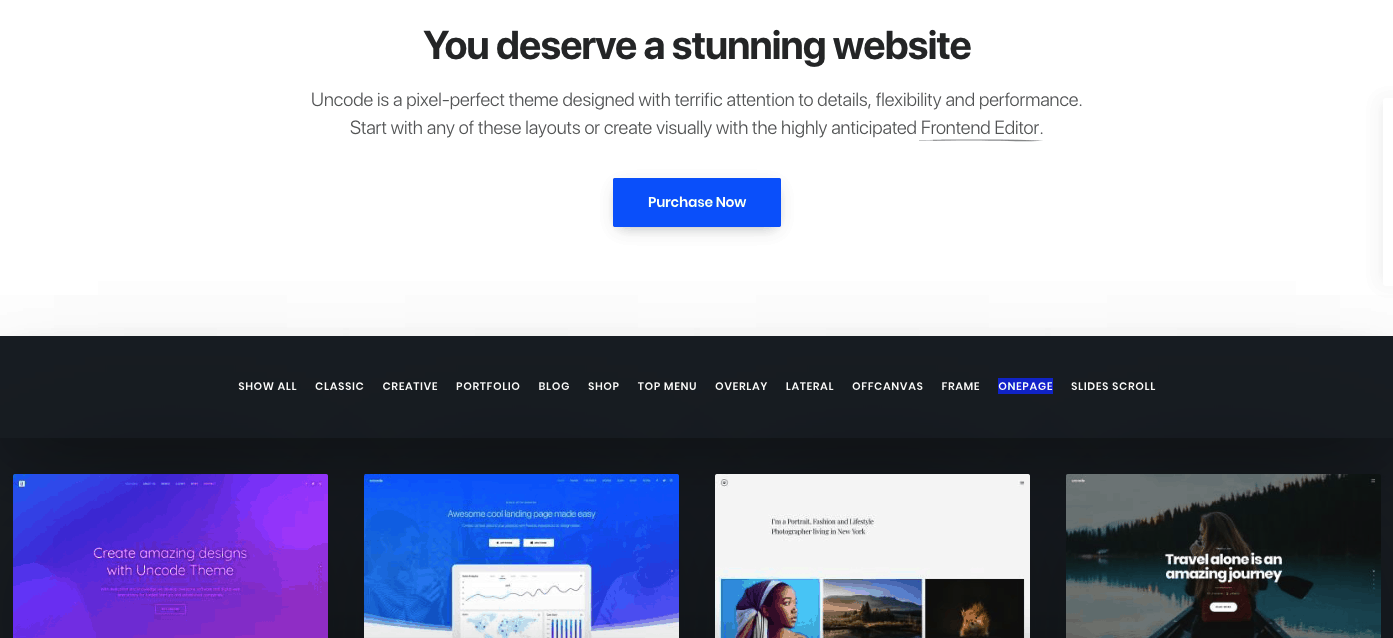 This isn't a photography-specific theme either, but rather a multipurpose one great for almost any website. Several of its templates are, indeed, made especially for photography-dedicated websites, and they are amazing, but so are the rest of them. This is the case thanks to the fact that it's beginner-friendly and highly customizable.
If you are new to the WordPress world, you will find the numerous available demos offered within Uncode incredibly useful. You just pick the one that you like and immediately start building your own art portfolio. The header also comes in different versions, and some of them allow you to display various media in different styles and animations. Additionally, there are many slider variations.
In case you have some specific design in mind, Uncode supports a WPBakery Page Builder plugin, which allows you to fine-tune your website's appearance and polish it to your preferences, mostly just by dragging and dropping.
All in all, Uncode offers detailed customization, which makes it an exceptional choice for showcasing your work.
Inspiro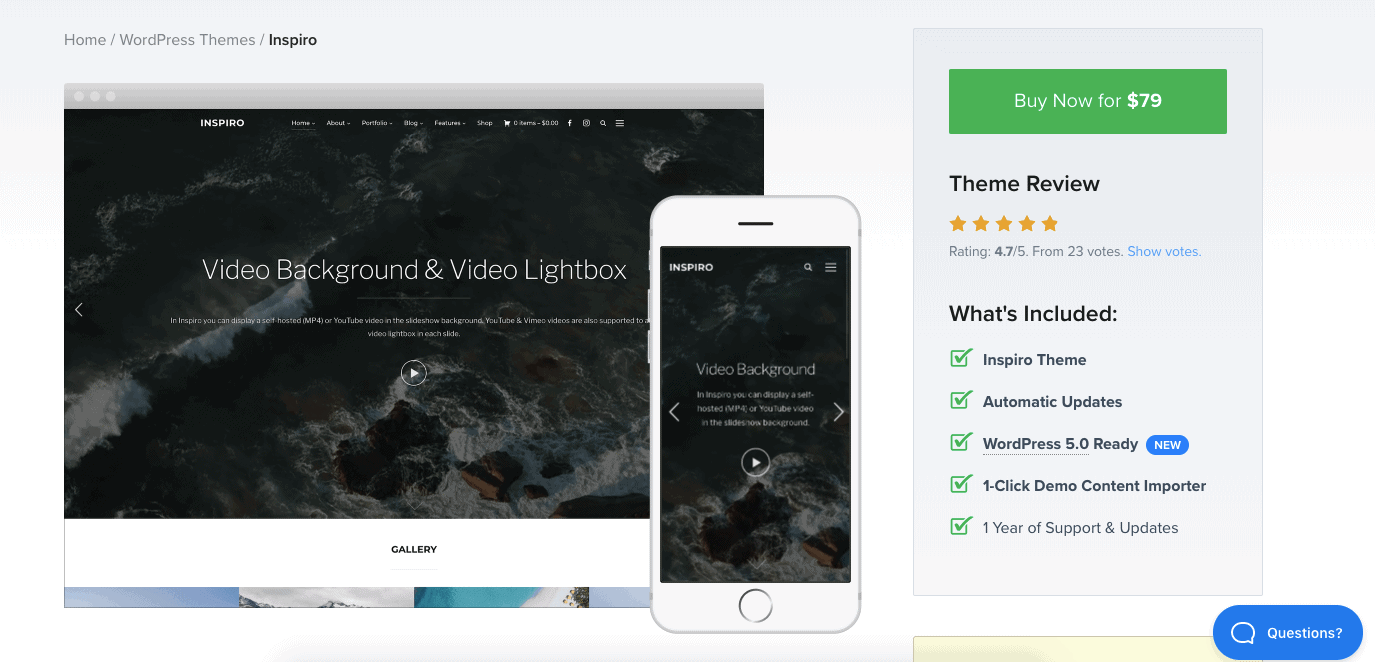 Whether a professional or an amateur photographer or even a videographer, you will find this theme immensely useful. There are several readymade templates that you can pick up and personalize to your desires. These templates can be used for various photography styles, and there is even one adjusted to the video material portfolio.
Of course, there is also the option of building the site bit by bit and customizing each feature to your specific needs. There are headers available in full-screen versions,  as well as a video background for a more appealing videography website. For a convenient and clean display, there are various gallery modules and slideshow widgets. Inspiro supports the free Beaver Builder plugin, as well as Unyson Page Builder, which simplifies the process of layout building.
In summary, this is a simple and clean theme with all the basic functions necessary for photography websites. It offers numerous adjustment options, with the result being a fast-loading website adapted to either display or sale of your works… or both.
Photography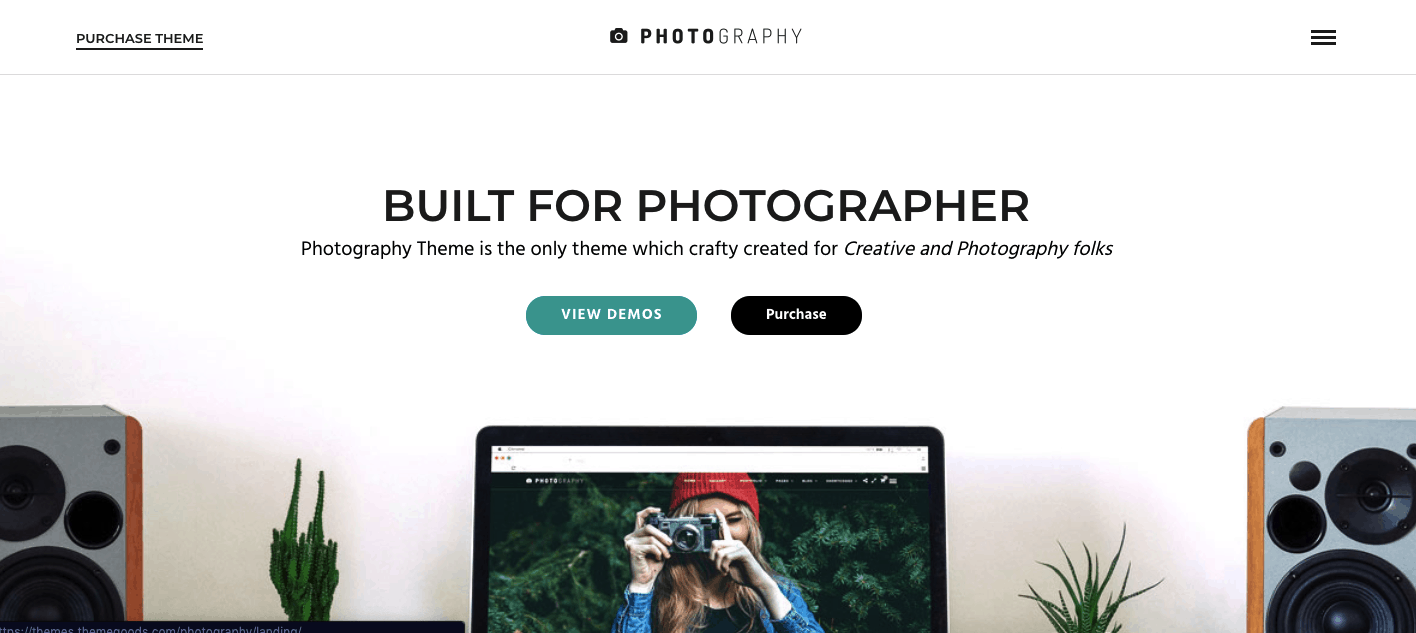 Photography deserves its name by being the number one photo WordPress theme according to the sales and user ratings. Taking a closer look, you see that this reputation is completely justified and that Photography has everything necessary for building an attractive photography website.
This theme's developing team has designed 24 demos and over 70 templates, which can be the basis of your website.
You can choose from various options when it comes to setting your layout. The theme comes in a bundle with the Revolution Slider plugin, which allows you to implement full-screen, parallax, and split-screen galleries.
When it comes to details, fonts are highly customizable, and you have the choice of different styles, colors, and sizes of the letters. They have also added a nifty thumbnail hover effect for a more interactive site.
For those of you who often have customers or collaborations with fellow photographers, there are plenty of options that enable easier communication and sharing ideas. Photo proofing and password-protected galleries are some of these.
Photosy
Photosy is a handy, minimalist, and modern theme which fairly well covers all needs photography enthusiasts can have. From building photography sale websites to setting up portfolios and blogs – it's up to the challenge as it contains various designs that can fit any of these purposes.
It has 19 demo templates, which can be further customized. The layout allows different alternations, which can be done through a conveniently bundled Visual Composer page builder plugin. There are also several header and footer styles. The built-in slider makes it easier to create lively and engaging sections of your blog, portfolio, or sale website. You can even combine blocks of design from different layouts, thus expanding personalization options.
For those of you paying a lot of attention to detail and font, it can be completely customized including its color and size.
Altogether, you will get a personalized, professional-looking website that is highly responsive and SEO-friendly and can make all your efforts payout by retaining your audience and attracting a new one.
Conclusion
There are numerous WordPress themes that are great for building photography websites. We have listed only a few of those which are popular or user-friendly, and which you are the most likely to run across. The layout, header, fonts, and many other features allow detailed customization, and that's what makes them applicable for various sub-types of photography websites. Be it a blog or a platform for selling your work. You should find among these the perfect template which will help your work be seen and appreciated without stifling it with overpowering color schemes or aggressive features.
Try out some of these Word Press themes and get down to work on your own unique photography shop or a display.