If you are not aware of how emails are essential, take a look at the statistics. On a day-to-day basis, the researches show that over 269 billion emails are spread out. Maybe it is not as modern as Instagram or Facebook, but email is the most favorable communication tool out there.
First and foremost, let's start by stating what the term email validation is. Email Validation, in one way or another, a method of verifying if an email address is valid and deliverable. It also confirms if an email address has a reliable domain such as Gmail. By verifying email addresses, the chances of your email marketing gaining its full potential are high. It is the key to a successful business.
How Can This Benefit You?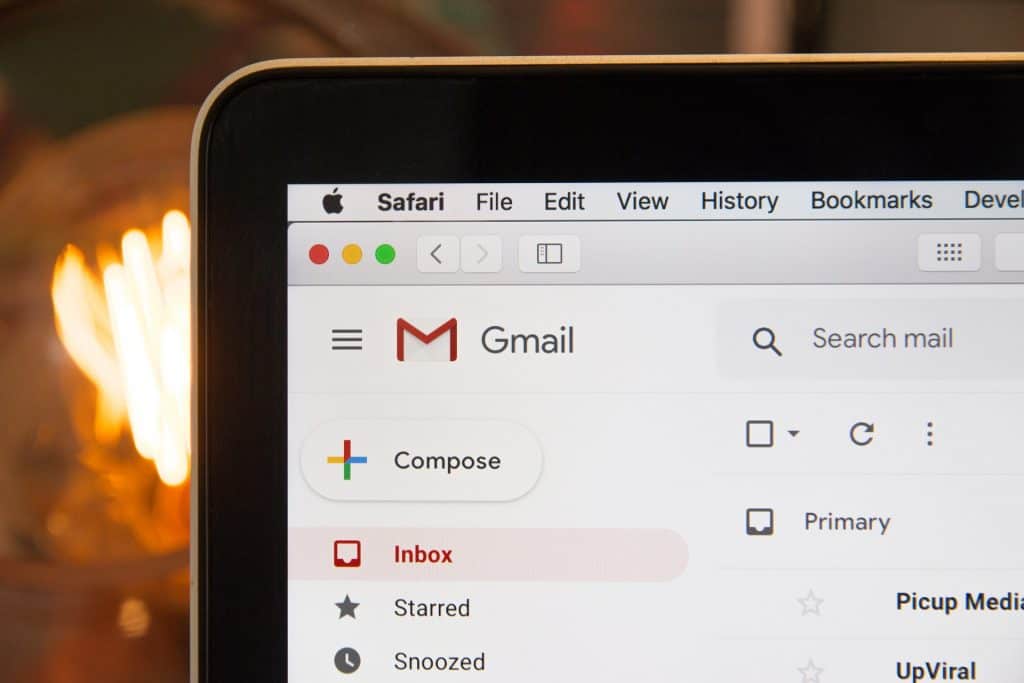 Email validation can increase delivery rates statistically up to 98%, removing all email addresses that are invalid and improving your email deliverability. In addition, it can help with maintaining a high Sender Score. So don't feel hesitant if you don't understand the term Sender Score, and we are here to help.
A Sender Score is a representation of your sending reputation. Measuring your sender score can help you understand how legitimate your email is to the subscribers.
You can save up money by not sending emails to invalid users. The third characteristic in which email validation can benefit you is that it can lift your conversion rate. The more emails that arrive in the inboxes are equivalent to more people opening them, leading to better performance.
Anyone can use email validations; this is intended primarily for online businesses, content creators, e-commerce sites, bloggers, digital marketers, social influencers, etc. You have great online tools which can track this for you. We have gathered a list:
Starting with my favorite piece.
Email List Validation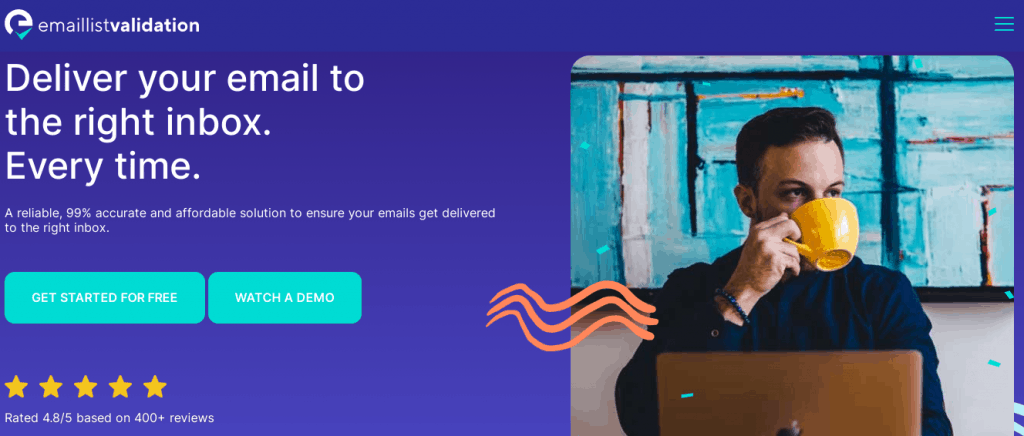 Email List Validation can clean up all of your email lists so they can reach the right inboxes. In addition, this unique gadget can offer you features such as:
It can quickly clean up your email, which gets rid of invalid accounts
Uses API ( "API is the acronym for Application Programming Interface, a software intermediary that allows two applications to talk to each other. Each time you use an app like Facebook, send an instant message or check the weather on your phone, you're using an API.") which verifies emails that were submitted and also asked users to resubmit their emails.
It is an alternative to ZeroBounce and NeverBounce ( tool kits )
It is best suitable for email marketers
Nowadays, verifying emails is super easy, and it doesn't take away your precious time. With this tool kit, you won't experience what it feels like to be on the blacklist because of sending multiple messages to addresses that are not valid. Keep in mind that this gadget is protected by the GDPR-compliant, which stands for The General Data Protection Regulation. It uses powerful encryption so it can protect user data.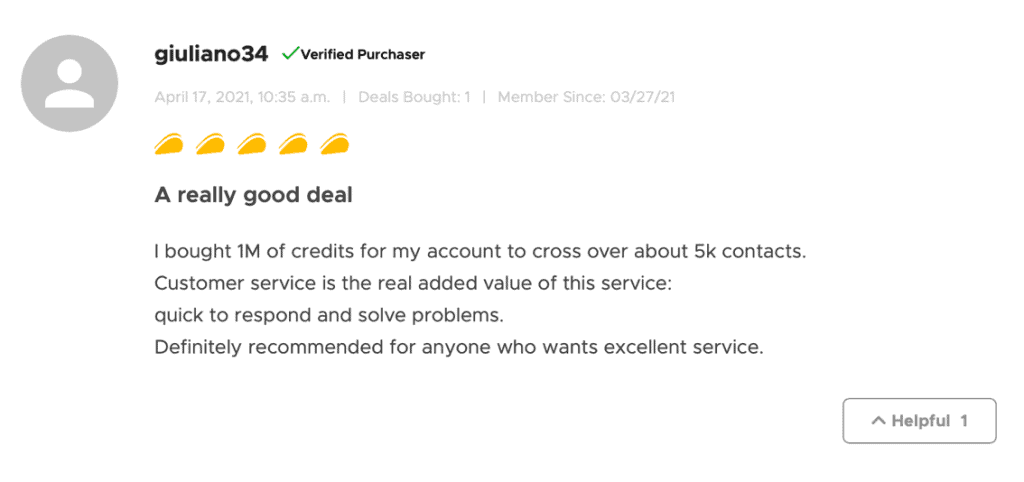 There is no need to copy-paste one by one email. Instead, you can use the ELV's bulk tool, where you can upload your lists. It won't let users slide with an invalid email. With Email List Validation, you can get custom reports that show you the percentage of emails going through. This tool offers you a 60-day money-back guarantee, so if it doesn't suit your expectations, or you consider it as a tool that is not for you.
You won't lose your money. Test it for a month or so, give it a chance and then decide if it's worth your money. And we guarantee you; this is one of those tools; once you try, you start wondering where it was all this time.
Everyone loves discounts. Well lucky you, the starting price of ELV is only 19$. Further, it depends on how many verifications you buy. The more verifications you get, the less you pay per it.  We always like to look at the reviews before purchasing anything. This tool mostly gets five stars, so we provided you with some comments from verified users.
Emailable
Sometimes sending emails isn't enough. That's why you need a great tool that can do the job for you. Emailable provides you with cleaning your old posts and keeping the new ones in great shape, constantly keeping them up to date, deleting those that are not valid. This tool only supports deliverable addresses.
Some coding is involved for a better experience, but don't feel hesitant about this idea; only a few coding lines are involved to your current HTML form. In addition, it provides you with features such as: reducing bounces by cleaning unnecessary emails.
Emailable improves your email deliverability by 99%. You don't need to do any work; activate autopilot and let emailable do all the work for you. Your list will be synced from day to day, providing you with the newest information. The rating for this site varies from 4.8 stars out of 5 with over 500+ reviews. 1,000 experts test this tool in over 170+ countries. You can get started for free!
Further, you can read few more great options that we have provided for you.
Bouncer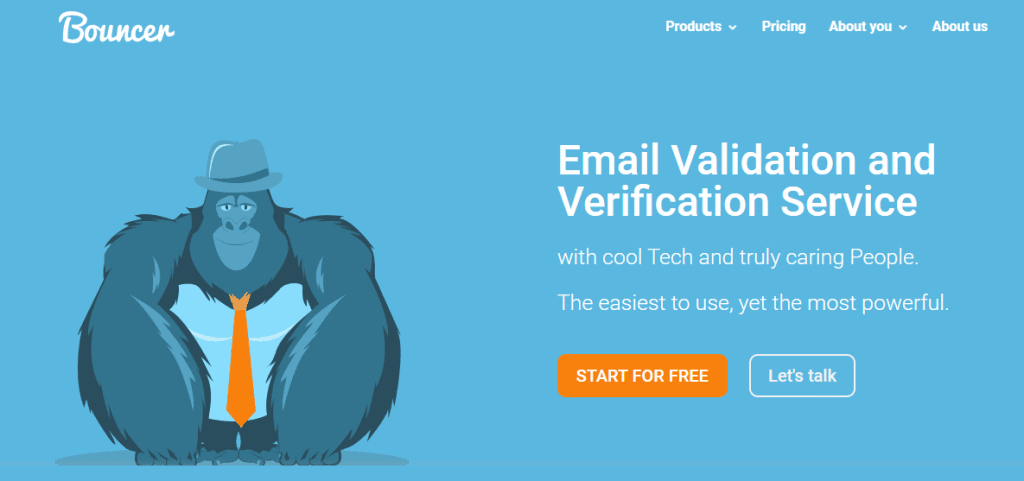 The Bouncer is an email validation and verification service which can provide you with the same function as the previous ones, clean up your email lists with the email checker. In addition, this tool helps you reach out only to those valid addresses and provide you with ongoing, accessible communication between you and your subscribers.
This gadget provides you with free testing, meaning that you get 100 free email verification credits which you can use to experience the power Bouncer holds. You will receive support via email or chat, whatever you prefer more. You cannot get yourself in a situation where you can lose an important customer because you mistyped an email address.
This is a great tool that has customers from over six continents.
Zero Bounce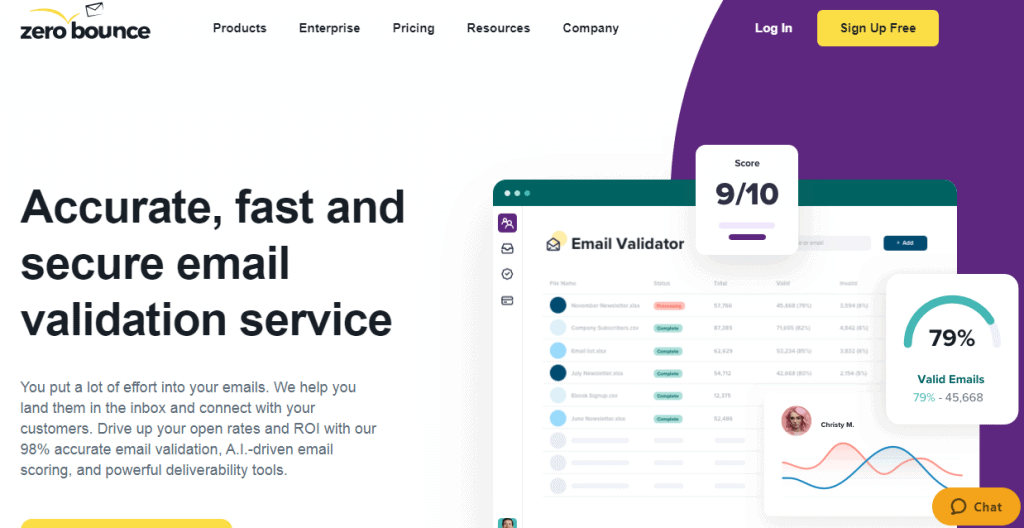 We mentioned Zero Bounce before, and it is an alternative for Email List Validation. This tool provides you with secure email service validation. Creating emails can take a lot of time, which words you will choose, what your subscribers will like, and how they will react. On top of that, you don't need to think about if they will hit the proper addresses. So let Zero Bounce help you. They have over 100,000+ happy clients.
However, if you do not believe us, which you most definitely should, Zero Bounce can convince you of their top-notch service. They have a live example of how fine their work is.
For 2000 mails the price is only 16%. So see what you need and provide yourself with the best experience!
Conclusion
We hope that this article helped you understand why it is essential to have a good tool that can check up on your emails on a day-to-day basis and keep you posted on which of them are valid and which of them are not.
We are sure that at least one of these tools will suit your desires and help you maintain your email. So give them a chance, and make your job easier.