Customer service is a pretty broad term, and sometimes it's difficult even to say what falls under it. More often than not, however, when people hear the words "customer support," they almost shudder in terror. People are overly used to automated messages and emails that go nowhere. And let's face the facts; many businesses use customer support software that ends up being the furthest thing away from helpful. Think about your own experiences for a moment, and you'll realize we're right about this.
Getting in touch with customer service is something that many people dread. The situation can be even worse for business owners who want to provide quality customer service but don't know how to. Well, fret not. In this article, we'll give you a basic run-down of everything you need to know.
Types of Customer Support Tools
We can divide customer support tools into five basic categories that fit different businesses and cater to different needs.
An all-in-one software – Covers all the channels in one all-inclusive software. It includes all of the channels we'll list below it.
Live chat and social media – Real-time messages over a website or a specialized app like Whatsapp or Facebook messenger.
Help desk – This type of software deals predominately with emails and is great for businesses that may not need 24/7 support or mean to combine it with another tool.
Call center – This sort of software provides every feature needed to take incoming calls and distribute them amongst agents currently on shift, helping your company manage calls in a way that they won't be confused for prank calls.
Knowledge bases – Create portals with pre-made answers and FAQs.
In the following sections, we will recommend each tool type available and some good alternatives, allowing you to pick, choose and combine what you require.
1. Intercom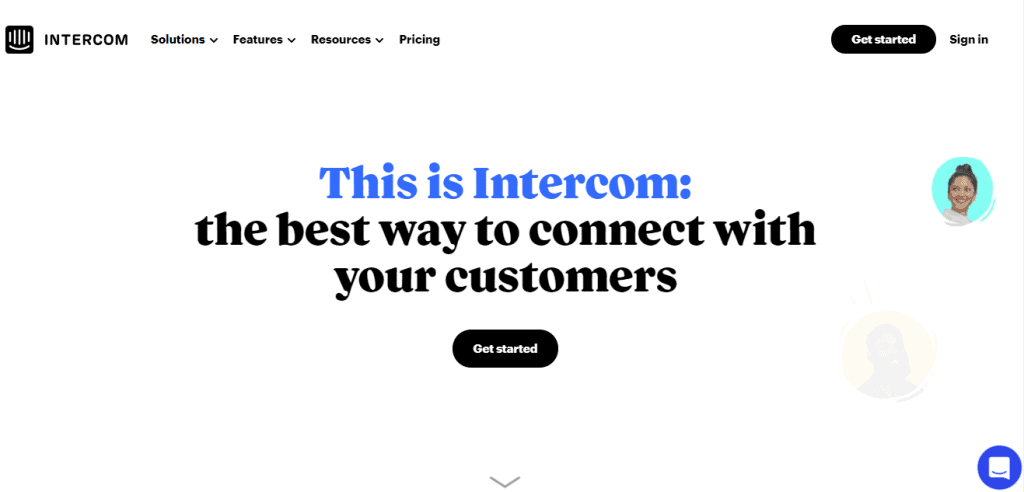 Intercom is a very well-known customer service software, well-loved by business owners all over the world. It's been around quite a while, and they've built up a solid cluster of customer support tools any business would be happy to have. And even though their professional efforts shifted towards sales in recent years, everything they offer in the customer service department will not disappoint you.
The standout feature is a mighty messaging app that comes included in the tool. There's also the option to add any app you want and expand on the existing features. Another feature that you can always rely on is the chatbot, which is among the best on the market.
However, with the slew of features it offers, the pricing is quite high. The cheapest plan currently available stands at a firm $79 per month.
Alternatives
2. LiveChat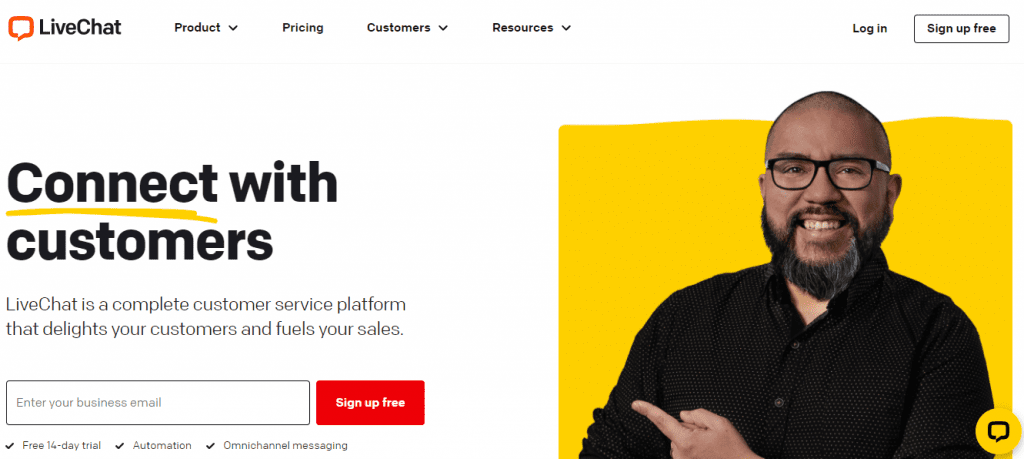 LiveChat is probably as good as it gets when it comes to offering your customers real-time customer support. Plus, it comes with help desk features as well, so it's a two-in-one. This means that you can respond to your customer's inquiries over chat or create email tickets and go through them one by one. Also, this makes LiveChat an excellent option for growing teams that may not be able to afford as many agents as they would like.
The SneakPeek feature is why we decided to recommend this software over all others. This feature lets the agent see what customers are typing before sending the message, preparing ahead of time, and handling cases more quickly. Aside from that, this tool offers all of the basic features your agents might need, and it's pretty simple to use as well.
There are a variety of pricing plans available, making this tool appropriate for more prominent brands. Pricing starts at $19 per month, but if you want SMS integration to boost your team's efficiency, you'll have to look at plans for $50 per month and up.
Alternatives
3. AzureDesk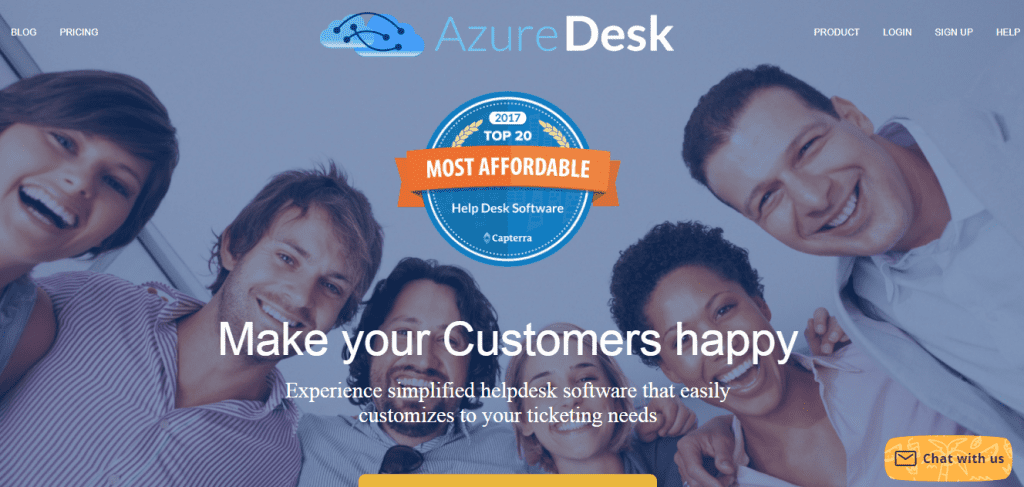 AzureDesk is entirely customizable, making it suitable for teams with different needs and work styles. It comes with all the features you need and is probably the cheapest option out there. It comes with unlimited mailboxes, a knowledge base, and collaboration features like tags and private notes. Once again, an excellent choice for smaller businesses just getting their foot in the door.
It also integrates with many other apps you might already be using, apps like Jira and Slack. These integrations can help streamline the workflow and make sure every workday is smooth sailing. AzureDesk has a single subscription plan that includes all of the features. The monthly subscription fee for each agent is only $30.
Alternatives
4. HelpSite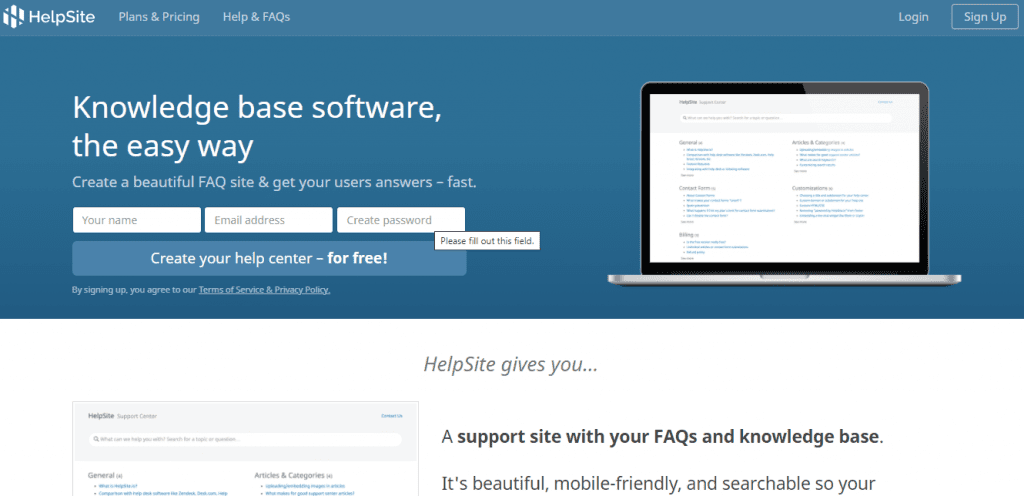 Despite what you might think, knowledge bases can be rather expensive, as they take a long time to make and need to be continuously maintained. But HelpSite comes at a reasonable price and offers all the necessary features for a functional knowledge base. The text editor has a few, albeit somewhat scarce, editing features and custom HTLM and CSS options. Aside from that, it is rather limited when it comes to customization.
In essence, your knowledge base will act as an interactive FAQ site, and that's it. But if you combine it with another tool, that can be quite enough. Prices start at $25 per month, but a free version also offers 25 articles. However, if you want to add custom HTL or CSS, you'll have to look at the $49 per month plan.
HelpSite isn't anything special, but it gets the job done at a low cost, and what more do you need from a knowledge base?
Alternatives
5.  Aircall
Aircall is one of the more affordable software of its kind, but that doesn't necessarily mean it is not just as good. The dashboard is elegant and intuitive, and your agent can perform whatever task at hand with ease if you opt for Aircall. Monitoring is also available, allowing managers to easily track how many calls agents receive, how many answered, and how each agent performs. It's also effortless to integrate this tool with others like Slack or HubSpot.
In addition, there are also some premium features like conferencing, automating responses, and call routing. The basic plan costs $ 30 per month per user. However, this may not seem cheap, but we have not been able to find something more affordable in all our research. This is mainly because other call center tools seem not to show their prices, and of the ones that do, Aircall takes the cake when it comes to pricing.
Alternatives
Final Words
Customer support is of utmost importance for customer satisfaction. If your customers are dissatisfied with your customer service, they will be disappointed in your brand. That's all there is to it. So, when starting a new business, make sure you have a great system in place. You can choose an all-in-one software if you have the budget for it or combine smaller tools for a perfect fit. The choice is yours.