Running a business can be a messy ordeal, especially if that business is entirely online and you can't fall back on old paper backups. It can be especially detrimental when it comes to organization, which is why utilizing cPanel or any of its alternatives can be crucial in running your business efficiently.
Speaking of online businesses, we would love to tell you about WPMU DEV, a web developer's dream. This all-in-one WordPress platform gives you everything you need to manage, update, optimize, secure, and host client sites – all under one roof. Get 20% off any of their plans. Free trial included.
What is cPanel?
CPanel is a control panel that enhances your web hosting experience in the simplest terms possible. Instead of having your website and all of its subsequent add-ons, plugins, and themes on separate settings pages, you can have a united overview that immensely streamlines the user interface for your website.
The main goal of cPanel is to take all the complex features and skills one would need to run a website or a server and package them into an easy-to-use dashboard so that your customers can create their websites with ease. That's why most web hosting platforms choose to utilize cPanel.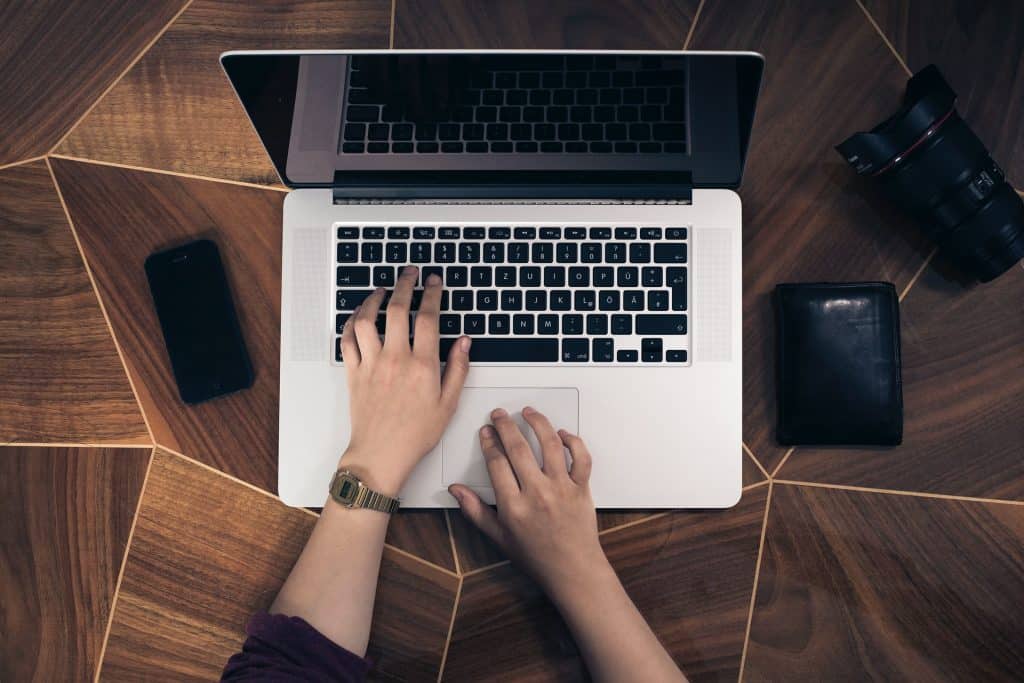 Not only does cPanel have a great GUI (graphical user interface), but a general rule to remember is that great GUIs, with their intuitive design, can solve many usability issues.
However, it also provides access to third-party add-ons and plugins, allowing you to further customize your websites without worrying about compatibility issues.
Also, this may seem like a throwaway mention of a feature, but when you think about it, utilizing plugins has become a crucial aspect when it comes to building a website with WordPress. So having a control panel that already worked out compatibility for you is a great boon.
How Can cPanel Help You?
By providing essential graphical services to your shared hosting servers, cPanel humanizes what would be a very technical task. It can aid in the simple organization of your customer's website, software installation, domain registration, database creation, email account creation, and so on.
As a result, your users can manage their businesses with ease while maintaining the same level of security and service quality.
As well as simplifying general website creation and management cPanel enables easy backup of your customer's files with straightforward transfer and backup tools. You can even allow your customers to manage multiple domains on your servers as cPanel has one of the best multitasking capabilities for management.
When you work online, data is something that permeates your entire career. We don't mean the endearing android commander of the Enterprise, but rather the numbers and statistics that come with running a publicly accessible business. Analyzing those stats can be crucial in improving your business, and cPanel helps you gather and monitor data with its specialized tool.
Whether you're a beginner web developer who wants to make their independent website or a big-time web hosting company, utilizing cPanel might be what you need to grow your business precisely.
In the end, if you find that cPanel doesn't fit your bill personally, here are some alternatives that may interest you.
1. Froxlor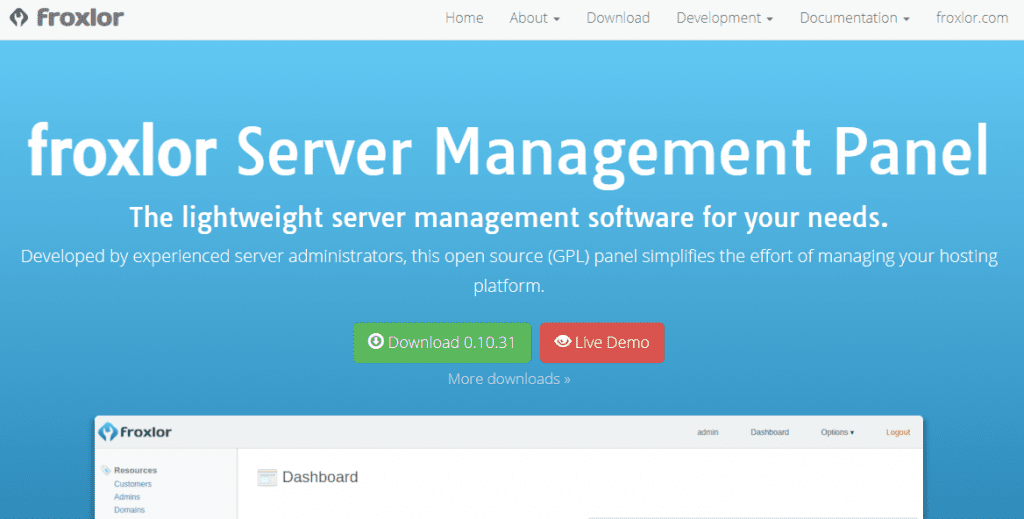 If you're looking for something that won't strain your system check out Froxlor, as it's currently one of the best lightweight server management panels. It's compatible with most operating systems, including the plethora of Linux versions.
Froxlor takes pride in its simplicity and ease of use. It is ideal for newcomers because more detailed panels can present a higher barrier to entry into the industry. And because Froxlor includes all of the basic capabilities that a server management panel requires, you'll be able to manage your business without missing any significant features.
The main aim of Froxlor is to make management as efficient as possible while maintaining simplicity and ease of use.
Pros of Froxlor: simplicity, ease of use, lightweight
Cons of Froxlor: lack of depth
2. Virtualmin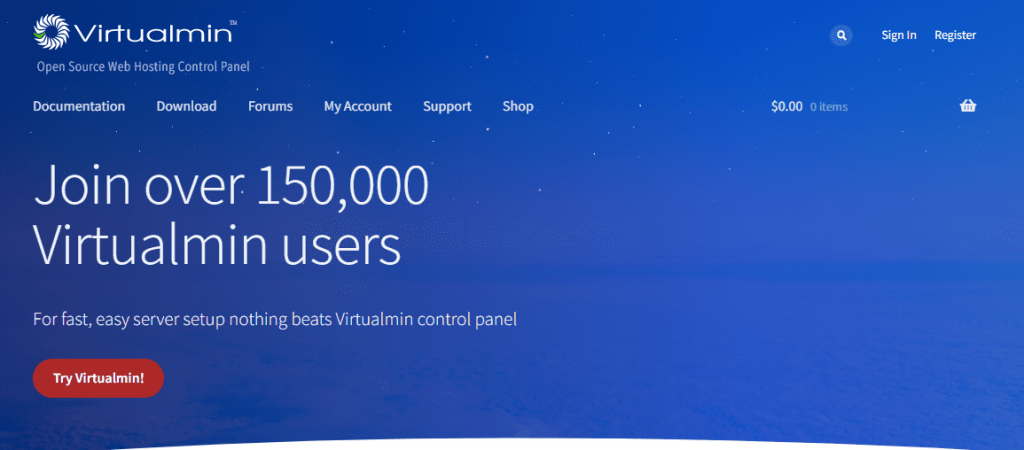 If you're looking for something open-sourced and free, check out Virtualmin. It has one of the best free hosting control panels on the internet, and it offers a plethora of features usually hidden behind a paywall.
These features include compatibility with Berkley Software Distribution and integrated security verification via Google Authenticator. And, if you're looking for a system that's constantly improved and maintained, Virtualmin's platform receives a steady stream of updates.
In terms of security, Virtualmin provides comprehensive antivirus protection and scanning capabilities, allowing your servers to rest while you build your business safely.
Pros of Virtualmin: the free version has remarkable quality, BSD support, constant updates
Cons of Virtualmin: some security measures depend on Google; there are some limitations in data backup
3. CloudPanel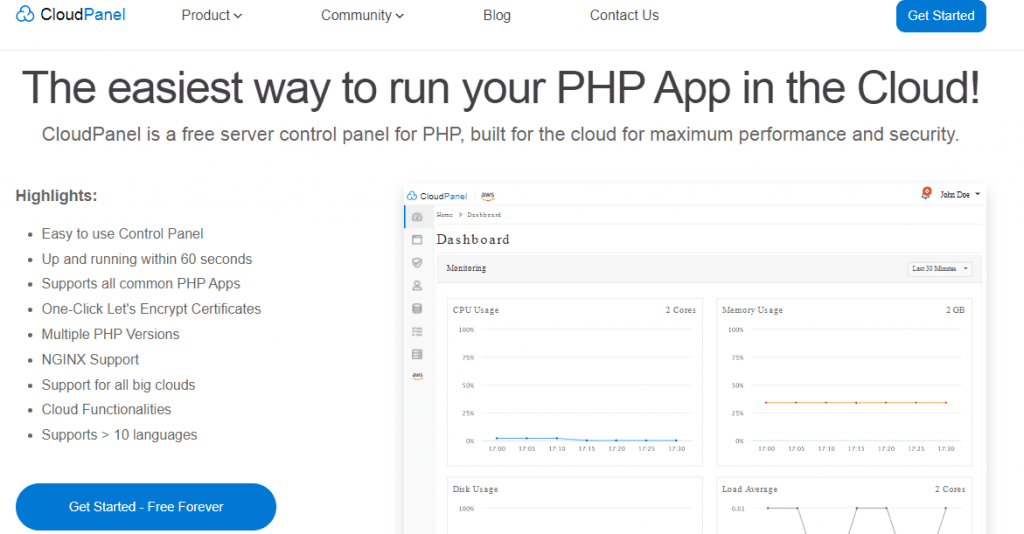 While most management panes try to target both the singular user and large companies, CloudPanel caters itself as the best management panel for web host administrations.
However, this can be incredibly important because if a panel focuses on end-users too much, it may oversimplify the usage and even features themselves. With its modern design and streamlined interface, CloudPanel becomes the perfect workspace for administrators who need to manage multiple domains.
And as the name suggests, it has some of the best cloud capabilities out there with support for Amazon Webservices, Google Cloud, Microsoft Azure, and many more.
Pros of CloudPanel: oriented for system administrators, sleek design, excellent cloud capabilities, completely free
Cons of CloudPanel: may not be very beginner-friendly
4. Ajenti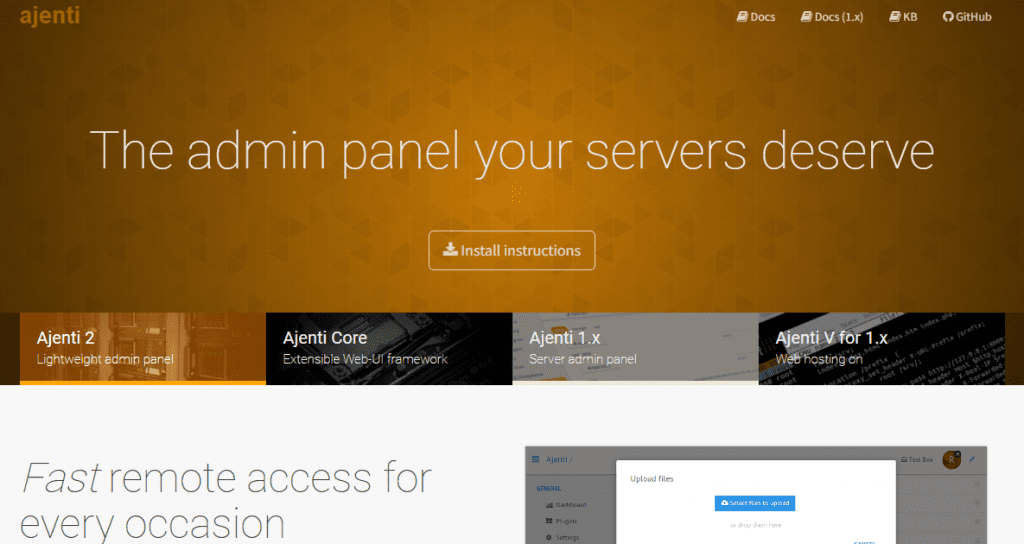 When it comes to server management panels, they can often be oriented to administrators or end-users, but Ajenti focuses on improving the developer experience as much as possible.
With its variety of panels, you'll be able to pick out whichever one suits your needs the most. And you'll be able to further edit them through Python or JavaScript.
Ajenti comes with beautiful features that ensure your ease of use and guarantee security. As with it, you can even create your firewalls. It also offers an impeccable mobile-friendly interface due to its web-oriented base. And if you want to be frugal with the resources you have on hand, Ajenti allows you to throttle and manage your resources to ensure efficient usage.
Pros of Ajenti: multiple versions to suit your needs, customizable, mobile-friendly
Cons of Ajenti: complex and geared towards developers
5. ISPConfig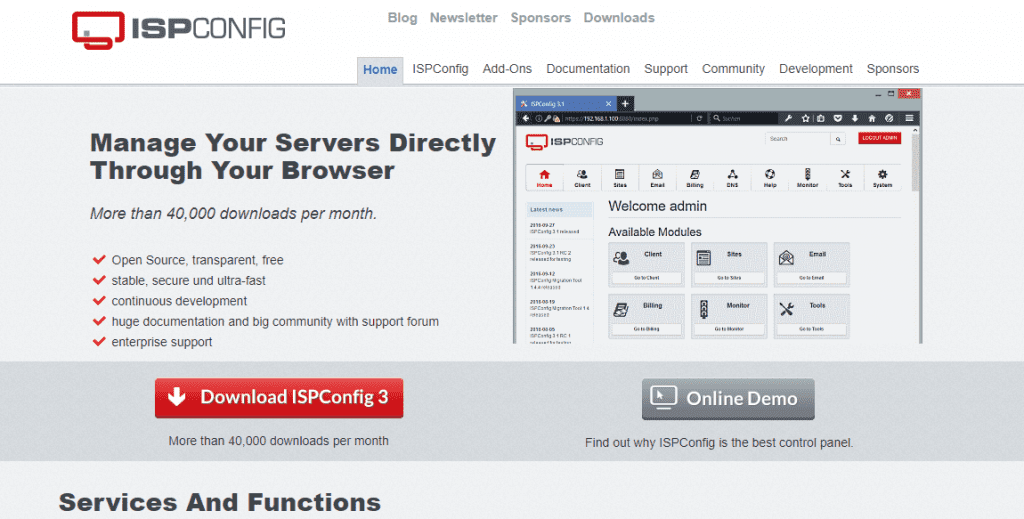 When you're looking to buy or download something off the internet, the idea that these things are new and fresh often chases you. However, having something that has consistently worked well can easily outperform something new. Also, this is why you should consider using ISPConfig.
With its intuitive and easy-to-use interface, it easily rivals cPanel while at the same time offering the same features for free. And, because it is an older panel, it supports both IPv4 and IPv6, unlike cPanel, which is limited to the most recent protocol. ISPConfig also includes numerous security features, such as a firewall and password-protected folders.
Pros of ISPConfig: supports over 20 languages, reliable, intuitive
Cons of ISPConfig: dated design
Conclusion
All in all, when it comes to choosing a server management panel while cPanel is a good and reliable option, you might prefer some of these options that specialize in catering to your work style.
Not to mention the fact that most of them are free and open-sourced, unlike cPanel. Whether you run multiple domains and require a complex panel that can help you multitask or a small-time entrepreneur that wants to improve their business, there's a server management panel just for you.