Affiliate marketing has grown in popularity in the digital marketing industry. Also, it is no secret that that's an effective method to generate money online. While corporations engage with marketers to promote their products, marketers can compensate by the companies for marketing their products.
However, the procedure gets complex for novices because the system's rules are dynamic and depend on constantly shifting market trends. Furthermore, it is essential to contact potential prospects and nurture them to assure conversion.
As a result, affiliate marketers use autoresponders to make it easier to react to customer inquiries about items to expand their company. Or even send automatic bulk emails about them. We will look at some of the finest autoresponders for affiliate marketing in this post.
1. GetResponse
GetResponse is another tool widely regarded as the finest autoresponder for affiliate marketing. It's a seasoned email marketing program with all the bells and whistles you'll need for drip campaigns and affiliate promotions, as well as an excellent value for the money. It also features a user-friendly interface, making it a perfect choice for novices.
GetResponse has an excellent delivery rate and offers extensive analytics even in the essential products. It also comes with a simple funnel builder.
GetResponse has a free 30-day trial, and the Basic plan costs only $15 per month for 1,000 subscribers. The Plus subscription costs $49 per month. Also, it is vital to mention that it includes additional capabilities such as an automation builder, five sales funnels, and webinar access.
The Professional packages provide you with unrestricted access to some of their more premium features, as well as some additional benefits.
Each internet marketer plan includes up to 1,000 subscribers for free, with more subscribers available at a higher cost. A bespoke pricing function is also accessible for professionals who want access to everything the site offers.
2. Sendlane
When it comes to email marketing software for eCommerce, Sendlane is a well-known brand. However, Sendlane doesn't stop there; we can guarantee you that it's one of the finest autoresponders for affiliate marketing. I was first suspicious of Sendlane and its affiliate friendliness. However, after speaking with numerous affiliates about their Sendlane experiences, I discovered that it is a very affiliate-friendly business.
Furthermore, based on their characteristics, they would be ideal for an eCommerce-type affiliate website. If you list all of your affiliate items on your website, Sendlane will assist you in driving conversions through email and SMS campaigns. Sendlane, on the other hand, allows you to build and integrate smart pop-ups to boost conversion rates even further.
Sendlane provides a generous 14-day free trial period before committing to a membership plan. You will be able to send an infinite number of emails to 100 recipients.
Following the completion of your free trial period, you will have the opportunity to upgrade to one of three price plans. You should be aware that some of these programs need a membership.
3. ConverKit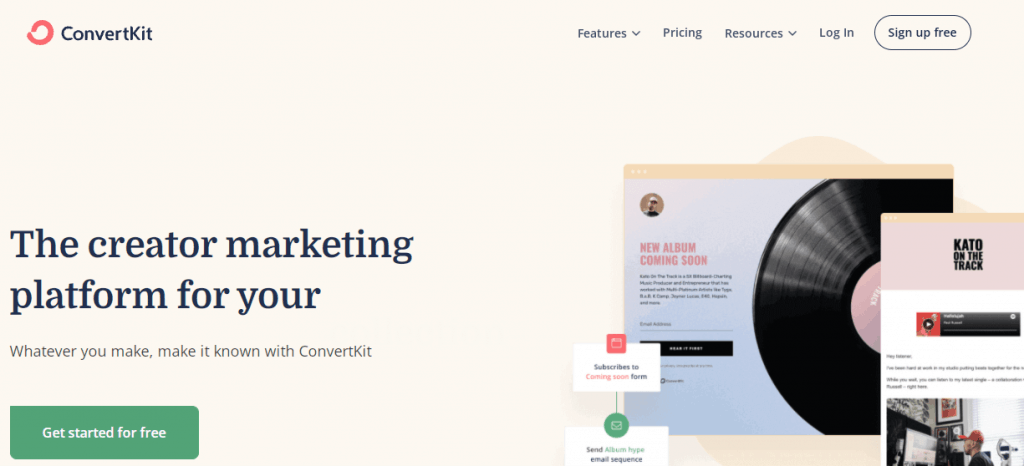 This autoresponder is well-liked by both affiliates and non-affiliates. ConvertKit is a relatively young email service, but it has quickly established itself as one of the finest affiliate autoresponders. It is similar to other autoresponders in many respects, except it is easier to use. In the following paragraphs, I'll go through how it works in detail.
Tags, sequencing, segmentation, and automation are all possible. These are ConvertKit's main selling points. They outperform several older autoresponders, such as MailChimp and Aweber, in terms of targeting and segmentation.
ConvertKit provides a free subscription that allows you to create an infinite number of landers, forms, traffic, and email broadcasts. It also supports custom domains and subscriber tagging. It will, however, only function for the first 1000 subscribers.
The Creator plan includes everything available on ConverKit for $29/month for 1000 users. Every two or three thousand new members, prices rise by $20 or $30.
Creator Pro includes additional features like subscriber engagement score, deliverability reporting, and so much more. This package costs $59 per month for a thousand members.
4. Karta Mail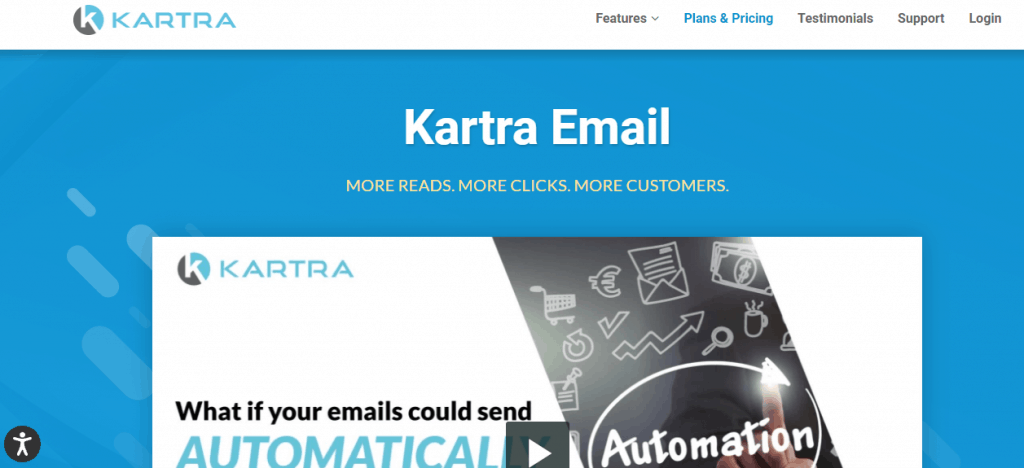 Kartra Mail is a one-of-a-kind addition to this list of the top autoresponders for affiliate marketing. This tool is technically an all-in-one marketing and company management software with several built-in modules. Also, this tool is one of the software's native marketing modules specializing in sending email campaigns to your clients. You may rest confident that this emailing solution is highly adaptable and helpful to affiliate marketers.
Aside from that, one of the most significant benefits of utilizing Kartra Mail is that it includes all of the other Kartra services. Kartra's components will all work together to assist you in maximizing your revenue stream. Kartra's most popular features are sales funnels, membership sites, check-out websites, landing pages, a helpdesk, and analytics.
It is one of the most effective premium autoresponders for affiliate marketing. First, it allows you to try the application for 14 days for $1. During the trial, you get access to all of the necessary features to make your final selection.
After that, you may choose and subscribe to any of its premium plans. The quantity of leads/customers imported or obtained determines the cost.
5. Moosend
Moosend gives affiliate marketers access to fantastic tools that allow them to boost their marketing game. This email marketing solution will enable you to generate highly responsive newsletters that will catch and hold the attention of your target audience. By allowing campaign scheduling, this state-of-the-art' marketing automation tool saves time. Furthermore, Moosend has drag-and-drop capabilities for creating professional email designs.
This email marketing tool can also create segments. When it comes to customizing your email messages, the segmentation function is essential. You may increase your affiliate sales even more by personalizing your emails.
You may use Moosend to test your emails and newsletters before sending them. A/B testing allows you to test subject lines and videos while eliminating non-performing elements to achieve improved outcomes.
Their affiliate program offers excellent commissions. After you suggest a hundred paid accounts, you may expect to earn $300 each month for the rest of your life if the clients continue to use Moosend.
Conclusion
Email marketing can assist affiliate marketers in reaching out to their subscribers in a consistent way with their business operations. You may have more control over reaching out to your readers if you use the proper email marketing software.
The capacity to create outcomes and measure performance is one of the reasons email marketing has grown so popular. Please ensure that the platform you select meets your requirements.