Writers, journalists, and soon-to-be bloggers, we present you with a collection of the best WordPress blog themes for your compelling content.
In this day and age, there is no need for you to start the process from square one. Heck, you also do not need to hire a coder nor a designer. As a matter of fact, even if you are without experience, you will still succeed at building a top-notch blog.
Thanks to a WordPress theme, the major part of the work is already done for you. Not just that, you can freely employ the tool out of the box (read as is) and have it all set and ready to go live in close to no time.
Like that would not be enough, you also do not need to code when doing any customization tweaks. Thus, anyone and everyone can entirely style the theme and the demo of choice to their liking. It is the drag and drop technique, aka visual coding that does the magic for your convenience.
Whether you would like to start on the internet immediately or you are taking it slowly and securely, either way, these WordPress blog themes are the best solution for you to get moving in the right direction. The direction of success.
1. Marjetka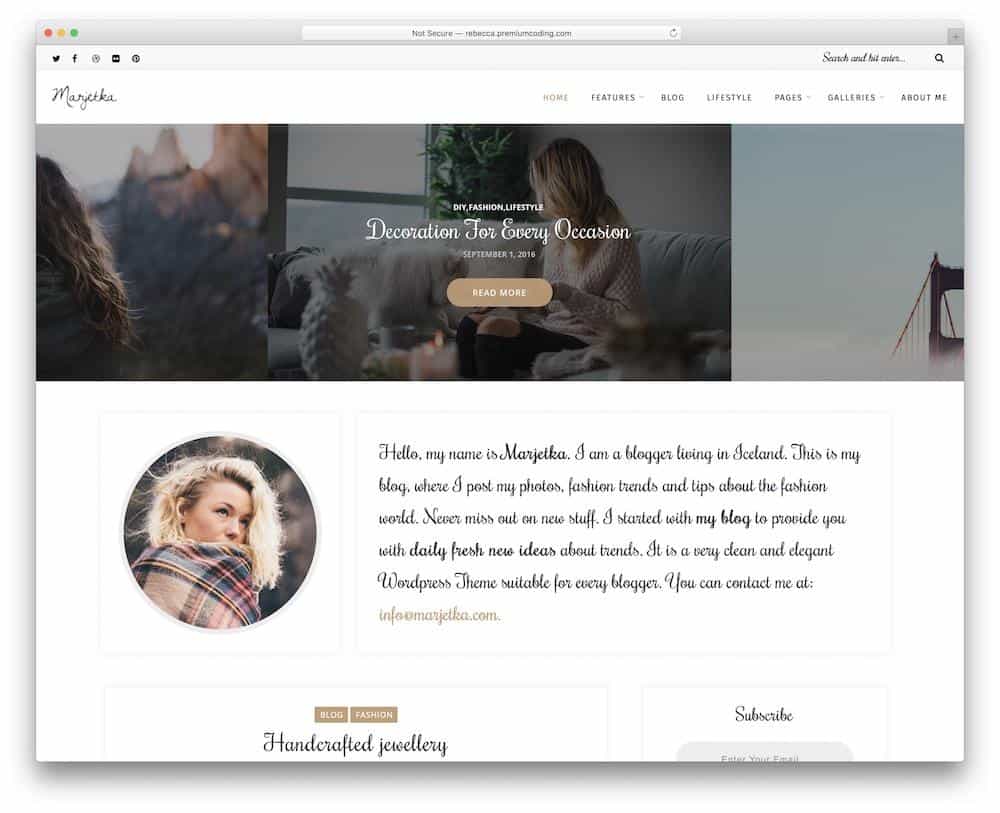 If you are searching for an impactful and striking WordPress blog theme, Marjetka is the unique solution that you can take to your total advantage. Instead of starting with your project from scratch, you can now move things forward with the employment of Marjetka. Marjetka offers you an array of goodness that will do you exceptionally well. From eight stunning homes and five post templates to Slider Revolution, single-click installation, and CSS3 animations, it is all at your fingertips. While Marjetka somewhat fits girly and feminine intentions the best, you can effortlessly go entirely against the grain with it.
2. Amory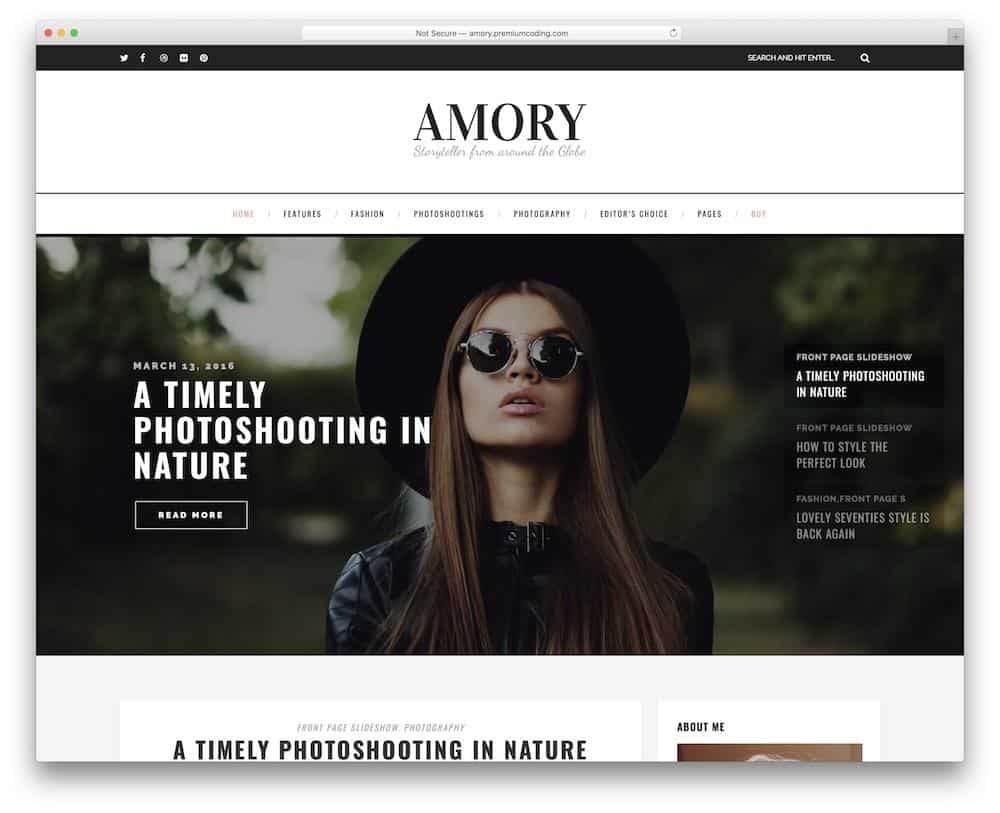 Amory is a complete pack of material that will help you get a blog for your objective shortly. Without the need to know how to code and design, you can greatly succeed in establishing an online journal with Amory. The tool includes all the necessary and plenty more, making sure you get the most out of it. There are well over ten predefined homes at your disposal, readily available to put them into practice. Keep in mind; you can work with the out of the box version or improve and enhance Amory further. You have all the rights to alter and personalize Amory according to your liking. It even comes with WooCommerce integration for when you would like to sell products online.
3. Brixton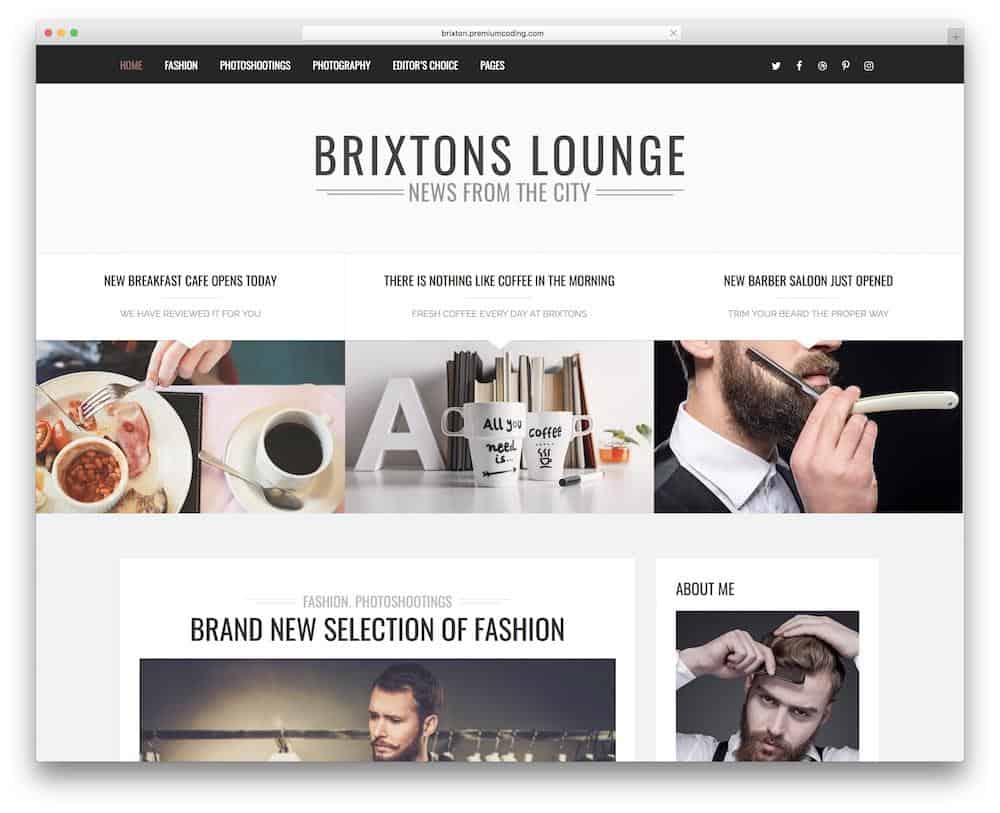 If you are looking for flexibility and extendability in a WordPress blog theme, Brixton will surely do the trick. It is a sophisticated, all-around, and impactful solution with a collection of twelve modern demos. While every page layout works as is fantastically well, you can also modify and tweak Brixton appropriately. Other goodies of Brixton include Slider Revolution, fast loading speed, background image, video support, search engine optimization, and social media integration. Regardless of your blog's main aim, Brixton suits any niche and industry without a hitch. Get the word out, publish compelling content, and start building a community, all thanks to Brixton.
4. RibTun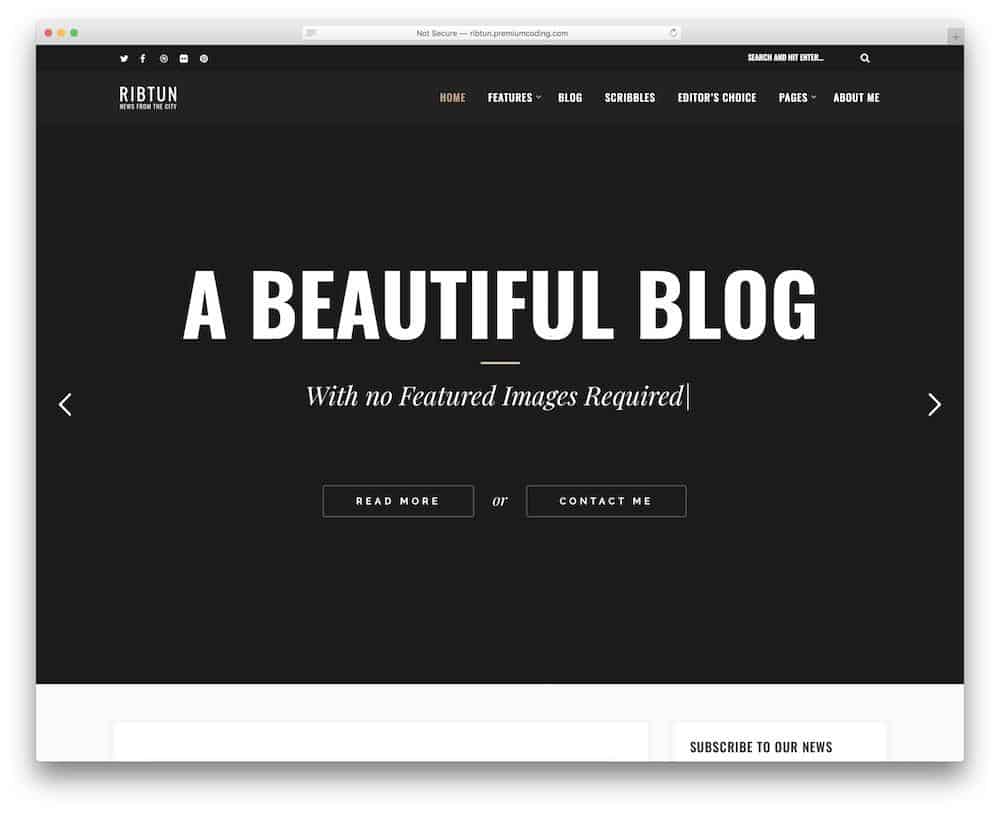 With the implementation of RibTun or any other WordPress blog theme, you can experience striking results swiftly. Not just that, you will never need to touch a single string of code when individualizing the default appearance. That said, these tools are all very newbie-friendly. Get things moving with RibTun and any of the four predefined home page samples. RibTun sports an immaculate and minimal style that works for an array of different intentions.
Some more features of this site canvas include six gallery layouts, five post types, CSS3 animations, awesome typography control, and an option to go with either full-width or boxed layout. What's unique about RibTun is the ability to work excellently without images.
5. The Issue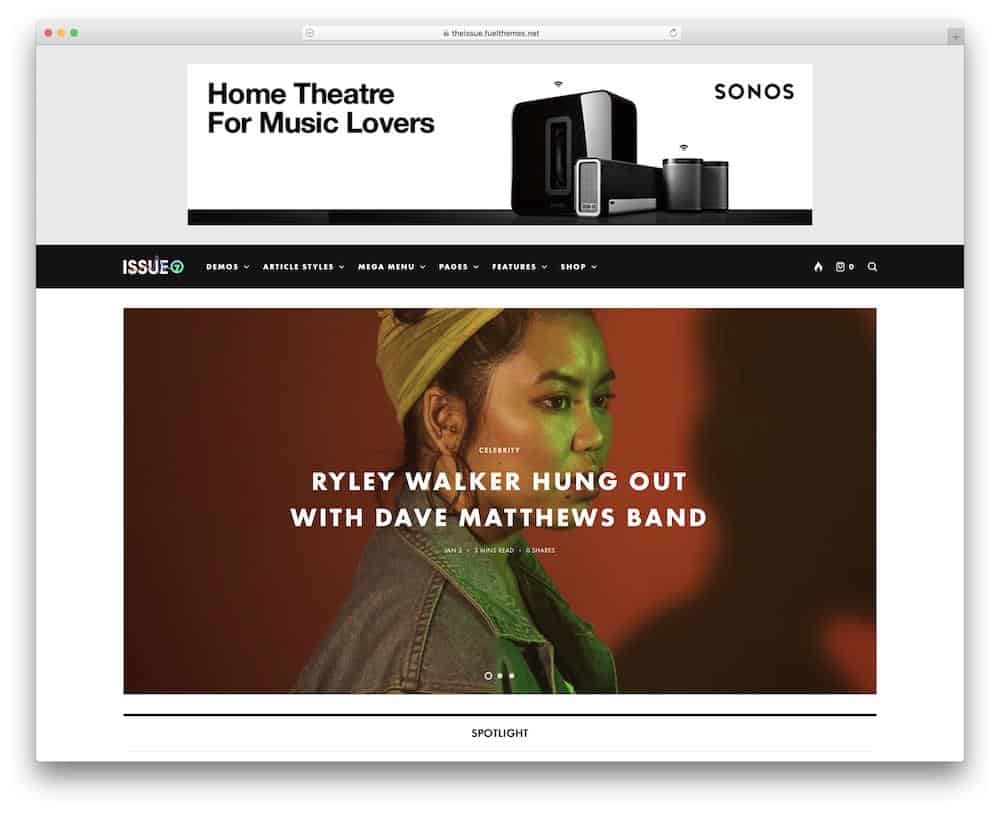 For a blog or online magazine, The Issue is a spectacularly powerful and practical WordPress theme that gets the ball rolling with a broad horizon of treats. There are seventeen samples to consider, all with a creative and original look. You will have no trouble finding the right style for your need, avoiding building the blog from the ground up entirely. You can also profit from WPBakery customizer, making The Issue practice your branding directions precisely. Ten headers, custom-made widgets, reactions, SEO and speed optimization, mega menu, and infinite loading are just a few of the amenities that you get.
6. Squaretype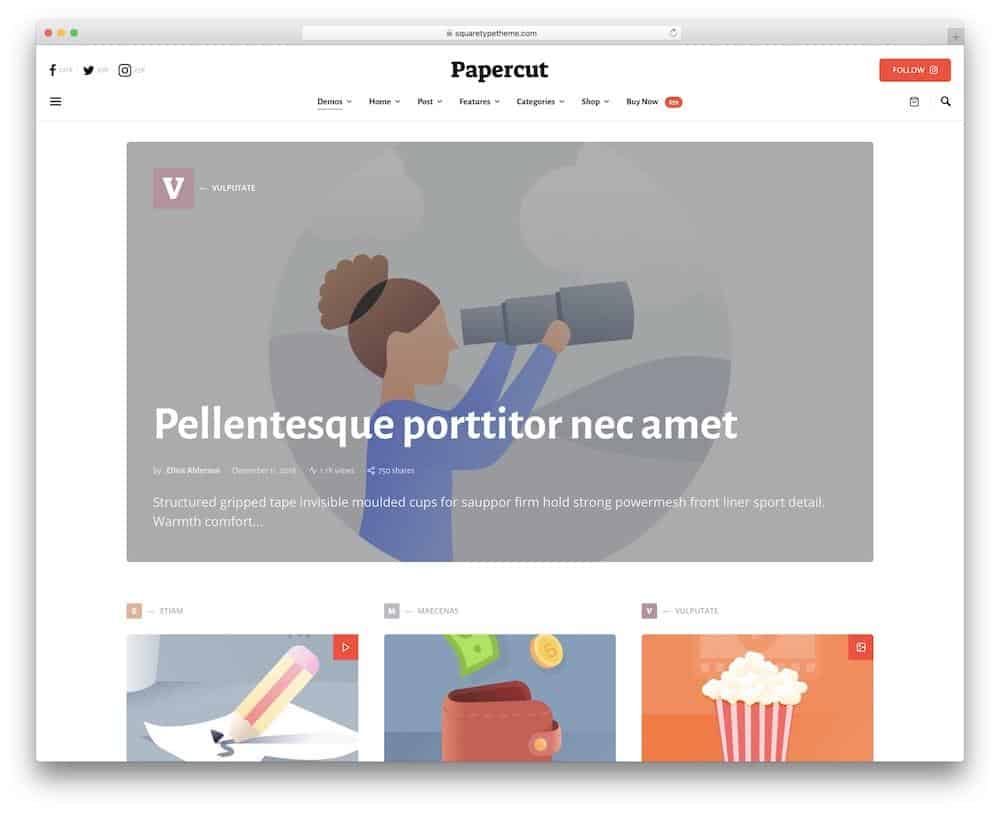 Squaretype is a clean and up-to-the-minute WordPress blog theme that you can employ for pretty much any project you want. Meaning, whether you would like to build a personal, travel, food, lifestyle, technology, or design blog, Squaretype offers you all the necessary materials to make it happen. In the box, Squaretype rocks nine different samples, all very appealing to the eye. Keep in mind, Squaretype is also very minimal, adapting to different tastes with ease. To top it all up, you can also modify and fine-tune the default appearance of Squaretype, so it matches your style precisely. Start spreading the word out with Squaretype now.
7. Sitka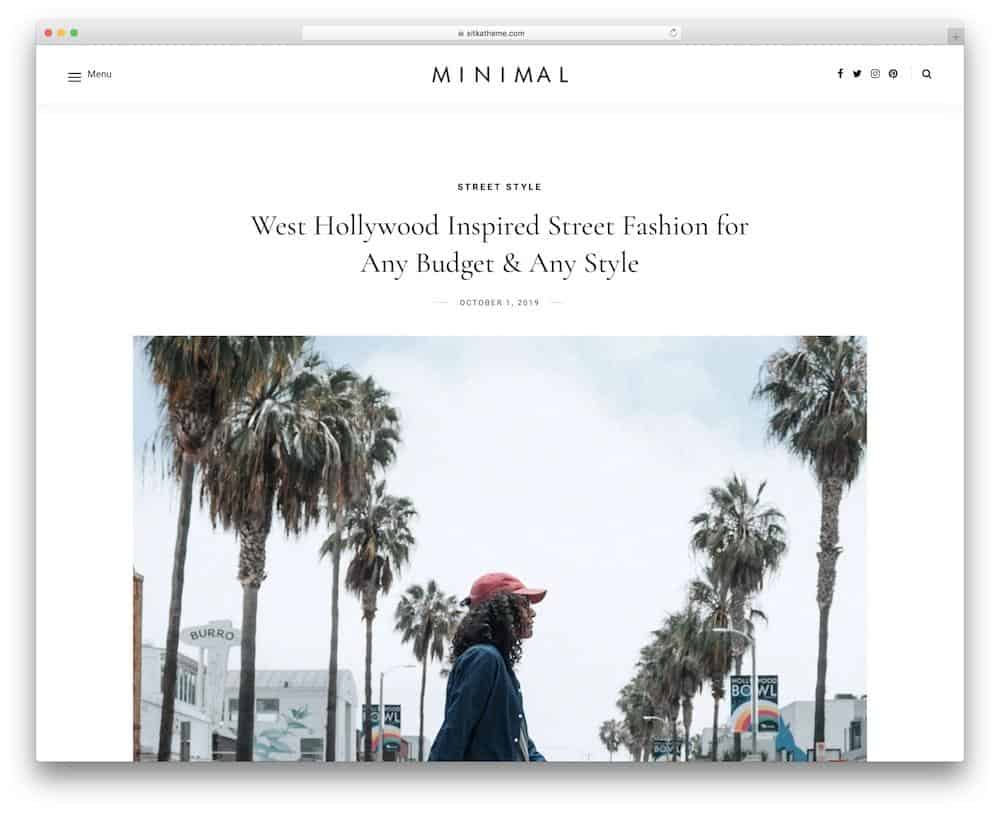 Bloggers, writers, and journalists, everyone can win big time with the extraordinary Sitka. With the one-click sample data installation, Sitka gets you going right away. There are multiple different layouts, predefined, and ready to use. The performance of Sitka is also first-rate across all devices and browsing platforms, for a continuous smooth experience. Just like Sitka is compatible with all devices, so it works with all the modern plugins for effortless integration. Last but not least, whenever you find yourself in need of help, reach out to Sitka's friendly support team, and they will be happy to assist you.
8. Once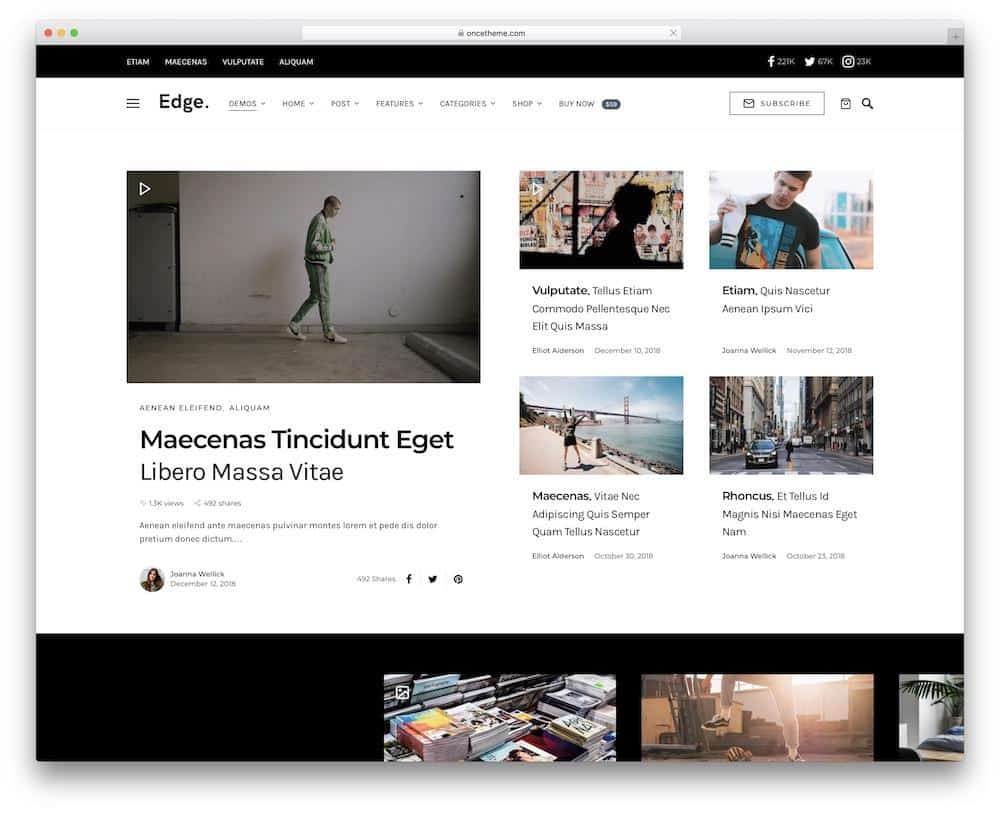 Once only needs six ready-made samples to cover a broad specter of different blogging intentions. It does not matter what topic you would like to write about, with Once, you can make a blog that fits the purpose exclusively. Some of the features that Once brings to the table are Gutenberg-friendliness, various page layouts, autoloading, video backgrounds, AMP support, and mega menu, to name a few. With Once and the integration of WooCommerce, you can also create an eCommerce section and take your blog to an entirely new degree. Enjoy the freedom that Once guarantees and establish the online presence that will blow everyone away.