As a businessman or woman, you are probably already using some form of appointment scheduling tools. Navigating everyday tasks and organizing yourself or your business can be time-consuming, and occasionally error-prone, too. As you know, you need this for scheduling and tracking your appointments, accepting online bookings, sending reminders, and for checking on what days you have time to fit in an important meeting.
To help you become better at planning, we listed five best appointment tools we think you should have:
1. Sprintful
Sprintful is an online appointment scheduling software that makes it super easy for anyone to book meetings. Create your own page with customized availability settings, calendar sync, customized branding, custom notifications, custom booking form, and other features that provide a seamless user experience.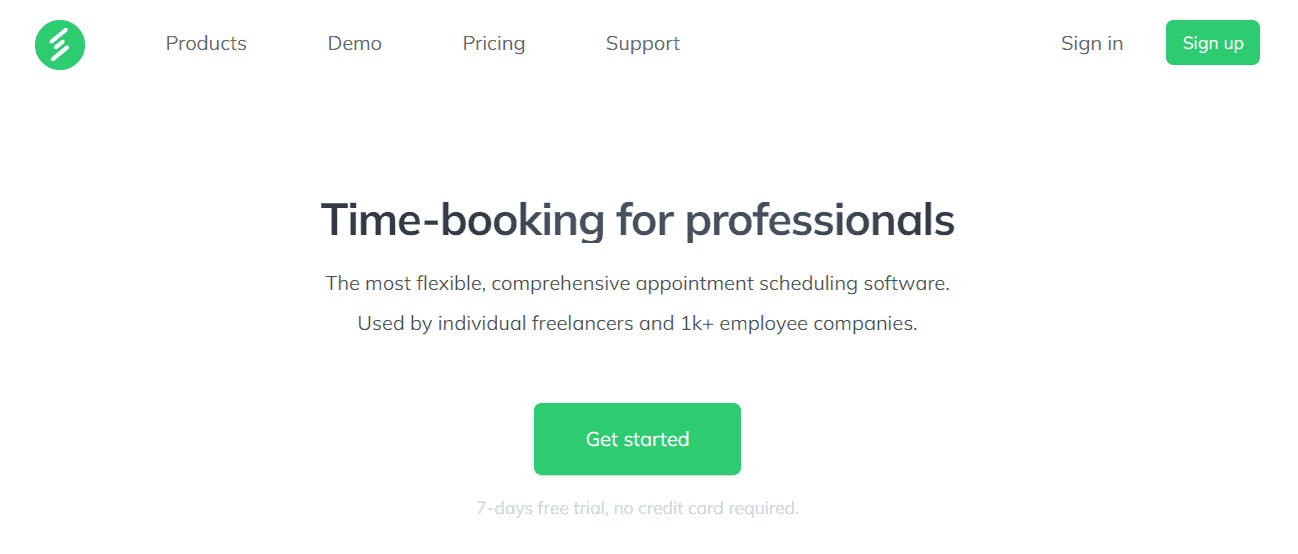 Whether it's online or in-person, you can configure Sprintful to tell your customers exactly where to meet. Generate automatic call links via integration with all popular video conferencing solutions (Zoom, Microsoft Teams, and others) as well as supports for off-line, in-person locations
With Spintful, team booking is also a breeze and caters for every use case. Whether it's customer support teams, sales teams, or resource reservation – we got you covered. Create Team Pages, Auto Assign meetings, mutual booking availability, and comprehensive and centralized reporting and analytics to keep a track of the team's performance.
2. Square Appointments
Square Appointments tool is one of the best free appointment scheduling software out there. It includes easy booking abilities, Customer Relationship Management tools, and invoicing. You will get a free website or online store with this tool, and you can add options to require payment information and cancellations. Another great thing is that when it comes to payment, Square gives you built-in credit card processing at competitive rates. You can also reduce the number of no-shows by requiring a cancellation fee or full prepayment.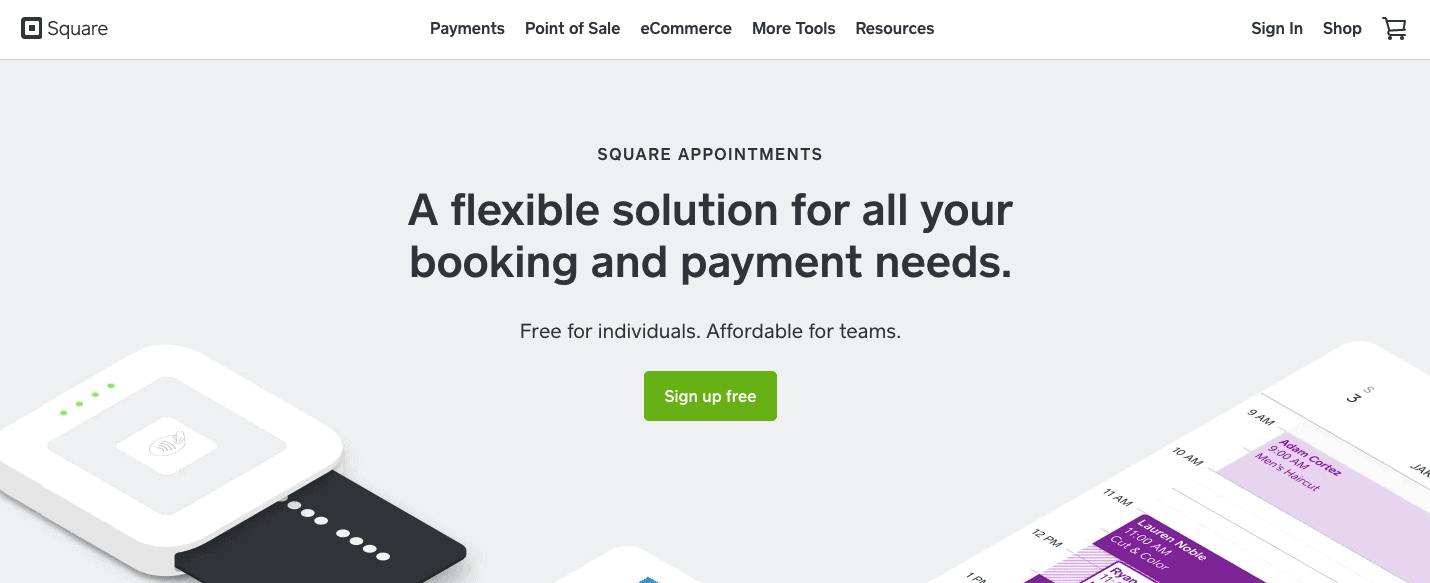 This tool includes a cloud-based calendar that you can sync with your account across all devices, whether from a browser, Android, or iOS. You can also set different types of appointments. Your visitors can choose between different services and book online. Booking can be embedded into other websites and social media. Once an appointment is made, with the CRM service, you can send out regular appointment emails to make sure your client knows and remembers the appointment.
However, this tool is made for single users, meaning it is best suited for individuals and entrepreneurs.
There are different payment plans; it is free for a single user, it costs $50 per month for up to 5 users, $90 for up to 10 users, and it comes at a custom price if there are more than ten users.
3. Shedul
Shedul is a cloud-based booking software. It is the best multiuser scheduling tool and is also free. It offers unlimited users, calendars, and appointments, making it great for salons, health clinics, and spas. Basically, it is great for any business that needs a multiuser scheduling ability. The tool also comes with the ability to send out emails and text your clients about appointment reminders, so they don't forget. There is also the cancellation option.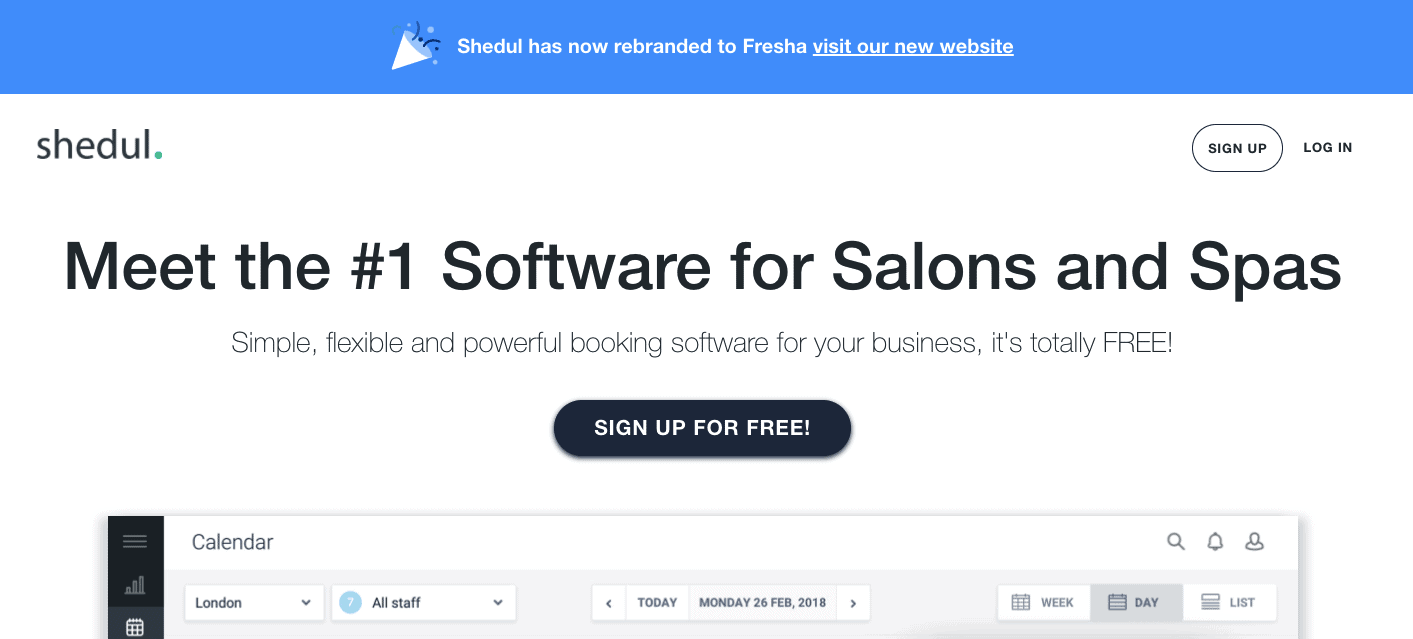 Scheduling with this tool is very simple, and you can create different color-code appointments and set specific working hours for each employee. You can embed the online booking option on any website.
Other features include a customer database that tracks invoices, appointments for every client, and sync your calendar with your Google Calendar, but it is missing the ability to integrate payment processing options.
4. Setmore
Setmore is another cloud-based appointment booking tool. It lets its users schedule and create classes where customers can reserve their spot online. It is best made for gyms or any other business that requires a class appointment. You can integrate payment options and sync your calendars. You can also market your classes live via Facebook or Instagram.  Registration for your classes closes automatically, so you do not need to worry about it.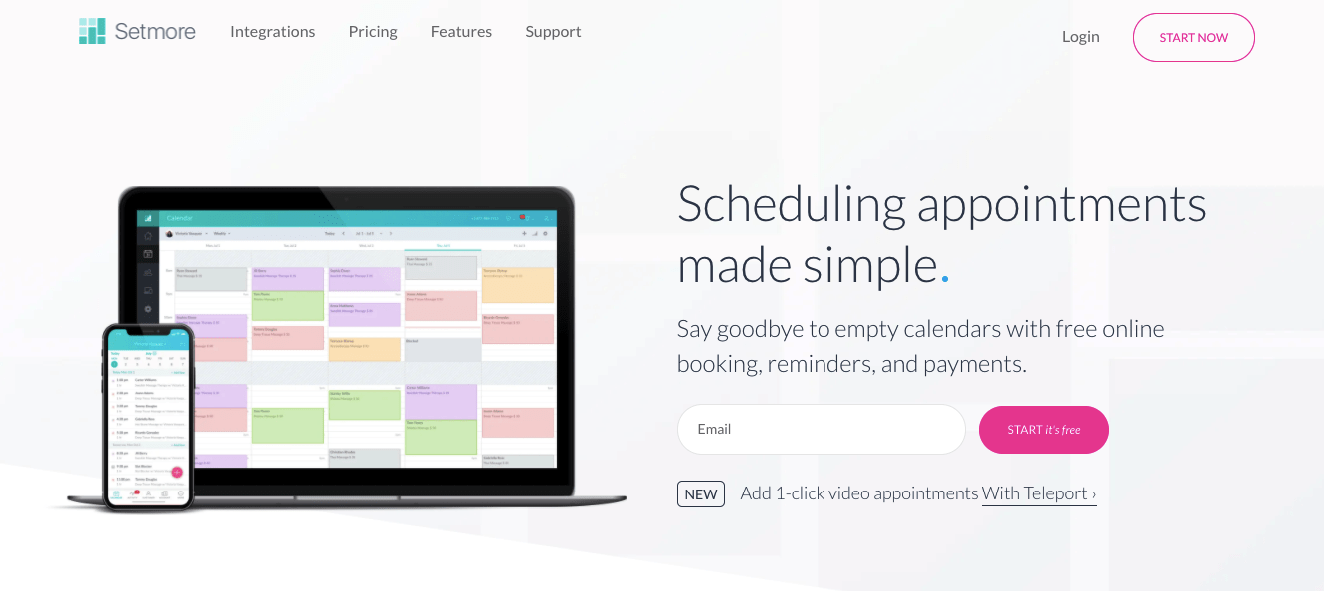 Booking is made online, and it is easy to use for your visitors. You can also see feedback from your customers and their reviews before they are posted. You can add live booking appointments for your customers.
Setmore can be integrated with social media, WordPress website, QuickBooks, Google calendar, and Stripe. It can be used on any device, Windows, iOS, or Android.
It comes in two payment plans; it is free for up to 4 users, and for up to 20 users, it costs $25 per month. The premium version comes with the ability to send text reminders, sync your calendars, and set recurring payments.
5. Acuity Scheduling
Acuity Scheduling is a great appointment scheduling tool that works as your online assistant. It makes it really easy to schedule appointments on your website. Your clients can see your calendar and find the time and date that suits them. They can also reschedule or cancel appointments. To reduce the number of no-shows, you can add online payments so clients need to make a deposit before they can confirm their appointment.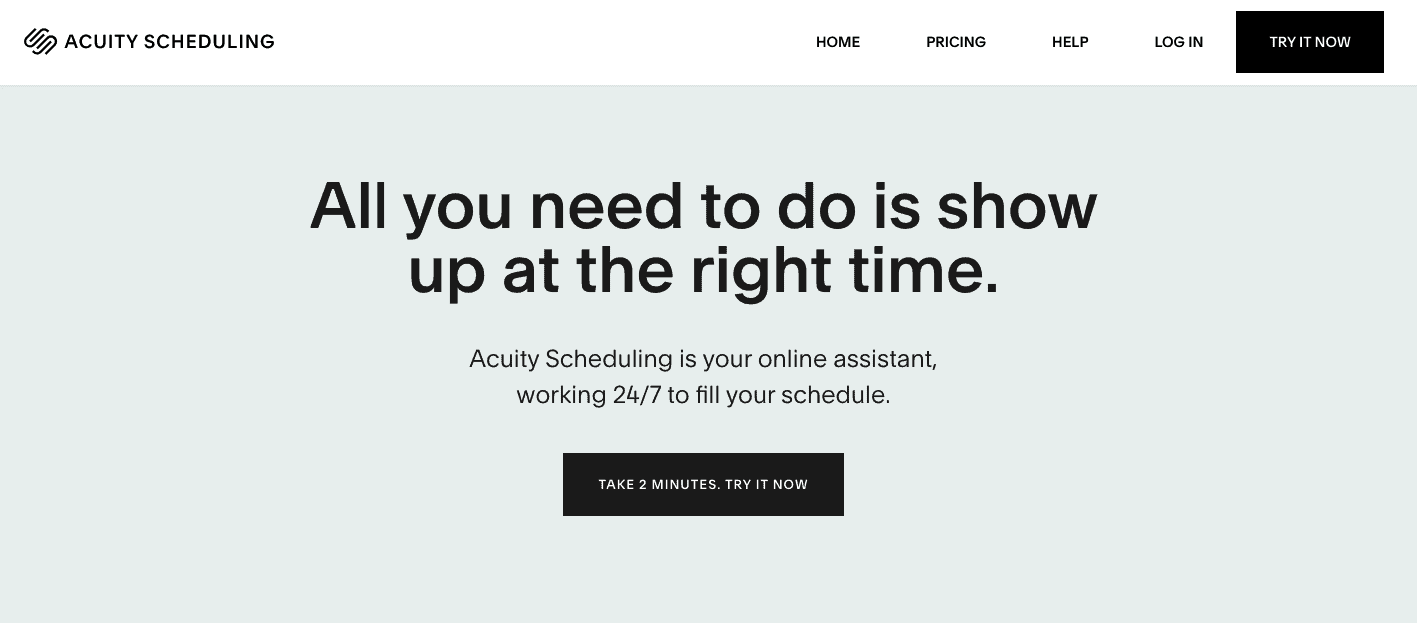 Scheduling can be embedded on any website and social media. You are sent a notification whenever a new appointment is made on your calendar, so you are always up to date with all of your appointments.
It is great for businesses in more than one location as you can set up calendars for each location and showtimes in customers' time zones. You can send reminders to clients as well as follow-up emails.
It is used by more than 50,000 businesses and can be integrated with Google Calendar, iCloud, Outlook, Zoom, and other applications and tools.
There are several payment plans: it is free for one user, it costs $15 per month for one user for advanced features, $25 per month for up to 6 users, and $50 per month for up to 36 users.
6. SimplyBook.me
SimplyBook.me is an online booking tool best used by service-based companies. Your visitors can easily book appointments from Facebook, Instagram, and Google calendar accounts. They will also receive emails and reminders whenever an appointment is booked, canceled, or rescheduled. You can also accept payments from PayPal, Stripe, credit cards, or accept cash for your appointments.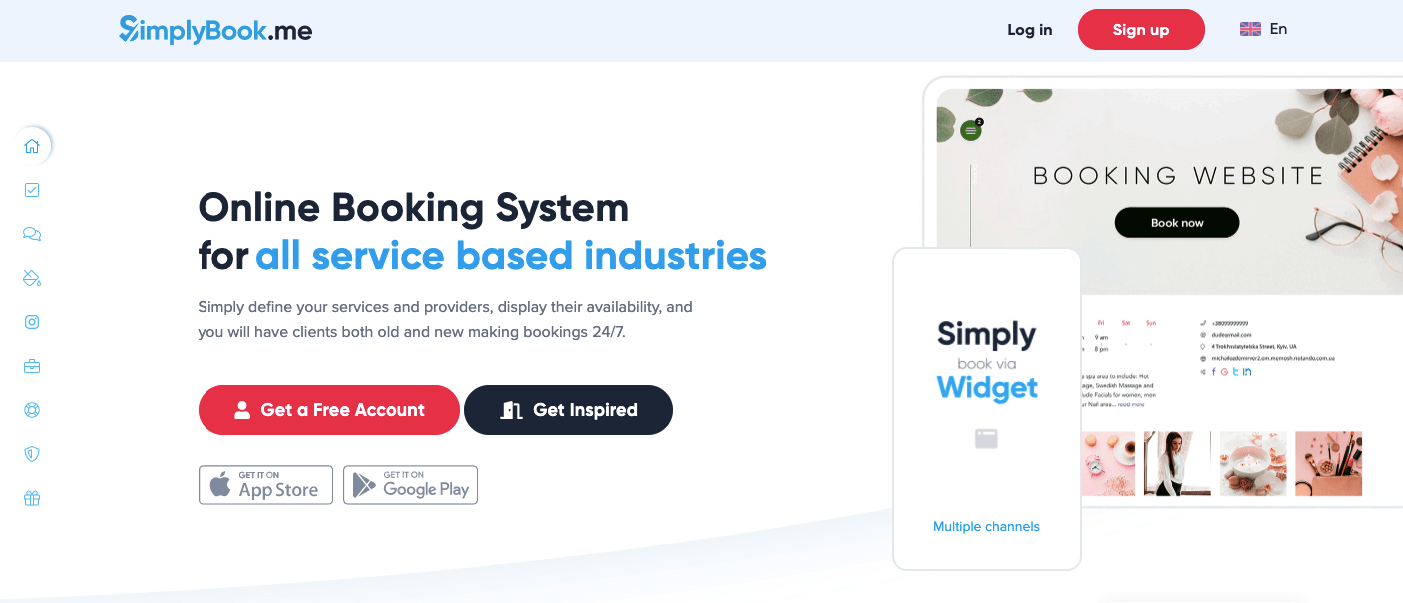 You can determine work hours so your customers can choose their appointment time themselves, without the need to call your staff. You can also add required security deposit so you lower the number of no-shows, so you don't waste your time and your staff's working hours.
This tool can be synced with your Google calendar and is available in several languages, such as English, German, French, Spanish, and Chinese. It comes in both Android and iOS versions.
It comes in several pricing plans; it is free for up to 50 bookings, it costs €25/month for up to 500 bookings and €50/month for up to 2000 bookings.
Conclusion
Basically, which scheduling tool is best for you depends on what type of business you have and the specific needs your business has. There are many free and premium versions out there, but we have listed the top 5 we think are most reliable and will help your run a successful business and make the appointment booking process a lot easier.