Customer support always plays a vital role in any business. One of the best ways to keep your visitors satisfied is to offer live chat on your website. Sites that implement live chat are more likely to have relaxed and satisfied customers. But more importantly, they will be more credible on those sites.
Live chat is a quick and efficient way for you to engage with your visitor and help them out if there is a problem or answer questions about your products. Live chats can save you're a lot of money. The key to its increased efficiency is a chat agent who can handle many chats at once.
To keep ahead of the competition, more and more eCommerce retailers are implementing live chat. Indeed, live chats are nowadays vital for businesses as they are the fastest and the most efficient way of communication.
There are numerous live chat plugins available today, but one stands out in terms of key features and adaptability. 3CX Live Chat provides a clear and user-friendly design for both customers and agents that leads to a professional experience. With almost two million installations, 3CX Live Chat is one of the most popular chat plugins you can use on your WordPress site.
This post will give you a complete review of the 3CX Live Chat WordPress Plugin with all its significant features.
What is 3CX Live Chat?

3CX Live Chat is a WordPress chat plugin that lets you chat with your customers/visitors in real-time. Live chat plugin is optimal for various businesses because it also creates a unique environment for the customers.
Your customers can ask you questions or tell you their problems and get immediate answers or solutions to their problems. Also, that way, it boosts your business's credibility and visitor satisfaction. Customers are not satisfied with the old traditional waiting for a reply system.
They want a quick and easy-to-use solution. Plus, this is why 3CX Live Chat is one of the most reliable plugins you can have on your site.
Key features:
User-friendly interface for both customers and agents
Customizable chatbox: different color variations, option to put company logo, professional animations
Opportunity to create offline message forms
Storage system for your offline messages
Create unlimited agents and set up departments
Set up profile pictures for agents
Option to accept or reject a chat
Predefined responses when your chat is not in business hours
With 3CX integration, you can get these advanced options:
Button for a fast switch from a live chat to a video call. This option is suitable when there is a more complex problem, and live chat is not enough
Reply to a conversation even on mobile with 3CX's mobile app (iOS or Android)
Assign chats to a particular agent or group of agents
3CX Live Chat Plugin Installation and Setup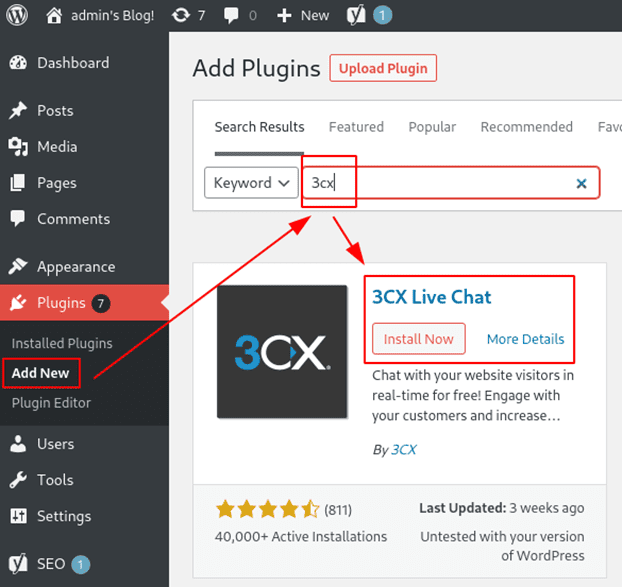 To begin with the live chat, you need to install the plugin on your WordPress site. Log into your WordPress dashboard and click the 'Add New' button in the Plugins area. You can find 3CX by searching by keyword. You'll be sent to a setup wizard after clicking the 'Install Now' button and then 'Activate.'
Select Channel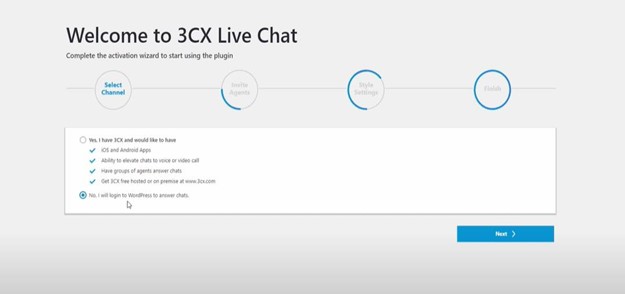 In this section, you can choose between two-channel options. The first one is to connect to your 3CX account and obtain all of its features. To respond to chats, you can also log in to your WordPress dashboard.
This solution works as a WordPress plugin that is hosted on your server. It is free, but a huge downside is that you can only respond to live chats from your WordPress dashboard.  It is worth mentioning that the new users can use 3CX live services for free for the first year. However, we strongly advise you to use it because it has some fantastic features, including:
3CX hosting
Smartphone integration- available for both iOS and Android users
Chat to call elevation with a simple click of a button
Agent group management and multiple agent creation
To use above mentioned features, you need to have a valid 3CX account. You can click here to create a brand new 3CX account.
Invite Agents
The next step is to create your agent under the Invite agents tab. Here you can create a username, name, and email. Also, you can choose between two roles: Admin or Agent. Furthermore, you can create as many agents as you need in just a few clicks.
Style Settings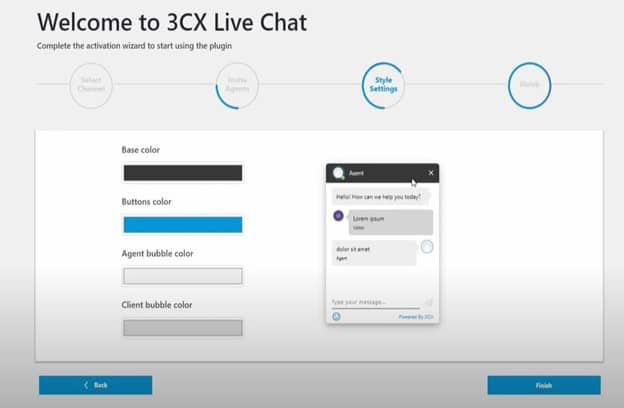 As you might've guessed, under this section, you will be able to customize your chat style. You can choose various colors depending on your tastes and the type of your website. One huge plus is the use of animation that you can set up for a better viewing experience.
After you have created your 3CX account, you will have to connect the service by adding a URL found in the 3CX cloud dashboard.
Advanced Settings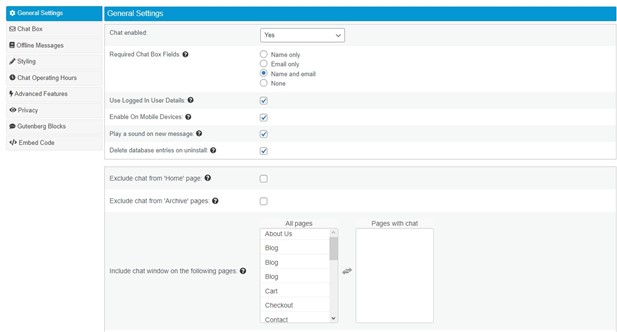 In the Live Chat section, choose Settings. Now you have access to many more options that you can tweak to your preferences, such as:
Enable/disable live chat on smartphones
Enable/disable live chat on specific pages
Offline messages control
GDPR support
You can also choose other colors and add auto-response and welcome messages under the Styling option. Alternatively, you may put "no response" at the end of the message text.
In the Chat Box option, you can personalize the chat box even further. You can use a pre-populated minimized bubble icon or even upload your icon. You can then set the logo of your organization. Lastly, you can add an agent default picture that the plugin will show on greetings messages.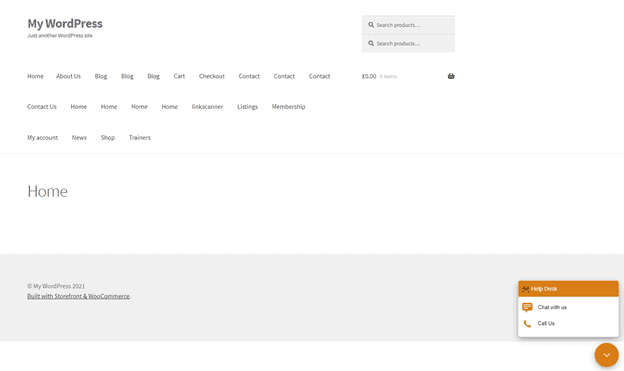 Elevating Live Chat to Call
One of the best features of this plugin is the ability to elevate from simple chat to a call or video call. Sometimes a situation requires something more than a chat, which is an optimal solution to that problem.
Furthermore, you have to go to Advanced Features and click the "Video, Phone and Chat" button to enable elevation, as shown in the image below. With this option available, your visitor can make a call or video call directly from chat.
Mobile Apps
This option lets you and your agent reply to chats on the go. You can use it both on Android and iOS operating systems. Setting mobile chat is quite simple: install the app and scan a QR code from the web client.
3CX Management Console
When you make an account in 3CX, you get to use both plugin and 3CX Management Console. You may view all information about your installed plugin via the 3CX Management Console. On the left side, when you've entered your credentials, you'll see a selection of categories.
In section Dashboard, you can see disk usage, memory, CPU usage, PBX Status, and basic information about the license, SIM calls, and your plugin version.
In the Users section, you can add more agents but also divide them into groups. You will have a better and more organized team if you separate them into numerous groups. You can also set up group calls that a specified group of agents will handle. After launching a new live session, you can additionally enable or disable sound notifications
You can do the backups from the Management console manually or automatically by setting a schedule.
Also worthy of mentioning is the Reporting section. In Reporting section, you can track all calls in the Log and filter them by date or other parameters.
Another cool feature is that you can integrate Facebook Business messages onto your live chat system.
If you want to do that, go to Messaging and click on Add Facebook. Then click on the Continue with Facebook button and give all permissions. Then you'll have to choose the Facebook Page you want to integrate with. Confirm the Enable Facebook Integration option after selecting the relevant page.
Lastly, there is one additional step we have to make to make integration successful. Go to the Route tab and elect an extension or queue to route messages to. And that's it; you have successfully configured 3CX to reply to Facebook messages.
3CX Live Chat Plugin Price
3CX Live Chat Plugin comes in three price ranges: Standard, Pro, Enterprise, all free for the first year of use. After the first year, prices will go up depending on how many users you need. The standard version is free for up to 12 users. However, the biggest drawback is that it doesn't offer call and video options.
Conclusion
As seen in this review, the 3CX Live Chat plugin showcases multiple excellent features that can help you engage with your visitors and help them out. With the help of an installation wizard, you can easily install this plugin.
You have the option of integrating everything or just using WordPress. Then all you have to do is customize your chat, tweak some settings, and you are all set up.
Again, one of its most significant upsides is an option to elevate the conversation to a call or a video. With the help of an installation wizard, you can easily install this plugin. You have the option of integrating everything or just using WordPress.  All in all, if you are searching for a flexible and reliable chat option, 3CX Live Chat is the best there is.