If you are currently making your own website or blog, the chances are you are using WordPress. On the same note, if you already have a successfully operating website or blog, the chances are it is run through WordPress. Ever since its inception back in 2003 WordPress just kept expanding and becoming more fun and innovative. Today it powers over 33% of all websites you can find on the internet, meaning that more than one in four websites you check out is powered by WordPress. Needless to say, so is this one.
Just like in real life, and in the Terminator movie franchise, something has to die on the internet as well, so that something better can take its place. Before WordPress, there was once a not-so-famous blogging software called b2/cafelog. Comparing this software to today's WordPress is like comparing Nokia 2210 to iPhone 8, meaning that it is pointless and embarrassing – but also enlightening because it shows us exactly how much we've progressed and evolved as a tech-aware community.
However, the WordPress that was created to take a place of the discontinued b2/cafelog was nothing like the WordPress we use today. It took more than decade-long progress to get to where we are today, and that is actually the true beauty of WordPress. It is always changing and improving in every way, so you should have the appropriate plugins in order to keep up with the constant advancements.
What is WP Reset?
One of the most diligent and valuable plugins on the current market is most definitely WP Reset Plugin.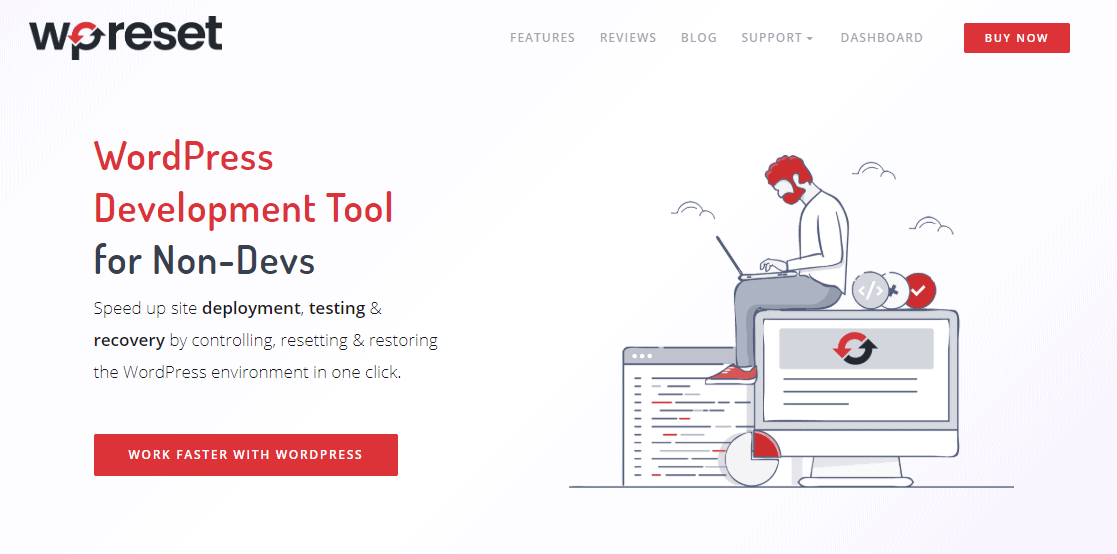 If you are an avid user of the benefits of WordPress, you probably already have WP Reset on your blog. Furthermore, if you are just starting to use WordPress, or you want to establish yourselves as prominent developers, website admins, bloggers, etc., this delightfully easy-to-use plugin is a must. Basically, it is meant for anyone and everyone who want to use WordPress, whether they are amateurs or professionals.
The mere name of the plugin already tells you its core purpose – WP Reset is a plugin that will swiftly and efficiently reset the site's database, bringing it back to its default installation values. If you are fresh in the business of running a website or using WordPress in general, you might wonder: "Dude, why would I need to do that?", so lemme explain just some basic reasons.
First of all, at some point, you will want to rebuild or repurpose your website. Sure, it all looks just fun and dandy now, but things change. If you are thriving off of grabbing the attention of the internet audience, you will quickly realize, that today, attention is a fickle and delicate thing. Now you have it and now you don't, so once the latter happens you will want to be able to change the purpose of your website. And that is where the masterful WP Reset plugin comes in.
WP Reset will safely and quickly delete all customizations and content without modifying any files or losing any of your valuable data. So, if you are for example running a membership website, but you want to renew your business and adapt it into an eCommerce store, then a WP Reset plugin is exactly what you need.
Another thing that might come in handy if you're thinking of running an eCommerce store is called Evidence. This tool allows you to capitalize on FOMO and majorly increase your conversion rates. How? Well, through real-time social proof (alerting visitors about all the other people purchasing your product).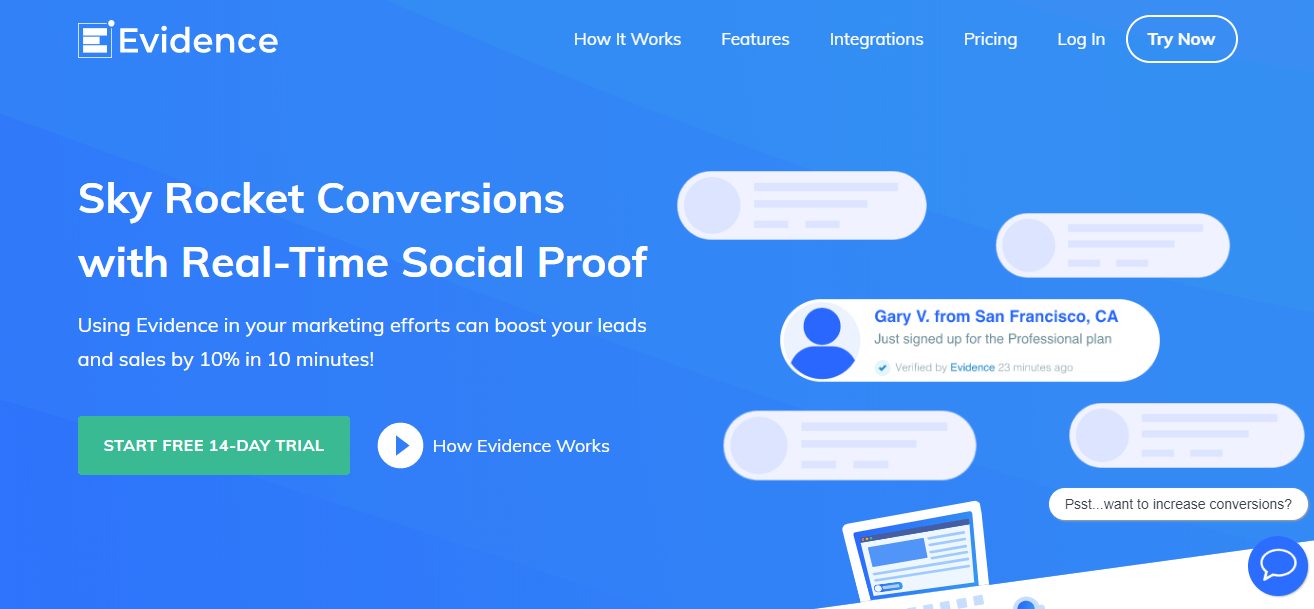 You see, with Evidence you'll get to display customized social proof notifications from purchases, registrations, and more. Plus, you can also create an unlimited number of campaigns for different strategies and goals.
As an extra boost for your eCommerce store, you should also consider adding the Spott tool which has proven to increase session times, sales leads, average basket value, and traffic, all through interactive content. But enough about eCommerce. Time to get back to the star of the show, WP Reset.
WP Reset takes just a few seconds and it will reconfigure your environment just the way you want it. And that is one of the most important things – "the way you want it". You can, of course, reset your WordPress manually, but it will take you some considerable amount of time and some tech savviness. Resetting WordPress without a plugin will require several tools and logins, including your FTP username and password, software (e.g. FileZilla), database access (e.g. phpMyAdmin, cPanel).
There are also several steps that you would have to take if you want to save some of your content etc. Soooo, why would you do that, when there is a completely free, fully capable, easy-to-use plugin that will do that job in a matter of seconds? WP Reset also features a post-reset setup, which means that you don't need to manually set options, or reactivate themes and other plugins. So unlike with the manual reset, you don't have to take any additional steps to ensure that your files are safe.
Resetting your WordPress with the plugin won't modify or delete any files, whether they are core, theme, plugin or upload ones. Many novice users are always fearful when going through with reset of their WordPress. For all of you out there who are uncertain what exactly the plugin deletes, here's a brief and precise list:
all pages, posts, custom post types, comments, users, media entries;
all default WP database tables;
all custom database tables that share the same table prefix as the one outlined in wp-config.php and used by default tables.
Furthermore, it is also important to mention that the reset will not delete or modify any of the following:
files (e.g. plugins, themes, uploads),
main info about the website (site title, WordPress address, site address, search engine visibility settings, site language),
users that are currently logged in will be restored with the ongoing username and password
media files, which can be very important if you are a blogger or your website operates as a social network, will remain untouched in the wp-uploads folder, they just won't be listed under "Media" in admin.
Lastly, many first-time users ask if their theme will be reactivated, so we feel obligated to mention that it won't. Once the reset is done, the default 2017 theme gets activated. However, the creators of WP Reset are currently working on making options to reactivate the previously active theme, so that is something that we can look forward to in the near future.
More of Some Stellar Features
WP Reset plugin is actually a necessity if you think about it more thoroughly. WordPress is widely popular with a good reason. It is simple to use, easy to navigate, and pretty swift, just like WP Reset plugin. It is a perfect companion to any WordPress site, whether if it's a business site, portfolio site, resume, forum, social network… The plugin will work like a charm for any WordPress website that you, as an imaginative user, can dream up.
The plugin is also a new favorite tool of most developers who are working with WordPress right now. One of the features that make the plugin likable for the developers who like to take things "on foot" is the fact that WP Reset is designed to be fully compatible with WP-CLI. For those of you who are somewhat unfamiliar with the tech-lingo, WP-CLI is the command-line interface for WordPress. It means that you can use it to configure multisite installs and update your WP plugins without going through the tedious process of using a web browser.
That further means that since the WP Reset plugin is fully compatible with WP-CLI, it makes it super-fast to work with. By default, the command has to be confirmed, but if you are in a hurry, you can just breeze through it with – yes option to skip the confirmation. Instead of any active user being restored, the first user with admin privileges found within the database will be restored after the reset is over. However, you should be careful when using the WP Reset plugin with WP-CLI because, just like with using the GUI, there is no undo.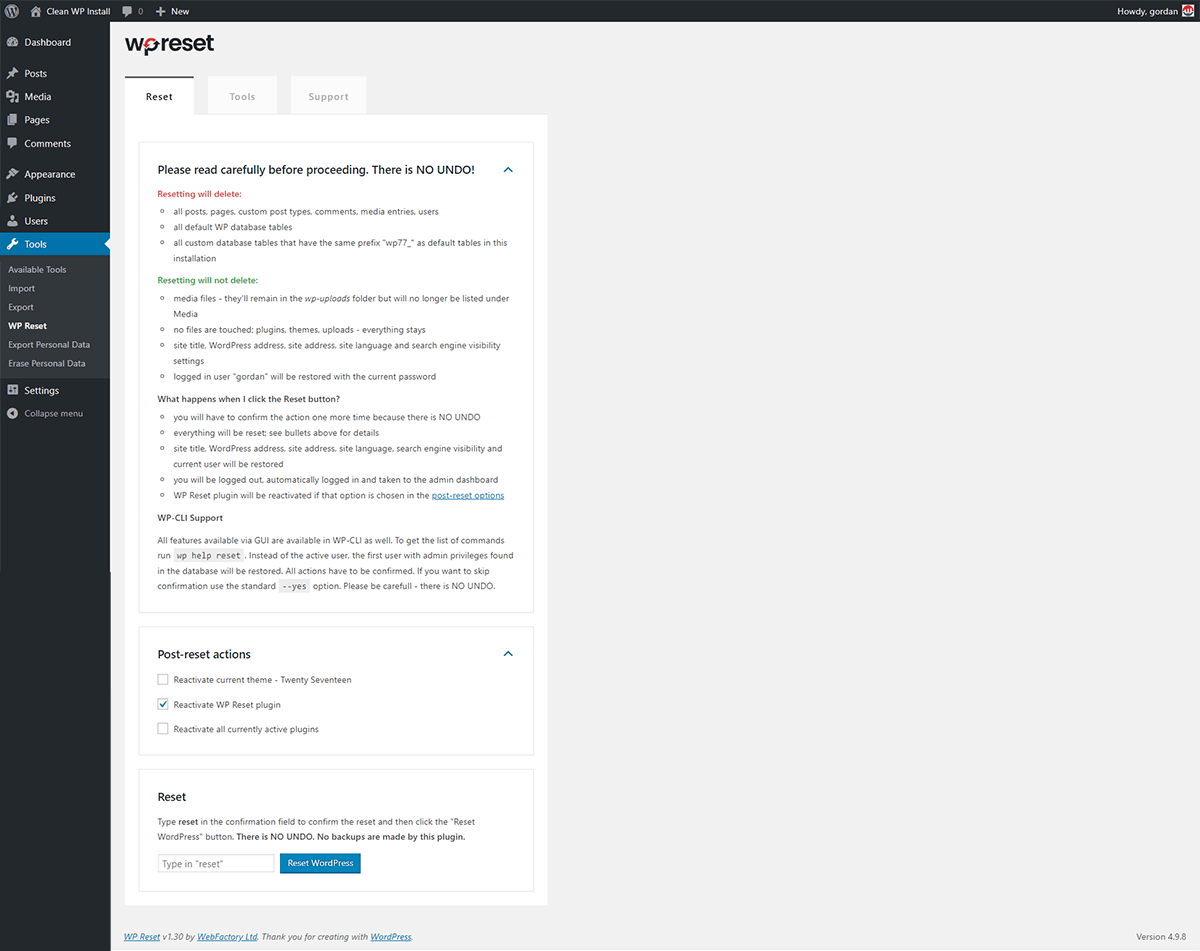 If you as an accomplished developer often employ a tactic of testing plugin products, then you have probably immediately realized the benefits of WP Reset. The chances are the dashboard of your stage-environment is probably overrun with unrequired themes and unnecessary plugins.
So you have two choices on your hands, either you spend a large portion of your precious time removing that surplus one by one, or simply wiping the lot of them with the amazing (#nofalsemodesty) WP Reset plugin.
Database Snapshots
One of the features that will also be attractive to all of the developers out there is that the WP Reset plugin enables you to restore your installation to the selected database snapshots. A database snapshot is a copy of all of your database tables, both custom and standard ones, saved in the database you are using at the moment (as set by wp-config.php).
It is important to mention that these snapshots are NOT backup tools per se. If you want to save all of your actual content like widgets, menus, layouts, cron schedules and such, you should find a more suitable tool. In the case of such backup savings, it is best to go with a tool that does backups of live sites. Database snapshots can sometimes be used for backups, but they are primarily a tool designed to help developers operate their website easier.
Through snapshots, you can find out the exact changes that a plugin made to your database. From finding out what custom tables were made, deleted or modified, to finding out what changes are done to the website settings, database snapshots will give you significant insight into your own development environment.
You can also use it to swiftly and effortlessly restore the development setting after testing the database related changes. Restoring a particular snapshot won't temper with other snapshots, or any of the WP Reset settings.
So, in case you are still baffled by all of the enormous conveniences that the restoring to selected snapshots provide, we will do a quick recap. Database snapshots can be compared to currently used database tables, restored by simple overwriting of the current database tables, downloaded as gzipped SQL dumps (in order to be used for backups), or deleted. Last, but not least, creating a snapshot on an average WordPress installation takes only one or two seconds, which is really nothing compared to the advantages it allows.
Aside from all of the said, WP Reset also features several partial reset tools including:
Delete transients – it deletes all database entries related to transients, such as expired and non-expired transients, as well as orphaned timeout entries.
Delete uploads – it deletes all files and folders in the /uploads/folder.
Delete plugins – deletes all plugins from your dashboard, except WP Reset plugin, which stays active.
Delete themes – it deletes all themes.
Empty or delete custom tables – it empties or deletes all custom database tables.
Delete .htaccess file – it deletes the .htaccess file, but if you need to use the .htaccess without FTP, you can use free WP Htaccess Editor plugin.
Installation – simple & easy
Now that we've chatted a bit about the massive benefits you will get by installing WP Reset plugin, we will tell you how you can actually install this marvelous state-of-the-art plugin (no need to be modest here). Most users follow the usual routine when installing WP Reset, which involves:
open the WordPress admin, clicking on Plugins, and click on Add New
enter "wp reset" in the search column and hit Enter
once the plugin appears as the first item on top of the list (look for our black and red round logo), click on the "Install Now"
activate and open the plugin's setting page under the Tools menu.
Sometimes it might be necessary to upload the WP Reset plugin manually, and in those cases, you should do the following:
download the latest fully stable version from downloads.wordpress.org/plugin/wp-reset.latest-stable.zip
once you've uploaded it, unzip it and upload to /wp-content/plugins/
open WordPress admin, go on Plugins and click on "Activate" next to "WP Reset"
open plugin's admin page which is located under the Tools menu.
WP Reset plugin is very easy to install, easy to use and most importantly, it is completely free. If you are just starting with the whole "Mom, Imma be a blogger" thing, but you are still not convinced if WP Reset plugin is the proper solution for you, let me explain some more… Most of the new "startup" content creators and bloggers flop, and disappears off the radar after a short while. YOU don't want to be that person, but you will undoubtedly make a mistake.
Mistakes are unavoidable, and if you don't make them that means that you are not trying, you are being stagnated. In order to succeed after that mistake happens, you will need a second chance, and a third one, and sometimes a 71st one. And that is exactly what WP Reset plugin gives you – an endless array of opportunities. Every time you want to start over, you get a clean slate.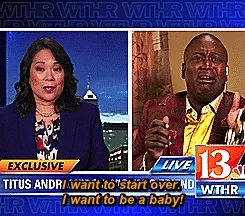 New Features are On the Way
Those more experienced among you might be wondering if WP Reset is WP-MU compatible. For the time being, we have to say that the plugin hasn't been properly tested when it comes to operating with multisite. We have some reports from users that claim everything is ok, but we can't vouch for it until it is thoroughly tested.
Sub-sites should act fine in regards to WP Reset, but we have to advise you not to reset the main site. The creators of WP Reset are currently working on making it entirely compatible with WP-MU, and one of the options that is being developed is the so-called nuke reset option, which will enable you to launch all the reset tools at once.
The second option that will soon be available is the one that will allow you to choose preferred plugins that will automatically install after the reset occurs. However, until it is announced that those options are officially available, please be careful when using WP Reset with multisite enabled.
Last but not least, if you are a novice user in the WordPress community, you are probably worried about the possibility of resetting your site by accident. We are happy to inform you that there isn't such a possibility due to several fail-safe mechanisms. That basically means that there are multiple confirmations needed prior to the actual reset, which minimizes the chance of any mistake, let alone an accidental reset.
So if you had worries about the WP Reset plugin being perilous in any way, you can rest assured that it isn't. Here is a brief, step-by-step illustration of what happens once you do hit the "Reset" button.
You will have to confirm the action one more time in order for the reset to occur, as there is NO UNDO option once the reset is set
Everything will be reset
Site title, WordPress address, site address and language, search engine visibility settings, and current user will be safely restored
You will be logged out, automatically logged back in and taken to the admin dashboard
WP Reset plugin will be reactivated if you decide to choose that option among the post-reset options.
In conclusion…
My editor asked me to use some practical examples to show you how this plugin can help you, but that would be sort of ungrateful of me, or at least that's how I feel. It would be almost like I'm excluding millions of people who are doing something different, with mentioning just two or three particular examples.
However, one thing occurred to me. I'm a diehard fan of Matthew Santoro's channel and with his hiatus announcement coming out today, I couldn't help making a parallel between this blog post and his video.
In the video, he explained how "YouTube is pressure filled" and as someone who has been active on YouTube for almost a decade, he feels the need to step away because he lost his passion. In regards to that, he also said: "You have to have breathing space to be a creative person.", and that got me thinking about all of you out there.
The mere fact that you are here, reading about this plugin, means that you are about to create something. Whether if it's a fashion blog, or an eCommerce cannabis store, you are about to make something and send it into internet stratosphere for people to see. You want to see your creation succeed, but you are just human, so you will need help. You will need some breathing space. And that is exactly what this plugin gives you.
Unlike YouTube, WordPress isn't, and should never be pressure-filled. WordPress was created to give you a platform where you can make something that may, for starters, be valuable just to you. WP Reset plugin was created to give you the breathing space you need to make your dream come true. It will let you invest your passion without overthinking and burdening yourself with "what ifs" and "if onlys". So do yourself a major favor, install WP Reset today.