Customer relationship management (CRM) is an incredibly important part of your business venture. Through it, you can get to know your customers and interact with them, which ultimately allows you to create a great user experience. That way, you can set your business apart from the competition and guarantee that your customers will come back to you.
And given that CRM allows you to collect a lot of data, you can then analyze that data and see which aspects of your business need improving.
This data is what CRM plugins are all about because they help you keep a record of all your interactions with your customers. So, if you have a website, you will want to check out this list of the best WordPress CRM plugins.
Zero BS WordPress CRM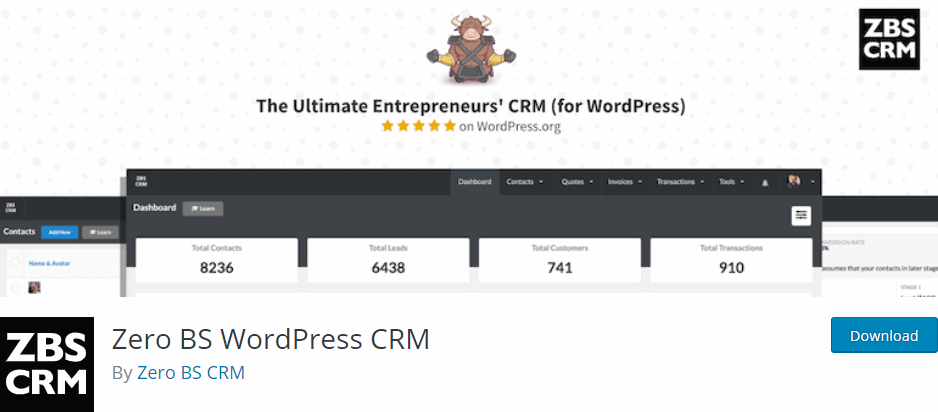 Zero BS CRM is a very interesting product that comes as a completely free plugin and allows its clients to purchase additional extensions if they so desire.
It is very easy to set up and will even take you on a tour when you install it, showing you its most important features. Speaking of which, many of them focus on your contacts, so you will be able to access an activity log, attach files, use tags, develop social integration and do many other things that will make your clients feel like you truly understand them.
Furthermore, you will be able to keep track of many important metrics, dish out invoices easily, write and send proposals, and do much, much more.
In a nutshell, there is no doubt that Zero BS CRM is one of the best plugins in this field.
UpiCRM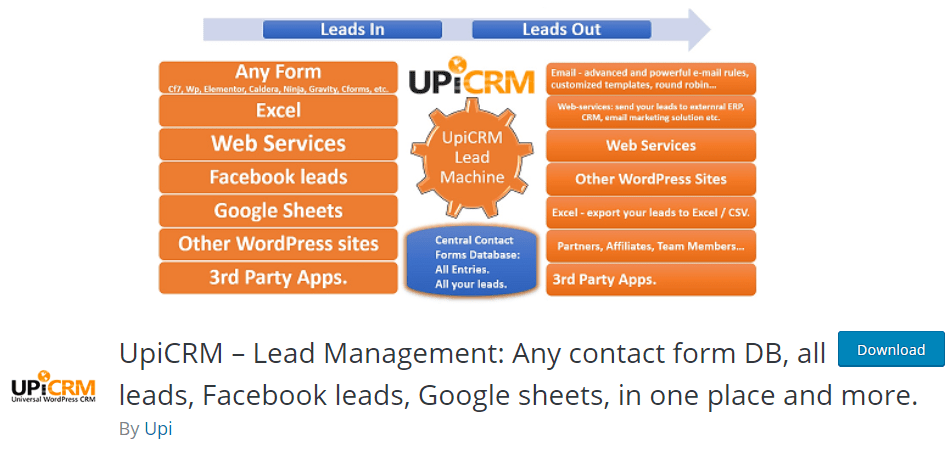 Here's another CRM plugin that is widely recognized as a great thing to have. UpiCRM has a simple but beautiful dashboard, and its KPIs are very well designed too, so you will have no problems managing the whole thing.
Using UpiCRM, it is very easy to assign any lead to any member of your team and then to keep an eye on the status of that lead all the way until the process has finished. There are also plenty of inbound lead sources included, such as all WordPress contact forms (and we do mean all), Facebook ads, Google Sheets, and many others.
What is also worth mentioning about this product is that it can make work quite easy for you because it allows multiple users to be allocated to one of the five tiers. Oh, and UpiCRM is also completely free. So, give it a shot and see how it goes – you have nothing to lose.
UkuuPeople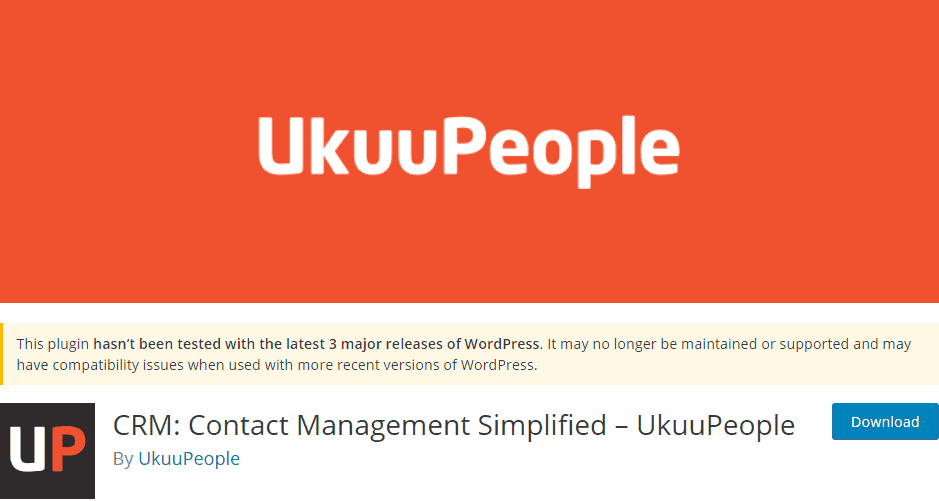 When it comes to the best CRM plugins, many will immediately mention UkuuPeople. No wonder, because this great plugin makes a huge pile of data nice and easy to organize.
What it does is put everything into a huge list which you can then sort, filter, and organize however you want. You can group your clients according to categories (called tribes here), build your email lists, and even automatically collect front end data.
The plugin has a demo website where you can test all the main features to see how they can benefit you, features like creating mailing lists, contact forms, and client account pages.
When you decide to actually buy the product, you can go for individual add ons or three different bundles that are equipped to suit certain types of businesses perfectly.
WP-CRM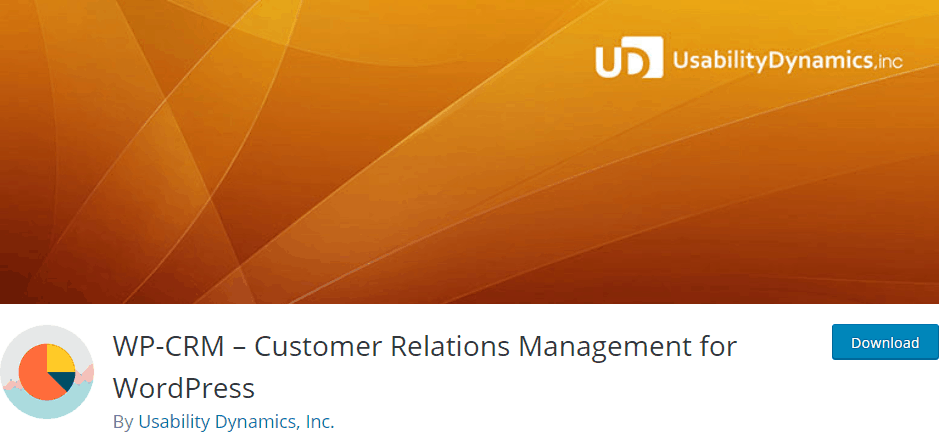 WP-CRM is also worth considering, but not just because it's completely free. What is perhaps the most important thing about this plugin is that it allows you to effortlessly add more details about your clients. Thanks to that, you can conduct advanced searches in order to quickly find a specific customer.
It is also possible to send notifications via email when a certain condition is met, and emails themselves can be sent from your own WordPress dashboard. You can also view the whole thread of communication with any client whenever you want.
Something else to consider here is the fact that you can count on having very good support because Usability Dynamics, the creators of this plugin, can be reached on social networks like LinkedIn and a great forum on their website.
Conclusion
And there you have it – those are some of the most popular WordPress CRM plugins you can currently find. Each one has some special features that will set it apart from the rest, but they are all widely recognized as some of the best products in this category at the moment.
No matter if you're looking for something free, or if you're willing to invest in your CRM, you will find what you need here.
The amount of information you can get from tools like this is huge, and that information can later help you develop your business into something your clients will love even more.
Make use of these plugins to keep track of everyone, put them in different categories, and then approach each category separately to improve your conversion rates. Or simply take a look at what your customers are saying and analyze that in order to identify your strengths and weaknesses.
The point is that CRM can help you a lot, so do make the effort to include it on your website. You'll see the results fairly quickly.