WooCommerce is a pretty good online platform for selling and advertising your products and services. On top of that, it has been designed in a way that allows you to easily add some extra features that your store might need to attract more customers.
In this article, we will review ten plugins we think you should have if you want to enhance your WooCommerce store. 
1. WooCommerce Table Rate Shipping

Shipping is a big part of WooCommerce, but it isn't the easiest one to manage. For that reason, plugins such as WooCommerce Table Rate Shipping exist.
Be it based on weight, cart total, destination, or quantity, this plugin will do shipping costs calculations in an instant.
With it, you can create advanced shipping rules and unique shipping methods. The shipping methods can be named whatever you want, and the shipping methods themselves can be hidden, imported/exported, and forcibly used. Shipping classes are also part of the package and help make your shipping rules more fine-grained.
For each order, you have the option to add a handling fee and include as many shipping methods as you'd like.
On top of that, the plugin has the option of applying shipping rules to logged-in users only, which will help boost site registration numbers.
2. WooCommerce Order Export

How familiar are you with your order data? If the answer is not "very", then you need the WooCommerce Order Export plugin.
Make this plugin your best friend for exporting all the data you need. The exports come through FTP or directly to your inbox.
Each export has columns you can reorder. And the exports, in general, can be done automatically on a schedule.
The format of the exports is CSV. Plus, you don't have to worry about redundant data as the plugin remembers which orders you already exported.
3. Direct Checkout for WooCommerce – Skip Cart with Buy Buttons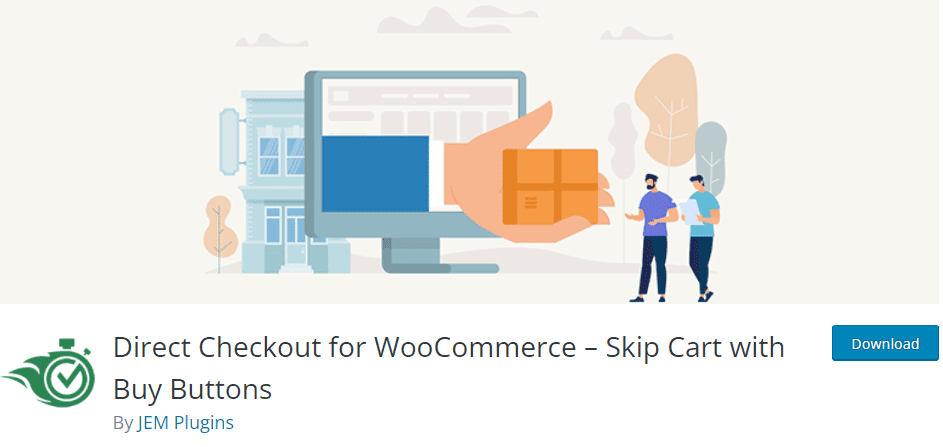 Sometimes, on WooCommerce stores, the cart is useless. So why not skip it entirely? With Direct Checkout for WooCommerce, you can!
This plugin enables you to create something called buy buttons which, when clicked on, take a customer directly to the checkout. You can place these buttons anywhere and use them for all products or just individual ones.
The buy buttons are compatible with simple, variable, and affiliate products just like simple and variable subscriptions.
4. Smart Coupons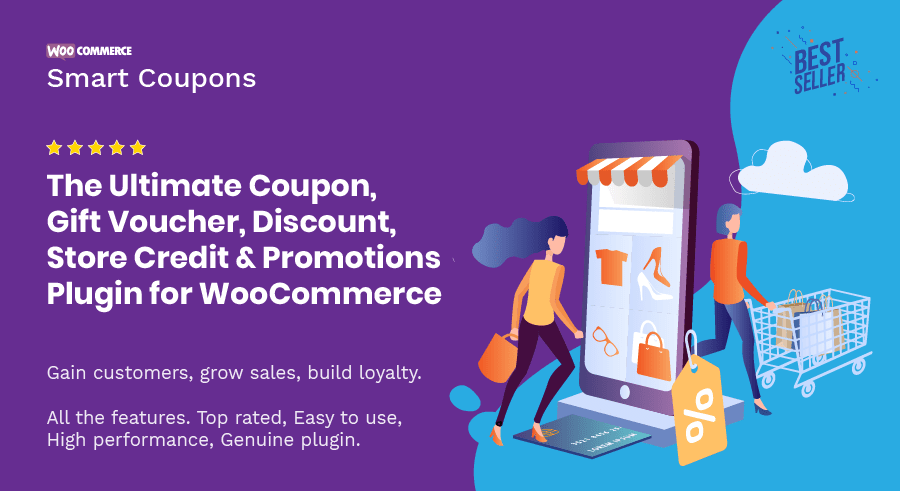 Smart Coupons is a WooCommerce extension that adds some additional features to the already existing coupon system. This extension makes the system more powerful in managing and creating different coupons that you can benefit from as a store owner and as a customer. 
There is a premium version of this plugin that gives you more options when creating coupons; for example, you can: give away products, restrict coupons with different checkout options, apply coupons automatically, style coupons, and do much more. 
Many users are delighted with this plugin and managed to increase their sales and revenue using it. You can get this plugin for $99 per year, so it is really not that expensive. 
5. Variation Swatches for WooCommerce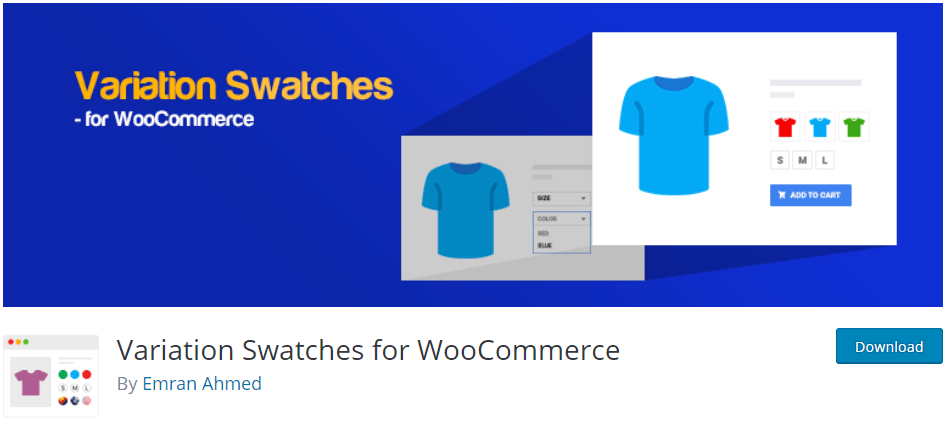 Variation Swatches for WooCommerce is a free plugin that allows you to showcase your products in an enticing way. You can turn the default version of a product into something more attractive with different styles, colors, images, or labels. You can choose the shape of the swatch feature (round or square), customize the background color, border size, and style, enable or disable AJAX variation, and allow a quick view pop-up. 
6. YITH WooCommerce Wishlist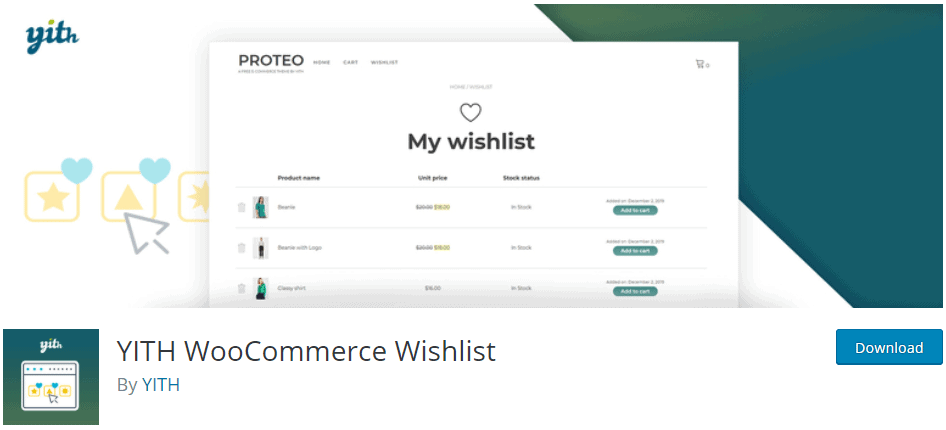 YITH WooCommerce Wishlist is probably one of the most common and most useful plugins you can use for your WooCommerce store. It lets your customers save their favorite products and quickly find them once they are ready to purchase. You can also make these wishlists shareable so your customers can send them to their friends and family (great if they are making a Christmas shopping list).
You can also load any cacheable wishlist item with AJAX, customize the text on your "Add to Wishlist" button, select an icon for it, and change fonts, colors, and so on. 
This plugin will make it a bit easier for you to advertise and increase awareness about your brand and store. And the best thing is that it is entirely free, but you can also get a premium version, which allows you to send promotional emails to your customers depending on the products they have on their wishlist. 
7. WooCommerce PDF Invoices & Packing Slips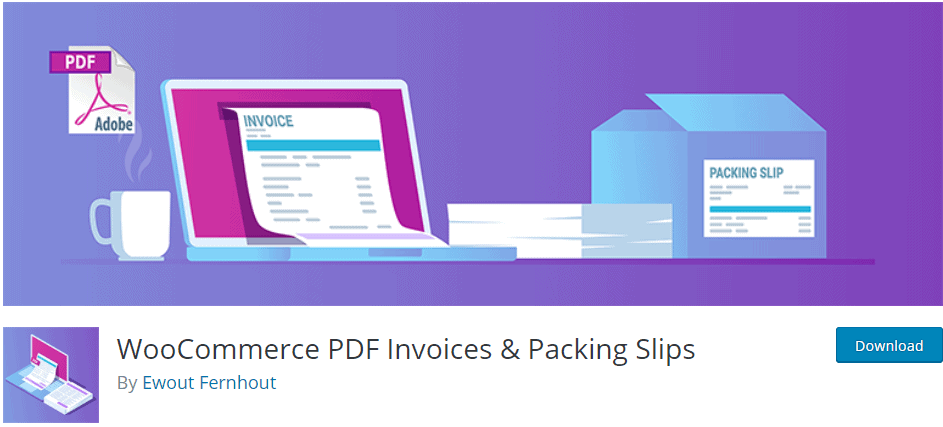 WooCommerce PDF Invoices & Packing Slips automatically creates PDF invoices and packing slips for your customers. You can choose to either download or print the invoices as well as send them directly to your customers. The invoices are available in several languages. 
You can also customize the invoices with your logo and change the style and fonts of the text shown in them. These invoices can be generated in bulk and come with customizable HTML and CSS templates.
The premium version of this plugin has several other extensions that let you create pro forma invoices as well as credit notes, upload those to Dropbox, and automatically send new orders to your printer. 
8. WordPress Popup Builder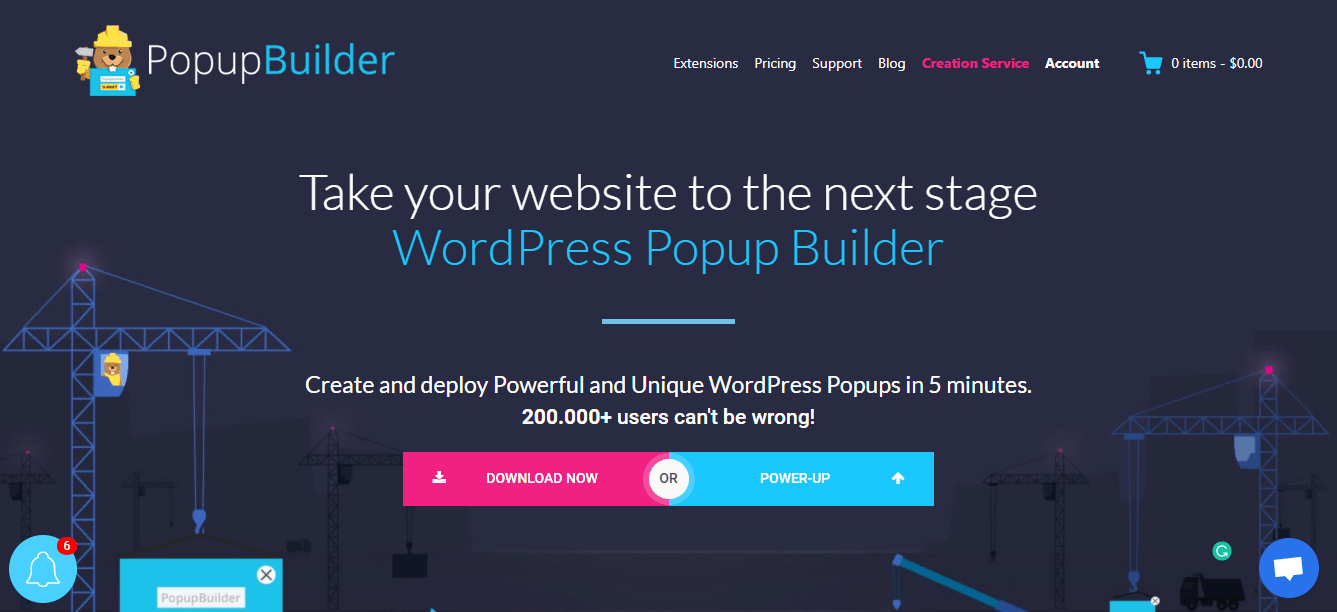 WordPress Popup Builder is a plugin using which you can convert your visitors into paying customers. You can create cool pop-ups that will announce your deals and sales, highlight any countdowns and timers you might have, and add pop-ups that can inform your customers about any new developments or product launches. That way, you can attract more visitors to your site and increase your conversion rates by making your site more enticing.
The plugin is fully compatible with WooCommerce and comes with a shortcode if needed. There are numerous pre-built designs you can choose from as well as animations. Also, you can configure the location of the pop-ups on the screen.
You can get this plugin for $39.95 per year for two websites or $89.95 per year for ten websites. All extensions are included, and here is a list of them.  
9. Facebook for WooCommerce
Facebook for WooCommerce is a must-have plugin as you can reach a wider audience with it. This plugin will install the Facebook Pixel on your store's site to create ads that will better target visitors and be more successful in finding new customers.
With this plugin, you can upload your online store catalog and create a shop on your Facebook page, which will enable you to run dynamic ads. This helps you maximize your ad campaign performance and generate sales. 
10. Tawk.To Live Chat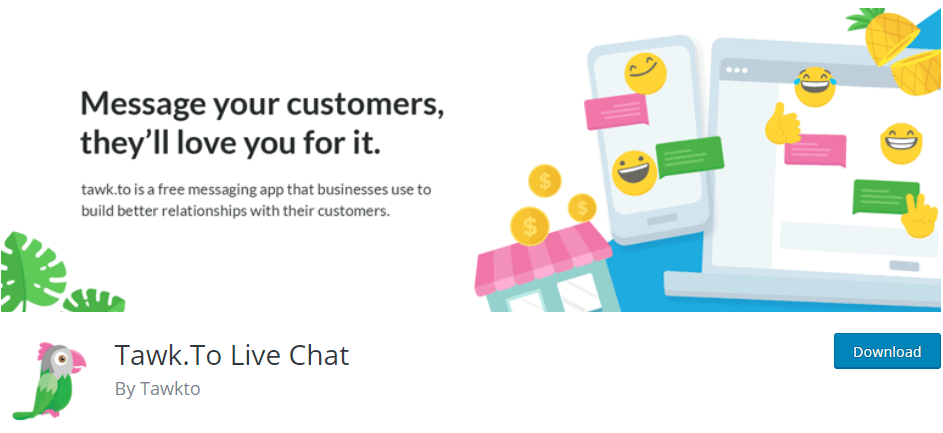 Tawk.To Live Chat is a live chat feature you can install on your site. This is a handy feature in case your customers have some questions about your products while browsing your website.
To ensure customers don't leave before making a purchase, think about including a live chat feature that will let them speak to one of your customer service representatives, so any possible issues are quickly resolved. This will also be a way to facilitate an interactive conversation with customers. 
Tawk.To Live Chat is an entirely free plugin also available as an app for Android, iOS, Windows, and macOS.
To use it, you simply add a small JavaScript snippet to your site, and you are good to go. You can even see which pages customers visit, what they are searching for, and how often they visit your site. You can assign conversations to individual team members, keep an entire conversation history, and see where your customers are from.
All in all, this is pretty useful if you wish to say on top of your competitors. 
11. PayPal Checkout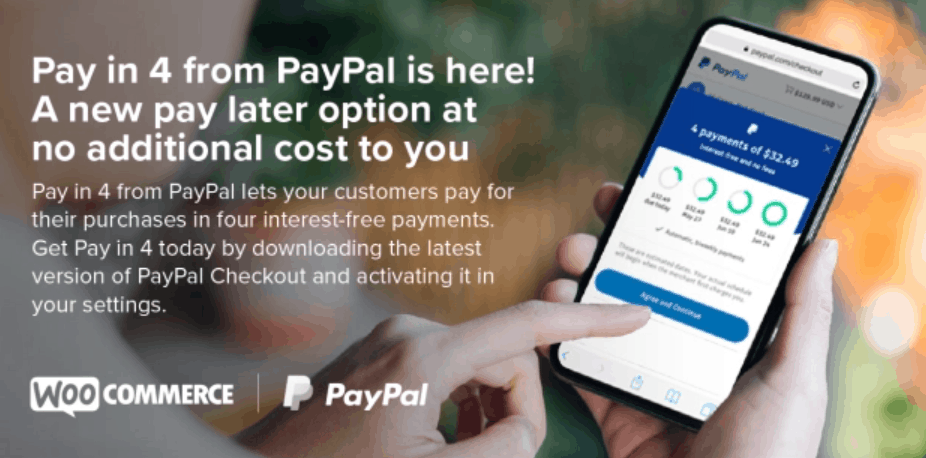 PayPal Checkout is another must-have plugin if you run a store that is available worldwide and sell products in different countries. This will require you to have multiple payment methods available on your store's site so that customers across the world can purchase your products using different currencies.
The plugin will ensure that the customers experience a simple checkout process that will keep them on your website.
The plugin is easily integrated with PayPal and will support payments using credit and debit cards. It is available in over 200 markets and used by more than 330 million shoppers. 
12. Product Slider for WooCommerce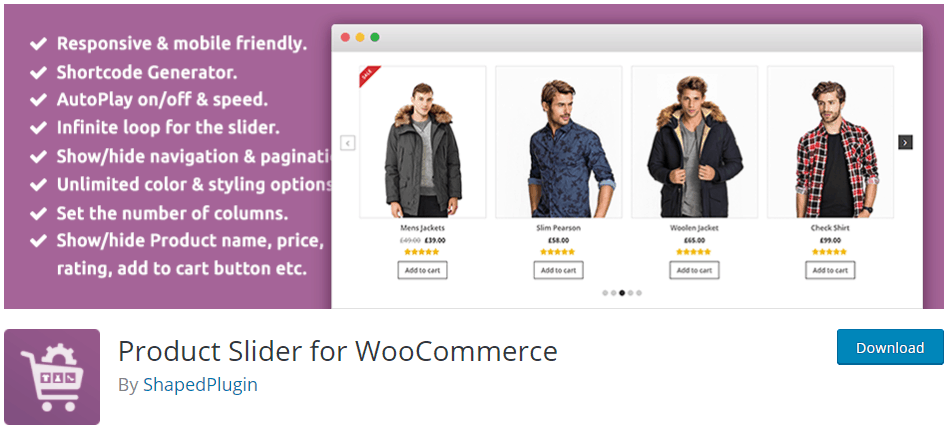 Product Slider for WooCommerce lets you display your products in an exciting way to get maximum visibility. With this plugin, you can place your most attractive product images on a carousel, making them more appealing to customers, thus increasing your conversion rates and sales. On top of that, it has a layout builder, and you can also add your CSS. 
The plugin is responsive and lightweight, so it will not slow down your site. It also has an attractive lightbox effect and lets you customize the carousel as you wish.
Also, you can create an unlimited product slider and broadcast it anywhere on your site using a shortcode.
There is a premium version of this plugin with some extra features, such as recently viewed products, best selling products, top-rated products, and advanced layout elements. 
13. ELEX EasyPost Shipping & Label Printing Plugin for WooCommerce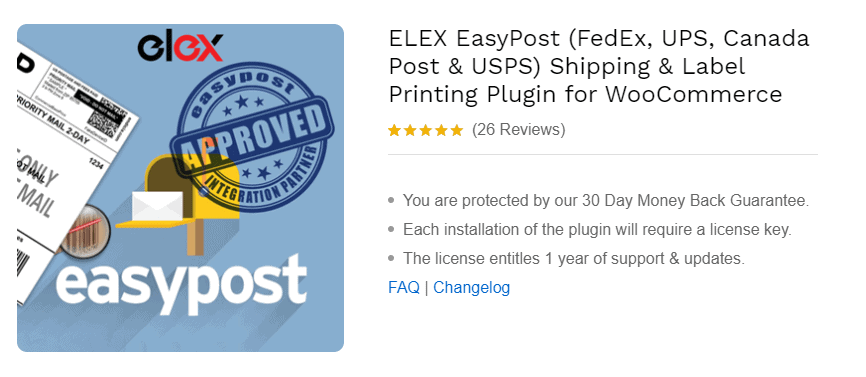 ELEX EasyPost Shipping & Label Printing Plugin for WooCommerce is a plugin designed to make the shipping process of your products much more effortless.
With it, you can get live shipping rates (from different postal services), print shipping labels, and even get tracking data so you can know where your products are. You just need to install the plugin, input account details, and enable the method for WooCommerce. After that, everything is integrated, and you are all set. 
You will also get plenty of add-ons that can be useful if you need to print labels in bulk or generate email notifications for some orders. 
Conclusion 
Since WooCommerce is an open-source plugin, there are plenty of extensions you can get for your WooCommerce store. These can make your life a bit easier and improve your conversion rates as you extend the functionality of your store. 
With that said, we hope you found a plugin or two that you at least want to try out!