A crucial part of keeping a website useful, efficient, and competitive is constant analysis. Most of the guides on website analysis evaluate website performance based on a few criteria. Common advice is to test website speed, run an SEO audit, and perform competitor and traffic analysis.
However, the most important part of website analysis is to understand the website visitors. The goal is to keep visitors on the website and make them come back.
What is website analysis, and why is it important?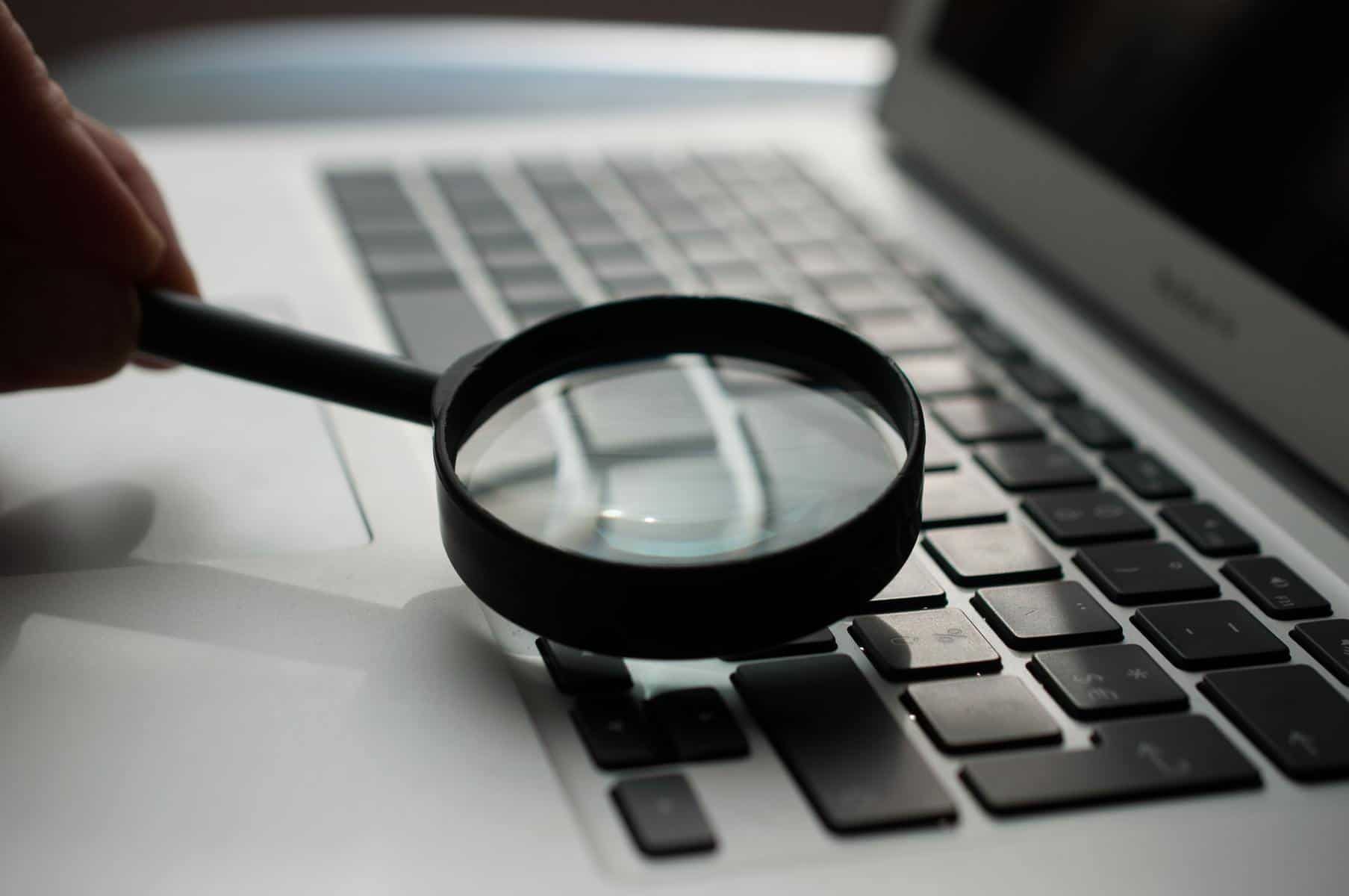 Website analysis is a way of improving a website by analyzing its performance. The performance tests are typically related to the website's SEO, traffic, speed, and competition. Website analysis is beneficial because it leads to understanding the needs of website visitors.
It's essential to have a site without usability issues, that is fast and ranks well on Google. It's also important to maximize the website's traffic and be aware of its competition. Standard web analysis covers all of these issues. However, everyone has access to it.
One thing that is unique to every website and that its competition doesn't have access to is the user perspective. So if you want a complete website analysis, you need to include user feedback. Understanding what users want from your website, how they are experiencing it, and what they don't like about it is the most relevant type of insight. With this information, you can enable your website to provide a great user experience and have a loyal user base.
Types of website analysis
As we already mentioned, traditional website analysis can be divided into five categories. Each one of them is important to run a perfectly optimized website.
Search engine optimization analysis and auditing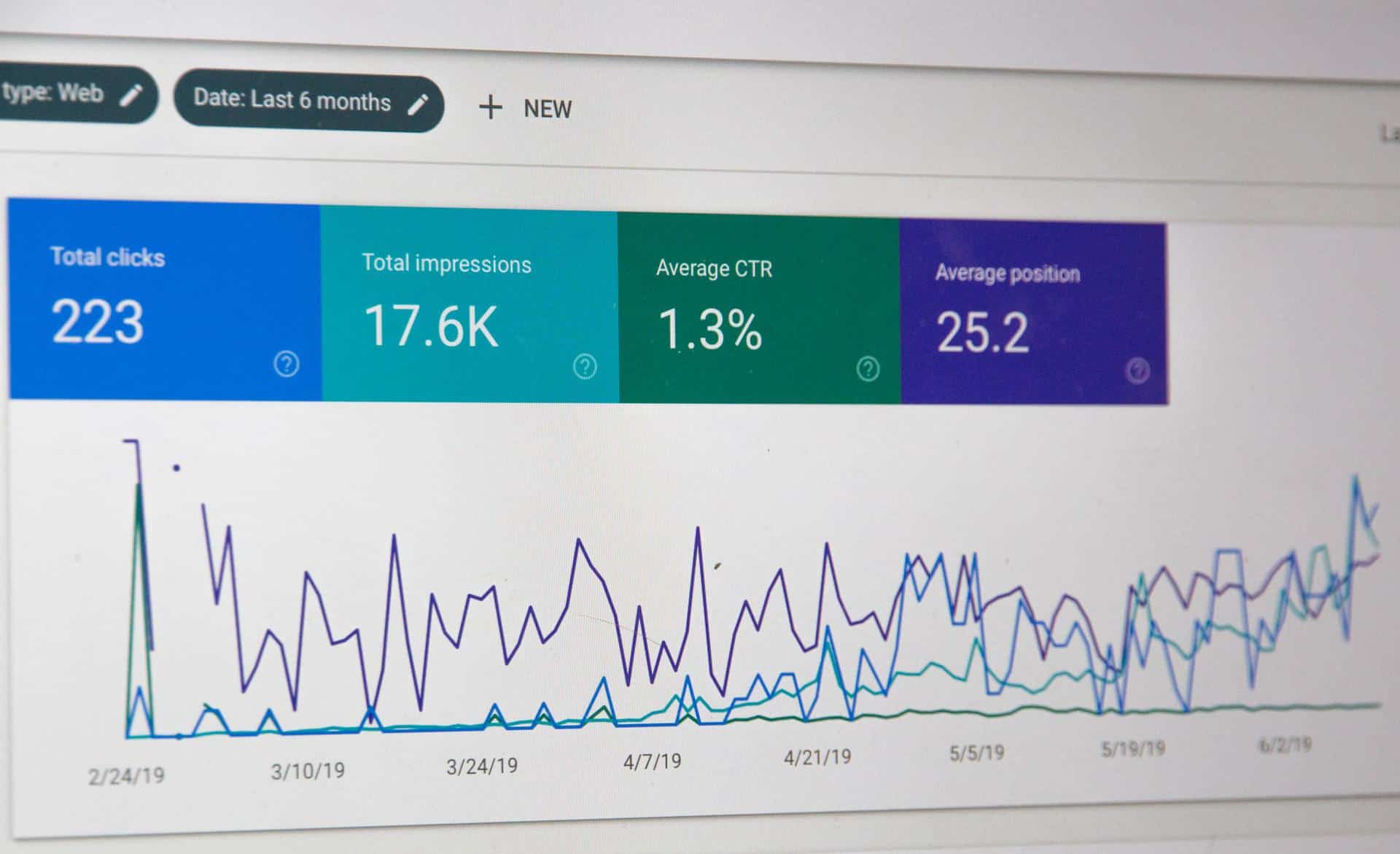 SEO analysis can be done in a lot of different ways. The most common ones are on-page SEO audits, search engine ranking analysis, and backlink analysis.
On-page SEO audits search the website for technical issues that could affect the website's search engine performance.
Search engine ranking analysis shows where the website ranks on search engines like Google or Bing. It can generate data based on a certain keyword or all the keywords the website ranks for. It can also show how the website ranks in different locations and on different devices.
Finally, by doing backlink analysis, you find out which websites link to your site and compare that information with your competitors'.
Website speed and performance
Nobody likes slow websites, not users, not search engines. Website speed and performance analysis finds out if the website is fast, average, or slow. It also finds out the cause by analyzing key metrics. They include load time, page size, image compression, browser caching, and many more. You can also get an overall performance score by testing the mobile and desktop versions of your website separately.
Competitive analysis
Today, it is almost impossible to offer a product, service, or experience that someone else hasn't already offered. Almost all websites compete with other websites for the same target audience. Competitive analysis identifies those websites, the threats they pose, and advantages that can be used in your favor. This is also often referred to as a SWOT analysis (Strengths, Weaknesses, Opportunities, Threats).
Behavior analytics and feedback
Behavior analytics and feedback tools analyze the ways users interact with individual page elements and sections. They identify what users find interesting on a website and also which parts of it they ignore. Behavior analytics tools show all the clickable elements on a website and if users interact, scroll pass, or ignore them. Feedback tools provide on-site surveys and collect user's opinions about what they want from the website.
Traffic analysis
Traffic analysis monitors the number and activity of website visitors. It identifies from where website traffic originates, the website's popularity, and where on the website visitors lose interest and leave. This information is crucial for successfully attracting visitors and keeping them as users on the website.
Top 5 web analysis tools
Frequent website analysis is crucial in making a website efficient, competitive, and useful. To help out with that, here is a list of the five best analysis tools that will enable you to keep your website always on top.
1. Screpy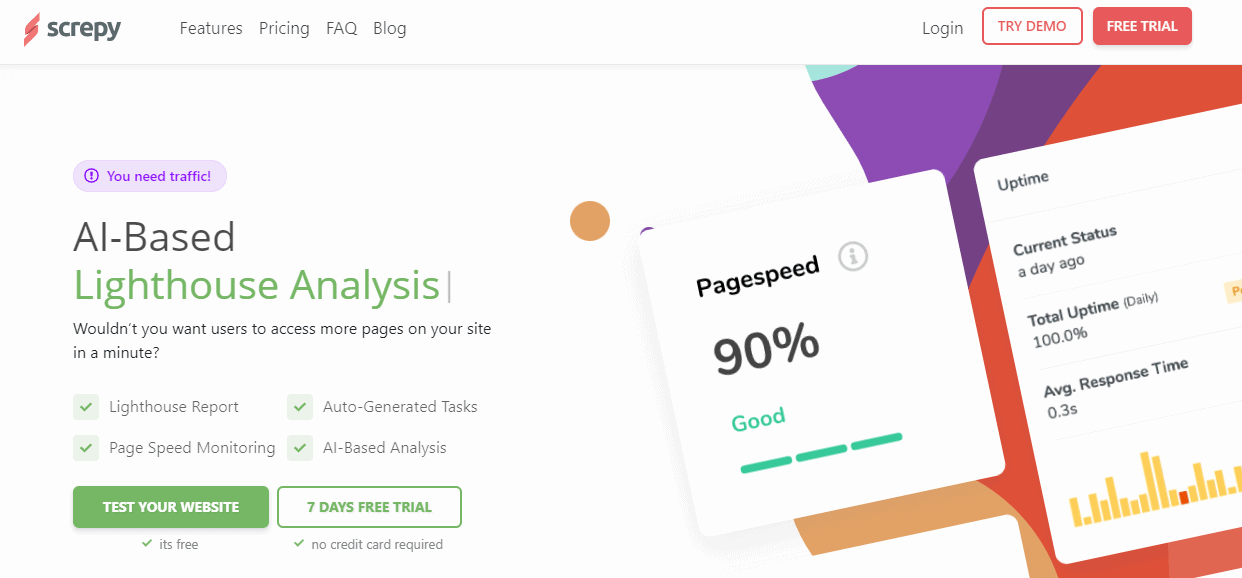 This Al-based SEO and web analysis tool monitors and analyzes all the website metrics in one dashboard. With this all-in-one tool, there is no more need for using multiple platforms. It combines top tools, including SEO Audit, Pagespeed, W3C Validator, Uptime Monitoring, and Google Rank Checker (SERP).
Screpy's easy-to-use dashboard provides all the statistics in one place. This is ideal for identifying and correcting website issues.
With this tool, you optimize your website based on real-time data. With easy access to the most useful analytics tools, you can make sure your website is at its top performance.
2. Semrush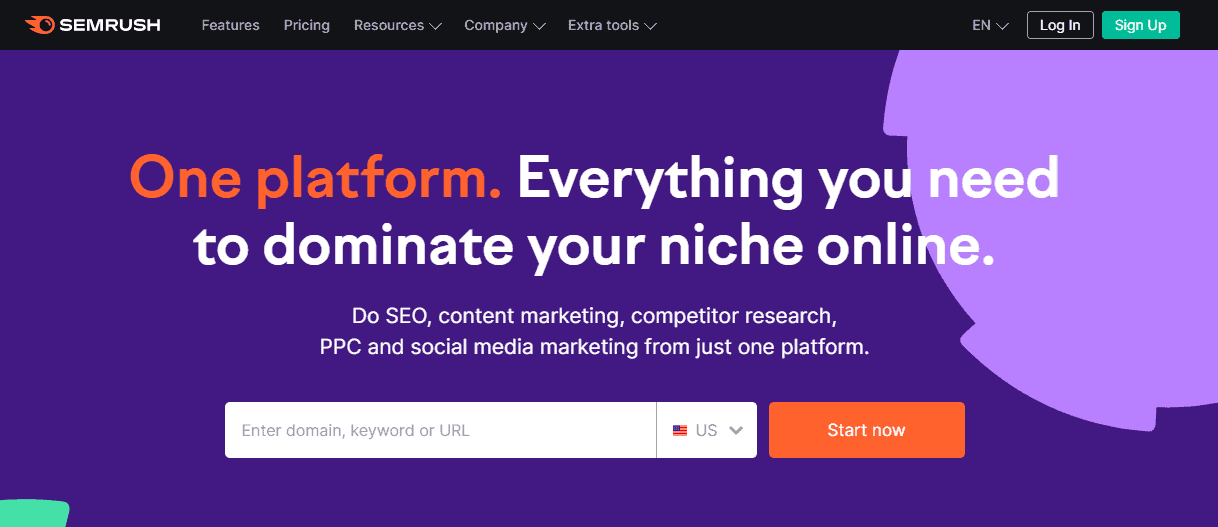 Semrush allows you to examine your competitor's search traffic and most useful keywords. It monitors competitors' daily search rankings using a position tracking tool. It can also compare your keyword profile with the competitors' using the keyword gap tool.
With this tool, you can uncover millions of national and local keywords, analyze any website's backlink profile, and track your SERP positions daily.
It analyzes the website data and instantly offers recommendations on SEO, content marketing, and advertising. These can improve your online visibility in a matter of days.
3. Hotjar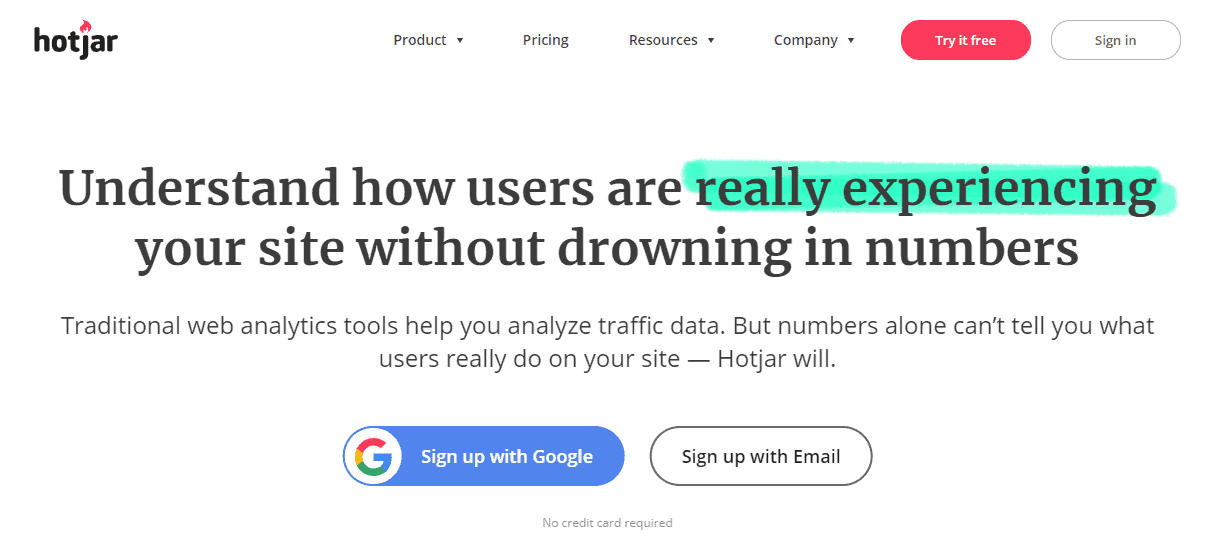 Hotjar helps you understand the behavior of your website visitors. It provides clear visual data about what's happening on the website and the context behind user behavior. It provides user feedback through tools such as session recordings, heatmaps, and surveys.
Session recordings allow you to watch anonymous user sessions on your website. Through them, you see where individual users get stuck and possibly leave the website. Heatmaps highlight all the clickable elements on the website and analyze which ones users interact with.
So basically, this tool gives an insight into the interests and habits of users.
4. Pingdom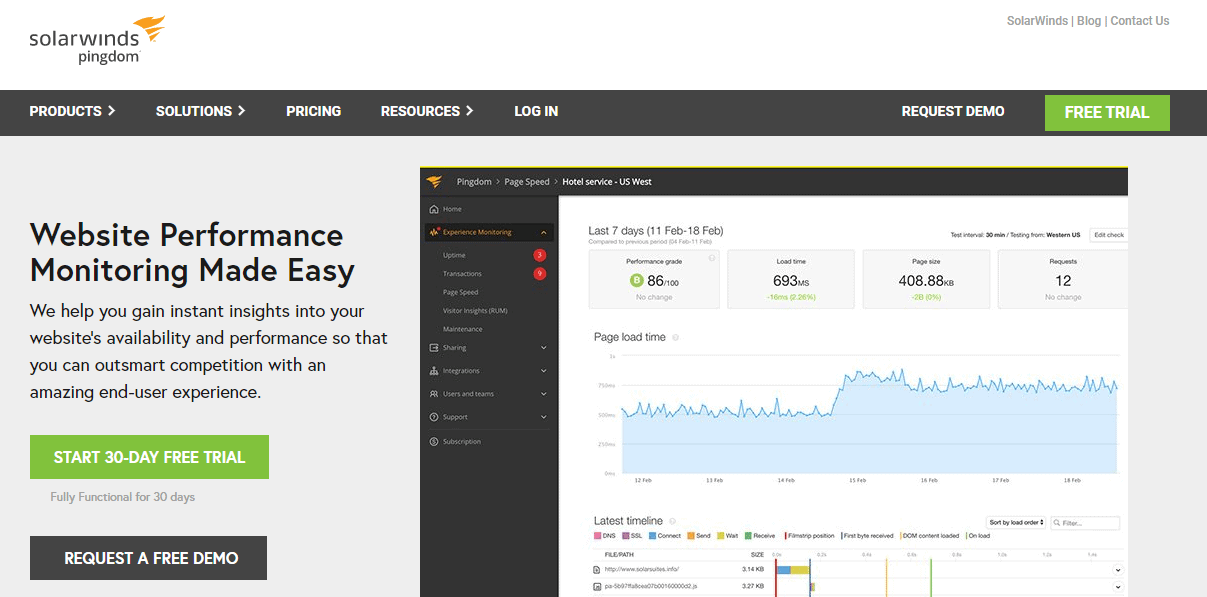 Pingdom monitors the website and sends a notification when it decreases in speed or goes down. It provides the possibility of synthetic and real user monitoring. Synthetic monitoring simulates user interaction with the website. It shows if and when critical pages or flows stop working correctly.
With this tool, you can also monitor site availability from over a hundred locations worldwide.
Real user monitoring analyzes how actual end users are interacting with and experiencing your website. The information is based on the browser as well as device type, and geographic location.
Also, with this tool, you can compare usage metrics over time to see if your website performs better than before.
5. Google Analytics
Google Analytics is the most popular and widely known traffic analytics tool. With it, you can analyze traffic patterns and sources, gauge the effect of new campaigns and the efficiency of new content. With an easy-to-use interface and shareable reports, it can process and share your data quickly.
This tool is perfect if you are already using some of Google's apps and tools. Since they are designed to work together, you can easily access data from other Google solutions while working in Google Analytics.
This tool also provides you with a smooth workflow that saves time and increases efficiency.
Picking the right website analysis tools is important
Analysis tools keep a website useful, efficient, competitive, and in touch with its users. However, it's not easy to choose from many different tools that monitor and improve websites. It takes a lot of experience to know which tools are right for your website.
Some of these tools, like Screpy, are an all-in-one solution, which is perfect if you are just starting with the optimization of your website. Screpy provides all the relevant data on one dashboard, and it's easy to understand.
Try different website optimization tools to see what fits your needs. The important thing to look for is which tool offers the most actionable solutions. With the right combination of web analytics tools, you can improve your website and gain a loyal user base.